Frank Sans C VIDEO
Cartier, Trilobe and Van Cleef & Arpels at the Geneva Salon
The Frank Sans C series at the heart of Watches & Wonders Geneva 2022 begins with a program devoted to the most beautiful novelties unveiled by Cartier, Trilobe, Hublot and Van Cleef & Arpels.

By Nicolas Yvon, Chloé Redler
Cartier
The flagship of the Richemont group, Cartier presented superb novelties at Watches & Wonders Geneva 2022. Between inventive high jewellery pieces, a high watchmaking watch with a mysterious complication and a reinterpretation of an icon, the savoir-faire of the manufacture was expressed in complete freedom. A pleasure for all the professionals present at the show, who praised the Manufacture's performance.
Coussin de Cartier, the shaped watch that deforms when touched
What a nice surprise the new Coussin de Cartier is, which, in its most exclusive and jewelled version, has an astonishing flexible case! Yes, you read that right!
The case of this watch comes from the research and innovation laboratory of the Cartier Manufacture and is composed of intertwined gold links.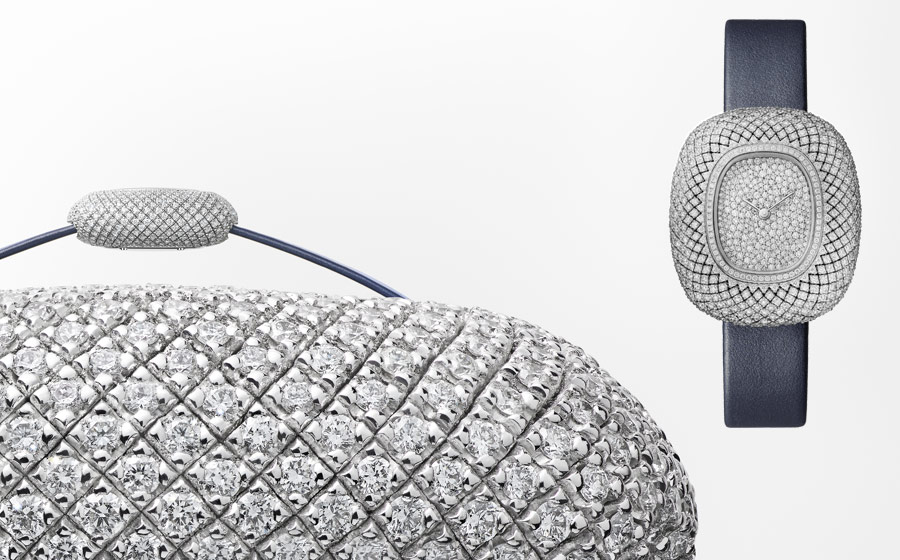 Inside this flexible grid – entirely paved with precious stones – the watchmaking engineers have integrated an innovative (and secret) element that allows the watch to return to its original shape… as soon as you finish 'playing' with it. Because one must admit that the desire is irrepressible and feeling the watch react to the touch becomes very quickly addictive.
Technical details:
39.3 x 31.9 mm, thickness: 13.60 mm
750/1000 grey gold
Case, dial and buckle set with 1011 brilliant-cut diamonds
(5,45 cts)
Blue calfskin strap
Limited and numbered edition of 20 pieces
Price: €72,000
Or
Case, dial and buckle set with 85 brilliant-cut diamonds (0.38 ct), 21 emeralds, 536 sapphires, 276 tsavorites and 18 blue tourmalines strap in purple-green gradient calf
Limited and numbered edition of 20 pieces
Price: €76,000
Masse Mystérieuse de Cartier watch, in a word: spectacular
Once again, the Cartier manufacture illustrates its expertise in fine watchmaking with this watch called Masse Mystérieuse, and rightly so.
It literally merges two of the maison's favourite areas of expertise by combining a skeleton movement and a mysterious mechanism. The instrument is in fact driven by a completely new automatic calibre. Its entire structure acts as an oscillating weight and turns at the slightest movement of the wrist to wind its spring. Bluffing… and above all enigmatic.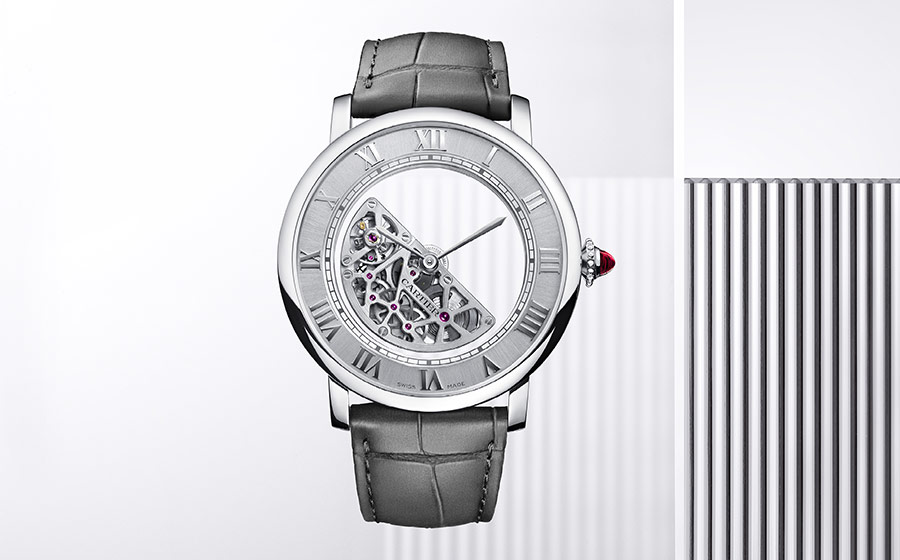 Eight years of development were necessary to design this marvel of micromechanics which, in addition to being mysterious, makes it possible to counteract the effects of gravity to guarantee excellent chronometry.
Price: €300,000.
Technical details:
43.5 mm, thickness: 12.64 mm
Platinum 950/1000
Crown set with a ruby cabochon
Dark grey and black semi-matt alligator straps
Limited and numbered edition of 30 pieces
Manufacture automatic movement 9801 MC
Case diameter: 17 1/2 lines
Total dimension: 39.6 mm
Thickness: 7.3 mm
Number of jewels: 43
Frequency: 28,800 vibrations/hour
Power reserve: 42 hours
A platinum version set with baguette-cut diamonds (€680,000), as well as a version set with baguette-cut diamonds and a platinum bracelet set with baguette-cut diamonds (€1,440,000) are also available.
To know everything about the new Masse Mystérieuse de Cartier watch, read our complete article.
Tank Chinoise, window on skeleton movement
Every year, the Maison reinterprets one of its most emblematic models in a dedicated collection called Cartier Privé. It is the turn of the Tank Chinoise to be honoured in 2022 for its 100th anniversary with six new variations, all in limited edition. The Tank Chinoise is distinguished by its case with four stretchers superimposed at the corners to evoke the architecture of the porticoes of Chinese temples.
The most striking and original of these new creations is certainly this version in yellow gold driven by an original skeleton movement designed exclusively for it.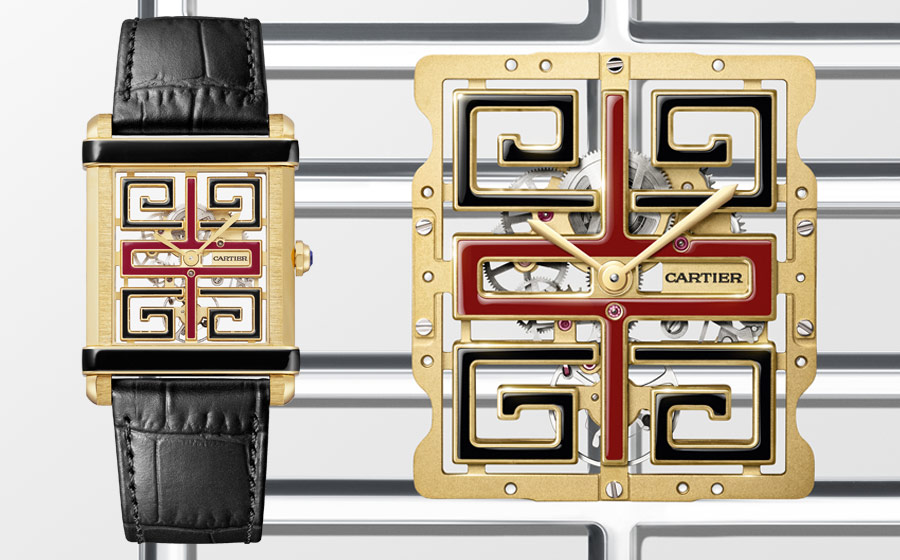 A technical and aesthetic feat, this hand-wound calibre adopts the same shape as the case to fit perfectly into the heart of the watch, and features highly graphic chasing. Its architecture – covered in red and black lacquer – is directly inspired by the motifs of traditional Chinese windows. 
Price: €67,500
Technical details: 
39.5 x 29.2 mm, thickness: 7.70 mm 
Case in yellow gold 750/1000 and black lacquer
Crown set with a faceted sapphire 
Semi-matt black and semi-matt red alligator straps 
Limited and numbered edition of 100 pieces 
Manufacture hand-wound movement 9627 MC 
Case diameter: 10 1/2 x 11 1/2 lines 
Total dimension: 26.1 mm 
Thickness: 3.9 mm 
Number of jewels: 23 
Frequency: 21,600 vibrations/hour 
Power reserve: 38 hours
Cartier Libre, a magnificent reversible bracelet that tells the time
Another annual phenomenon from the 'jeweller of kings and king of jewellers', the Cartier Libre collection has been enriched with a singular watch that reflects the creative freedom of the maison, which imposes no barriers on itself. The creation imagined for 2022 is sculptural and inspired by a spectacular rock crystal and diamond bracelet created in the 1930s and worn by the actress Gloria Swanson.  
Made of precious and original triangular links, it turns over on itself with a flexibility comparable to an elastic band to transform itself into a watch or a bracelet. You are free to choose and alternate the faces.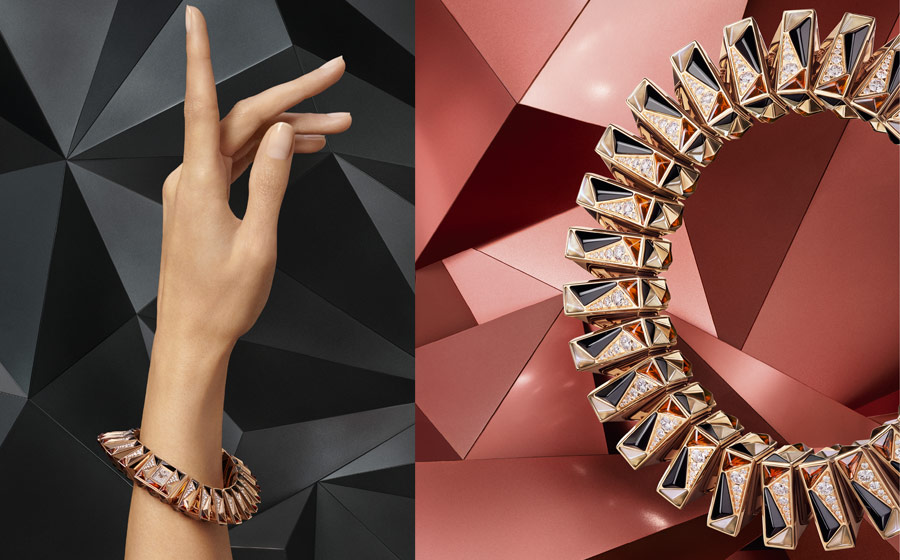 A technical challenge for the watch engineers, the design of the watch required them to succeed in mounting the case and links around a spring so that the whole thing 'twists' with ease. The innovation is also a jewellery one, since the triangular approach has inspired the master gem setters who have developed a new 'triangle setting' process. It allows the diamonds to be integrated directly into the metal without having to resort to the traditional 'grain setting' (holding the stones in place by means of metal sprues created directly in the jewel).
Price: €300,000.
Technical details: 
99.96 x 85.05 mm, thickness: 20.32 mm
Pink gold 750/1000
Case and bracelet set with 711 brilliant-cut diamonds (12.28 cts), 54 sapphires, 81 black spinels, 50 chrysoprases and 50 red coral stones 
Trilobe, a day in space at Watches & Wonders 2022
With its new three-dimensional watch, named Une Folle Journée , the very young French company Trilobe, based in the Carré des Horlogers, undoubtedly presented one of the most attractive new products at the Watches & Wonders Geneva 2022 salon.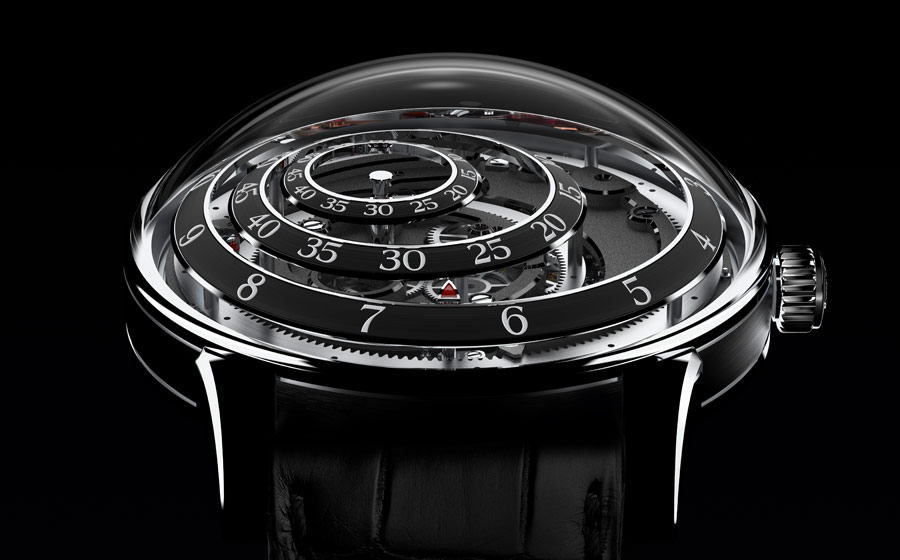 In titanium, this model displays the time by means of three rings raised by rods to occupy the space inside a sapphire dome. From the smallest to the largest, these three elements indicate the seconds, minutes and hours. Captivating!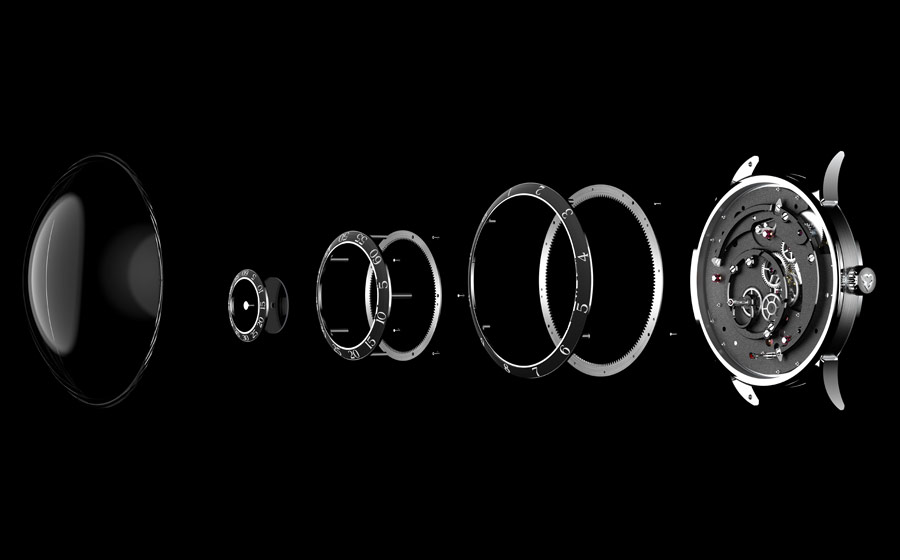 To know everything about the new Trilobe Une Folle Journée watch, read our complete article by Vincent DAVEAU.
Grade 5 titanium
Diameter 40.5 mm
X-Centric 3 calibre, self-winding integrated mechanical calibre with micro-rotor
48 hours power reserve. 
Balance frequency: 28'800 vph (4 Hz)
Thickness: 6.49 mm – Diameter: 35.2 mm
Hours, minutes, seconds subdial displayed by rotating rings and a fixed pointer
Leather strap. 
Water-resistance tested to 5 bar (50 meters)
2 years warranty. 
Price: €21,500
Van Cleef & Arpels
Lady Arpels Heures Florales: a time for flowers
Can we really speak of traditional watchmaking when we are faced with such a visual feat? The Lady Arpels Heures Florales watch certainly tells the time, but in a poetic, almost magical way.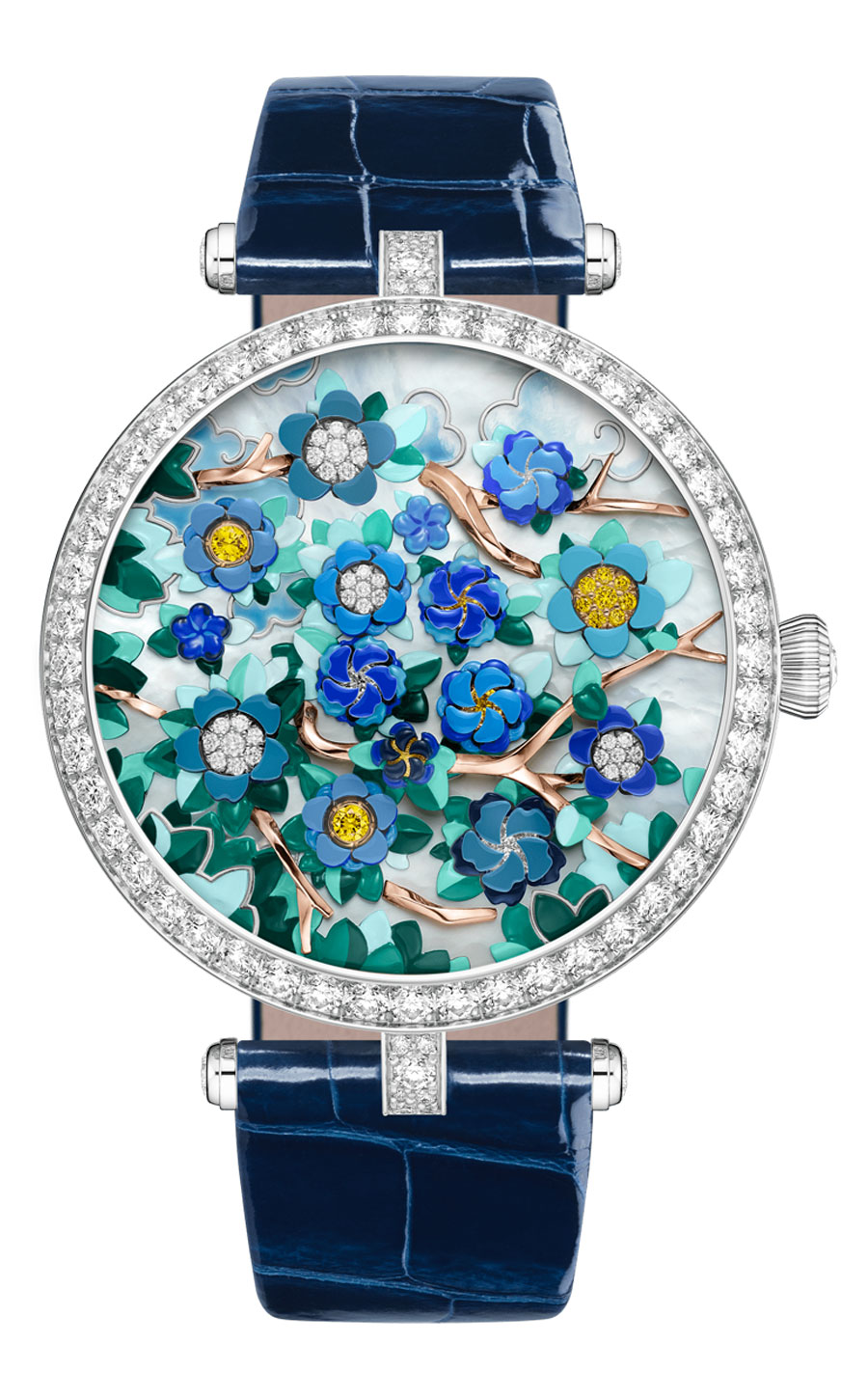 The idea is to measure time through the opening and closing of flowers. This floral clock is inspired by the book Philosophia Botanica by the Swedish botanist Carl Von Linné. This innovative work is a garden design with many different types of plants whose flowers open and close at specific times of the day, indicating the time. Extraordinary! Here the master craftsmen of Van Cleef & Arpels transcend themselves.
Reading the time in flowers
In addition to linking and articulating each petal to the watch mechanism thanks to a module developed by the company's workshops, the flowers open to mark the change of hours. The twelve corollas close to allow others to bloom. Another magic trick: the device has three distinct sequences. This means that each day the time will not be displayed in the same way and different flowers will open. Reading the time is made easier by the minute display, visible in a window on the case middle.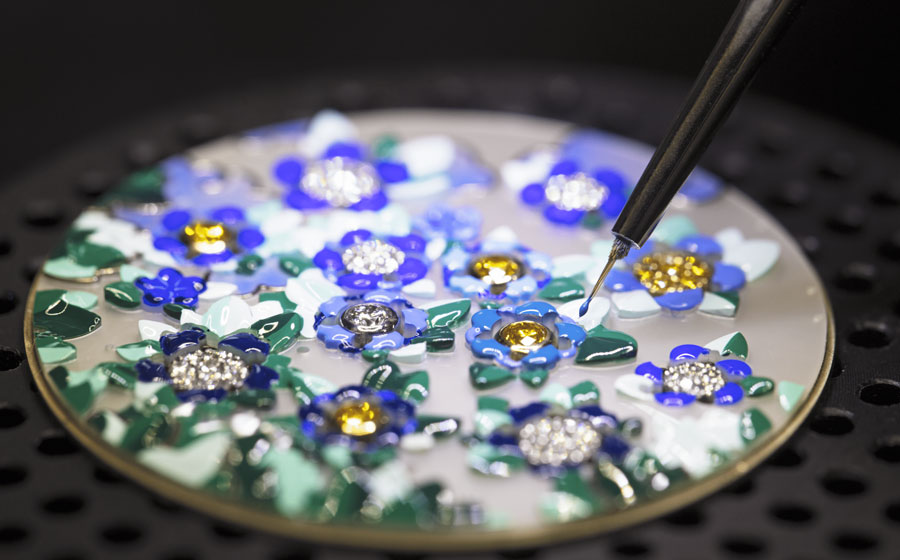 Then, the master watchmakers make way for the craftsmen. On this 38 mm piece in white gold, shades of blue and green evokes summer, delicately contrasted by the white mother-of-pearl background where butterflies gather in this hypnotic garden. A marvellous piece!
Price: €260,000
Technical details:
Case Dimension: 38 mm
Water Resistance: 3 ATM
Self-winding mechanical movement (Valfleurier) equipped with a flower-opening module for the hours and lateral minutes display
Bracelet shiny alligator, square scale (vca blue) self interchangeable 
Ardillon buckle 
Lady Arpels Ballerine Enchantée: enter the dance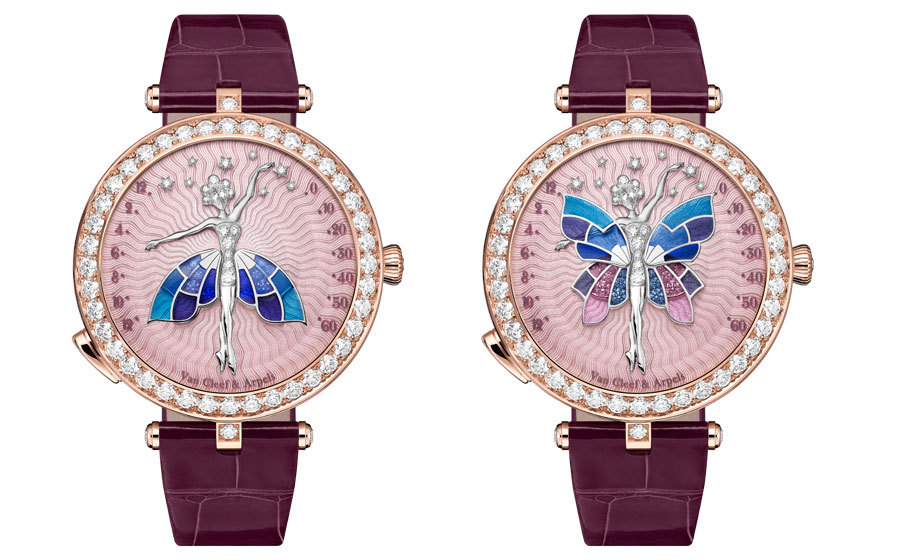 A veritable miniature spectacle seen at Watches & Wonders, the Lady Arpels Ballerine Enchantée performs a choreography worthy of the greatest star dancers. Rhythmically driven by an exclusive mechanism, the ballerina moves with grace and lightness to indicate the hours and minutes. Animated by a time on demand movement with double retrograde, the hands – in this case the skirts of the tutu – describe an arc of a circle before returning to their original position in total fluidity. By simply pressing the push-piece at 8 o'clock, the lucky owner of the watch engages the mechanism whenever she wishes. This watchmaking ballet is performed on this rose gold version with its guilloché dial and radiating motif. While the character is fashioned in translucent violet or pink plique-à-jour enamel (see our article on the art of enameling).
Price: €138,000 
Technical details: 
Case Dimension: 40 mm
Water Resistance: 3 ATM
Self-winding mechanical movement (Valfleurier) equipped with a retrograde time on demand module
Bracelet Material: shiny alligator, square scale, self interchangeable 
Ardillon buckle
Diamond: 152 stones, 4.08 carats