Wine of the week
Clos de l'Échelier 2019, Domaine des Roches Neuves
It is not difficult to choose a wine to highlight for this column; gold nuggets, good deals, good wines are not so rare. But today, I'm in a slightly nostalgic mood and I wanted to share with you an encounter, a love at first sight with a bottle, a parcel and its winemaker: Le Clos de l'Échelier. It's time to take you somewhere along the 1,006 kilometers of the Loire River, near Saumur.

By Valentin Cotton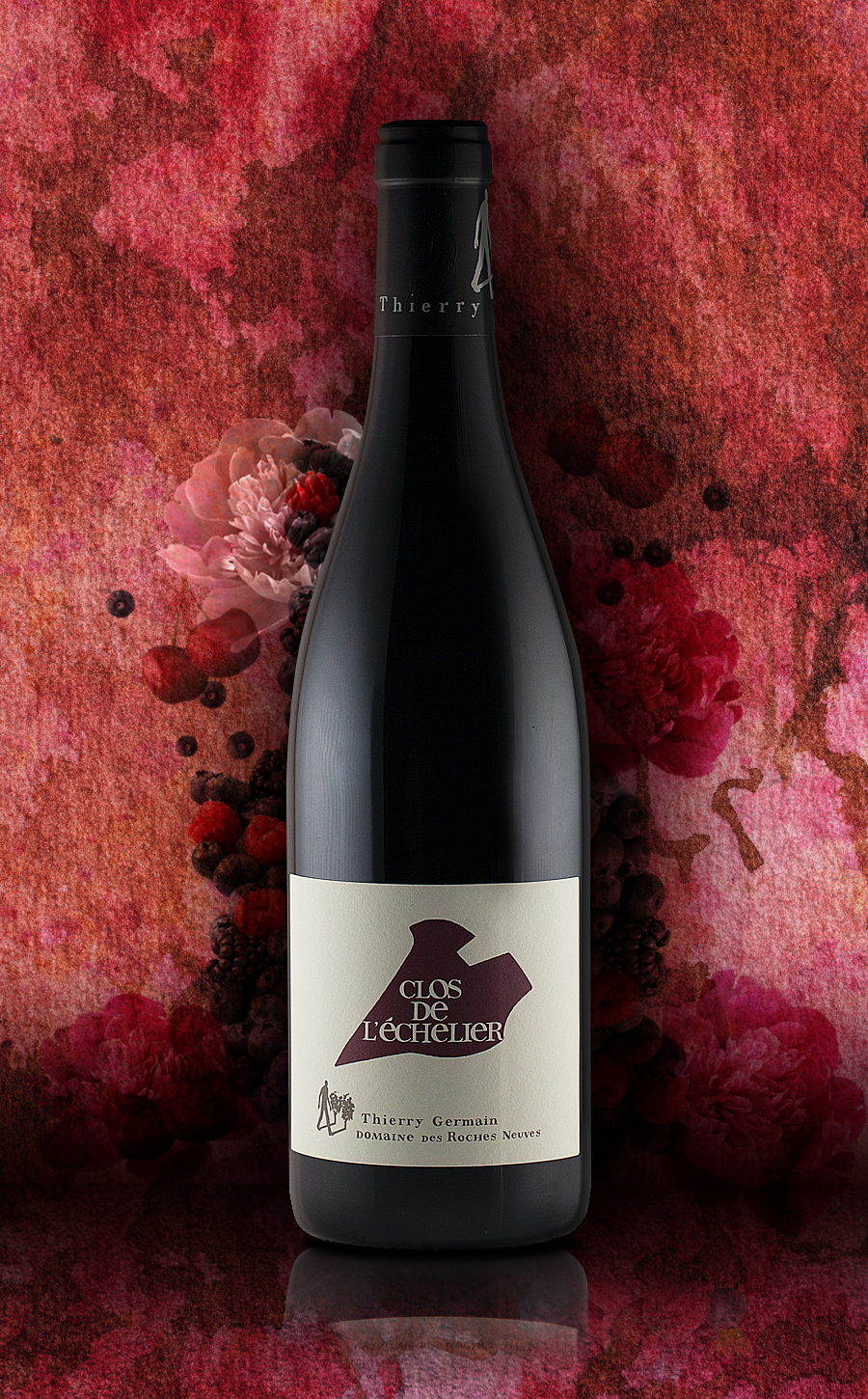 Thierry Germain, the encounter
It was a cool but sunny February morning, lulled by a typical Loire Valley mist. The small group of tasters that we were had an appointment at 9am with Mr Thierry Germain. Originally from Bordeaux, he arrived in Varrains – a town 5 kilometres from Saumur – more than three decades ago to take over a vineyard which, thanks to his work and ideas, would become one of the benchmarks of the Loire Valley. With 28 hectares of vines to date, the estate, created in 1850 and taken over in 1991 by Thierry and his wife, was converted to organic farming a few years later, and then to biodynamic viticulture. The winegrower believes in energy, so this method of cultivation seems obvious to him (and leads him to work with horses, for example); it must be said that the quality of his wines proves him right.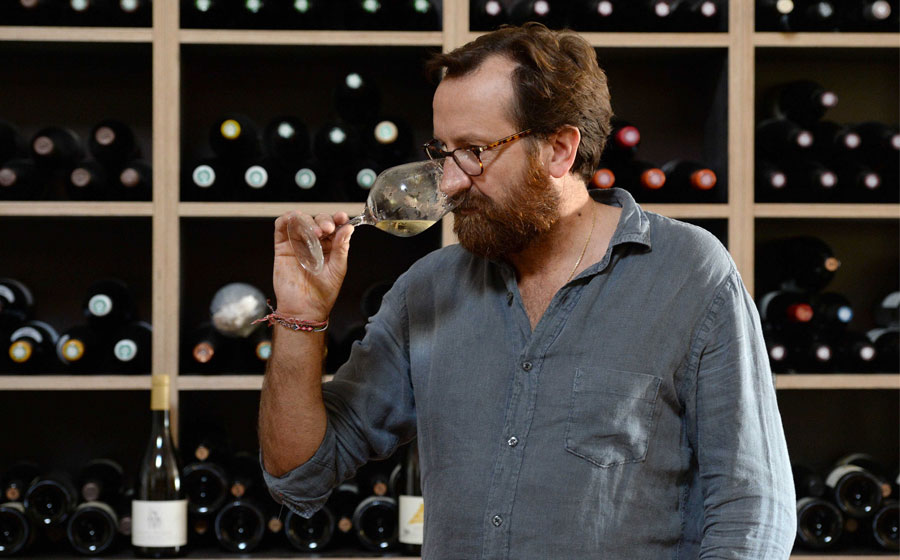 Thierry Germain is the type of person with whom the approach can be complicated. You arrive at his place, early in the morning but already slightly late, and you feel instantly probed. But soon enough the veil falls, the discussion starts, we listen. The genuine attention we give to our host makes him lower his last barriers and we take in the man's sensitivity head on. Through his personal story, his life, his bets on the future, Thierry Germain is an inspiring personality, in love with his terroir and his vines as if each vine tells him a story and his job is to summarise it in the bottle. It is not surprising that one of his cuvées is called "Mémoires", a wine made from a single plot of very old Cabernet Franc vines over 120 years old… A wine with its feet firmly planted in time.
It's time to go down to the cellar, these galleries dug in the tufa rock, to taste the last vintages in dormancy on barrels. But first, Thierry slips us this quote from Goethe "The vine is earth that rises", like a pious word.
The half-light and silence of the place lend themselves to confidences and to a tasting where all the senses are gathered. The wines taste marvellously well, despite a February period that is not always favourable. One constant in all the wines: energy. From barrel to barrel, we discover the different terroirs of the Saumur region through the prism of cabernet franc and chenin.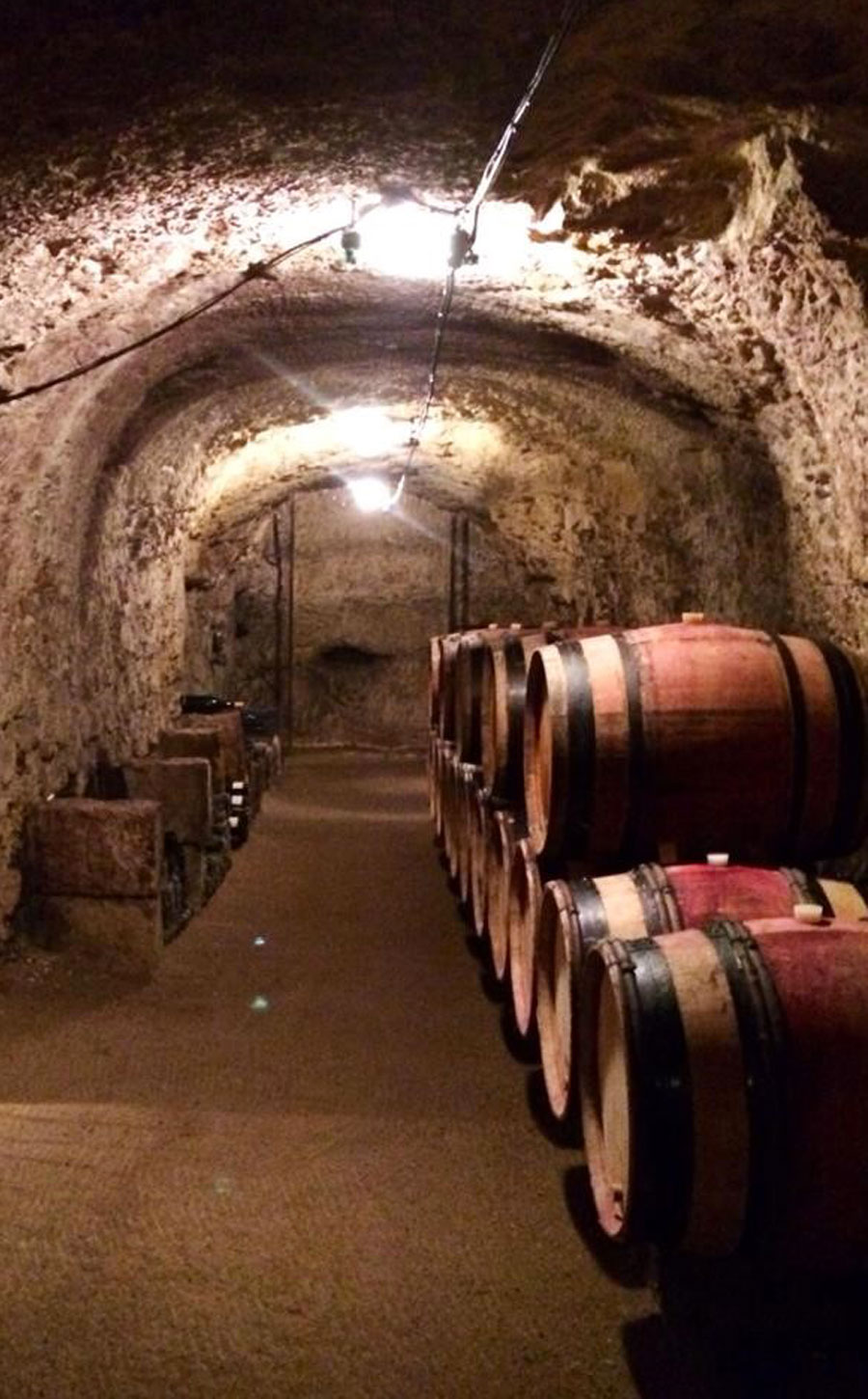 At the turn of a barrel, the silence suddenly becomes more monastic and time is suspended. In our glasses we are seized by the same emotion at the same moment. After having slightly regained our senses, one of us decides to break the silence: "Which parcel is it? Which cuvée?". Germain's answer: "Clos de l'Échelier 2020″…
Knowing some of the estate's cuvées, this is the first time I've heard of this one. This succinct but impactful presentation intrigues us. The tasting then continued in an atmosphere of great complicity with the impression of knowing Thierry Germain for years, of understanding him, of being part of his world. Laughter mingles with confidences, time passes without anyone noticing. After tasting everything, Thierry takes us to a secret corner of the cellar. There, an old tired barrel asks us questions. It's a secret, but here is a Solera* of chenin started in 1996. The winemaker's pipette plunges into the barrel and, like a gift, we are lucky enough to be able to taste this rare nectar. Wonderful, thank you again for this gift dear Thierry.
The Clos de l'Échelier, the plot
Once back from the cellars, our questions fly for our host. I want to know more about this plot of Clos de l'Échelier. Last purchase of the estate in 2012, this Clos has a special history for Thierry Germain. He bought it for his wife, after tough negotiations with the previous owner who did not want to sell it.
The couple was instantly sensitive to a particular energy felt in this place. It didn't take much for us to become intrigued by the place. Having used up all our time – another estate was waiting for us – we didn't have time to go round the vineyards with its owner. So he takes a piece of paper, scribbles a map – a sketch would be more accurate – giving us directions to the Clos de l'Échelier. Two days later, after having finished our trip to the Loire, before taking the road back to Paris, my three companions and I decided to make a diversion to this Clos de l'Échelier. In view of the emotion we felt when tasting the wine, we wanted to meet the place.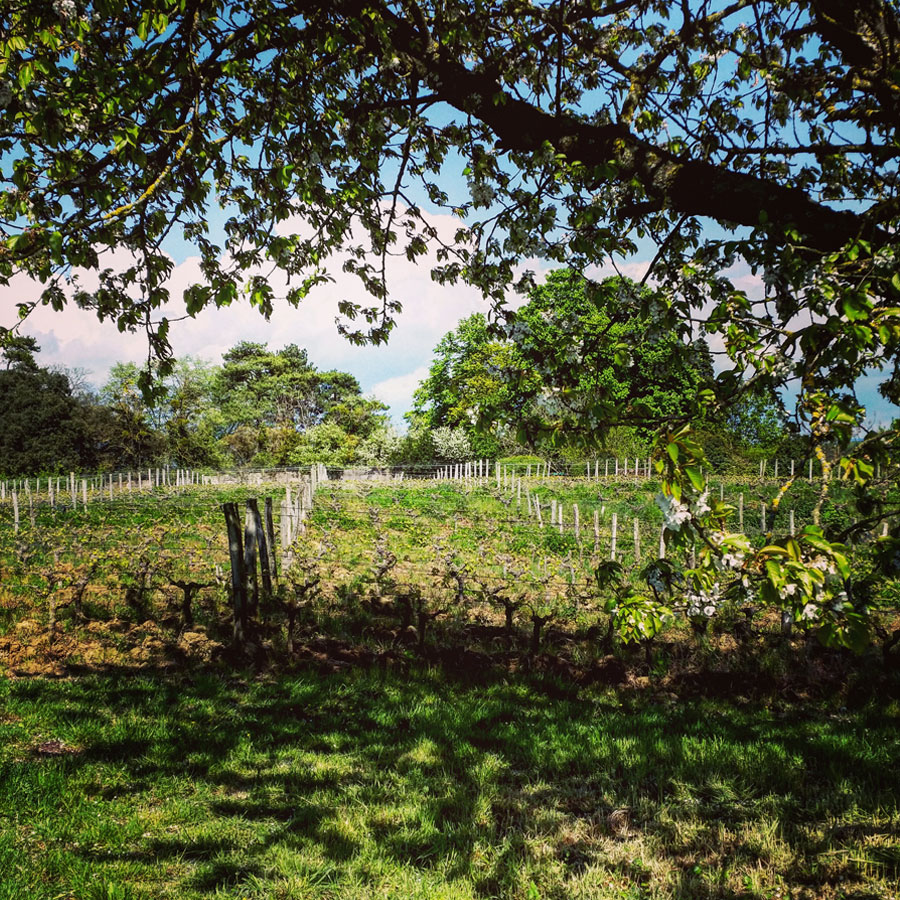 After getting lost, found, lost again, at the bend in a road plunging towards the Loire, we arrive on a plateau. There, a little lower down, a clos overhangs the river, trees lining it. We parked the car and visited the place. Walking in the vineyard is always soothing, nature does not have our rhythm, we are confronted with much bigger than us. The clay-limestone soil here is shallow, after 50 centimetres you are directly in the rock. The Loire flows down, we can see it, and as we look at it my thoughts escape. The clos acts as a cocoon, I feel good there and it may seem strange and esoteric, but I find the energy I felt when tasting the cuvée. This limestone lining the mouth, the length of the finish, the dimension of the wine becomes philosophical. You're probably thinking that I'm being subjective? No doubt, but can we really be objective in tasting, we are always conditioned by the moment and the people with whom we share the wine.
Whatever the case, on this February day, in the middle of the vineyards, I let myself be carried by the energy of the place, this river reminding me of my own buried emotions which then come back to me. Wine is also that, an emotion through silence.
Clos de l'Échelier 2019 – 100% cabernet franc
If among you, beloved readers, there are those who are reluctant to drink Cabernet Franc because you hate its peppery aromatics, its sharp acidity due to poor ripeness, rest assured, with this wine you will rediscover this grape variety. If I had to sum up Thierry Germain's wines in one word, I would use "maturity". Everything is just right and ripe.
The winemaker himself told us during the visit that the cabernet franc had to be respected in its vegetation in order to have an optimal maturity.
You will find in this Clos de l'Échelier 2019, on the nose some notes of acidulous red fruits, morello cherries, with this refreshing peony. The mouth is very greedy but shows a great structure. With these tufa soils, the palate is lined with this bewitching material. The finish is long and full of energy.
The wine is already tasting very well now, but I can only advise you to keep it in the cellar for 3-4 years in order to grasp its full dimension.
If you don't know the Saumur-Champigny appellation or have preconceived ideas (after all, Clos Rougeard should be the "grand vin" guarantee!), then rediscover it with this wine, I can vouch for it. As for the others, I don't have to convince you, you know the richness of this grape variety and its terroirs. I only hope that you will feel the energy and greediness offered by this wine.
Remember, "the vine is soil that rises".
Clos de l'Échelier 2019, Domaine des Roches Neuves
Price : €34
The estate – www.rochesneuves.com
You can find Valentin Cotton on instagram @Winepoetry_
*Solera : also called "perpetual reserve", the solera is a Spanish concept but is also widely used in Champagne. It is a question of keeping a wine in containers to which wines from later vintages are added according to the racking or the angel's share. Some Solera are very old and allow a very particular aroma without the effect of the typicality of the vintage.
Read also: