Extraordinary Creations
Extravagance in the high jewellery realm
Fine jewellery creations often flaunt an audacious extravagance, unleashing a gust of freedom on collections ensconced within rigorous techniques and demanding codes. This true signature of the great Maisons emphasizes their identities, by broadening the endless field of possibilities.

By Nathalie Koelsch
Radiant mockery of this turbulent year, the jewellers' extravagance has not quieted down. Bright, exuberant, spectacular, their creativity has never been more alive. As if deciding to overcome the unprecedented crisis that swept up the world, jewellery creation opened wide the doors of imagination, in a competition of elegance and good humour. The better to surprise with collections as unconstrained than spirited. Shimmering gems, acidulous colour-associations, new materials side-by-side with precious stones in a refined union. All elements are merging in harmony by following a natural balance. The great Maisons, as did creators, have explored uncharted territories, reinventing combinations of a extravagance jewellery.
For the illustrious high jewellery maison Buccellati, designing has always rhymed with daring.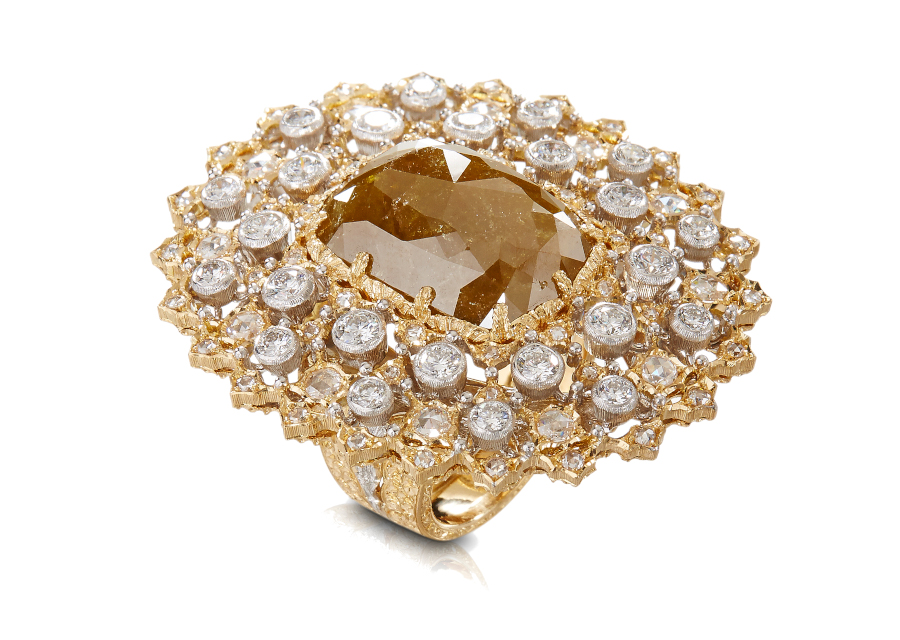 Five centuries of Italian art have founded the Buccellati legacy and savoir-faire. The illustrious maison, master of the filigree technique and metal lace, boldly treads towards precious and original combinations. Which is how, under a charming and surprising rose-cut cognac diamond, the cocktail ring boasts a diamond, yellow and white gold lace. The vibrancy of the gems, the golden sheens of the central stone and the minutiae of the lace chiselling, spread on the hand. And express the full audacity of the rejuvenated Buccellati style.
Cartier, jeweller of kings and king of jewellers, defies reality with its new fine jewellery collection "[Sur]naturel". A real extravagance.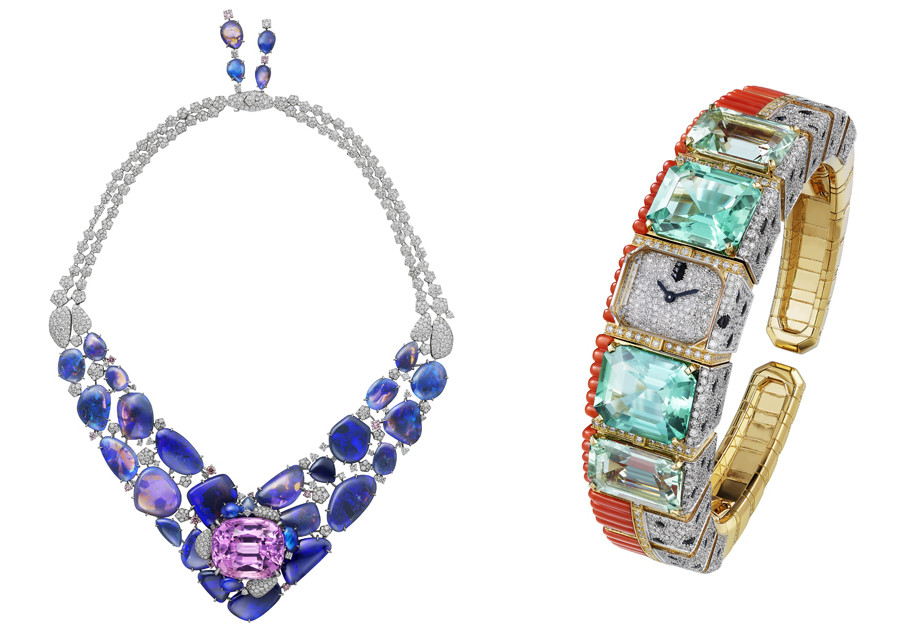 Opening the way to abstraction, water, fauna and flora are shaped into true jewels, with stylised forms so as to only keep the spirit of a snake with great pale green beryl eyes or the evocation of an irreal feline fur with iridescent patterns. The mystery remains whole under the gemstones magic summoning a supernatural and fantastic perception, where opal answers to kunzite, coral to aquamarine, beryl both to quartz and to the fires of coloured diamonds.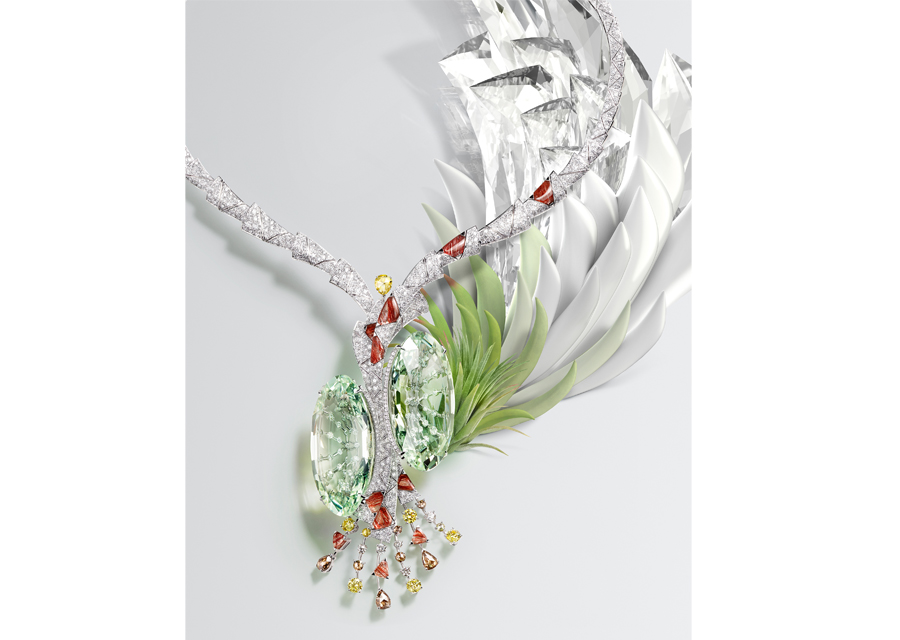 Flower extravagance : Dior and Harry Winston welcome colour, and jewels transform into precious flowers sparkling with a thousand lights
Exuberance and extravagance can also be found in the acidulous compositions of the Maison Harry Winston. Which celebrates with "Winston in Bloom" the blossom of new buds in a fresh and vibrant explosion.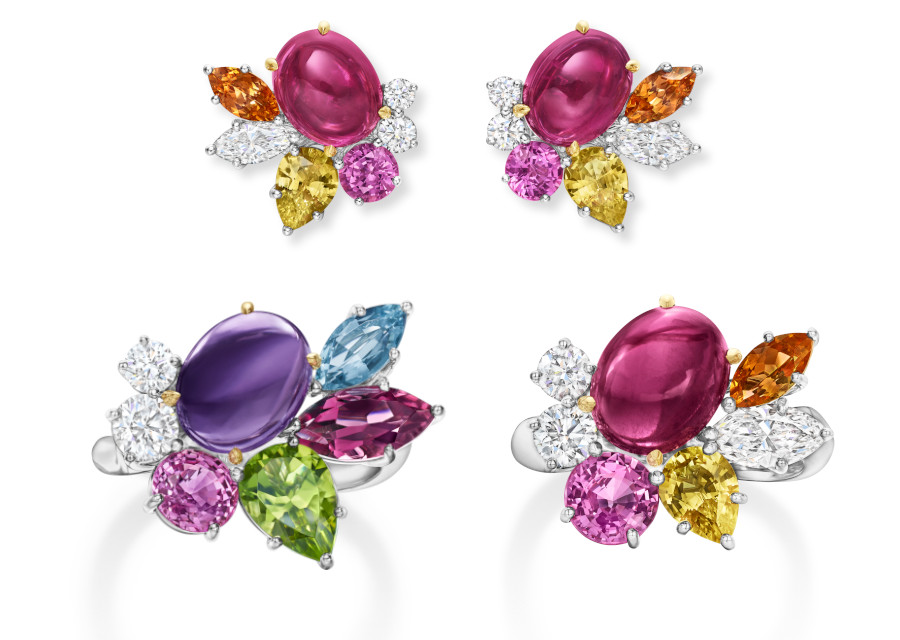 Dior, the unruly relative of jewellery is not to be outdone with "Dior et Moi". This transgressive high jewellery collection brings together exceptional and semi-precious stones circled with lacquer so as to reinvent with singularity the classic entourage marguerite, without any shape or hue constraint. In a joyous and colourful whirlwind, diamonds, emeralds and coloured sapphires match red spinels, tourmalines and opals… Personal favourites of Victoire de Castellane.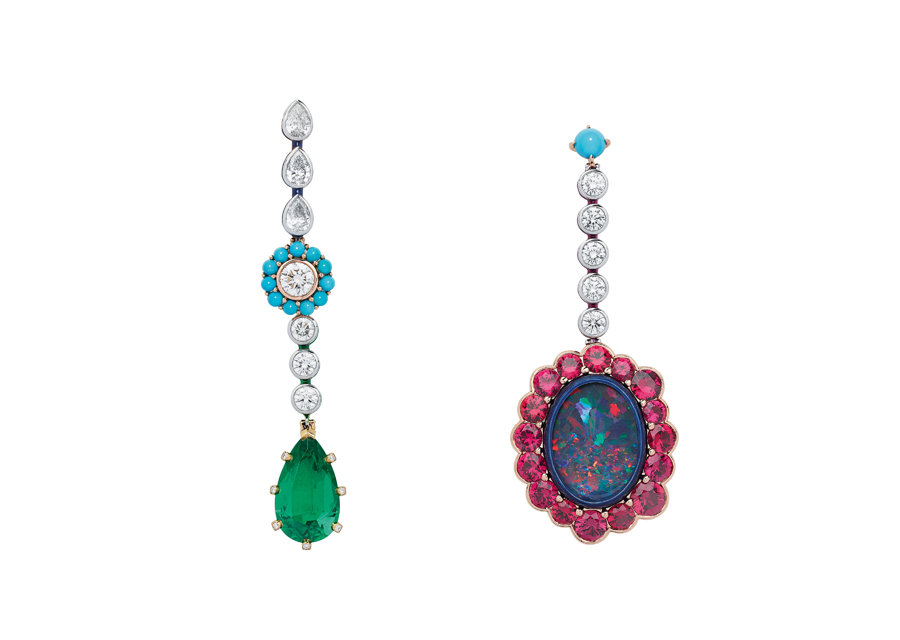 With multiple savoir-faire and extravagance, Dior is an exceptional house who honours the boundless talent of its watchmaking masters artisans by offering them as an original field of expression the functional and patented oscillating weight of the "Dior Inversé" caliber shifting on the dial of the Dior Grand Bal.
A collection on which we wrote a fascinating article, to read and reread here: Dior Grand Bal, all-singing, all-dancing.
Automn shades are welcomed in high jewellery by the creators Lydia Courteille and Isabelle Langlois…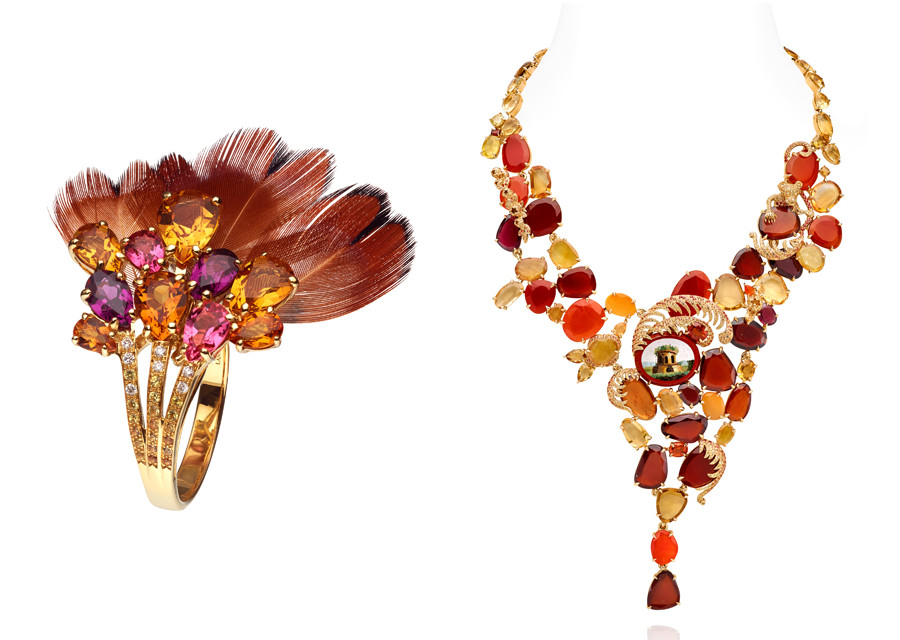 Warm brown palettes that adorn the autumn season have inspired Isabelle Langlois as much as Lydia Courteille. In "Panache", Isabelle Langlois marries feathers to gems in a beautiful blending of shades perfectly reflecting the season, with compositions disrupting with sensuality the rules of jewellery. The carefully cut feathers caress the hand, lengthening with a colourful train the jewel paved in precious stones. Known for her creative liberty, Lydia Courteille brings together History and jewels with an innate sense of staging, in both baroque and theatrical creations. True invitation to the voyage, her "Amber room" echoes the eponymous chamber of the Catherine Palace of Tsarskoye Selo near Saint Petersburg.
…While mythology and the Baroque extravagance inspire Gabriela Sismann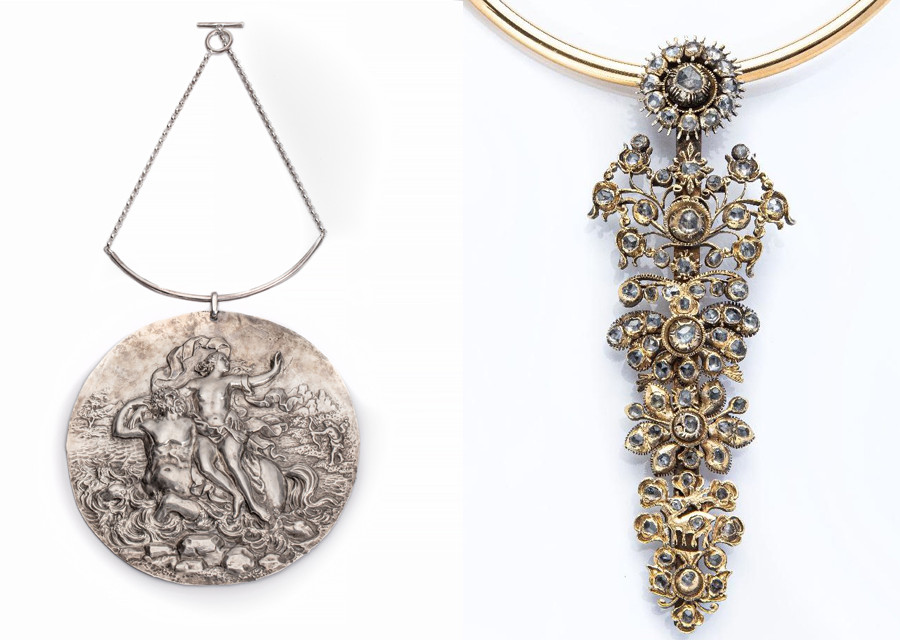 As for Gabriela Sismann, the art historian freely diverts ancient piece of jewellery and transports them through the ages to offer them a new life in the jewels she designs. On a silver torque, the large pendant (14,5 cm of diameter) of "Deianire Nessus" is composed of an ancient baroque plaque representing a mythological scene from the Metamorphoses of Ovid, "The abduction of Deianira by Centaur Nessus". The creator also transformed into a pendant a 15-cm baroque brooch with floral and animal décor, from Silicia and dating from the end of the 17th century. Designed in golden silver and set with diamonds, it is mounted on a ring slid on a gold frame.
Going beyond, Chanel reinterprets both iconic pieces and Nature itself…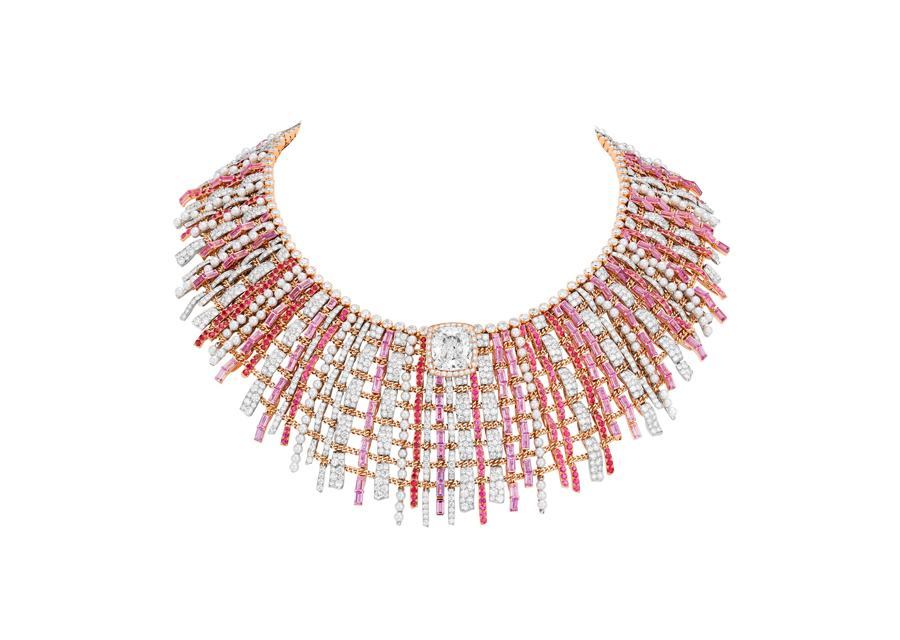 The classicals transform or broaden traditional components to better sublime them and give them a new dimension. The lengthy chains of the spectacular Tweed Chaîne necklace from Chanel. It upheld by two patterns woven in gold, platinum, tsavorites, pearls and diamonds brighten the elegance of a multiple layers necklace.
… is as always endlessly reinvented by Piaget, Chopard and Graff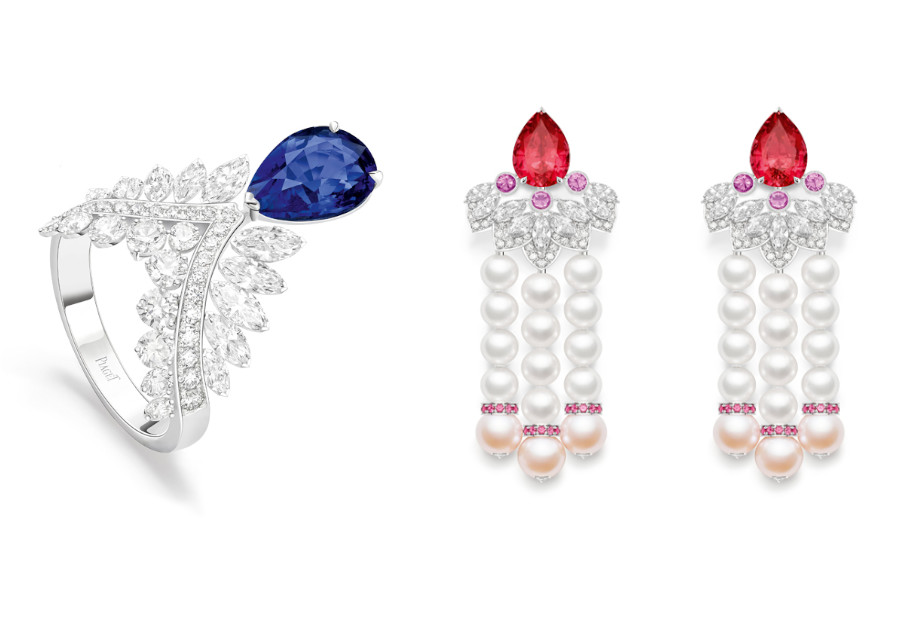 Carried by scintillating plumages with exotic accents, the collection Wings of Light by Piaget reinvents a shimmering jewellery. Feathers marquetry or navette-cut gemstones settings to compose a true wing of light, the maison develops her own style inspired from the chic and festive ambiance of the Riviera, adding a dreamlike and original touch.
The creative genius of Chopard is exemplified in the Red Carpet collection, paying tribute to Nature. Behind the classical motifs – Christmas tree, clovers or flowers – the jeweller gives free reign to his whims. He multiplies the use of precious stones with hypnotic depths and striking colour gradients.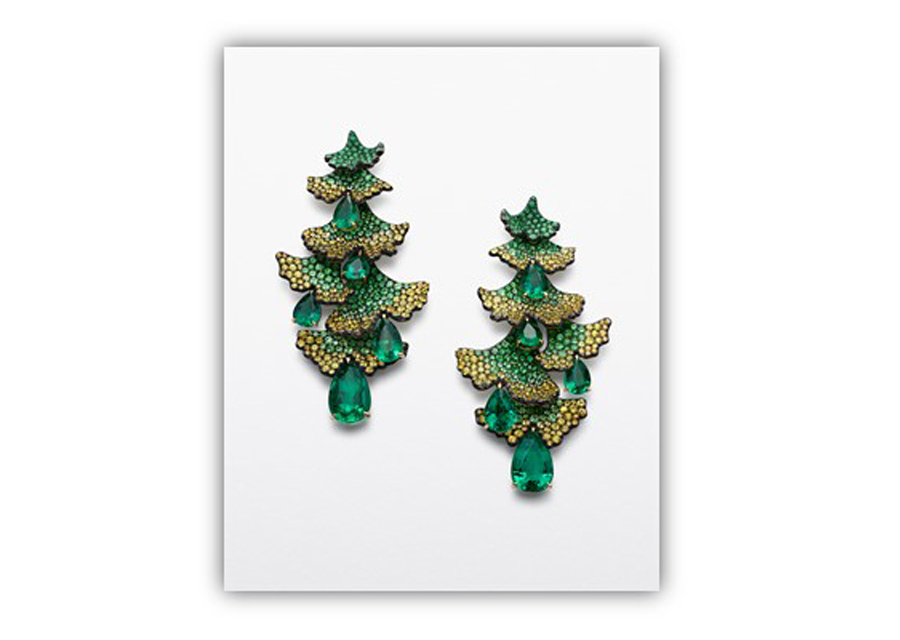 Talented creator, Inédit transforms a simple black and white ribbon into a sculptural ring covering the hand with its lace in blackened gold, hemmed with diamonds. Graaf's extravagance for his part decorates earrings with leaf-shaped garnets.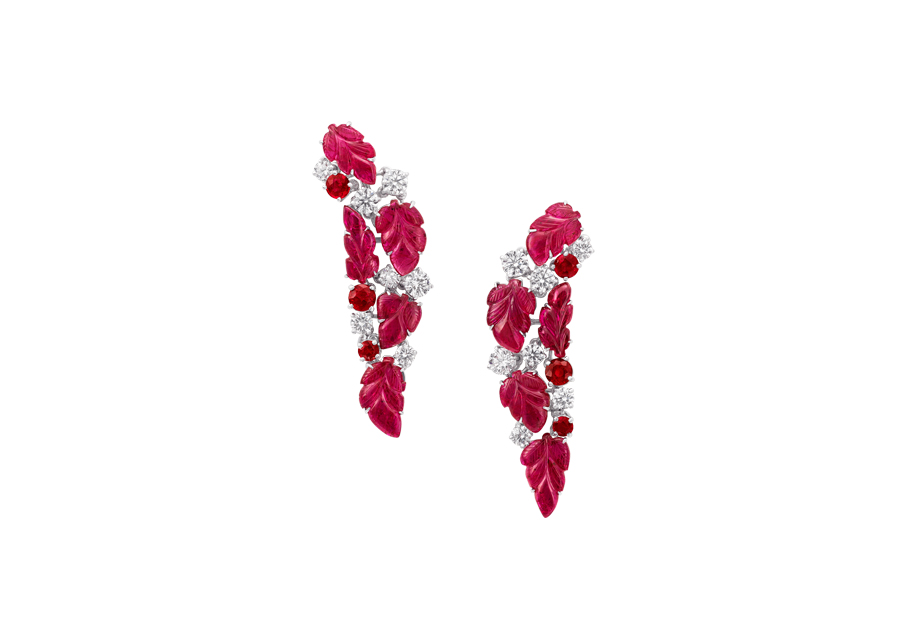 Extravagant, impertinent and exuberant, jewellers daringly multiply shapes and colours to create recreational collections. Good for the soul and prevailing over the gloom.
www.buccelatti.com
www.cartier.com
www.chanel.com
www.chopard.fr
www.dior.com
www.galerie-sismann.com
www.graff.com
www.harrywinston.com
www.isabellelanglois.com
www.lydiacourteille.com
www.piaget.com