FRANK SANS C VIDEO
The three new Apple Watches in focus
Here's an interesting fact: there are more Apple Watches sold worldwide each year than Swiss watches regardless of brand! Believe it or not, it's true. So, when Apple releases three new products, Frank Sans C is quick to decode, decipher, and experiment. Focus on the Apple Watch SE, Series 8 and Ultra, time bombs that don't tick...

By Chloé Redler
It's one thing to appreciate fine calibres and stunning complications when you're a "tick-tock fanatic". But when Apple unveils three Apple Watches, the "techies" start to emerge. And for good reason, as this trio has some amazing features that would put many a mechanical watch to shame. For the time being, let's put aside our passion for movement and oscillation and release the geek in all of us to appreciate these connected gems. For any budget.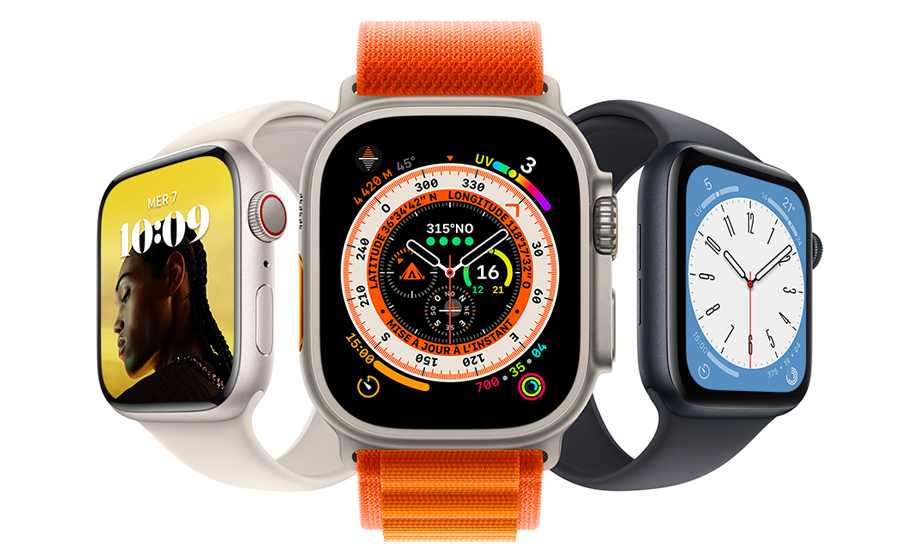 While a great addition to any wish list or Christmas stocking, the new Apple Watches should be chosen, and most importantly tried on, beforehand in-shop. Depending on the model, there are several case sizes: 40 or 44 mm for the SE, 41 or 45 mm for the Series 8, and 49 mm for the Ultra. It might be a good idea to picture how it will look on your wrist. …Even if you end up buying it online.
Apple Watch SE: high performance on a budget
For an entry-level model, the Apple Watch SE is already an excellent start. This watch is 20% faster than its predecessors. Not only does it perform better, it is also more sustainable. The case comes in three colours (midnight, starlight and silver) made from 100% recycled aluminium. The watch is designed using a manufacturing and production process that reduces its carbon footprint by approximately 80%.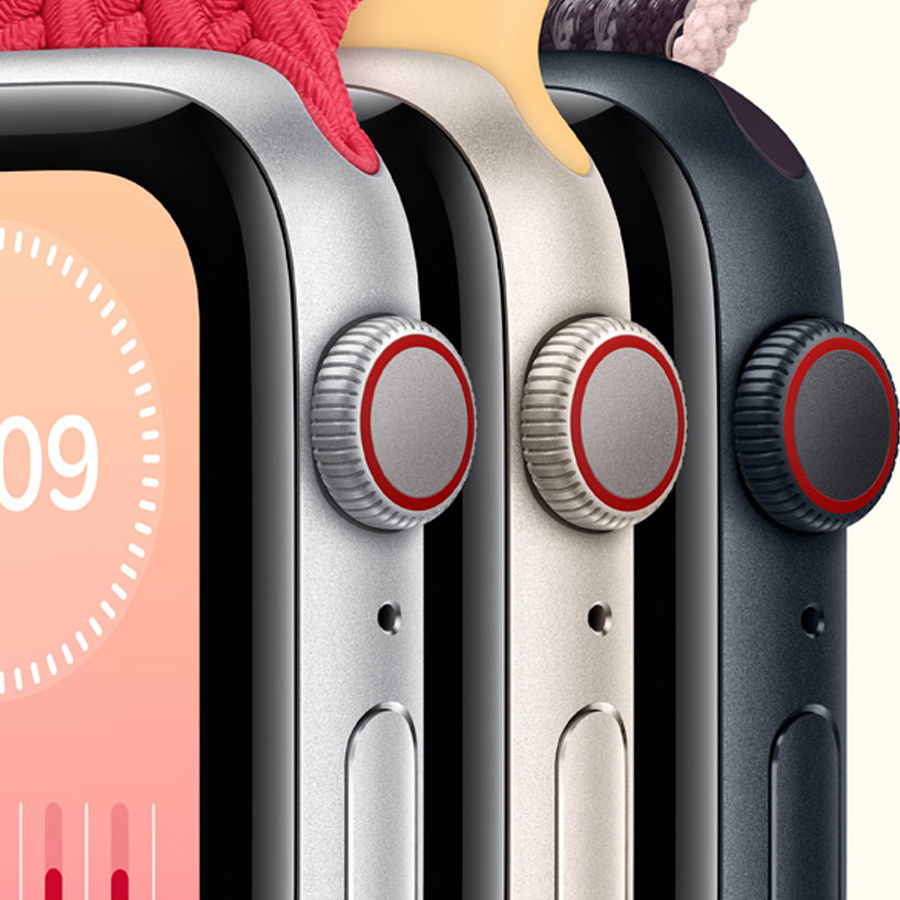 Health and fitness
Unlike previous editions and their questionable water resistance, the latest Apple Watch SE is water resistant up to 50 meters (WR50 standard). Interesting and quite helpful if you are fond of swimming or snorkeling.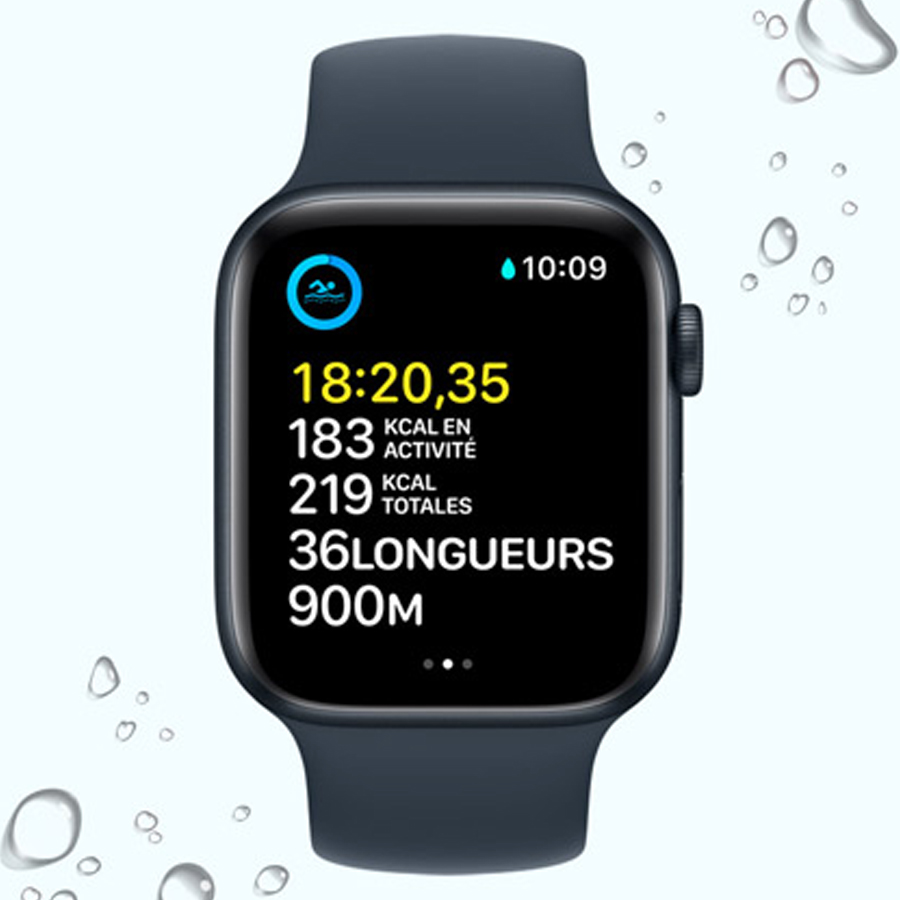 More on the sports watch side of things: the SE comes with the upgraded Workout application. In addition to custom workouts (choose from 11 sports and over 3,000 workouts), it provides heart rate zones, stride length, ground contact time and vertical oscillation. This data is essential for athletes preparing for a marathon and allows them to improve their running performance while monitoring their heart rate.
Physical health also includes mental health: the Mindfulness app offers guided meditation sessions. Like a good wellness watch should, it keeps a watchful eye on your sleep, by detecting sleep apnea and also by tracking stages (REM, core and deep sleep).
Crash detection
Among the new features, this one really caught our attention. The feature compiles all the information given by the watch and detects, through an algorithm, if the wearer has been in a serious car crash, whether it is head-on, side-impact, or rollover.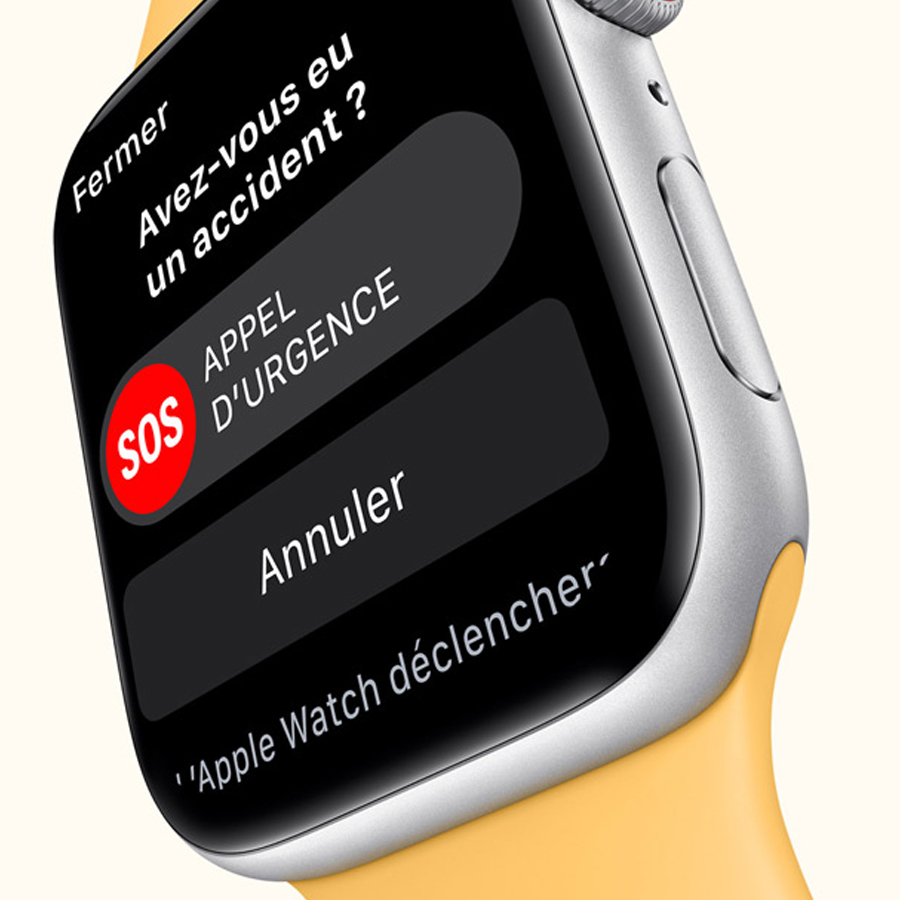 How does it work? The microphone scans for impact sounds, the barometer identifies changes in pressure upon airbag activation, and other sensors – such as the accelerometer – detect emergency braking. More amazingly, the watch asks the wearer if help is needed. If there is no response, it will automatically call the emergency services, provide GPS location, and send a notification to their contacts. The emergency services can also access the watch wearer's medical data, such as blood type and any drug allergies. And in the most extreme cases – yet oh so life-saving for others – their organ donor status.
This is undoubtedly a major step forward in terms of safety: the app works for motorbike or bicycle crashes, or when falling down the stairs. A reassurance for the elderly, or any other isolated individuals who find themselves in trouble.
Every step you take
The compass app is also worth a look. It allows you to save waypoints as you go and, most importantly, set a starting location. This makes it possible to track your route. No chance of getting lost in the woods, in the mountains during a snowstorm, or on a trail.
Another handy feature, this time for parents: with international roaming, if the watch is connected to the parent's phone, they can locate their offspring wherever they are.
Design considerations
Even for a smart watch, the "dial" is not without its importance. The display is a Retina (the same as for Mac screens) and 30% larger than the first 2015 Apple Watch. Provides great visibility and brightness for optimal information intake. Many custom dials are available, each with their own complications, colours and styles.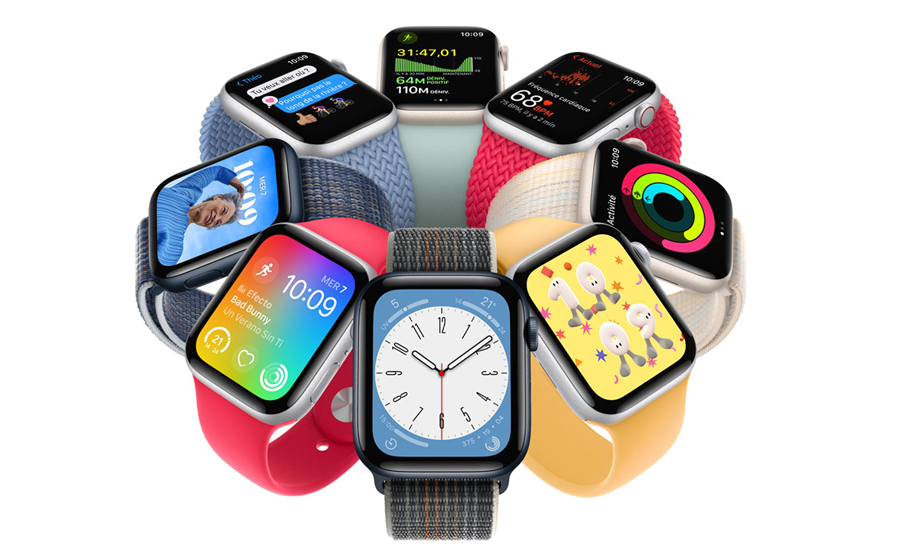 The bands are interchangeable, which goes without saying with Apple! Attention is paid to detail with different colours and materials. With Apple Watch Studio, on the brand's website, you can preview your Apple Watch with its case and strap, and create your own style.
From €299
Specifications:
40 to 44 mm case
Swimproof
Retina display – up to 1,000 nits
High and low heart rate notifications
Irregular rhythm notifications
Cycle tracking
Emergency SOS, international emergency calling, fall detection, crash detection
Cellular available
Family Setup – pair multiple watches with one iPhone
18-hour autonomy
Apple Watch Series 8: intuitive design and durability
Of course, the new Apple Watch Series 8 includes all the features of the SE and much more! It is fitted with the most advanced sensors in tech, particularly in the health department. It provides valuable data for a better understanding and appreciation of your health. And it does it in style.
Your health companion…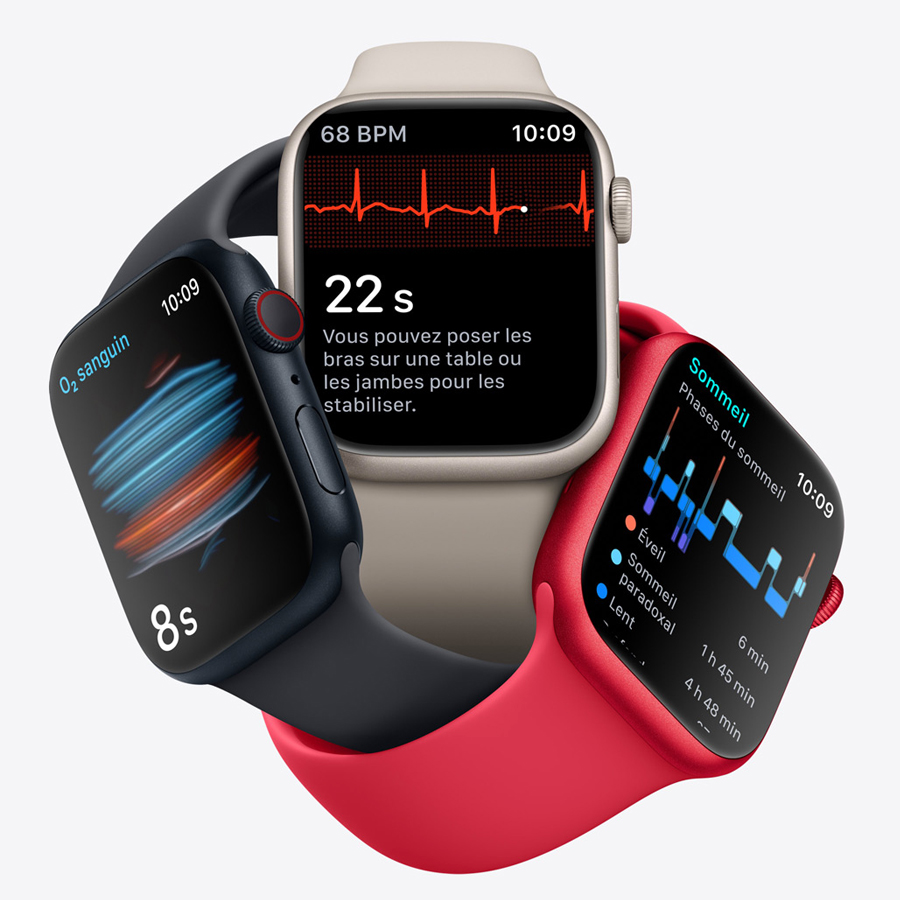 A new feature of the Series 8 model is temperature monitoring throughout the day and night. This is a major advancement for women's health, as it provides a complete and accurate view of the menstrual cycle. The sensor takes the wearer's temperature every five seconds and can detect variations as small as 0.1°. These variations are recorded on the phone connected to the watch and provide a precise chart of temperature changes. This gives the wearer ovulation estimates and predictions of the coming period.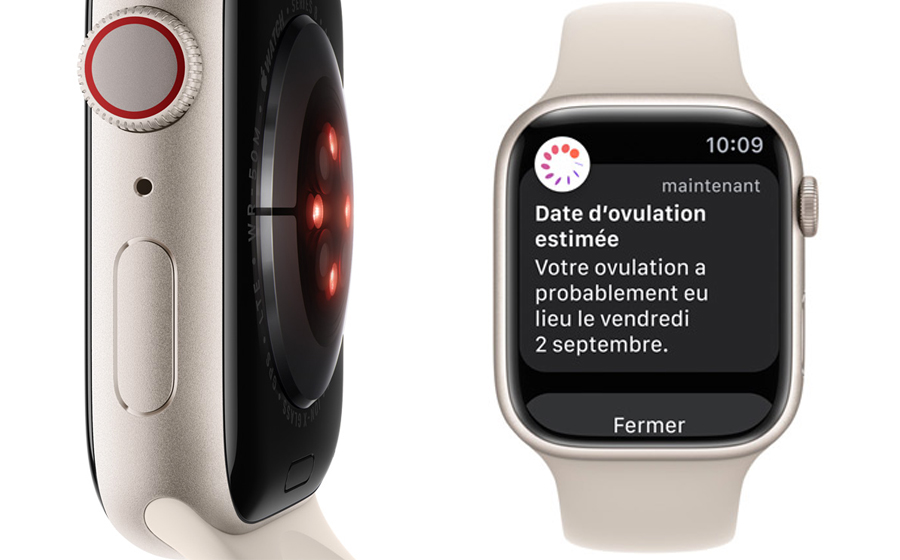 The Series 8 comes with the ECG app, which can generate an electrocardiogram, allowing you to monitor your heart rate and any irregularities in heartbeat. Another major advancement is the blood oxygen sensor – handy in the current pandemic context. The Medications app lets you set medication reminders.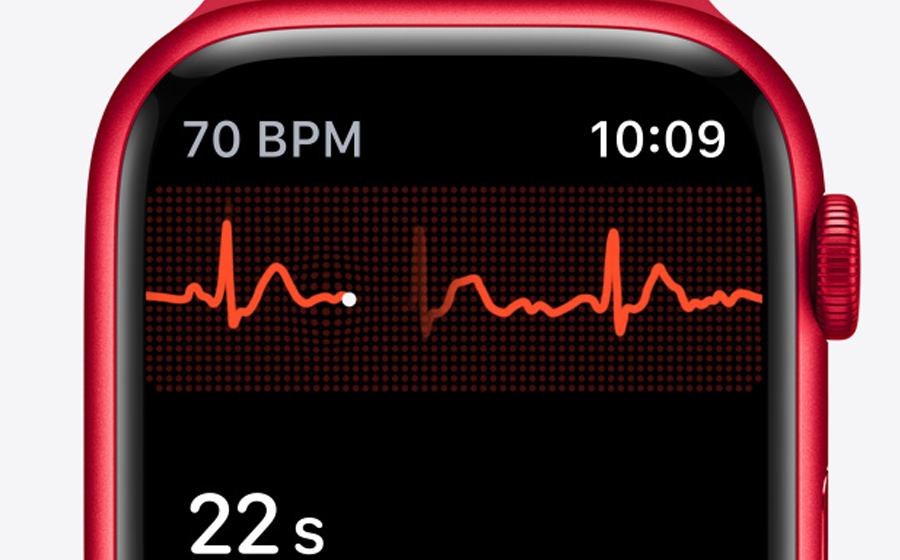 … and your physical trainer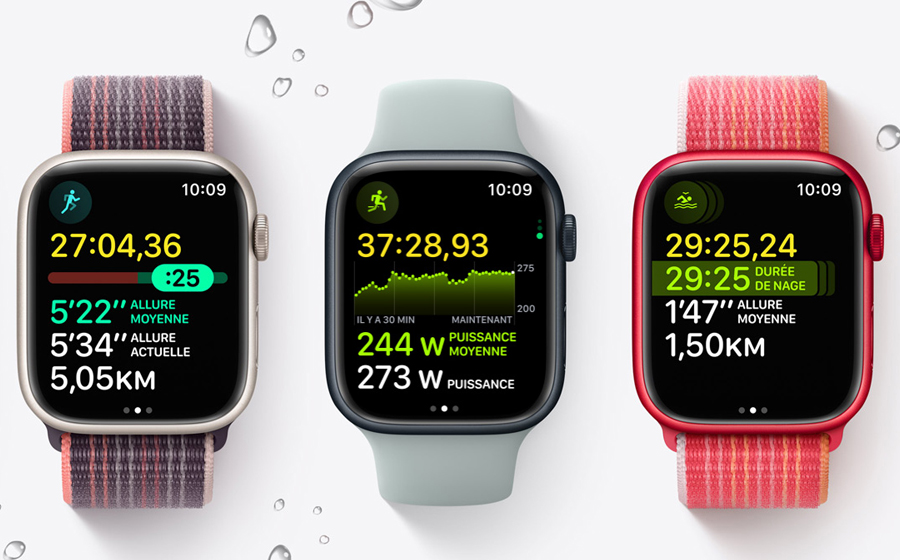 Fitness is the name of the game. The Apple Watch Series 8 is a true training companion: it can identify your workout type. At the swimming pool, the watch can tell breaststroke from front crawl. And by the way – it is even self-drying. There is a dedicated function that expels water from the speaker… quite incredible. This instrument coaches and guides its wearer, whether they're cycling, walking, or doing cardio.
From €499
Specifications:
41 to 45mm case
IP6X dust resistant
Swimproof
Always-on Retina display – up to 1,000 nits
Blood oxygen app
ECG app
High and low heart rate notifications
Irregular rhythm notifications
Temperature sensing
Cycle tracking with retrospective ovulation estimatesT
Emergency SOS, international emergency calling, fall detection, crash detection
Cellular available
Family Setup – pair multiple watches with one iPhone
18-hour power reserve
Apple Watch Ultra: as the name suggests
Built for adventure and exploration, the Apple Watch Ultra is the complication watch par excellence, with numerous extra functions. In the mountains, the desert or the forest, the watch can withstand temperatures from -20 to 55 degrees Celsius. And for good reason: it is crafted in titanium, a tough, corrosion-resistant material.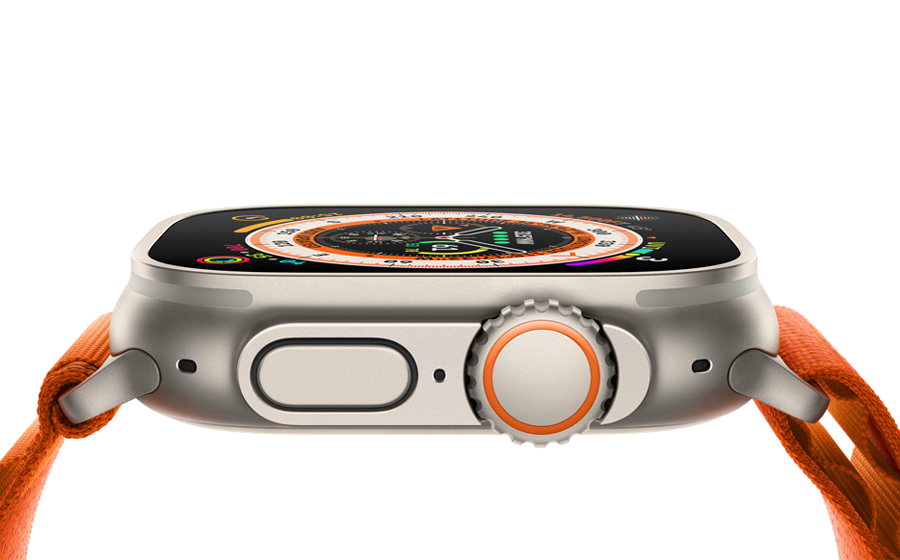 Designed for every sport
The ultimate sports watch for extreme athletes. The Ultra boasts all of the functions of the SE and Series 8 models, as well as the multi-workout feature, which provides athletes with data to improve and achieve, or even exceed, their goals. To take running as an example: stride length, ground contact time, vertical oscillation and strength are among the new data that any self-respecting athlete should have access to. With this watch, fitness lunatics and Ironman enthusiasts alike can switch activities with remarkable ease.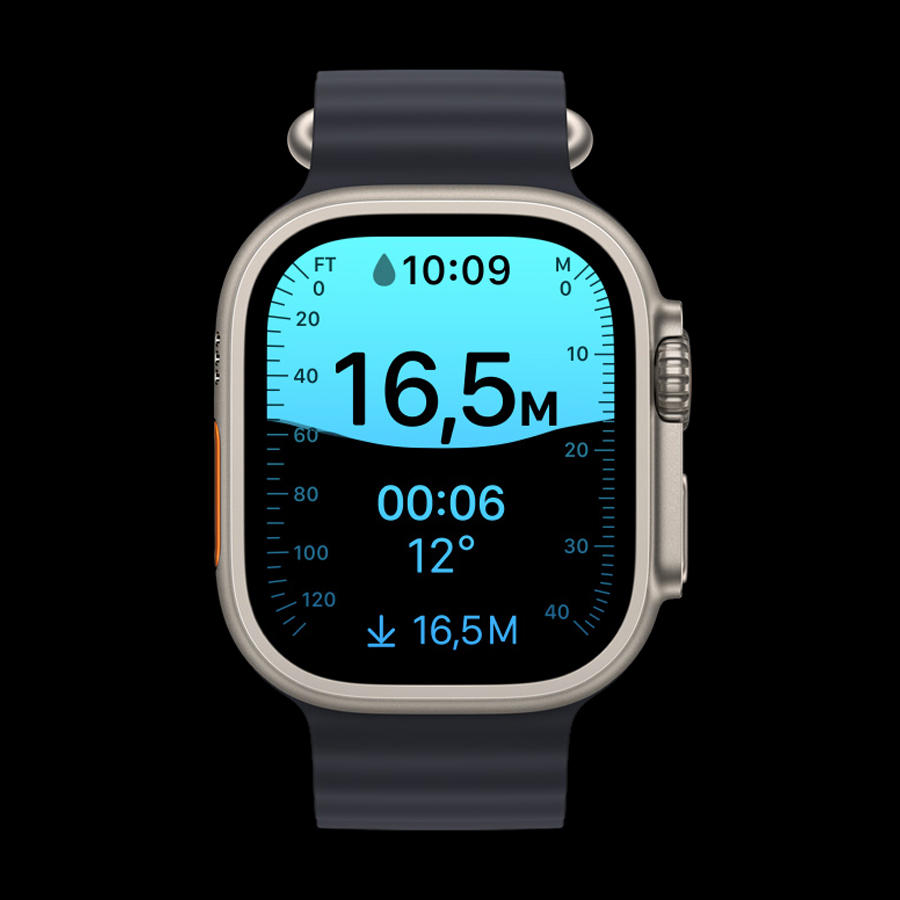 The watch is water resistant up to 100 metres and is certified as a dive computer by the internationally recognised standard EN13319. It also comes with a depth gauge and is perfectly suited for recreational and scuba diving up to 40 metres. The Oceanic+ app integrates tides, water temperatures and currents. It also takes into account decompression limits and excessive ascent rates to ensure safe diving.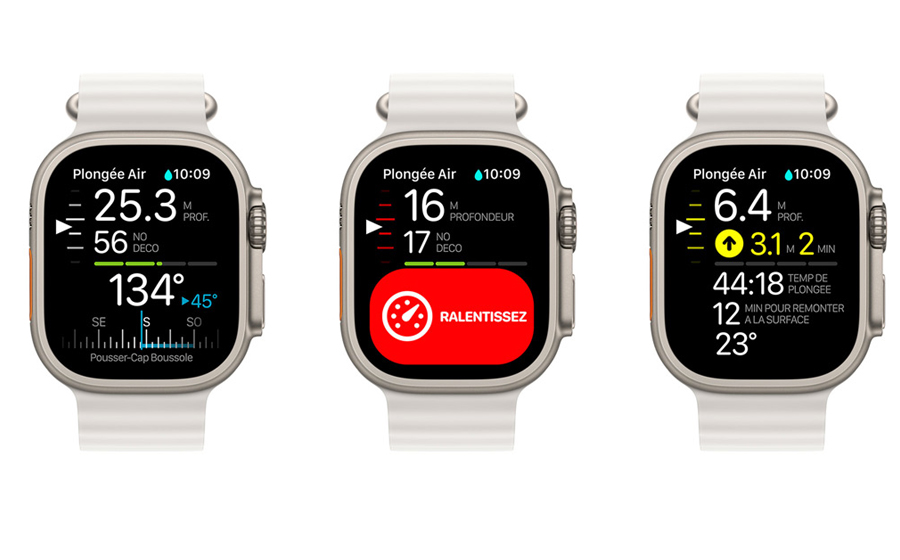 Apple Watch Ultra, an ultra instrument
The ultra-sharp Retina display is twice as bright as any other Apple Watch. It is larger and wider, providing more room for fitness data. The dial can be set to Night Mode for optimal visibility. The data is then shown in red, easier to see in the dark. The screen is protected by a sapphire crystal and slightly recessed to shield it from impact when practicing extreme sports such as diving or rock climbing.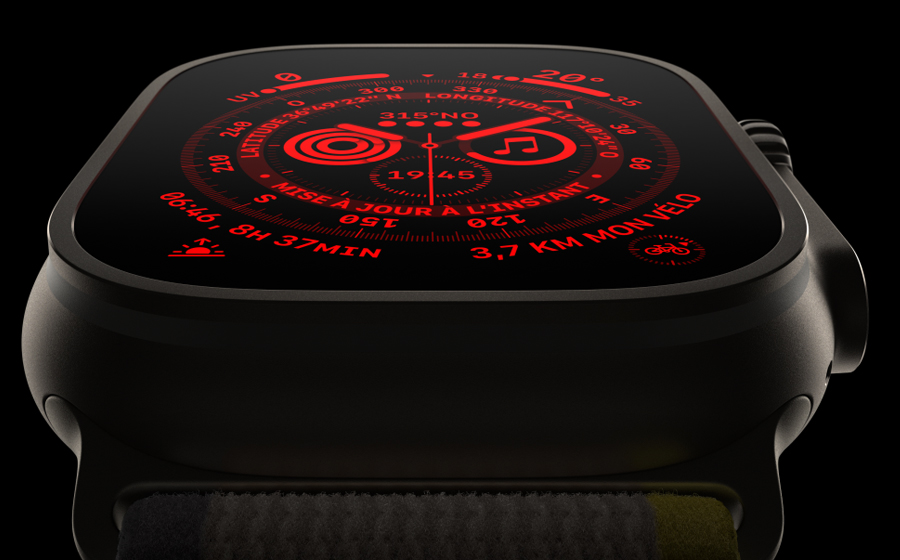 This ultra-versatile model comes with a dual-frequency GPS that provides accurate location for calculating distance and various routes. It also has dual speakers and a three-microphone array to improve outdoor voice communication.
The ultra-loud 86-decibel siren function can be heard from 180 metres away. Enough to attract attention if something goes wrong. The Apple Watch Ultra also features an orange Action button. It can be customised and used to mark a Compass waypoint, a starting location, control a workout, begin a dive, etc.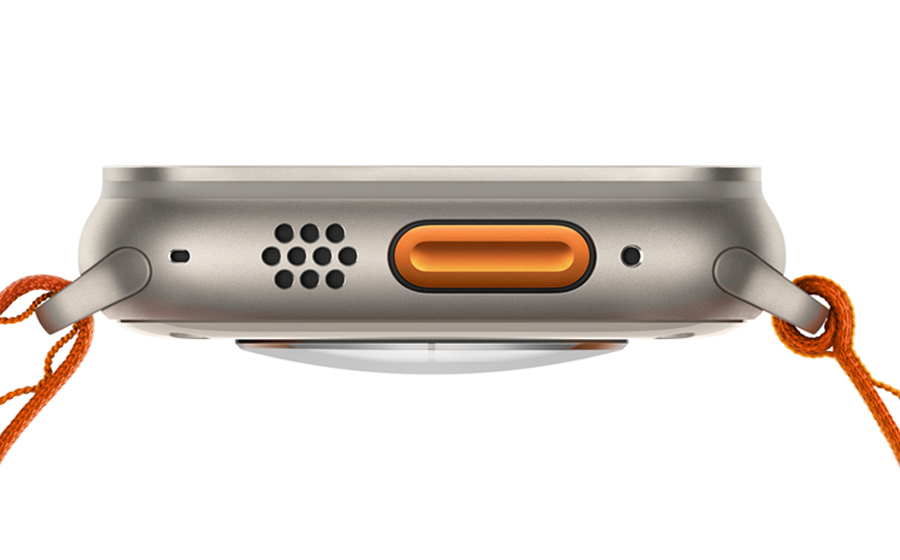 One watch, many possibilities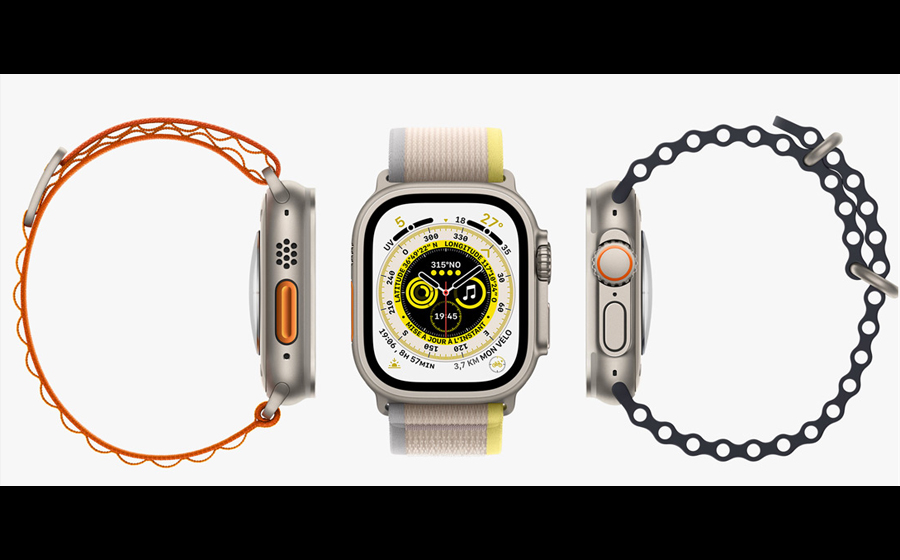 Apple offers three specialised bands for outdoor sports, endurance training, and water sports. The Trail Loop: light, thin, and flexible. Can be adjusted quickly during workouts. The Alpine Loop: made from two woven textile layers. Comes with a G-hook that slips into reinforced loops for a comfortable fit. The Ocean Band: crafted from fluoroelastomer rubber with a extreme-proof titanium buckle. It comes with a band extension so that it can be worn over a wet suit.
From €999
Specifications:
49 mm case
IP6X dust resistant
MIL-STD 810H certification
Action button
Swimproof
Always-on Retina display – up to 2,000 nits
Blood oxygen app
ECG app
High and low heart rate notificationsIrregular rhythm notificationsTemperature sensing
Cycle tracking with retrospective ovulation estimates
Emergency SOS, international emergency calling, fall detection, crash detection
86-decibel Siren to attract attentionCellular available
Family Setup – pair multiple watches with one iPhone
36-hour power reserve
Last but not least:
For those with larger budgets, the cellular function is a plus. This requires adding an option on your phone plan but it can be very convenient if you lose your phone.
Some clarification: Apple does not access all your data!
Explorers, climbers, runners and divers are bound to love this true tool watch. The new Apple Watch may not tick, but it sure ticks all the boxes!
To see also:
To read also: