Grande Sonnerie: a masterpiece Greubel Forsey
By MyWatch
Eleven years of research and development. The assembly of no fewer than 935 parts. The ling of two patents. The development of an acoustic resonance cage producing an extremely pure sound. The incorporation of eleven security functions ensuring maximum peace of mind… These few elements alone give an idea of the magnitude of the almost gargantuan task of creating the rst Greubel Forsey Grande Sonnerie.
For every watchmaker even slightly fascinated by the history of watchmaking excellence, the Grande Sonnerie represents a culmination, a pinnacle that is often not reached in the space of a lifetime. Without a shadow of doubt, the Grande Sonnerie is one of the greatest of watchmaking complications. Since the very beginning of their partnership, Robert Greubel and Stephen Forsey have been thinking out what their own, resolutely contemporary interpretation
of this regal complication could be. For eleven years, the Grande Sonnerie shaped their day-to-day life. Eleven years, during which they worked in the utmost secrecy to assemble the 935 parts of this timepiece, striving in particular to achieve absolute harmony between the movement, the exterior and the acoustics.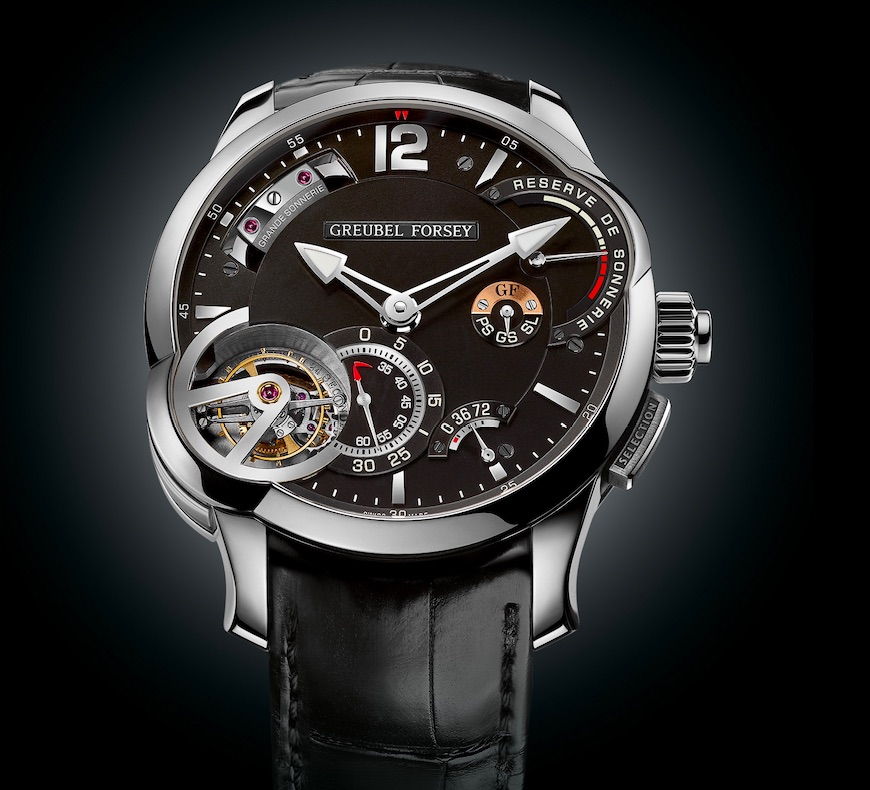 This timepiece represents the quintessence of their expertise and their ideal of watchmaking excellence. This Grande Sonnerie has powerful acoustics. It is water resistant to 3 atm. It is ergonomically designed for optimum ease of use, while an exceptional repeater power reserve enables it to run for about twenty hours in "Grande Sonnerie" mode. The timepiece is equipped with a silent striking regulator and a Tourbillon 24 Secondes, all housed within the standard dimensions of a Greubel Forsey case.
The most important elements and indications (such as the tourbillon, the cathedral gongs, the striking hammers, and the power reserve and mode indi- cators) were incorporated with the greatest care to ensure architectural balance. This was no mean feat – the watch designers succeeded in housing the 935 parts comprising this timepiece and its exterior in a space measuring 43.5 mm in diameter and 16.13 mm high. The Grande Sonnerie is well and truly Greubel Forsey's most complex creation to date.
The movement is manually wound, but the striking mechanism features a self-winding system which provides about 20 hours of power reserve in Grande Sonnerie mode. The minute repeater and its addi- tional striking mechanism sounds the exact time on demand, down to the minute. The speci c character- istics of this timepiece include, in particular: 21,600 vibrations/hour and a 72-hour chronometric power reserve. This timepiece has three modes to choose from: Grande Sonnerie (which strikes the hours and the quarters in passing), Petite Sonnerie (which strikes the full hours in passing) and Silence (which does not strike in passing). The pure and rich sound of the Grande Sonnerie is enhanced by an acoustic resonance cage made from titanium.
Greubel Forsey is now part of the very exclusive circle of the few watchmakers o ering a Grande Sonnerie.
Five to eight pieces of this timepiece will be realised a year.