WINTER BREAK
A rendez-vous to the VoulezVous in Tignes
The Vanoise ski resort (northern Alps) has a new pride and joy: the VoulezVous, a 5-star hotel that perfectly fits into today's zeitgeist. Enjoy stylish skiing, peace of mind and a friendly atmosphere, without the showboating or the hassle. A very lucky recipe indeed.

By Jean-Pierre Chanial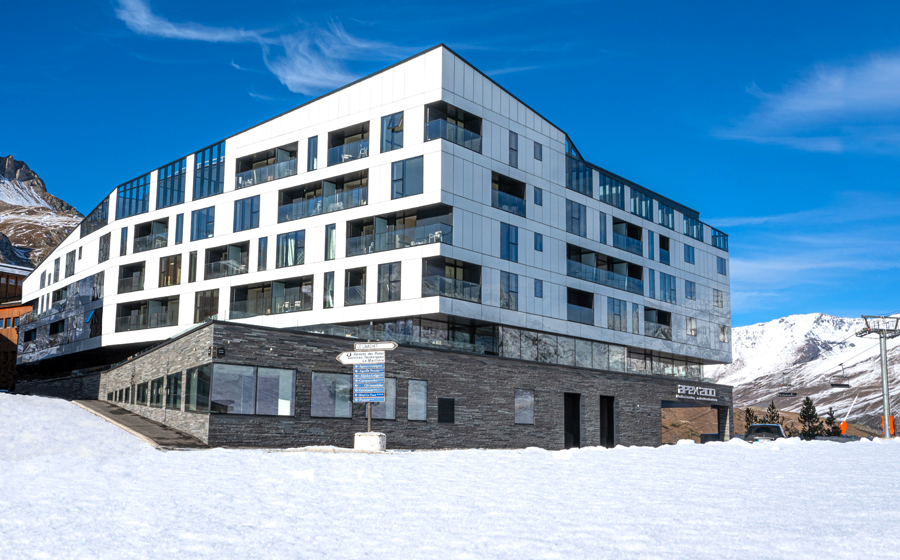 Here's some good news: in Tignes-le-Lac, 2,100m high, snow is a given. At the edge of the village near the bottom of the slopes, a tiger is on the prowl, ready to pounce. Obviously, it's only a statue, a work of art reminiscent of Orlinski, balanced atop a terrace edge, overlooking the magic of the Alps. Take it all in: skiers and snowboarders carving out lines on the powder, learning toddlers taking tumbles under the benevolent eye of their teenage teacher. The suspended stroll of chairlifts and the careful ballet of snow groomers. A permanent spectacle that you don't ever grow tired of watching.
Rest, relaxation , and skiing at the VoulezVous
These wonderful sights can be seen from the large picture windows of the VoulezVous hotel, the latest addition to this mountain panorama , courtesy of the Etincelles group. It houses 69 rooms – all of them impeccably done up, although go for the ones with balconies if you can.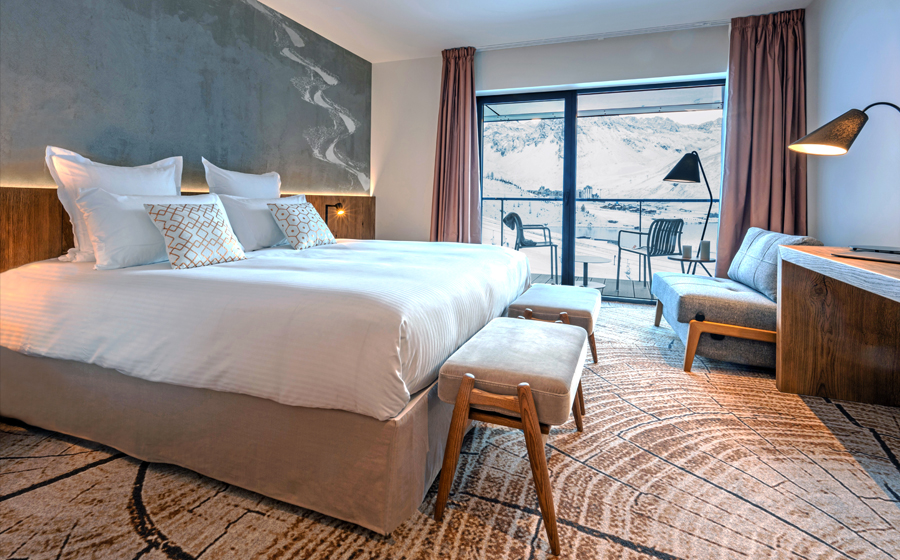 All that was missing was a splendid, trendy establishment. Here it is now. It will be prized by tech junkies (enough power outlets for all your beloved gadgets), exercise enthusiasts (there's skiing, of course, but also a state-of-the art indoor gym), wellness lovers (600m2 spa complete with sauna, steam room and a gorgeous pool) and foodies (the Italian restaurant, Il Savoia, is already a gold standard). Ticking all the boxes of a great holiday.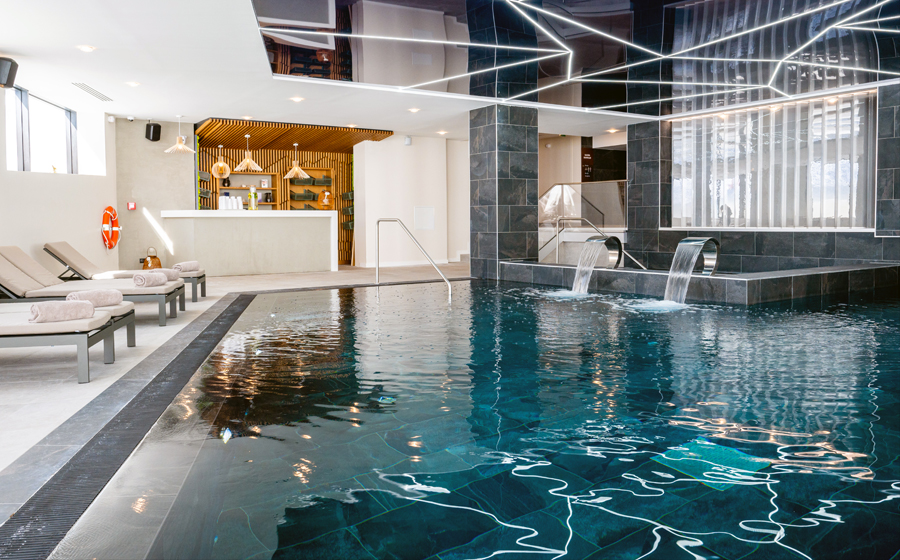 The Etincelles group, an expert in alpine real estate, runs the whole gamut of snow-capped dwellings: chic cabins for fashionable hermits, apartment complexes with hotel services, and chalets to house your whole family or tribe. It only needed something for their new customer base, these thirty- and forty-somethings, trendy couples in designer shirts and ripped jeans, people who don't care about what it costs, as long as fun is being had. They enjoy skiing (the hotel also offers dogsledding, hiking, snowshoe trekking, skijoring, etc) as well as massages. They love a warm, friendly atmosphere and memorable evenings. All of that and more is on the cards.
Rigatoni with coppa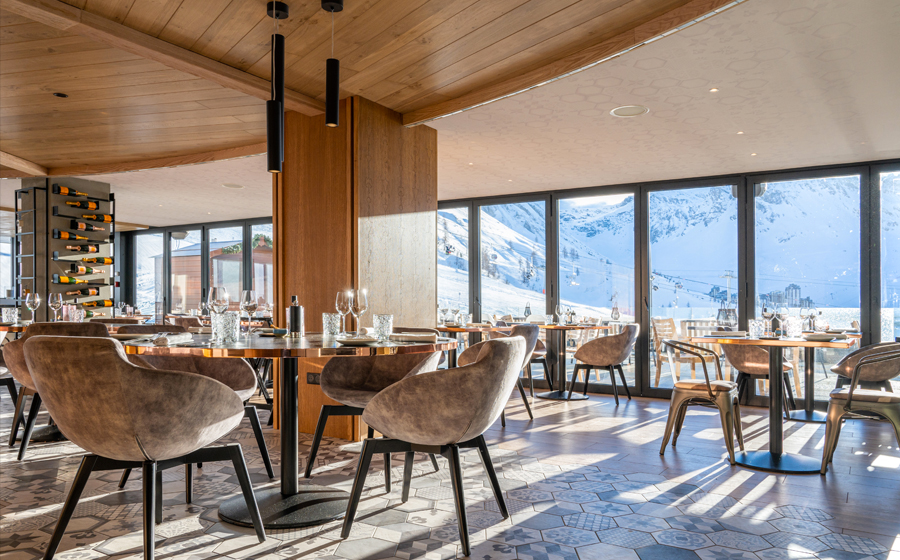 Under a sky of glass and steel is a spacious lobby, perfect for fireplace hangouts, remote work on your laptop, and whispered secrets. Then on to the bar. Two cocktail virtuosos buzz behind the counter, ready to rustle up a healthy number of drinks or even make one up on the spot to please a hesitant customer. Classy seats will welcome confiding couples, reunited longtime friends, and skiers itching to bring a day on the slopes to a close with some après-ski bonding. The ice breaks fast, conversations spill out, friends are made, log fires crackle, glasses clink, santé! The restaurant adjoins the bar, there's a relief. Rigatoni with coppa or truffle risotto? Then on to karaoke (two rooms)? You're on!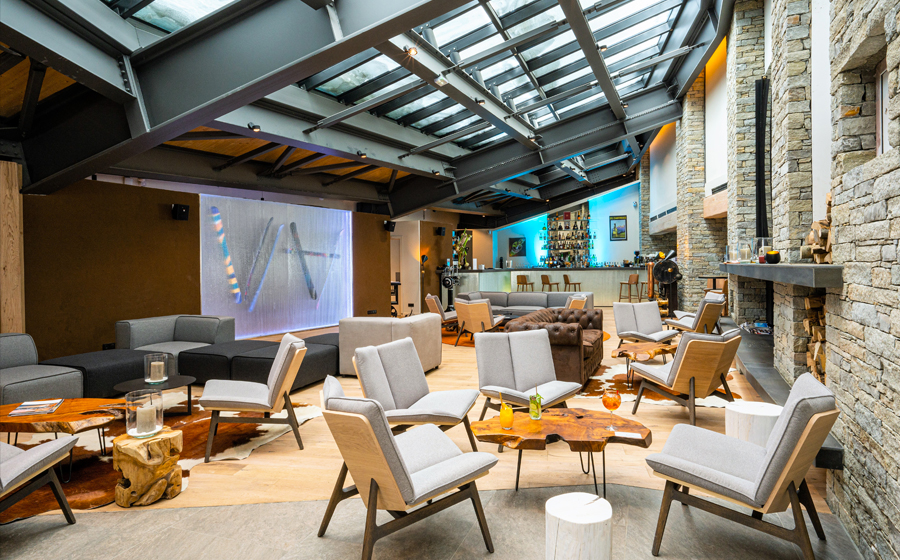 In the morning, the resort's 300 kilometres of slopes and 76 ski lifts will still be there. But for now, time to indulge in a well-deserved glass of Savoy wine and pop over to "Le Strike". The newly-opened club is frequented by big name DJs and visiting celebrities, and VoulezVous is now the owner. A compelling argument: guests enjoy complimentary access and VIP area. The night is young and après-ski has never looked so fun.
Read also: