Art and materials
Mashandy by Philippe Guilhem, rings of character
For one brief encounter, the talented gemmologist, jeweller and sculptor Philippe Guilhem (settled in Megève) immerses MyWatch editors in the symbolic and sensual world of his own unique rings collection: "Mashandy". More than jewellery pieces, he unveils true artworks with undeniable aesthetic. Encounter with a true artist, as surprising and singular than his creations.

By Kassandre Fradelin, Chloé Redler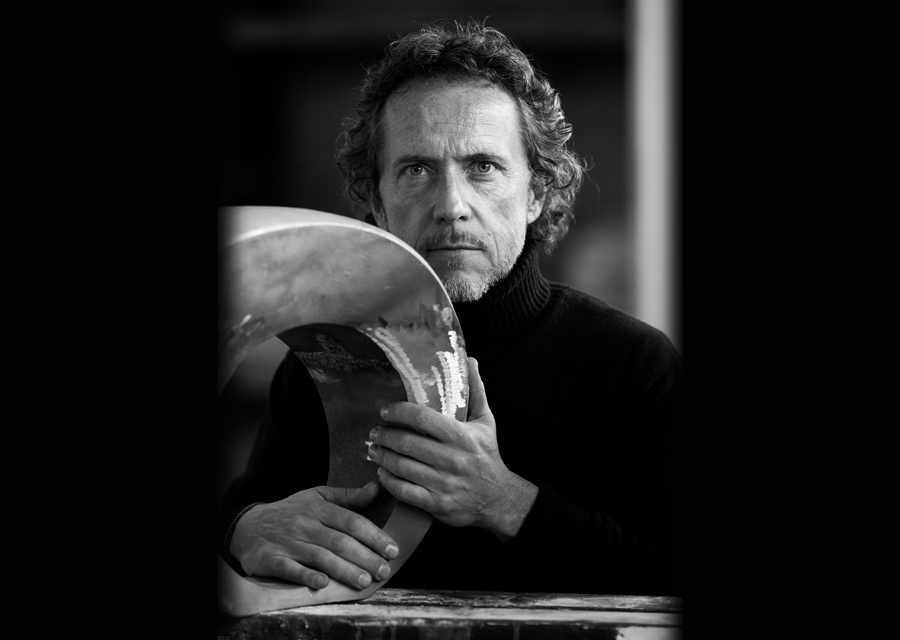 Mashandy by Philippe Guilhem is "an anagram and a small tribute. It's the alliance of two names dear to me: Masha, my wife's daughter and Andy, my son. And each ring's name includes a "Y", because the "Y" is a very symbolic letter. It's the union of two axis combining into one, of two galaxies, of two beings or of two materials, which can be bronze and gold."
Bronze at the heart of the Mashandy by Philippe Guilhem collection…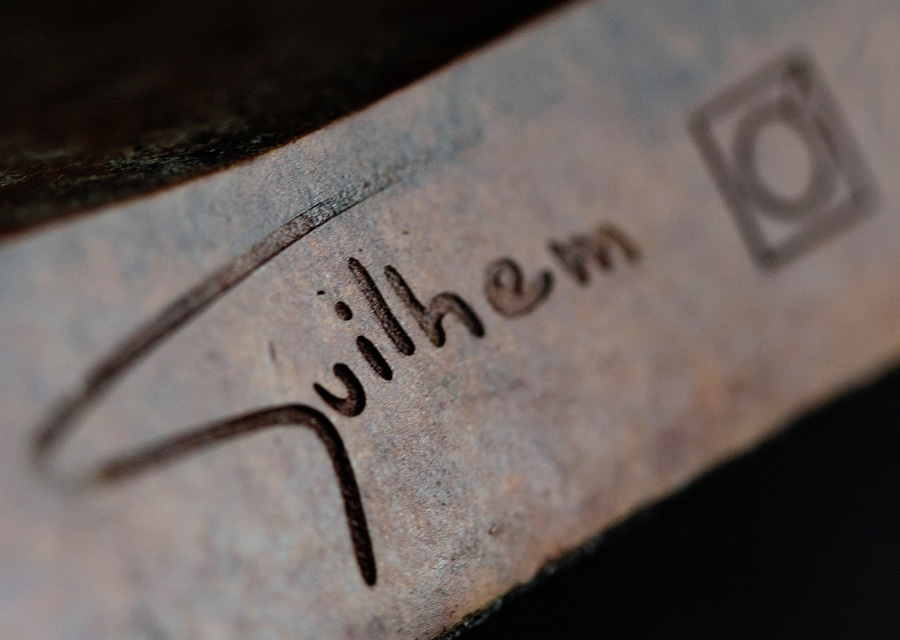 If Philippe Guilhem sometimes use clay to shape large size models, he mainly uses bronze for its final pieces. A material generally thought as raw, vulgar, not fitted to the frailty of precious stones and elegant materials such as gold.
But in his work, bronze rediscovers all of its original strength and splendour. "I wanted to give back its nobility to this metal, the first alloy discovered by man, the alloy which made him live". In a world where, according to the jeweller, everyone copies and resembles each other, he daringly bet on this uncommon material to conceive true works of art. "I wanted to succeed in creating something new, something different."
… combined with gold and gemstones.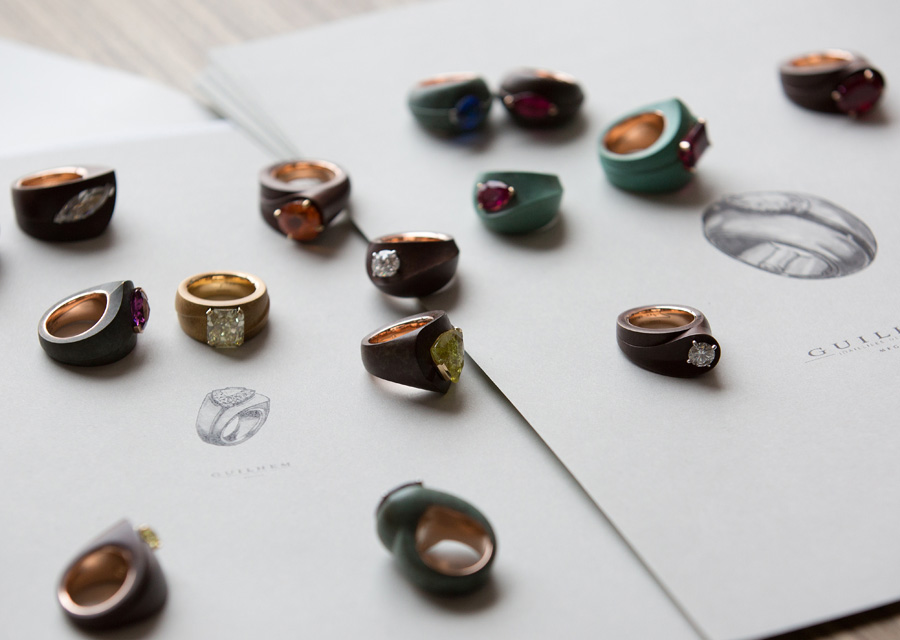 While the ring is mainly machined in bronze to give it life, its inside (part in contact with the skin) is made of pink gold. The ring is then topped by a precious stone.
Originating from ethical productions, the gemstones come with a certificate of authenticity and were specially brought back by Philippe Guilhem from Burma, Sri Lanka or Madagascar. "In this kind of mineral extraction, in Asia, no child works in the mines," clarifies Guilhem. Among the most beautiful specimen, we find a stunning yellow sapphire sublimating the creation.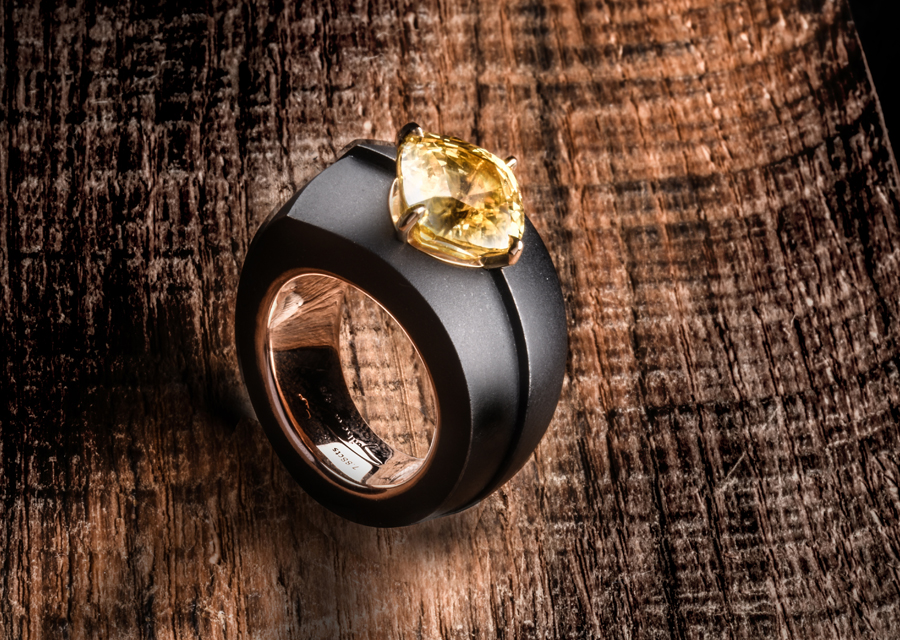 This alliance of bronze, pink gold and precious stones magnifies each of the component and bestows an appearance both raw and sensual. These rings –each model limited to eight pieces – are numbered like artworks and signed by the sculptor.
Mashandy by Philippe Guilhem, an atypical collection in the jewellery world…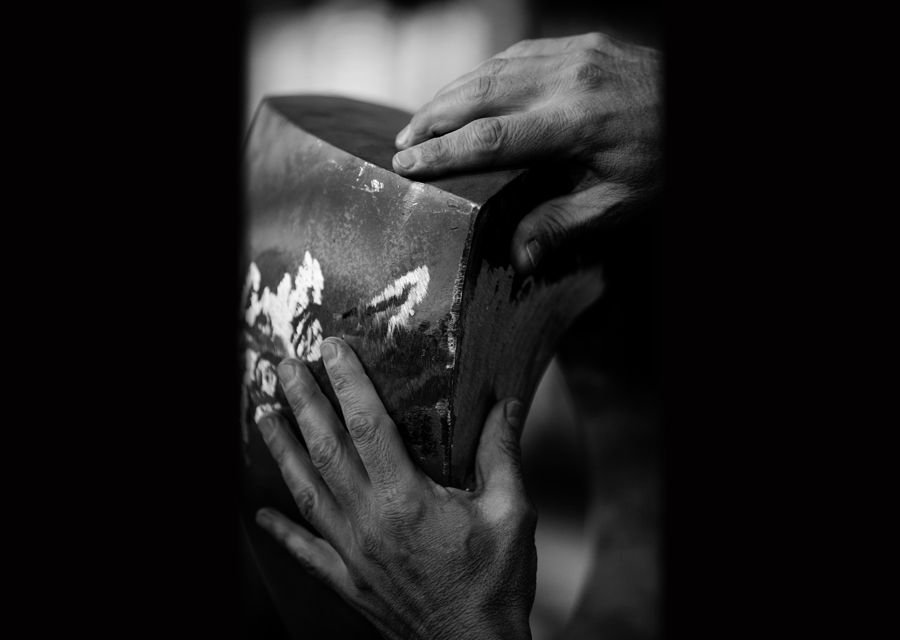 Against all the techniques he learned at the Ecole du Louvre (Paris), Philippe Guilhem begins his work by using directly his hands. First in a large, very large size. For him, it is a way to harness the essence of the shapes and curves that he wants to instills into his creations.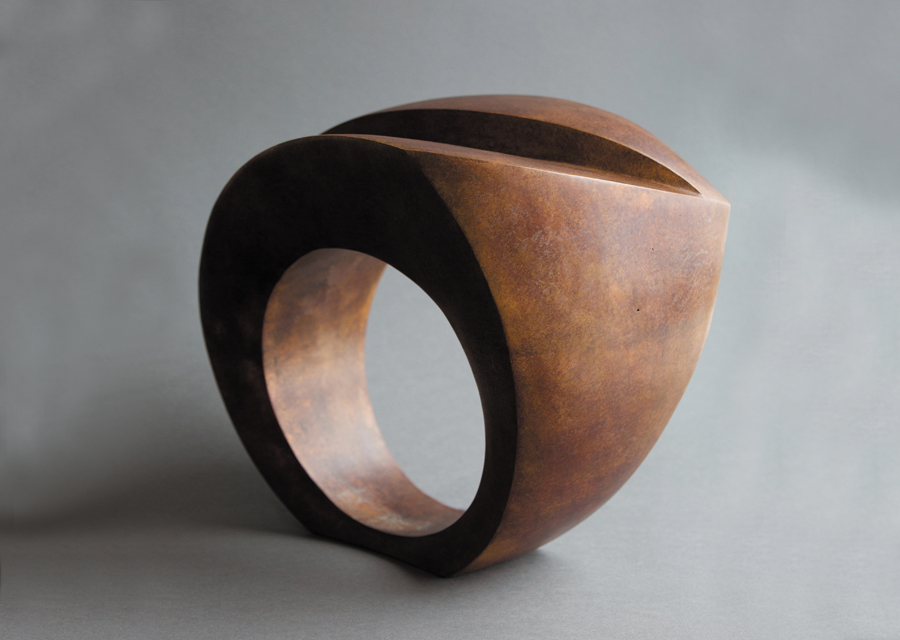 After the monumental, the infinitely small. Still with his hands, he shapes a modeling clay around the gemstone. Once it has hardened, time for the tools.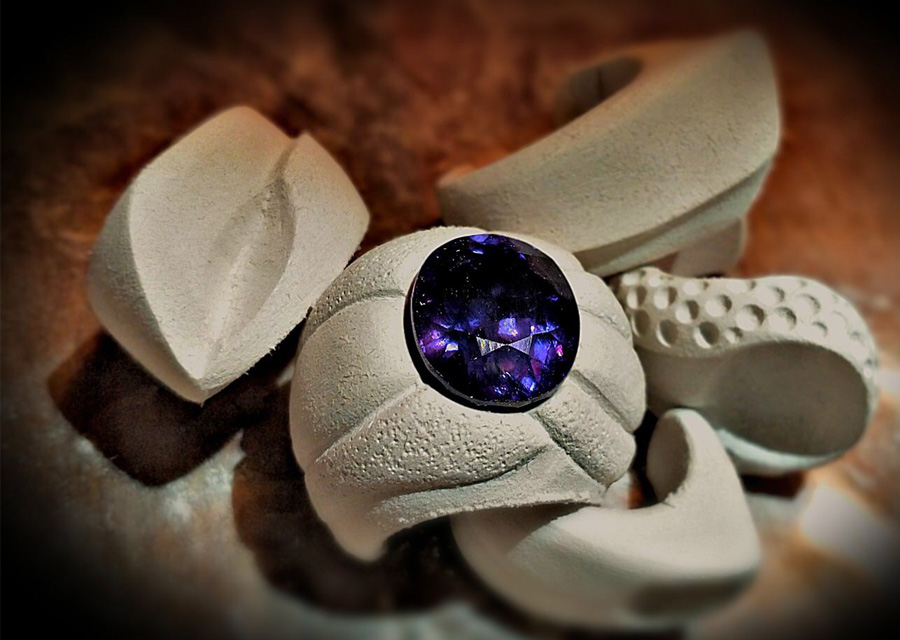 …inspired and inspiring.
"My parents were antiquarians. I was brought up in a truly artistic environment and was lucky enough to visit many museums."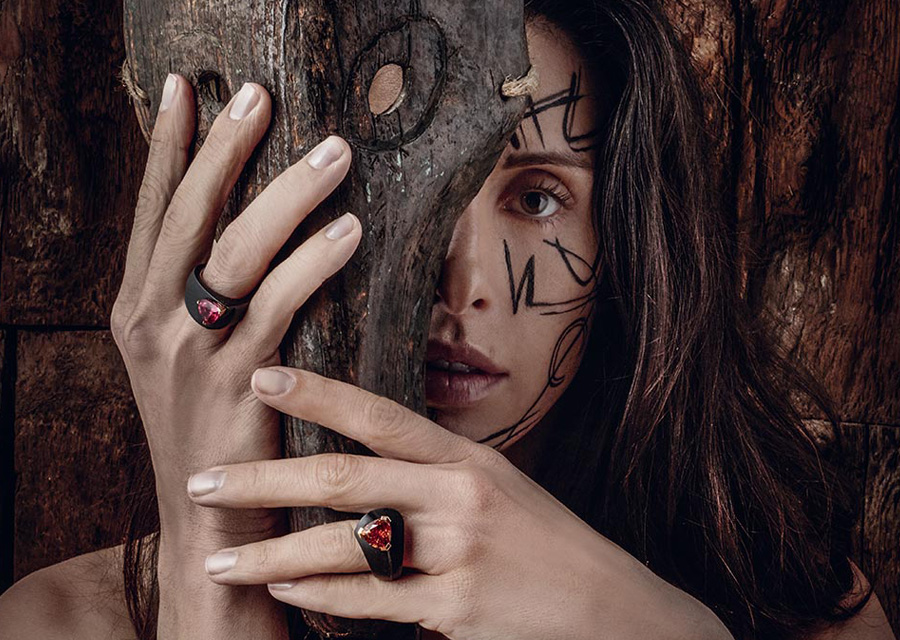 Philippe Guilhem does not merely create beautiful jewels. He builds a bridge between the jewellery and the art worlds. Under all its forms, the last one is to him an incredible source of inspiration: prime arts, African arts and/or Art-Deco.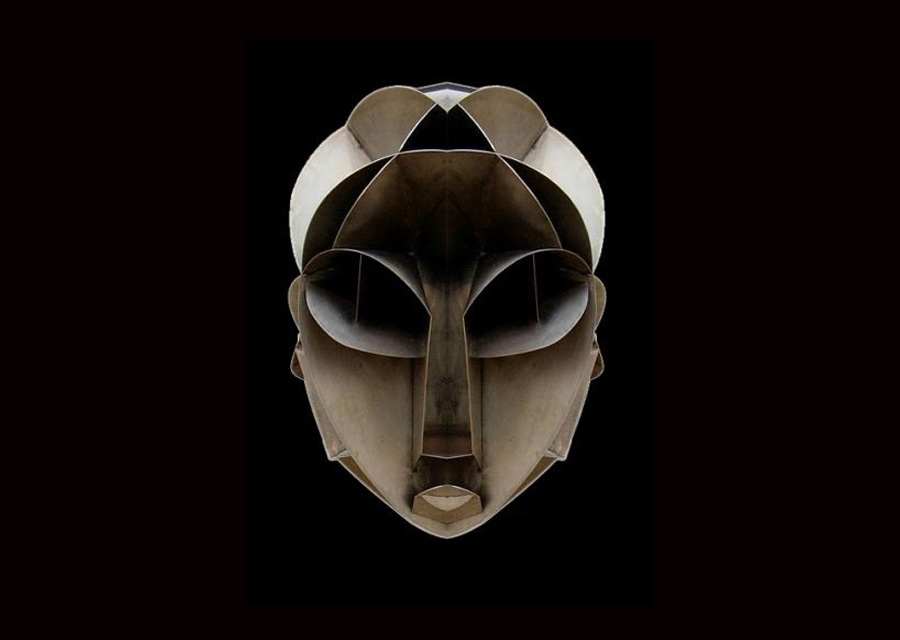 Mashandy by Philippe Guilhem influenced by Gustave Miklos…
He expresses a true passion for this painter. Of Hungarian origins, he was mainly famous for his sculptures with singular shapes and his use of copper, wood and bronze. Genre-breaking, he was linked to the Cubist movement then to Art-Deco, and often considered as a pioneer of theDesign trend.
… and by the architect Zaha Hadid
Philippe Guilhem's horizons are limitless, and he also draws inspiration from the grandiose and revolutionary architecture of Zaha Hadid. British Iraqi, she is known – and well-known! – for his creation combining straight lines with curves, giving a feeling of both density and lightness. Among its numerous works, the Nanjing International Youth Cultural Center (China) and its futurist structure must be mentioned. Or the Generali Tower in Milan, called "Torre Hadid", which incurvation breaks away from the usual stiffness of skyscrapers.
Special orders from all around the world
Besides his Mashandy collection, Philippe Guilhem also associates with artists to create profoundly original works of great modernity.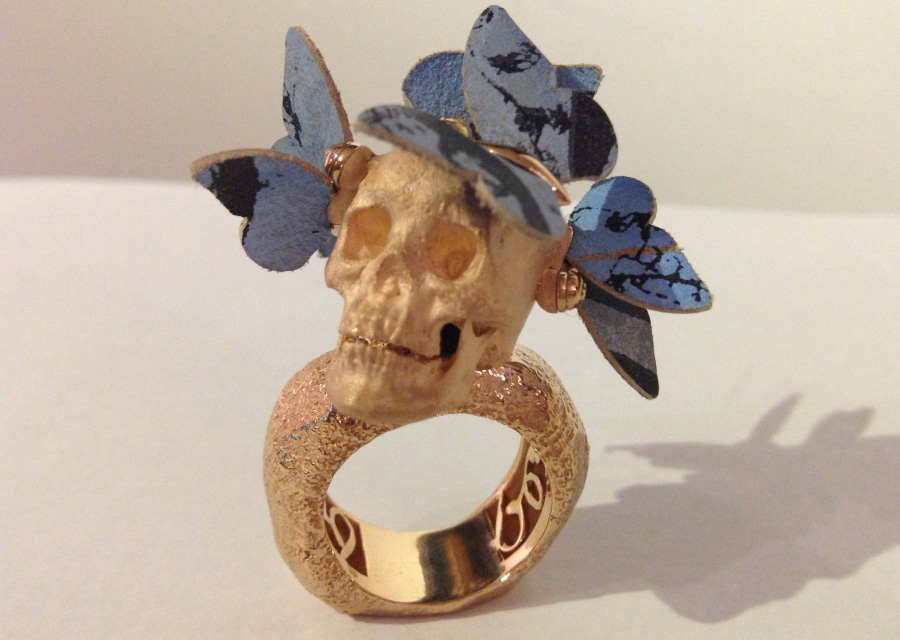 Which is how came to be the sculpture ring "Vanité et Morphos" in collaboration with Philippe Pasqua, and the one in collaboration with Nathalie Decoster.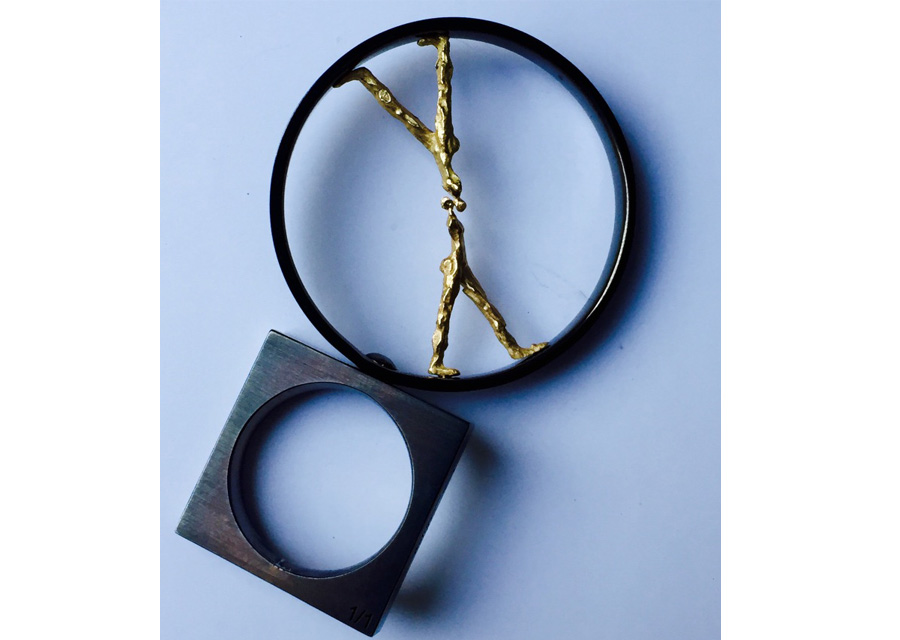 Beyond the purely artistic point of view, the jeweller conceives his designs according to the wearer of the ring. The jewellery, exclusively sold in the boutique of Megève, is directly handed from the creator to the client. "Very prestigious clients. People who understand "ART". Who know what these three letters mean."
Philippe Guilhem used to surprise us, like his Maison Close exhibition in Megève.
Discover all the world of Philippe Guilhem – www.guilhem-joaillier.com
Boutique Guilhem Joaillier in Megève – 115, Charles Feige street