MB&F Arachnophobia: a beautiful beast !
By MyWatch
THE GENEVA-BASED CREATIV LAB MB&F, WHICH IS CELEBRATING ITS 10TH ANNIVERSARY THIS YEAR, HAS UNVEILED ITS LATEST HOROLOGICAL MACHINE ARACHNOPHOBIA : AN ASTONISHING TABLE (AND WALL) CLOCK.
Founded in 2005, MB&F celebrates its tenth anniversary in 2015 with the motto "A creative adult is a child who survived". In its first decade, the Geneva-based creative lab has presented some very extreme machines, and the visually powerful Arachnophobia is as extreme as they come. Despite vvbvv intense appearance, the eye-catching three-dimensional sculpture is also an impeccably finished table (and wall) clock.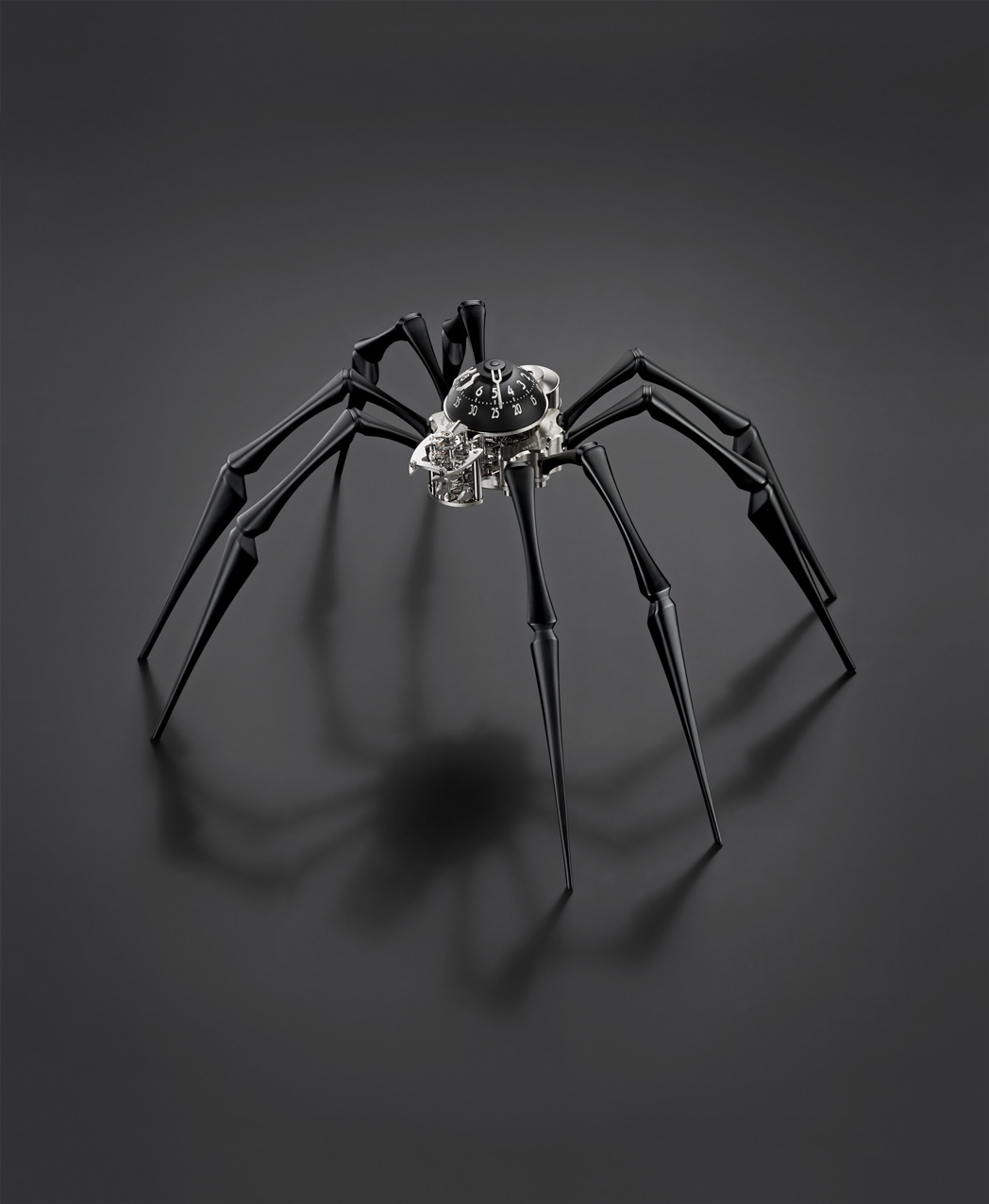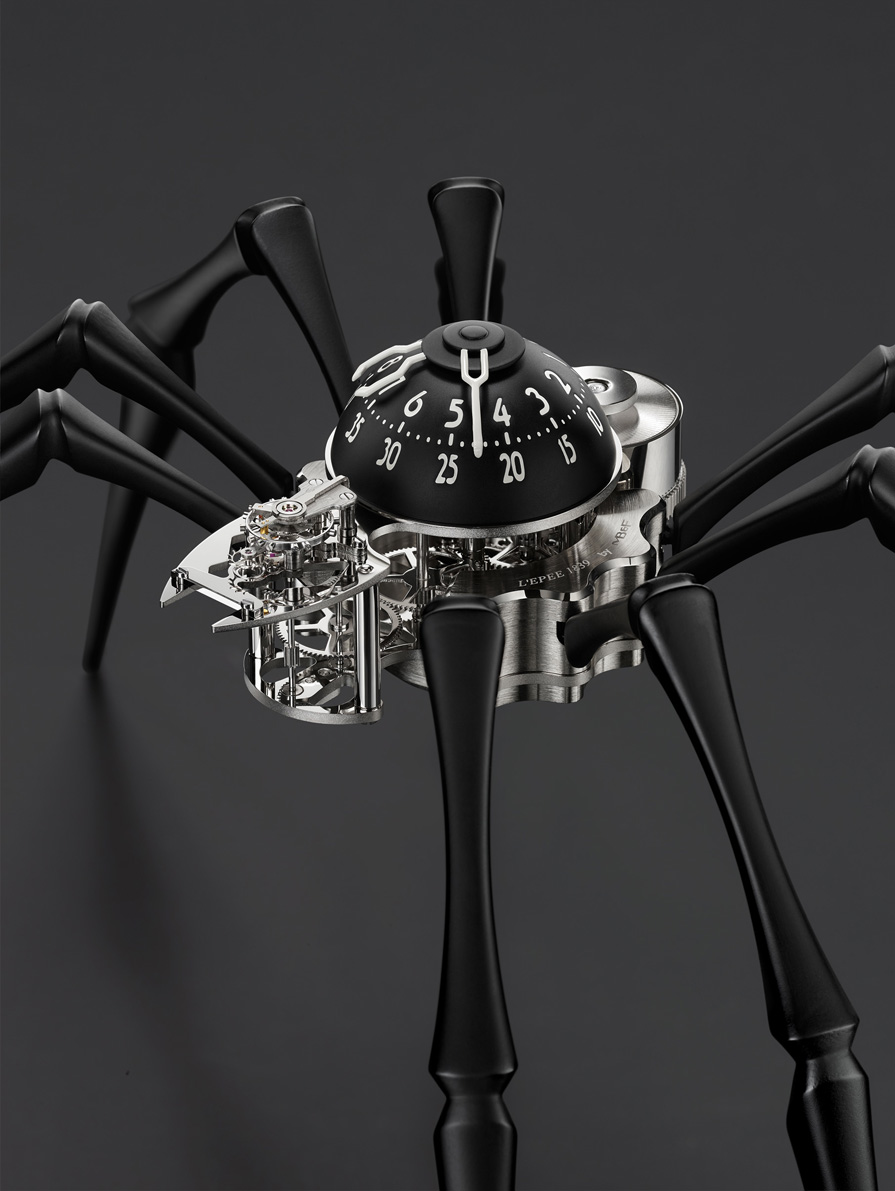 Conceived and developed by MB&F, and engineered and crafted by L'Epée 1839 – Switzerland's only specialised high-end clock manufacture – Arachnophobia is the result of MB&F founder Maximilian Büsser's overactive imagination blending with his appreciation of art. This horological creation was inspired by a giant spider sculpture called Maman that Büsser had seen in both Geneva and Doha. Maman (mother in French), was created by Louise Bourgeois (1911 – 2010) in bronze, stainless steel, and marble. Measuring 9.27 x 8.91 x 10.24 metres (more than 30 x 33 feet), the monumental sculpture has been installed in a variety of locations around the world.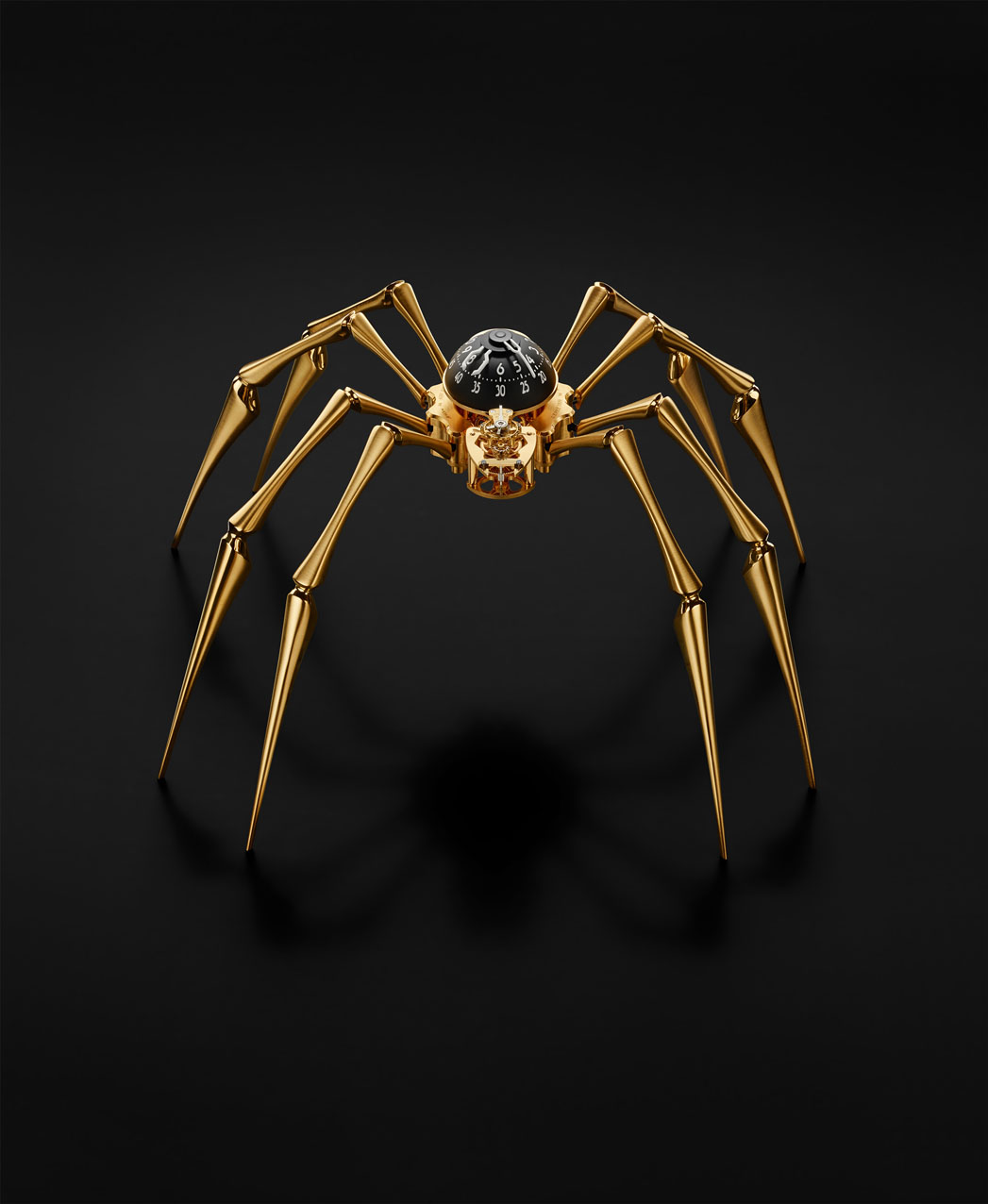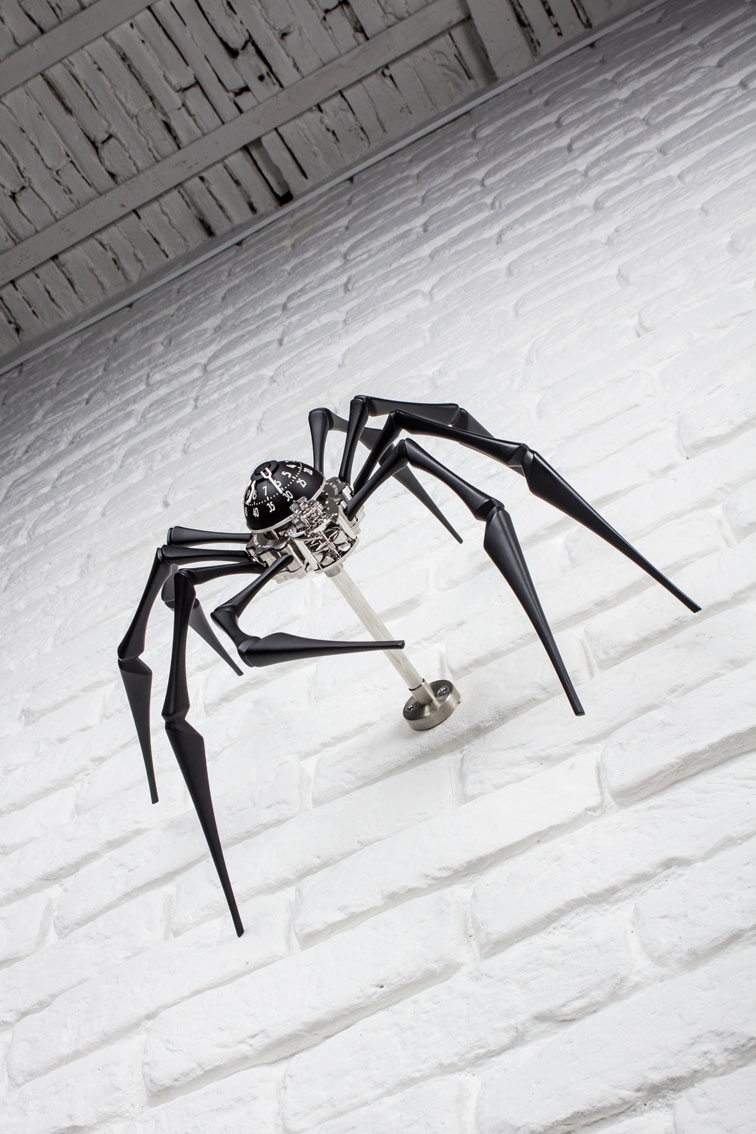 Büsser developed the highly unusual concept with L'Epée, selecting a high-end L'Epée clock movement and re-imagining it as the mechanical head and torso of a spider. The body is outfitted with a black dome with white numerals depicting the hours and minutes. The araneae's self-sufficiency is to be admired, for the finely-finished, highly-visible movement boasts a power reserve of eight days.
At either end of Arachnophobia's time-displaying abdomen, important mechanical processes take place: the head houses the regulator with its oscillating balance wheel (and a set of jaws in case it gets peckish at night), while the other end contains the mainspring barrel, which powers the movement. Attached to the abdomen are eight, visually enticing legs articulated where they join the body by ball-and-socket joints. The legs can be rotated so that Arachnophobia can stand tall on a desk or splayed flat for wall mounting. A third position provides an optical treat for fans of large arachnids: the front legs can be moved forward while the six others maintain the standing position, an interesting and alarming posture that says, look out!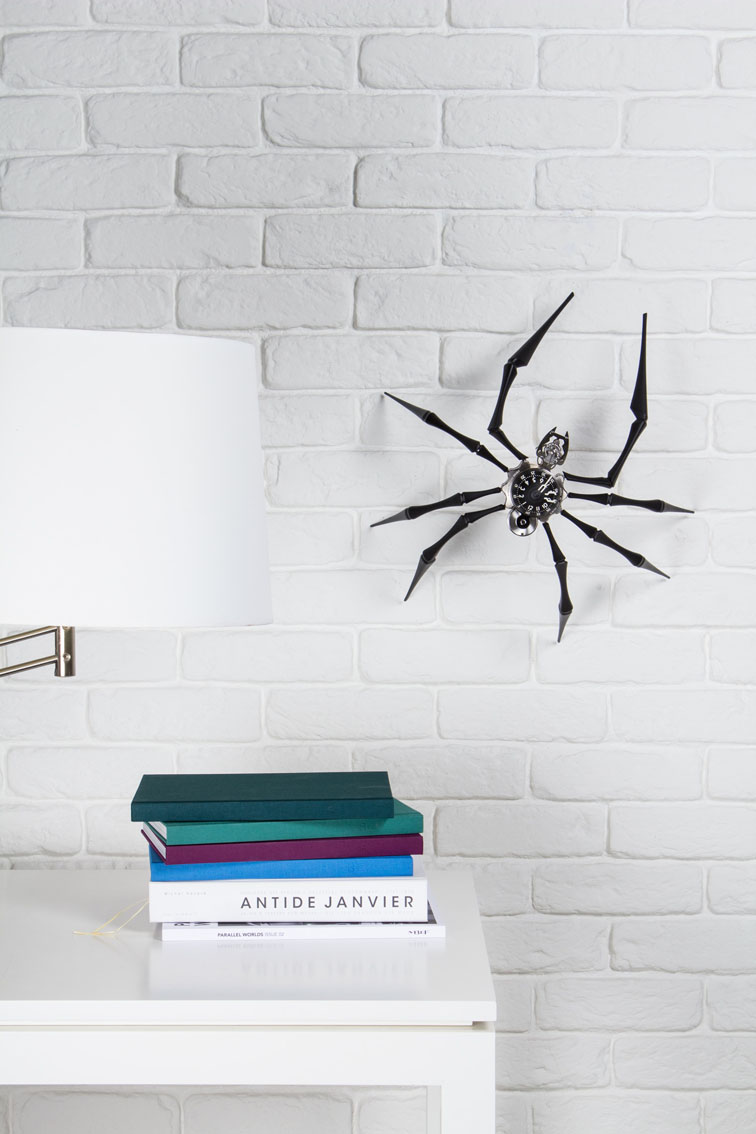 Arachnophobia is available in two colours, black or yellow gold. While individual tastes will vary, the black version is more realistic-looking and may be even intimidating to some; the gilded model has a more sculptured artistic appearance.
While Arachnophobia is not nearly as large as the sculpture that inspired it, at 405 mm in diameter with the legs fully extended, or hanging on a wall, it is certainly large enough to make a real impression. Whether that impression is positive or negative depends on how much you enjoy creepy-crawlies.
Arachnophobia is available in black or 18k yellow gold-plated editions.