Natural jewellery
Nacre pearls and their secrets
Since they were discovered in the heart of oceans, pearls have fascinated creators, jewellers and watchmakers alike. Transformed into jewellery in the workshops of art professionals, these small natural marbles that demand years to be fully formed are today in fashion. Dive into the secrets of the darling rare pearls that have always bewitched celebrities…

By Kassandre Fradelin, Chloé Redler
To approach the pearl universe from a strictly scientific point of view is not that glamorous. It is a "a dense variously coloured and usually lustrous concretion formed of concentric layers of mother-of-pearl as an abnormal growth within the shell of some mollusks". A precise definition, of course, but that tells nothing of the beauty and poetry of these small nacre pearls, with iridescent reflections, multiple shades and delicate shapes.
The pearls, at the heart of civilizations
Known for millennia, pearls have fascinated numerous civilizations throughout both History and the world where they were used as jewellery, ornaments, talismans and even as a trading currency. Since it takes years for a pearl to form inside shellfish, it became not so surprisingly a symbol of passing time and has nowadays given its name to the anniversary for 30 years of wedding (pearl anniversary). Which makes it a beautiful and obvious present choice to celebrate the event and reinforce the union.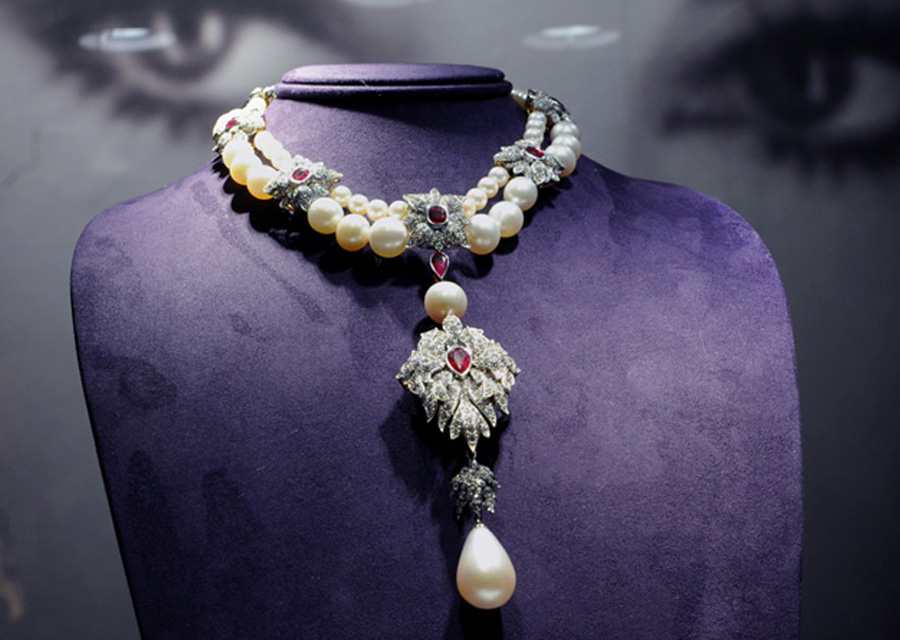 How to forget the Peregrina pearl, owned by several of the greatest monarchs (such as Marie Tudor queen of England, but also Napoleon I and Napoleon III) due to wedding alliances. And it kept on being passed on up to Liz Taylor, whose husband Richard Burton gifted her the pearl… which was then gnawed on by her dog. Thankfully saved from the puppy's maw, it was then auctioned at Christie's in 2011 for 11.8 millions of dollars!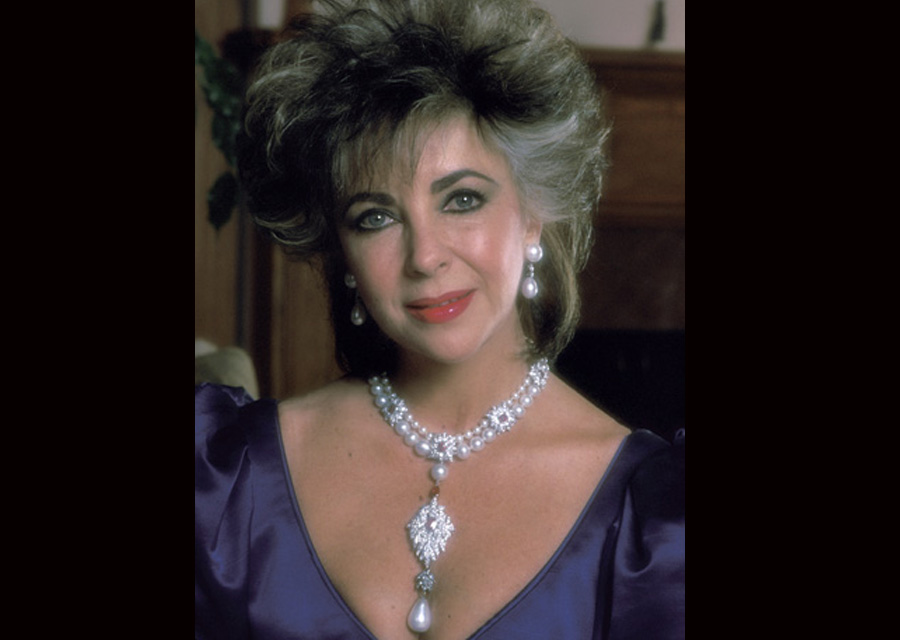 Cultured pearls, natural pearls or imitation pearls
Called "tears of Aphrodite", pearls had an important place in the Greco-Roman world. Under the Roman Empire, wealthy citizens used to offer one each year to their daughters so they could have a complete necklace when they reached adulthood. Natural and rare some millennia ago, pearls have become quite common, thanks to the progress of pearl culture but also of the chemical industry. So much that they must now be classified in different categories. So what kind of pearl are we talking about? Because many marbles can flaunt the name, but few truly possess its qualitative and aesthetic value. Let's clarify.
The difference between a natural and a cultured pearl is a surgical operation inside the mollusk. When the oyster produces a pearl by itself, it is called a "natural" one. But, when a "nucleus" is manually put inside the oyster before being transformed into a pearl, it is then a "cultured" one.
First attempts at pearl culture occurred quite soon in History. However it is only at the end of the 19th century, especially with Japanese entrepreneur Mikimoto Kokichi, that pearl culture became a real technique and saw the beginning of its expansion. He is the one who democratized the process of a graft inside the oyster and enabled the first mass pearl harvests – in an equal quantity to natural pearls. As a matter of fact, cultured pearls were for a long time depreciated compared to natural pearls, which were deemed finer and more precious. However, logic took over: even in the case of cultured pearls, everything relies on the pearl oyster! Indeed the man-made graft is not always successful, and the losses are frequent. Cultured pearls have therefore earned their title of (quasi) natural marvels and allow for beautiful necklaces composed of many iridescent marbles.
Besides these two main kinds of pearls, there are "imitation" pearls. These can be found anywhere and everywhere. The most renowned are the Majorica pearls or the Shell pearls. They are factory-made, using shell powder and different coatings. They often give a wrong idea of pearls, with their perfect roundness and striking shine. Only chemistry is able of such a feat. Cultured pearls, much more natural, are much less regular… But so very beautiful.
The big pearling families
Tahiti, Australia, Akoya, China… All these names evoking wonderful and exotic countries are also pearls producers – sometimes of an incredible quality. Colour, size, shape and prestige differentiate pearls from one another even if all are incontestably marvels of nature that allow for jewellery of stunning beauty.
Australian pearls are often the rarest and most expensive among cultured pearls. Recognisable by their dense nacre and big diameter, they generally boast a silvered white shade with some pink hues. Their irregular shape – making us think of gold nuggets – is their charm, once they are inserted into rings, pendants, brooches or earrings.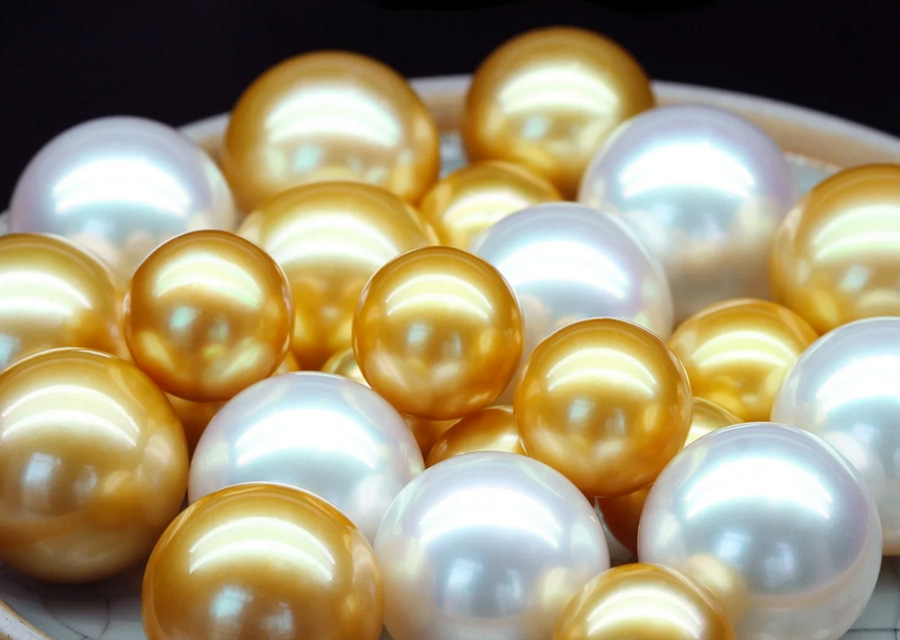 Tahitian pearls are renowned for their light grey or steel shade, with emerald, bronze or cream hues… But the most emblematic are the black ones, which make the reputation of these small Polynesian marvels. They are the only naturally dark pearls, and their arrival on the market was a true revolution in the pearl culture world. Round but of a slightly irregular diameter, there generally range from AAA to AA+ (see scale system described underneath), always creating exceptional strings of pearls with affordable prices.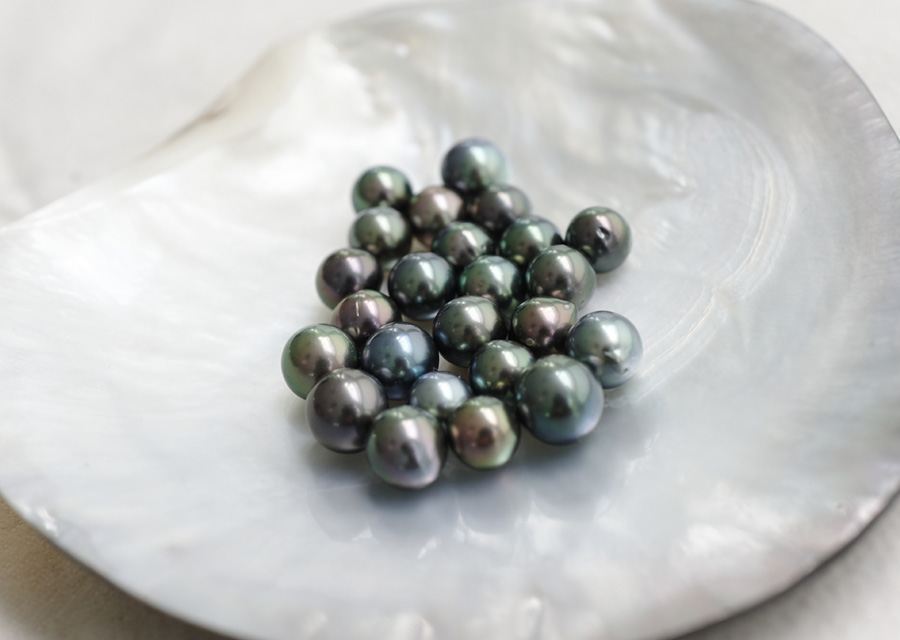 Akoya pearls, mainly produced in Japan, are both the most classic and famous pearls. Thanks to their round appearance and their similar sizes, they are often sold as strings of pearls. The most beautiful pearls of the Akoya family, flaunting a superb shine, a near-perfect roundness and soft texture, are called "hanadama". To establish their quality, an official certificate from the Pearl Science Laboratory in Tokyo is needed.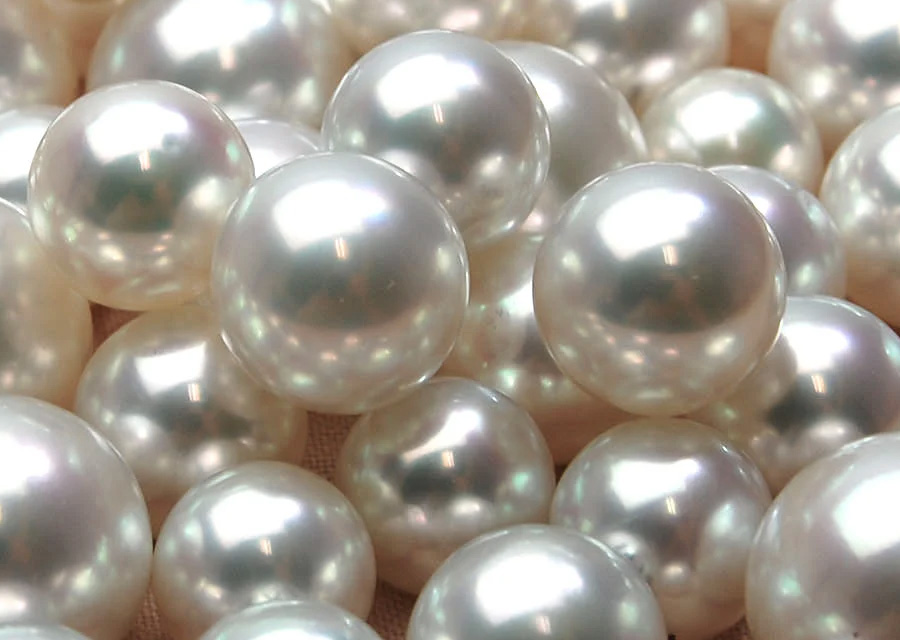 China pearls, also called freshwater pearls, are widely produced, seeing as they have easier conditions than saltwater ones (water is quite still in lakes so the infrastructures cost less), which explain their low price. Quite strong, they are perfect to be worn daily and their appearance, while variable, generally remains of quality.
Pearls, guardians of Nature
Unlike numerous other stones, gems and precious materials used in jewellery and timepieces, pearls and their culture have no negative impact on the environment. We know it, extracting stones and metals means drilling, mining, toxic products and sometimes deforestation. But pearl culture is a respectful production that only demands minimal man intervention and patience to give jewellers astonishing specimens.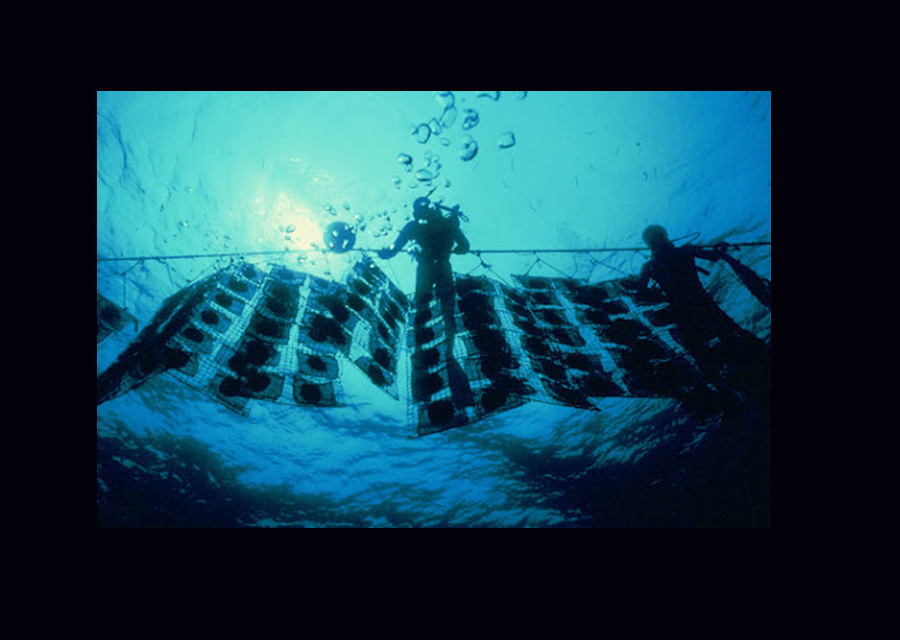 Pearls need a healthy environment to grow. Polluted waters would be detrimental to the culture of these small spheres. The very slow process of pearl creation (between 2 and 3 years for a medium size and up to 5 years for a bigger calibre) cannot be hastened by man intervention: good things come to those who wait. And who are skilled: pearls sorting must be done by hand, to assess their quality. A machine, while it can calculate the roundness of a pearl, will never be able to see or estimate the differences between shades and surfaces. Which is why a local qualified workforce, with technical and precise know-how, is so important.
Pearls classification
Inspection and identification of pearls are an important part of pearl culture. These submarine jewels have great value and must be carefully examined before being commercialized.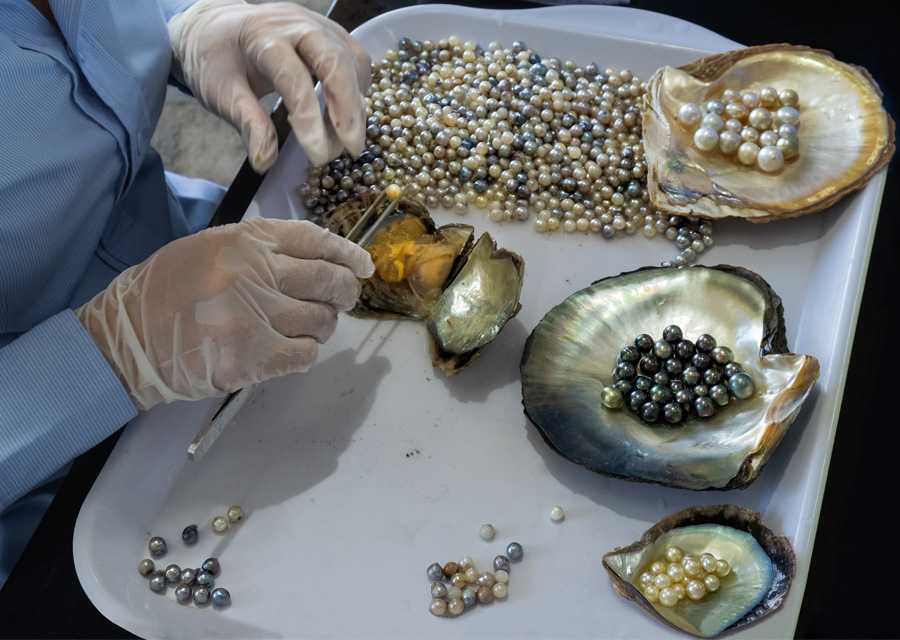 To grade pearls, two systems are used: the A-D scale (or Tahitian system) and the AAA-A grading system developed by the Gemological Institute of America (GIA). Both grade pearls according to their imperfections and their lustre, the GIA's being slightly more precise than the other. The A-D system classifies pearls from A (minor imperfections over less than 10% of its surface, very high lustre, the best being called "top gem") to D (defects over 60% of its surface, weak lustre). The American system AAA-A details more precisely the percentage of defects: AAA for pearls with a surface between 100% and 95% blemish free, AA+ for 95% to 85%… Down to B for pearls that cannot be commercialized.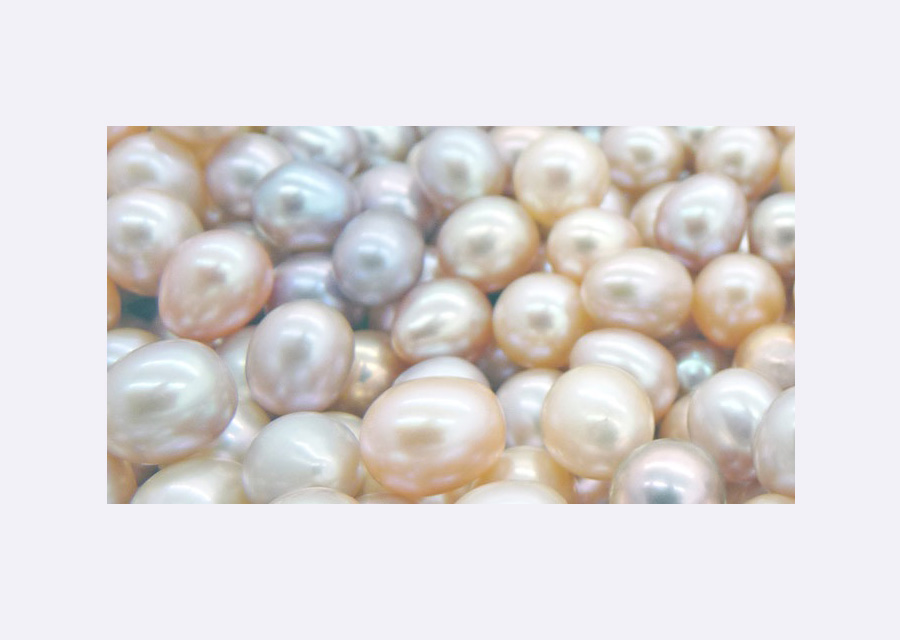 There are six main shapes: round, near-round, button, pear, baroque and circled. Perfectly round pearls are the rarest, therefore the most expensive. Circled pearls are characterized by concentric rings running around their circumference. As for baroque pearls, they are famous for having given their name to a literary and artistic European style. From the Portuguese "barroco" meaning "flawed pearl", their singular appearance is sometimes hidden inside a jewel, others proudly brought to light.
Taking care of pearls
Pearls need water and proteins… Never forget that they are a natural product coming from a live being! They actually need to be worn. If they stay inside a safe for too long, deprived of skin contact, they lose their colour, shine and the nacre can crack… And these changes are irreversible!
To avoid any disappointment, they must be taken care of with easy but efficient actions. Very sensitive to cosmetics, pearls must not be sprayed with perfume or touch any make-up product. It is therefore recommended to put them on last. To clean them, a small tissue slightly humidified with clear water without any chemicals is quite enough. You can also put a drop of olive oil on the pearls and polish them with a soft fabric to give them a shine. The ideal is to entrust them to a specialized jeweller who will know how to give back their beauty to these jewels. When they are not worn, it is advised to store them in a cloth or a jewellery pouch: safe from any contact with abrasive materials.
Mikimoto and pearl culture
To discuss these nacre jewels from even closer, let us head to Mikimoto, true "pearl of the pearl world". Located Place Vendôme in Paris, the boutique proposes collections with multiples inspirations, decorated by pearls of irreproachable quality. Founded in 1893, the Maison's name comes from Japanese Kokichi Mikimoto, inventor of the Mise-Nishikawa technique which enabled the production of cultured pearls. Supported by ancestral tradition – first drafts are always realized with Japanese ink brushes – and engaged in ethical and responsible pearl culture, Mikimoto provides a wide range of eclectic jewellery.
You can choose pearl necklaces which shapes and sizes easily adapting to any outfit: the Choker (40 cm) for an evening out, the casual "Matinée", the Opera (80 cm) for formal evenings or even the Rope, with its astonishing 120 cm-length… Or you can fall for the High Jewellery Mikimoto collections, real treasure trove.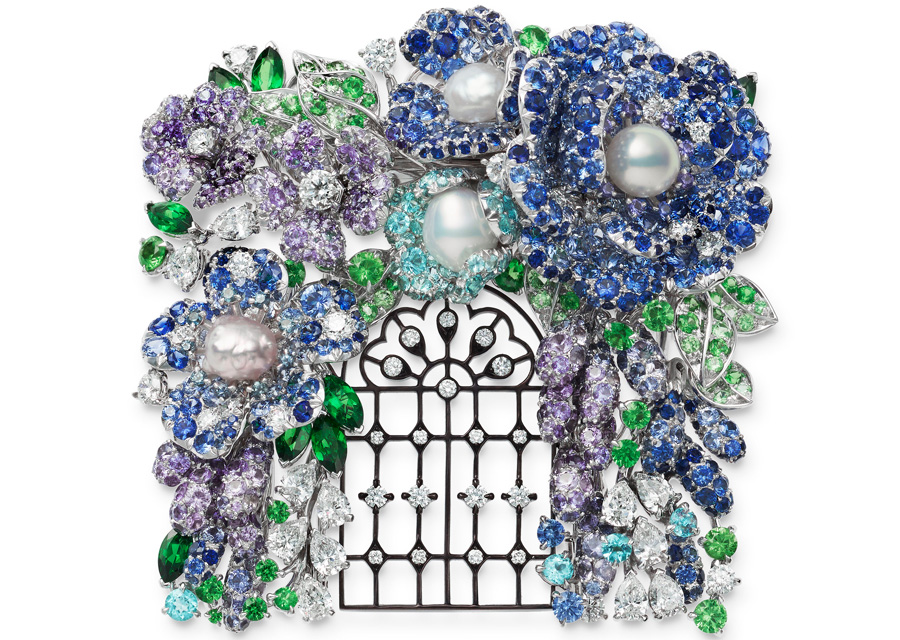 We find among these collections the sumptuous "Jardin Mystérieux" jewellery, with a brooch representing the entrance of an enchanting place, bursting with life and beauty, embellished by four natural pearls. But also the new collection "Feather", comprising a diamond and white gold brooch topped by pearls, as delicate as a real feather.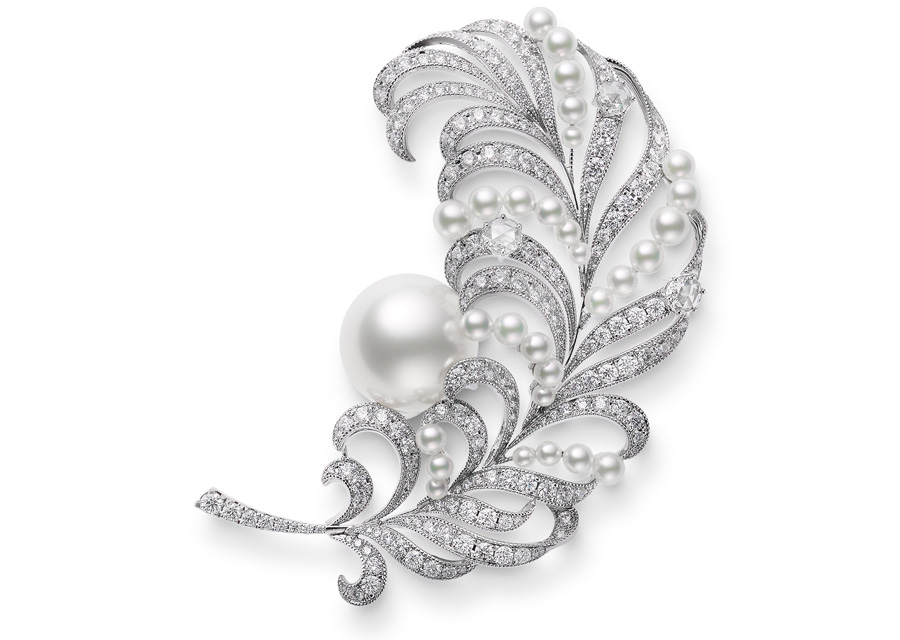 Not forgetting the "Jeux de Rubans" and "Les Pétales Place Vendôme" collections, wonderfully sublimating the Mikimoto pearls by their curves and colours.
Lastly, let us highlight the capsule collection Mikimoto x Comme des Garçons, a small revolution in the high jewellery world. Made of seven genderless pieces in silver and pearls, it embodies modernity. All kind of necklaces, pairing tradition and avant-garde while pushing the boundaries of gender.
Pearls, at the heart of jewellery watches
Great watchmaking houses have also adopted the beauty of pearls to create true jewels. Incredible and intense, between talisman and jewellery, these watches express the remarkable work of master craftsmen who continuously draw inspiration from their environment.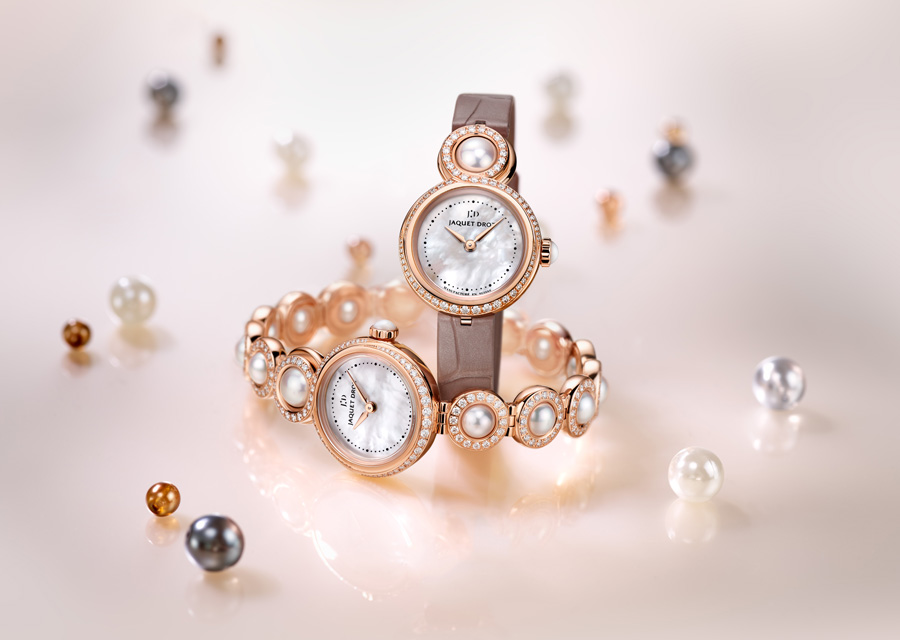 The chic and bohemian version of the Lady 8 Petite by Jaquet Droz is unforgettable. Faithful to the eight-shaped dial, signature of the house, it proudly flaunts Akoya nacre pearls which shine reflects onto the many diamonds decorating the 25 mm case. This elegant piece is associated with a taupe alligator strap (€26 800) or an exceptional red gold bracelet set with 192 diamonds, 9 Akoya pearls and 2 Akoya Mabé pearls (€64 300). Last but not least: the pearl on the upper part of the eight shape rotates.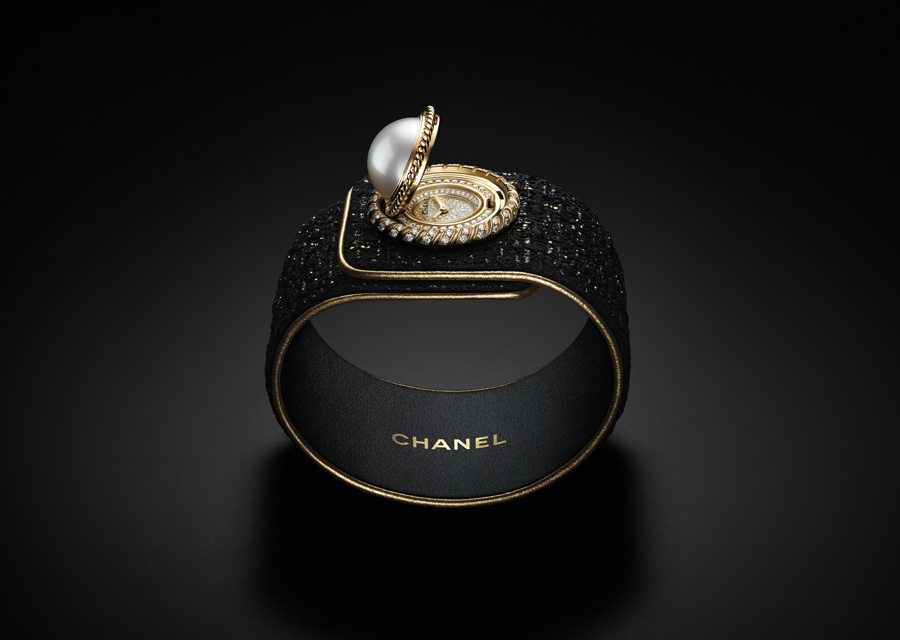 Chanel dazzles us with the Mademoiselle Privé Bouton watch, topped off by a half Australian cultured pearl of 15 mm diameter. Belonging to the eponymous new collection, it is one of the seven pieces equipped with a bouton pearl. A favourite of Madame Chanel who paid a special attention to their patterns.
The Breguet Perles Impériales High Jewellery is a perfect example of the sophisticated setting techniques used by the manufacture's jewellery masters. Numerous diamonds adorn the ovoid case of this luminous piece, where stands out an Akoya pearl. Anecdotally, the watch is a dashing tribute to Empress Joséphine, wife of Napoléon Bonaparte, who was a fervent admirer of the House.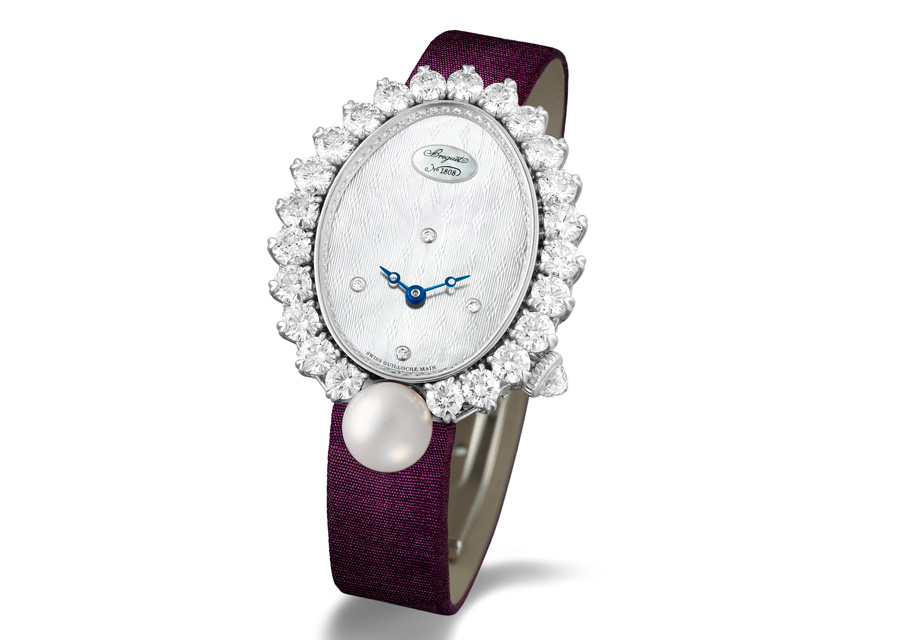 Some artistic pearls…
The Fabergé Pearl Egg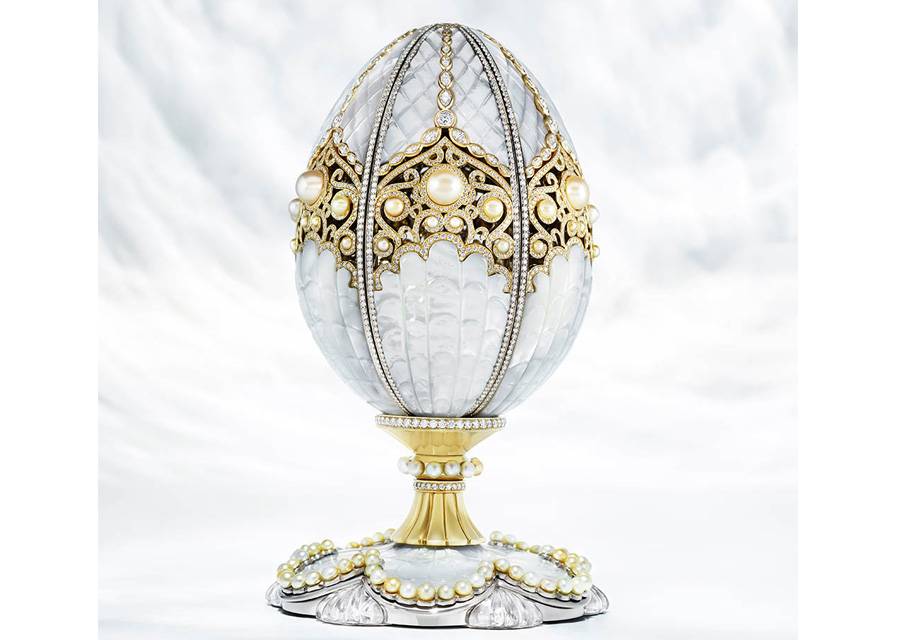 Presented at Baselworld in 2015, this unique Pearl Egg was conceived by Fabergé to expand the collection of the Al-Fardan family, one of the world's most renowned collectors of pearls. The designers of the famous Russian house drew inspiration from the pearl's origin itself to imagine this egg: like an oyster, it opens (in six sections) to reveal at its heart a splendid grey pearl of 12.17 carats. More than twenty craftsmen helped to create this work of art comprising 139 fine white pearls and 3 305 diamonds. Each pearl was hand-selected from the Al-Fardan family's collection. This is the first "Imperial" egg since the October Revolution, more than 100 years ago.
Vermeer's Girl with a Pearl Earring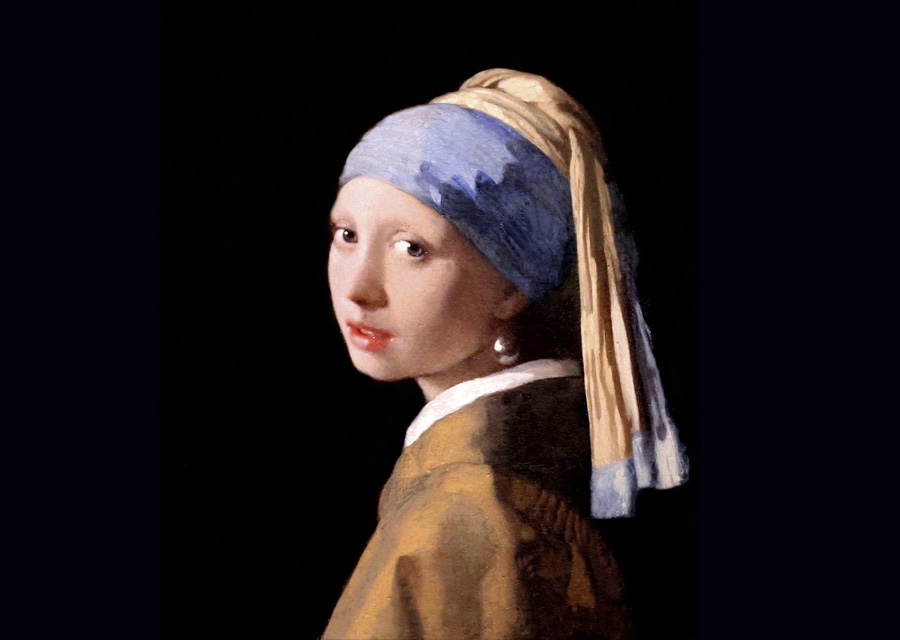 Johannes Vermeer, Dutch painter of the 17th century, often depicted pearls on his canvas. But the most renowned of his works – and maybe in all the history of art – is the painting rightly titled Girl with a Pearl Earring. Kept in the Mauritshuis museum in The Hague (Netherlands), it depicts a young girl in three quarters view, face turned towards the spectator. She wears a stunning blue oriental turban and a pearl shines at her ear. Nicknamed "the Mona Lisa of the North", this young girl embodies completely the art and mastery of the painter.

www.mikimoto.fr
www.jaquet-droz.com
www.chanel.com
www.breguet.com