The Cartier Collection at the Musée national des arts asiatiques – Guimet
By MyWatch
The exhibition "Jade – From Emperors to Art Déco" will run until 16 January 2017 at the Musée national des arts asiatiques – Guimet in Paris. This world-class exhibition has been assembled with the cooperation of an array of eminent institutions. Many of the exhibits have been loaned from the National Palace Museum in Taipei, with other pieces provided by, among others, the Musée du Château de Fontainebleau, the Musée du Louvre, the Musée des Arts décoratifs, the Bibliothèque nationale de France and the Museum d'Histoire naturelle in Paris. Cartier has contributed a selection of 26 jade creations from the Cartier Collection along with six archives drawings. Brought together in a single space, these precious exhibits reveal myriad interconnections.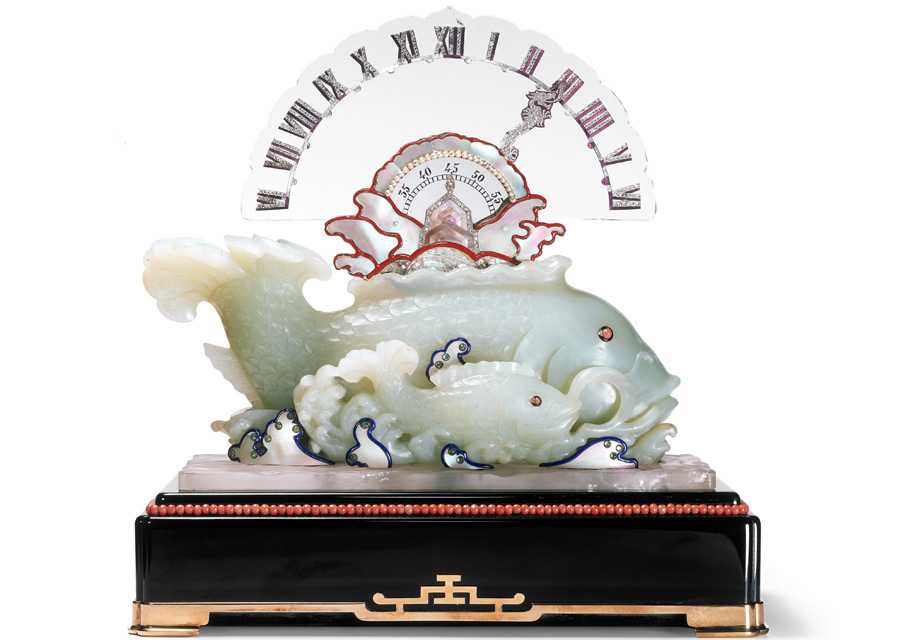 In the 19th and 20th centuries, and especially in the Art Déco period, exotic objects from China and Japan, adorned with whimsical decorations and crafted from jade and other materials, ignited a keen interest in Asia that in turn influenced European graphic arts. Cartier did not escape the late 19th century craze for jade, as archive evidence demonstrates: a stock inventory from 1898 lists a "jade flask, gold mount, pink enamel cap".
Apprêts
Fascinated by the materials, motifs, menageries and divinities of chinoiserie, rather than simply attempting to imitate Chinese art à la française, Cartier preferred to interpret their inherent beauty. Jade was often used in apprêts, a term for jewellery components or antique elements acquired from specialist oriental dealers. Cartier designers drew inspiration for new creations from plaques, belt buckles, flasks, hair pins and animal figurines that were carved or sculpted from jade. These fragments and pieces of various sizes were typical of Chinese culture.
Appropriating symbolism
Incorporating this Asian treasure into its creations, Cartier dipped into an array of fabulous forms steeped in symbolism of Chinese origin. Jade was a beautiful material that brought with it a wealth of myths and legends. Tiny flasks were decorated with precious and sophisticated details, and even the dragon was tamed, fondly posed by the jeweller upon a brooch in a tender mother and child embrace. Cartier also infused the art of watchmaking with the dreamlike imaginings of chinoiserie. The ancient gem was used in the iconic mystery clocks that captured the spirit of the age when they made their début on Rue de la Paix in 1912. Between 1922 and 1931 the jeweller and watchmaker created a series of 14 clocks featuring animals or other figures, four of which are now part of the Cartier Collection. Three of these pieces are exhibited today: the Carp clock, the Elephant clock and the clock with Deity.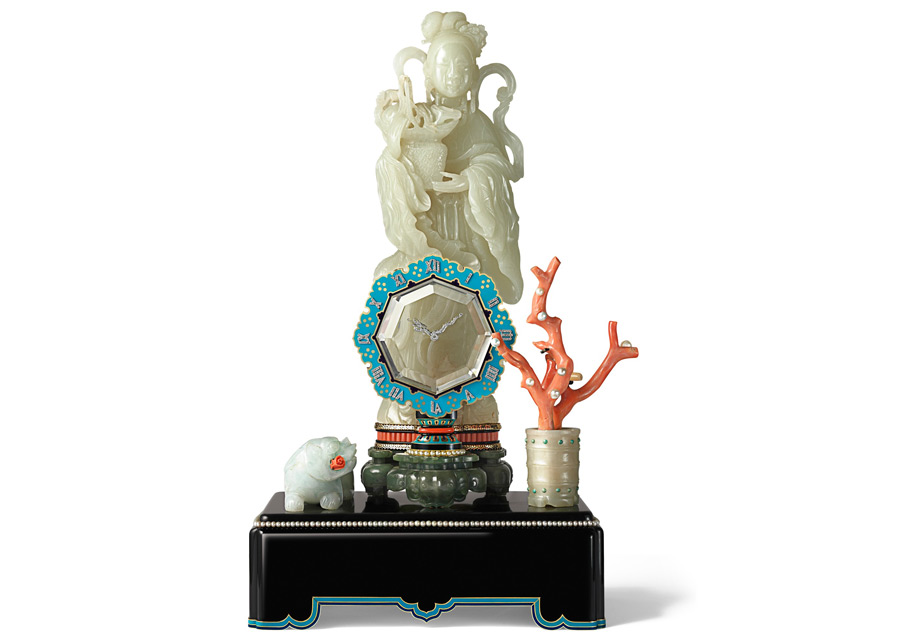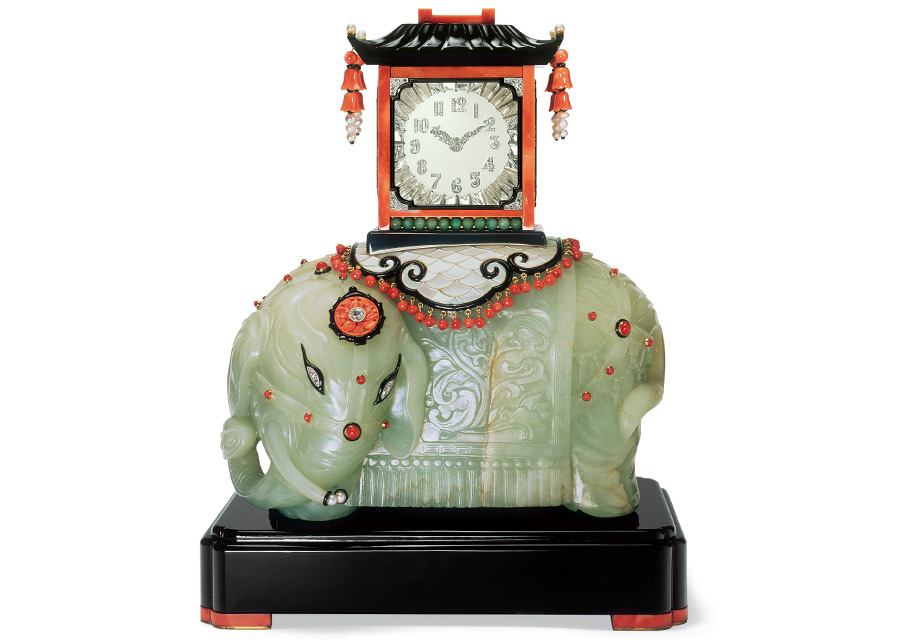 Contrasting colours
As the 20th century dawned, jade inspired Cartier to explore dazzling colour combinations. This material of predilection for the jeweller was juxtaposed with coral, red lacquer or ruby. In 1934, Barbara Hutton entrusted Cartier with a necklace made of 27 jadeite beads, all carved from the same boulder, of an intense green and exceptional quality, in order to create a clasp of rubies and diamonds. Such striking associations of colours lent a similar note of elegance to a seal watch-brooch, and a pair of earrings that featured a simplified shou character (meaning 'long life') in red lacquer. The milky white, even translucent colour of nephrite jade enveloped dainty everyday items in a delicate hue: a paper knife, an ashtray with floral motif, and an astonishing 'hand of Buddha' lighter. Plaques carved with foliage and animal motifs were used in vanity cases edged with coral, black enamel and diamonds. The diaphanous material is splendidly showcased in the "Screen" clocks, upon which landscapes shift with the light, subject only to the limits of the imagination.
The creations in the Cartier Collection attest to the important task of comprehension and interpretation that secured the gem and its symbolism a place in the Cartier repertoire. To this day the Maison continues a tireless homage to jade in displays of dazzling creativity. The secrets of its eternal beauty remain as fascinating as ever.
Nephrite jade or jadeite jade
The term 'jade' denotes two different minerals: jadeite jade and nephrite jade. Jadeite can be found in a vast range of colours and nuances that are determined by the elements it contains: white, pink, brown, red, orange, black, mauve, blue or purple. In the presence of chromium, jadeite takes on a unique, almost emerald green and is known as 'imperial jade'. Nephrite also exists in a wide range of hues, usually veined, that vary from green, yellow, blue, grey or white, to reddish brown. White nephrite is among the most precious.
The Cartier Collection
The Cartier Collection, created in 1983, comprises some 1,600 works whose quality and variety – besides telling the story of the Maison – illustrate the history of decorative arts from the second half of the 19th century to the late 20th century. Since 1989, the Cartier Collection has been invited by celebrated museum institutions for monographic exhibitions. It is also regularly solicited by curators for thematic exhibitions, like today at the Musée national des arts asiatiques – Guimet.