New calibre
The Oris Calibre 400: revolution-in-the-making
Here is October's greatest surprise. And maybe this year's Christmas present. Oris unveils today a brand new ground-breaking automatic movement. Antimagnetic, real chronometric precision, easy maintenance, extended warranty… The Oris Calibre 400 is announced by the independent house as a revolution that will define "the new standard of watchmaking". We asked some questions to Vincent Coquet, commercial and marketing director of Oris France. Just to know a little more…

By Nicolas Yvon
Nicolas Yvon: You have presented the Oris Calibre 400 but not the watch going with it, which will only be unveiled in two weeks. Isn't it strange?
Vincent Coquet: This choice can seem surprising but is actually quite logical since the real novelty is the movement and we want to stress this. It was built to adapt to various watches… All I can say for now is that the Oris Calibre 400 will be integrated to an existing model before being later associated to other pieces.
Was the series of in-house calibres 110 a study for the conception of the Calibre 400 or is it completely different?
V.C.: We turned a new page, but the process is the same. Like the Calibres 110, the Calibre 400 is entirely thought out, conceptualised, designed, conceptualized and entirely manufactured in our two workshops located in Hölstein (Editor's note: the historic house founded in 1904, in the North, near Basel) and in Gland near Lake Geneva in the district of Nyon. For the fabrication of its components however, we use a network of Swiss associates. Following this principle, and with this new movement, we carry on the philosophy of our founders Paul Cattin and Georges Christian: blend together excellence and watchmaking craftsmanship with the most effective industrial techniques. In my mind, the Oris Calibre 400 is a great tribute to them.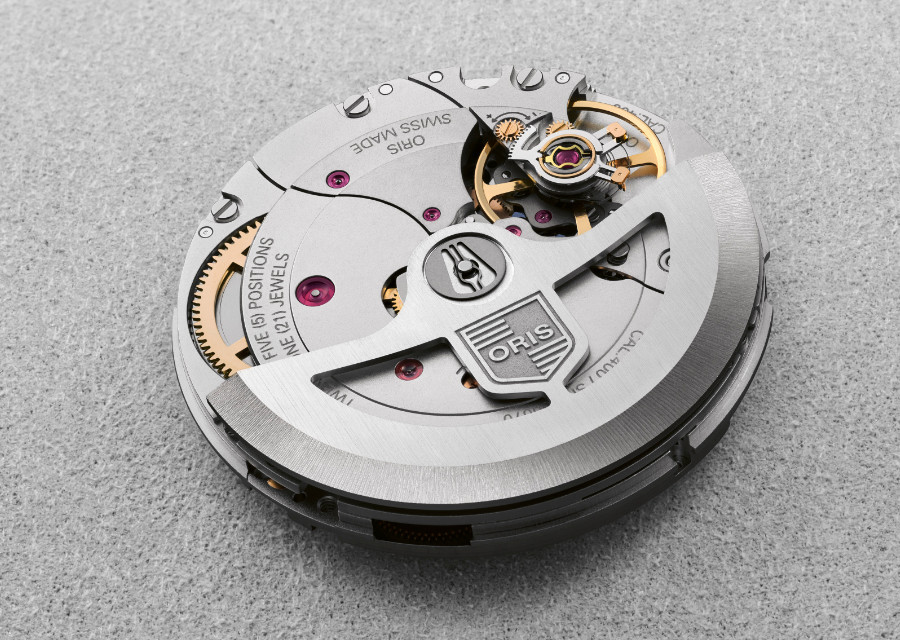 For a few years Oris has been developing its own movements. What for? After the hand-wound Calibres 110, now the automatic Calibre 400. Can you please explain?
V.C.: On the short and medium term, the idea is to be able to steadily stand on our own by proposing both in-house calibres and watches equipped with outsiders movements, which have proved themselves and met our demanding criteria. The idea is also to be able to keep and assert our independence, a rare thing in today's watchmaking world. We have invested a lot in this calibre, which took five years to complete. Thanks to this creation we can now propose models in a watch category where stand other houses we had never confronted before.
Was it also a request from your clients?
V.C.: Indeed. But it is a request concerning the watchmaking sector as a whole and not only Oris. It is mainly about a real desire from faithful clients, collectors and insightful amateurs, desiring that houses propose their own "power source" by developing in-house calibres. As for us, we have the chance of having the Oris Social Club in Paris, reuniting the enthusiasts of the brand – I would go as far as to say the watchmaking "geeks" – with whom we exchange a lot. And it was a real demand on their part to one day see an automatic calibre.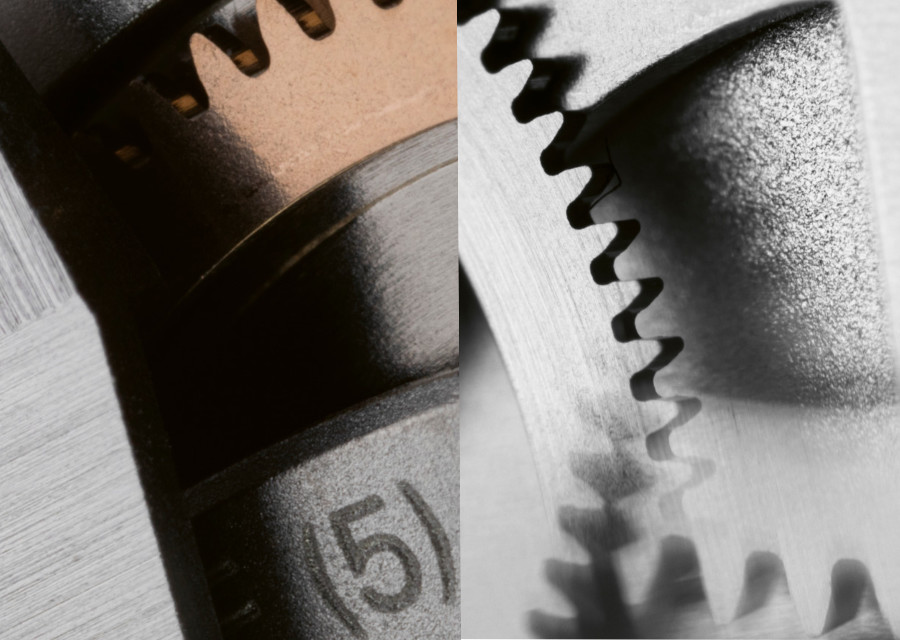 An in-house calibre means more costs… What was the repercussion on the final selling price for the same model with the same functions?
V.C: There will be about a thousand euros difference. It can seem a lot but everything has been thought out and done to respect the will of our founders to always find solutions to propose the best value.
A price difference you will nonetheless have to justify…
V.C.: I'm not that worried… The Calibre 400 has a lot of arguments!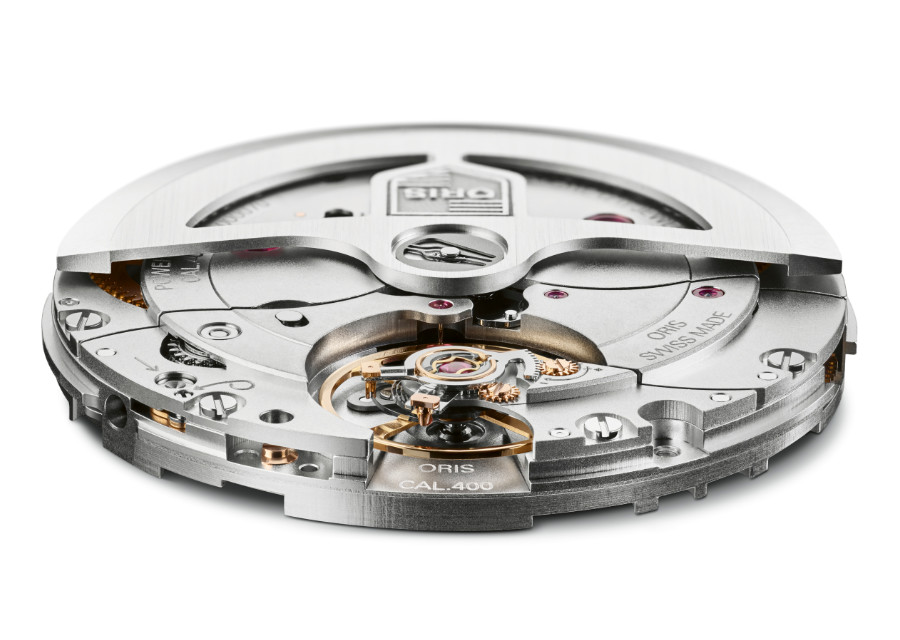 However other brands have proposed their own calibres answering to the clients' demands as for anti-magnetism, chronometric precision, autonomy, reliability, service frequency and warranty. We think of the MT from Tudor and of the Baumatic from Baume & Mercier, two examples out of many others. What are the assets of this so-called revolutionary Oris calibre?
V.C.: It is true that other houses have recently perfected mechanical calibres combining the last technological innovations in watchmaking.
Our Calibre 400 Oris is resolutely modern, as shown by its features. It guarantees a five-day power reserve thanks to two barrels and offers a strong resistance to magnetic fields – much higher than the standard ISO 764. The deviation of our calibre is three times less, after exposure to a force eleven times higher than the criteria qualifying a watch as anti-magnetic.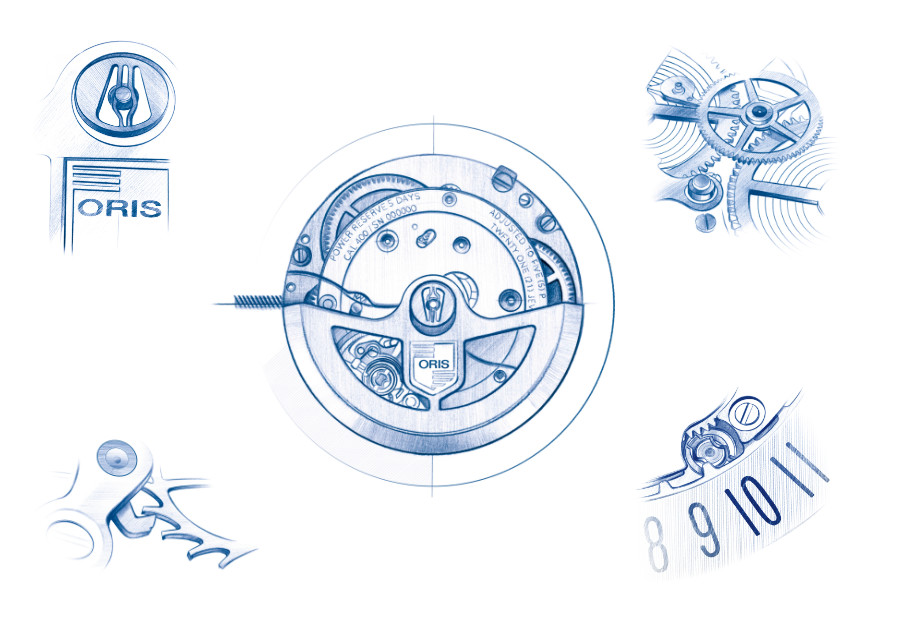 V.C.: This movement is also very precise since it only variates from -3 to +5 seconds per day, testing realized with the calibre placed into the watch. Therefore it's better than the tolerance margin of the COSC, since the Official Swiss Chronometer Testing Institute allows a variation from -4 to +6 seconds per day, for the movement alone.
And why would it become THE reference of modern movements?
V.C.: Calibre 400, and the watch housing it, boasts an extended warranty of 10 years. Which exceeds all the actual standards! Beyond the warranty, we recommend ten-year interval services. I consider this as the greatest novelty.
How did you manage to reach this level of performance?
V.C.: Everything is a matter of details and common sense. I'll give you some examples. For the resistance to magnetism, the movement houses about thirty components made of non-ferrous materials such as silicon, which is a first at Oris.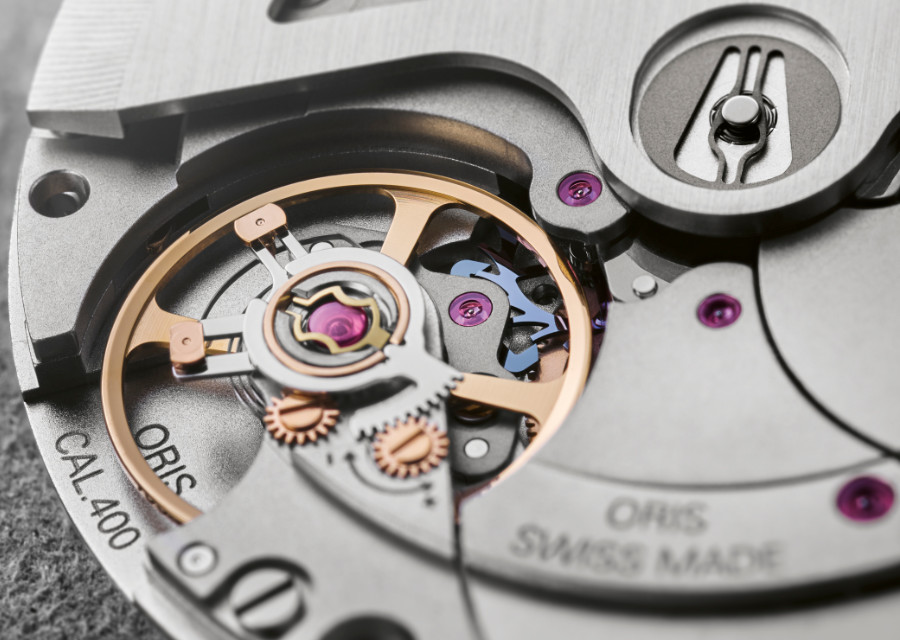 V.C.: Other important fact, all the known weaknesses of a mechanical calibre have been listed so that a solution can be found. We all know in the watchmaking world that vibrations have an impact, in particular on the oscillating weight. One too many mounting flanges has broken inside watches worn to work.
Why? Because the modern city man, as can be said, mainly uses his bicycle or his scooter to move, and rides on various surfaces – of which cobblestones have the worst impact. This is why on our Oris Calibre 400, the traditional ball-bearing system has been replaced by a slide system much stronger. It's but a small detail yet it makes, with many other, for a more reliable movement.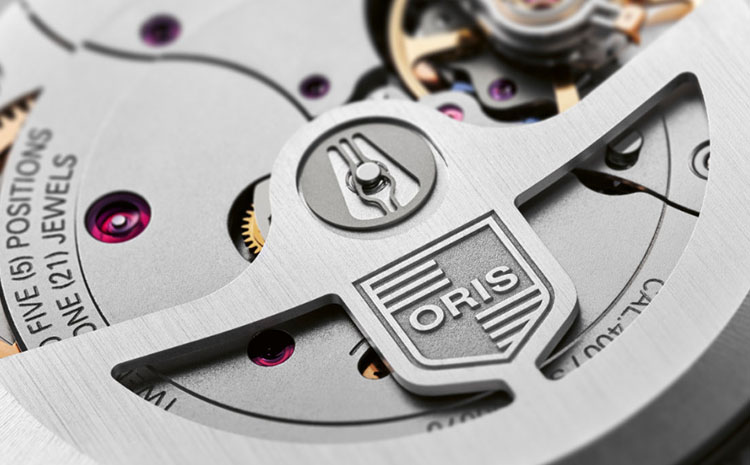 To summarize, when one combine all these features in one watch, which furthermore will have a reasonable price for its capacities, then we can indeed honestly say that it is a true revolution and that we are going to impose a new standard in Swiss watchmaking.
It's quite simple. Why pay more when you can have better for less? Tomorrow, no one, not any other Swiss watchmaking brand will be able to say "we make the best movement for the best price" if the criteria of the Oris Calibre 400 are not met.
What is the targeted audience for this calibre and what companies are you trying to compete with?
V.C.: We know that in the beginning our movement will only interest the true aficionados. But soon they will talk about it, which will make know the qualities of Calibre 400 to a wider audience. And eventually allow Oris to reach a higher level, where stand other famous houses. In a way, this movement is our own little revolution. It enables us to raise our fist and say "Stop comparing us to other brands which have nothing – and never had anything – in common with us!"
I could cite Tissot or Hamilton which are often brought up in discussions with clients. It's also a strong message destined to our broadcasters and our retailers. Our position changes with this calibre. We want to belong to this circle of independent houses proposing quality watches, highly reliable and of reasonable prices.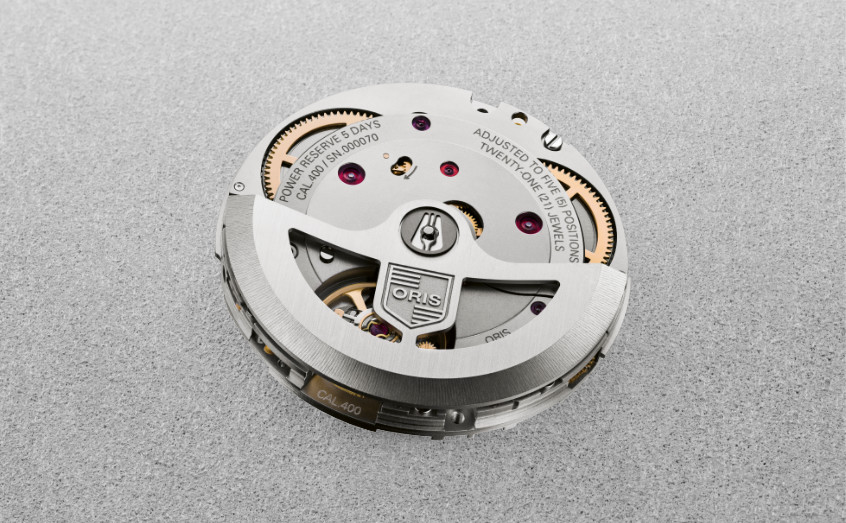 Lastly, a quick aesthetic question: was Oris's inner child at play? When we look at the rotor of this Calibre 400 in a particular position, it resembles the head of a teddy bear… Are we mistaken or is it on purpose?
V.C.: I knew you were going to ask this question! Yes indeed, the designers of the Oris Calibre 400 conceived it with our mascot in mind. From the rubies (the eyes) to the barrels (the ears) and the shape of the skeletonized oscillating weight (the smiling mouth), everything was planned to create this small reminder and bring some poetry and good humour to the heart of this movement. Movement which will of course be visible through the back of the watch.
Oris's ambition is to "create the mechanical movement for the citizens of today"… Seems like the bet is won with this new Calibre 400 that unanimously seduced reporters at the press presentation organized on October 15th at Paris, echoing the global launch.
It is always reassuring to exchange with colleagues and to see that opinions match. The new features of this calibre – particularly the 10-year warranty – will certainly worry other brands. For instance, the Baumatic calibre performances, which had already made waves, are now surpassed!
Appointment in two weeks to finally discover which Oris watch will house the calibre 400. Meanwhile, try to guess, or even to bet between amateurs, from which collection will come this model using our detailed data sheets in the Oris watches section.
For the insatiable of technical information, the gears devouts, here are all the characteristics of this new Oris Calibre 400: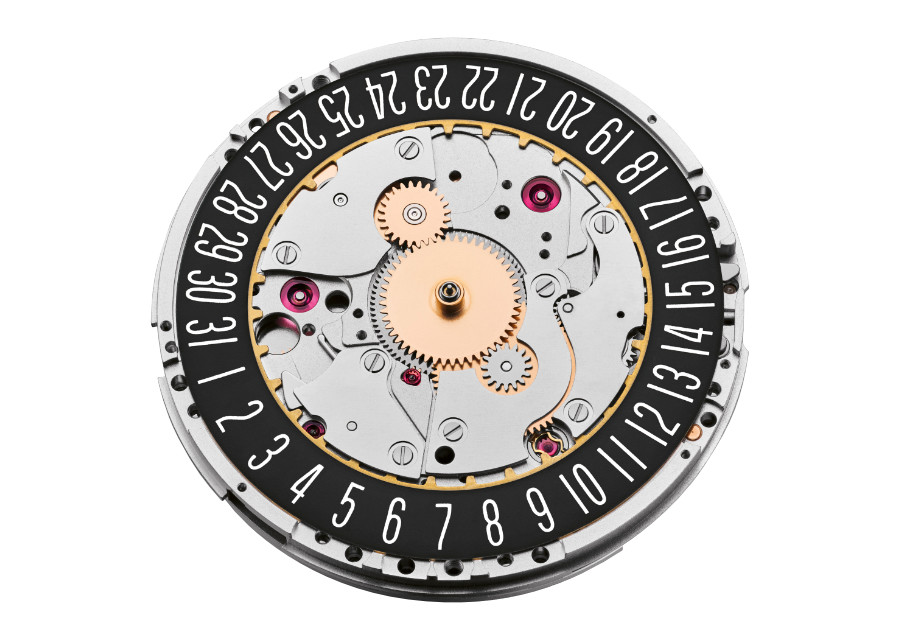 Functions:
Centre hands for hours, minutes and seconds
Date corrector, fine timing device and stop-second
Variation of -3/+5 seconds per day (in compliance with the tolerance margin of the COSC), Exceptional anti-magnetic properties
Automatic winding
Components : 135
More than 30 non-ferrous and anti-magnetic components
Movement and all components are 100% Swiss Made
Diameter: 30,00 mm
Width: 4,75mm
Vibrations: 28'800 A/h, 4 Hz
Power reserve: 120 hours (5 days)
Extended warranty of 10 years for any buyer registered on MyOris (European warranty of 2 years + 8 years if registration on MyOris) for both watch and movement.
10-year recommended service intervals
Twin barrels
FIVE-DAY POWER RESERVE
When conceptualising Calibre 400, Oris's engineers recognised that these days we may not wear the same watch every day. If you put a standard mechanical watch down for a day or two, it will stop as the power reserve runs down. Calibre 400 has a five-day power reserve, so it'll still be running if you've not worn your watch during an extended weekend. It delivers this longer period of use via twin barrels, both of which house an extended mainspring, each long enough to store two-and-a-half days of power.
Foolproof reliability
10-YEAR WARRANTY AND RECOMMENDED SERVICE INTERVALS
Oris is so confident in the cutting-edge technologies integrated in the Calibre 400 that we are offering a 10-year warranty on all Oris watches powered by this new movement and registered on MyOris. Furthermore, Oris recommend10-year service intervals on Calibre 400 watches. Which means that barring accidental damage or water-resistance checks, your watch can go without a service until 2030. This is the new standard.
Innovating to the heart
A MORE STABLE ROTOR SYSTEM
With the Calibre 400, one Oris's fundamental ambition was to eliminate problems before they occur. Our engineers identified that the ball-bearing system that allows the free-spinning oscillating system (rotor) to rotate often caused issues. This is a critical component: as the rotor spins, it generates power stored in the mainspring housed in the barrel. So we removed the ball bearing and replaced it with a low-friction slide bearing system, in which a metal stud runs through a lubricated sleeve. This is much less complex, highly efficient, and involves far less wear and tear, making it less prone to breakdowns. Calibre 400 uses 85% of the power transferred from the mainspring, while the norm is around 70%.
Exceptional anti-magnetic properties
ELEVATED RESISTANCE TO MAGNETIC FIELDS
Most Swiss watch movements will be magnetised if exposed to the strong magnetic forces we encounter in daily life. When this happens, they become less accurate, and can stop altogether. To make it highly antimagnetic, Oris engineered Calibre 400 using more than 30 non-ferrous and anti-magnetic components, including a silicon escape wheel and a silicon anchor. In testing by the renowned Laboratoire Dubois, Calibre 400 deviated by less than 10 seconds a day after exposure to 2,250 gauss. For context, the latest version of the ISO 764 standard for anti-magnetic watches requires that to qualify as anti-magnetic, a watch must be accurate to within 30 seconds a day after exposure to 200 gauss. Calibre 400 recorded one third of the deviation allowed after exposure to more than 11 times the force permitted, making it a highly anti-magnetic movement.
All this information can also be found on Oris's page on Calibre 400