STARTING BLOCK
Tissot, ready, set, go!
The Swatch Group Maison and Official Timekeeper of the MotoGP World Championship is back on (the race) track as it revealed two T-Race watches specially cut out for the road, as well as a new ambassador.

By Arthur Frydman
Tissot and sports have shared a close bond for over a century. As timekeeping techniques reached new levels of performance, watchmakers were quick to establish technology and brand partnerships with the world of sports. Swatch Group, which was created in 1853, soon made their way through this competitive market, notably through in motor racing partnerships as with Alpine at the Monte Carlo rally or with Renault and Lotus in Formula 1, from 1950 to 1990. Since then, Tissot has operated on multiple, very different fields, from Top 14 rugby matches to bicycle races like the Tour de France to motorcycle races like the MotoGP World Championship.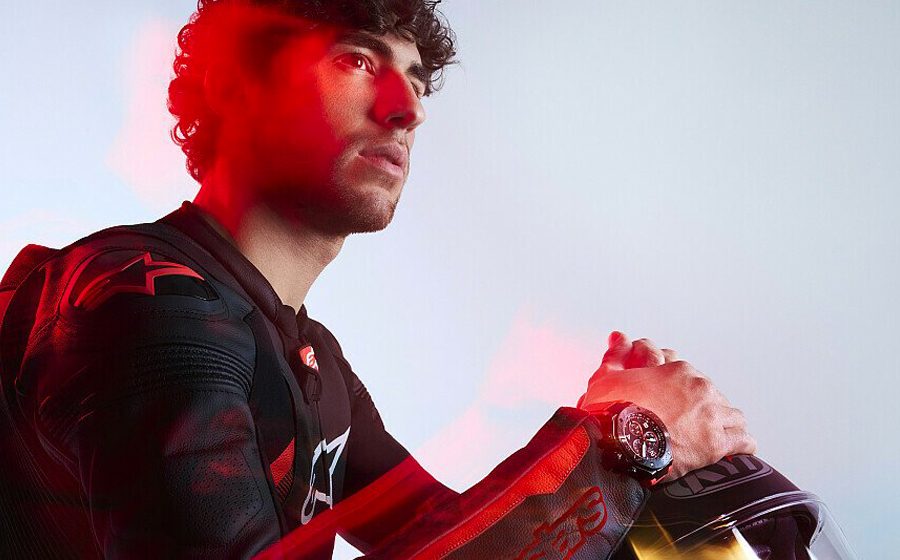 Precision over 210 miles per hour
In 2001, Tissot launched their official collaboration with the MotoGP World Championship, making the brand one of the longest-standing partners of motorcycle sports. As one of the main players on the field, Tissot's great expertise in MotoGP has become increasingly important both for those who drive and those who monitor, given how close the games – pilots' speeds sometimes reach over 210 miles per hour in a straight line – have become over the years. To ensure a precise ranking of the competitors at the finishing line, Tissot and company Swiss Timing have developed high-tech measuring instruments.
The control building is now directly informed of the pilots' times by the racing motorcycles, and no longer by race chronometers. Tissot equipped the motorbikes with transponders which report the drivers' times for each round as well as other useful information such as engine temperature or the autonomy and state of the battery. The brand also installed various transmitters, antennas and cameras at the finishing line to ensure an accurate check of first place. This is famously known as the "photo finish", which can take up to 10,000 pictures per second and pick up differences of only a few millimetres when two pilots cross the finishing line at nearly the same time.
Tissot watches inspired by MotoGP racing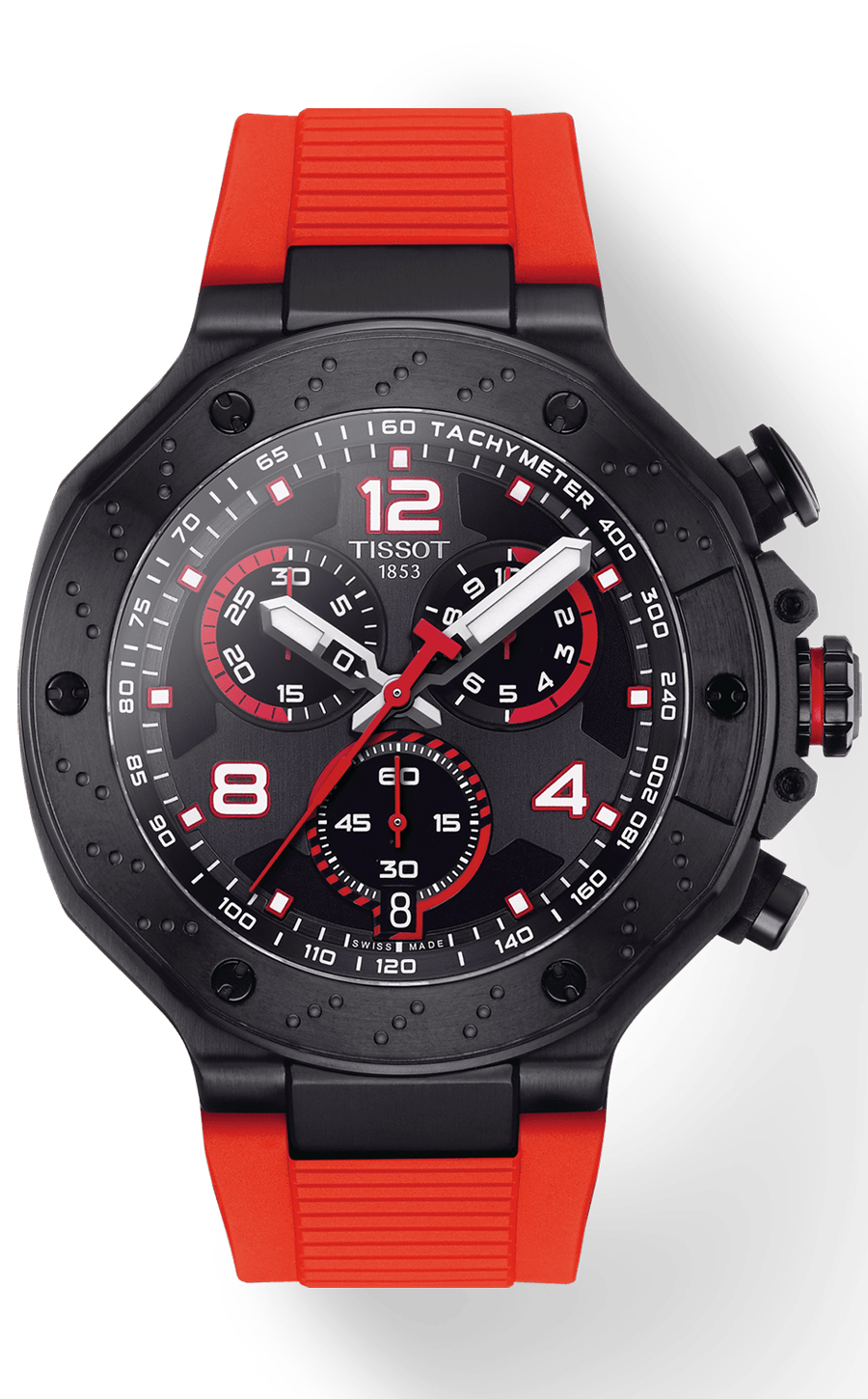 Most importantly, since their contract with Dorna Sports, Tissot has developed watches inspired by the world of MotoGP to show in each of the pieces their shared attachment to excellent performance and precision. A new chapter of this long-lasting alliance was celebrated in March, when the 2023 Tissot Grand Prix took place in Portimao, Portugal. Tissot introduced a new race for the 2023 championship: the Tissot Sprint. A different format and challenge, to give motorcycle racing a new impulse and offer fans a new experience. The race is set to take place on Saturday afternoon and cover about half the distance of the Sunday race.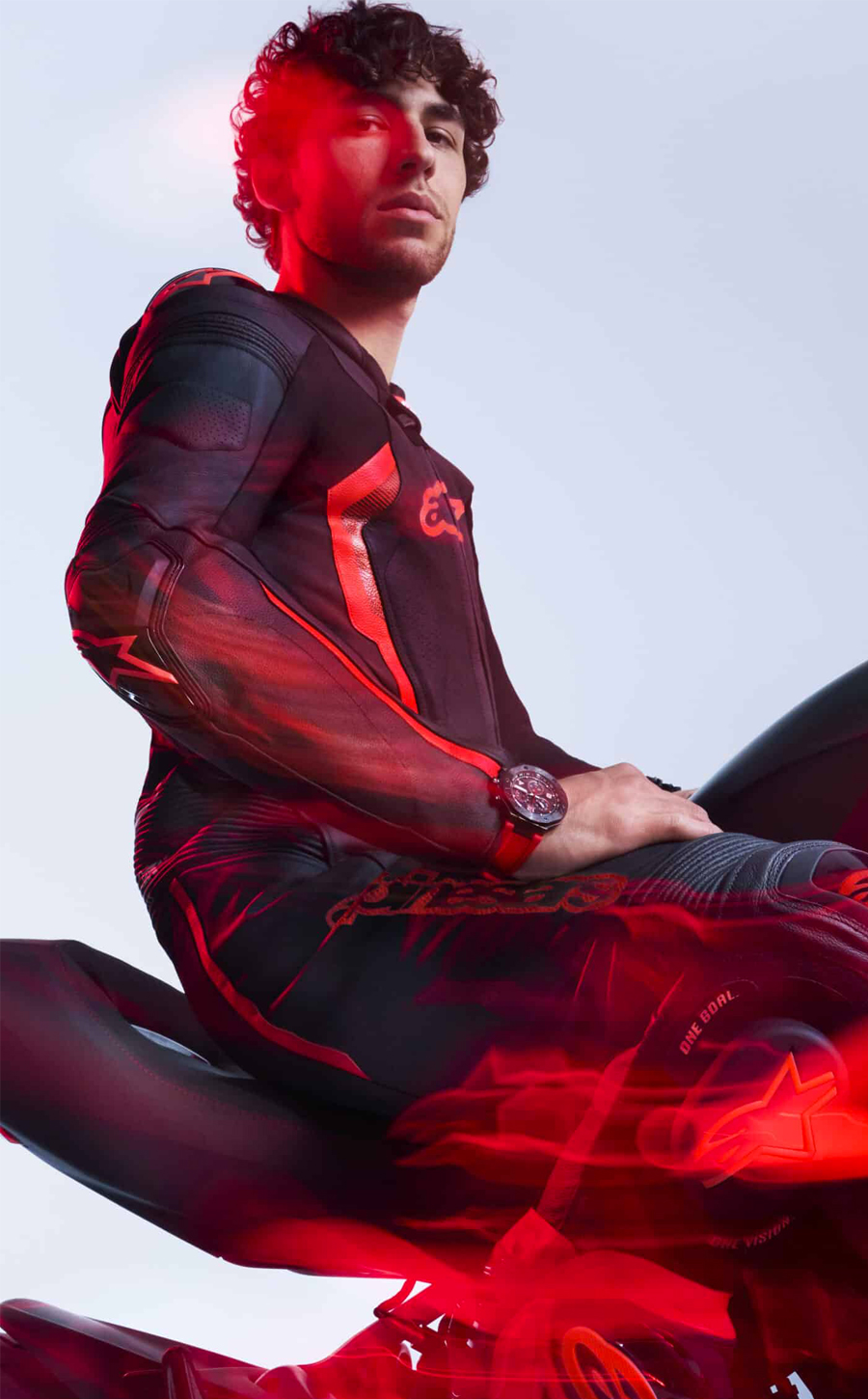 The brand also announced a new ambassador: MotoGP pilot and Italian prodigy Enea Bastianini (Ducati Lenovo Team), currently recovering from fracturing his collarbone in a crash at the Portugal GP Tissot Sprint. He should be back to participate in the Spain Grand Prix in Jerez on April 30th.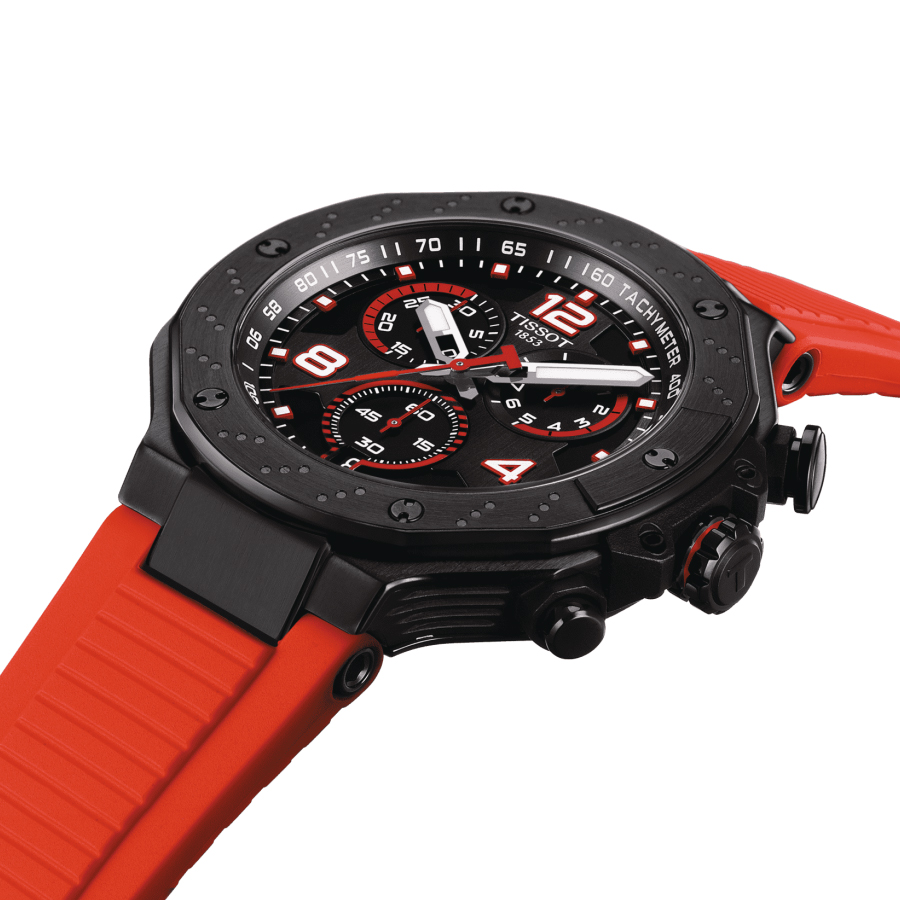 Last but not least, Tissot introduced the new T-Race MotoGP 2023 to celebrate over 20 years of being the official timekeeper of the championship. With this new reference, limited to 8,000 pieces, you can almost smell the engine oil and the asphalt. This T-Race was produced in a chronograph version and entirely reimagined by Tissot to stay true to MotoGP DNA.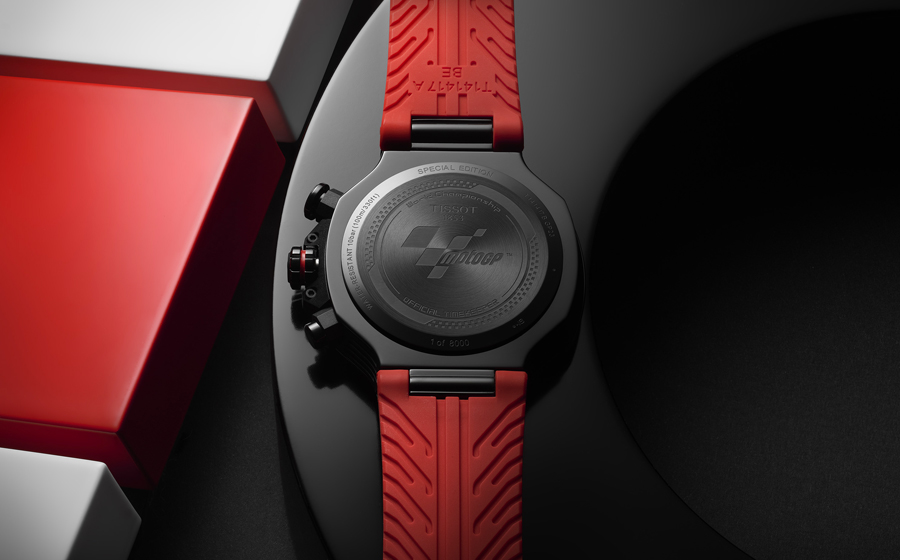 The sporty look of this watch would perfectly suit the taste of lovers of motorsports and traditional watchmaking. This racing machine displays a 45-mm-diameter round case in steel with black PVD coating and a bezel which emulates a brake disc. The two pushers are reminiscent of motorcycle handlebars, and the sides of the engine cooling fins.
As for the black, carbon dial, it contrasts the bright red finishes of the watch. For instance, the numerals were imagined as a nod to motorcycle racing numbers, full racing vibes. Finally, the watch is powered by a quartz chronograph movement and delivered with a red, rubber strap in an exclusive mini helmet box.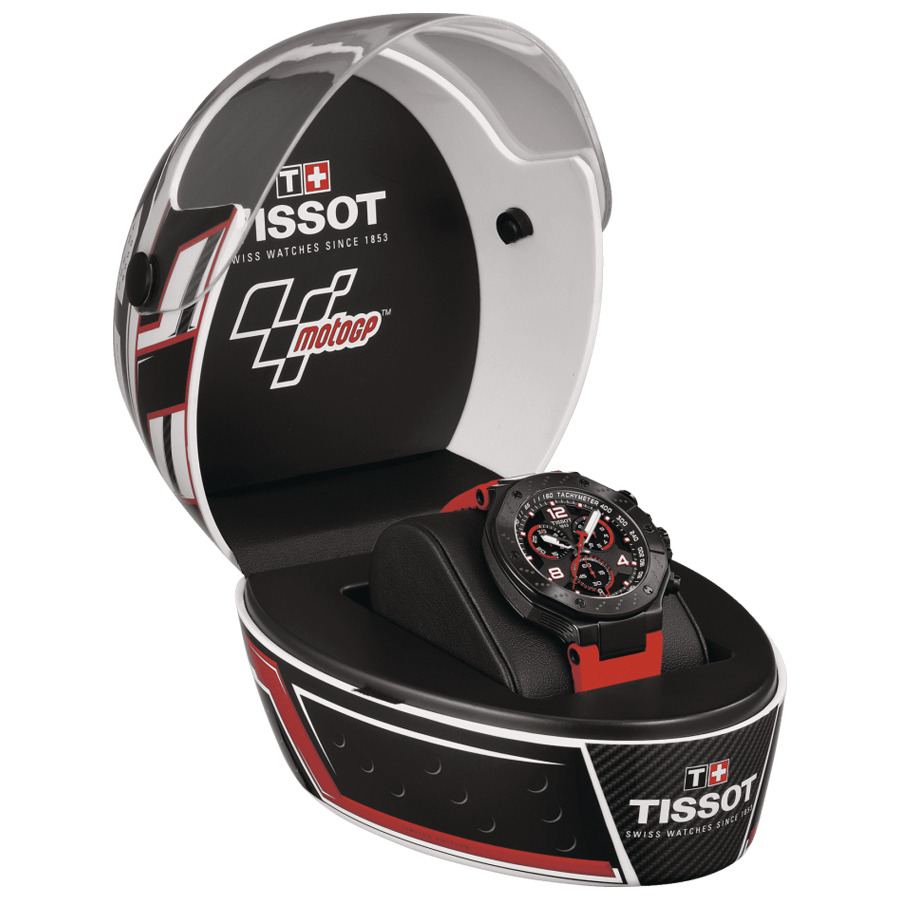 Price : €725
Technical details:
Steel 316L case, 45 mm
Design inspired by MotoGPTM: brake disc, calibre, pushers, engine cooling fins
100-m water resistance
Quartz movement, chronograph, EOL
Swiss Made
MotoGPTM inspired dial: racing numbers, carbon, red finishes
Distinctive hour and minute hands coated in Super-LumiNova®
Tachymeter
Red, rubber strap
Rotating lug width.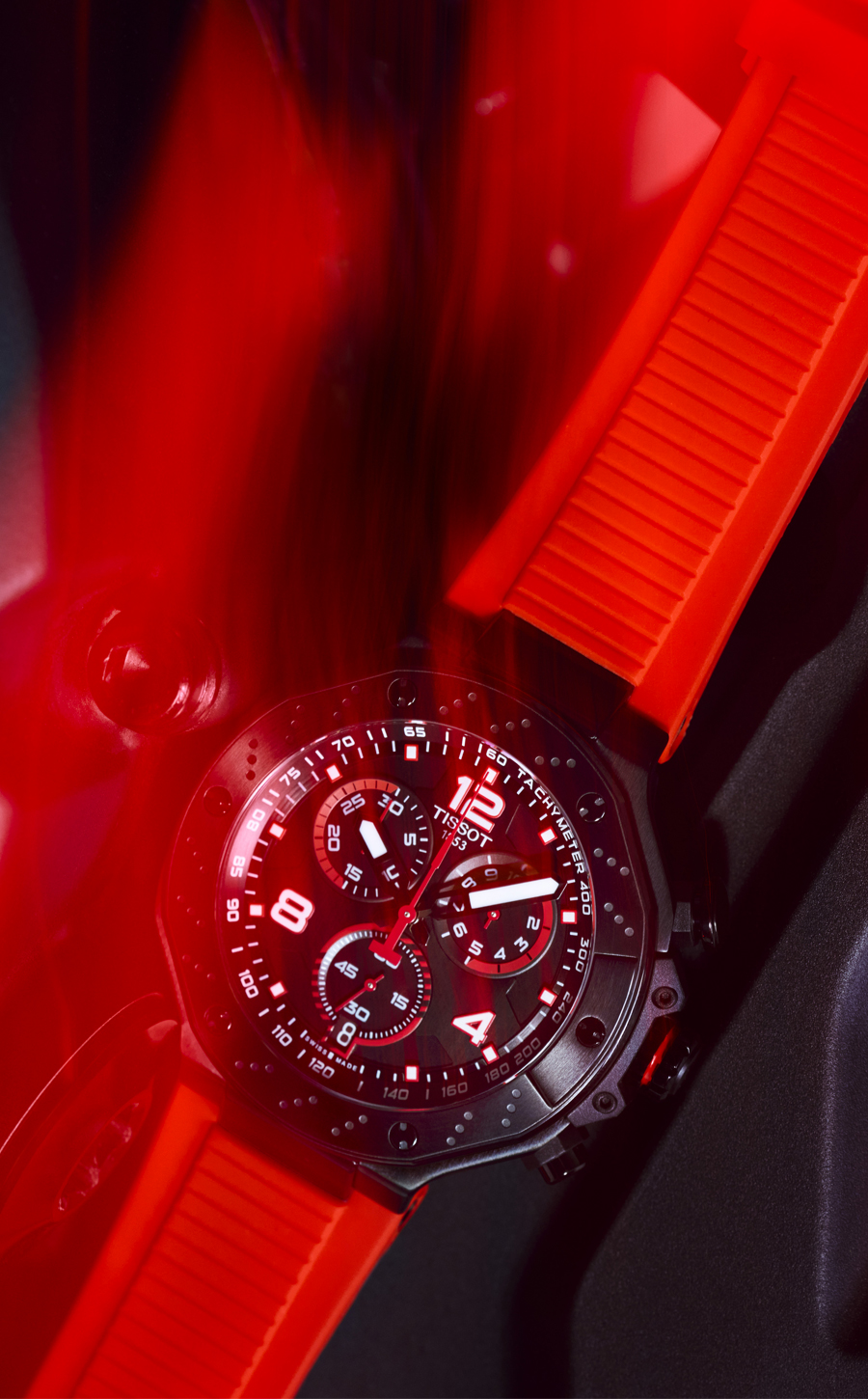 See also: