Louis Vuitton speakers
UF(C)O: Unidentified flying (connected) object
Thanks to its savoir-faire when it comes to connected devices featuring modern and futuristic design, Louis Vuitton is launching its new Horizon Light Up Speaker. It looks awful lot like an object coming from far away and it shows the Maison's desire to constantly reinvent the world of portable audio players.

By Chloé Redler
It comes as no surprise that Louis Vuitton has mastered the field of connected and high-tech objects. The brand proved it once again with the new Louis Vuitton Horizon Light Up Speaker, which joins its audio players collection.
The Louis Vuitton Horizon Light Up Speaker or how to turn a functional object into a work of art.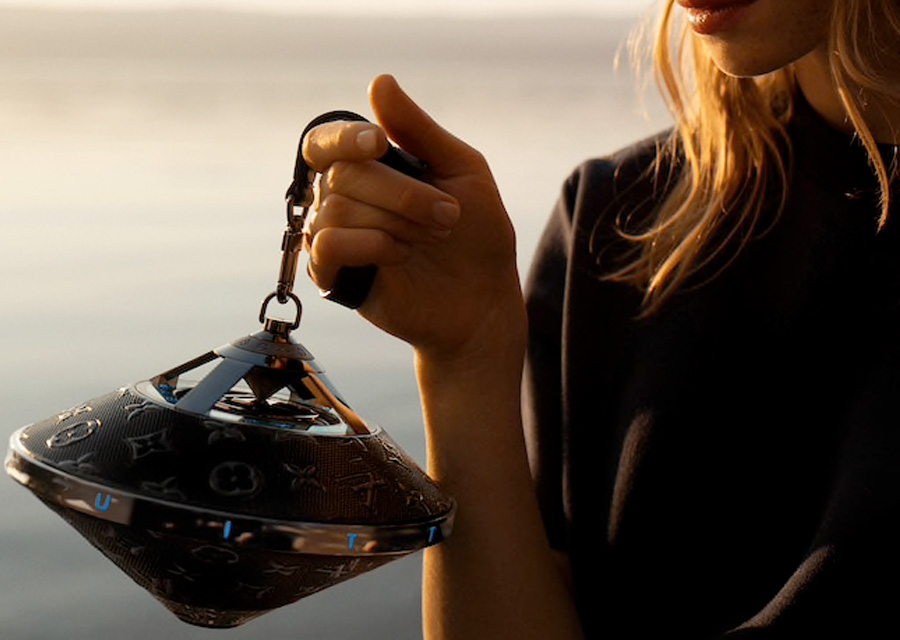 Whether you like it or not, you have to admit that Louis Vuitton has a gift for transforming daily devices. The brand offers unprecedented designs while staying true to its own legacy. Indeed, the Horizon Light Up draws inspiration from an iconic clutch "the Toupie", imagined by Nicolas Ghesquière, the artistic director of the Maison's women's collection.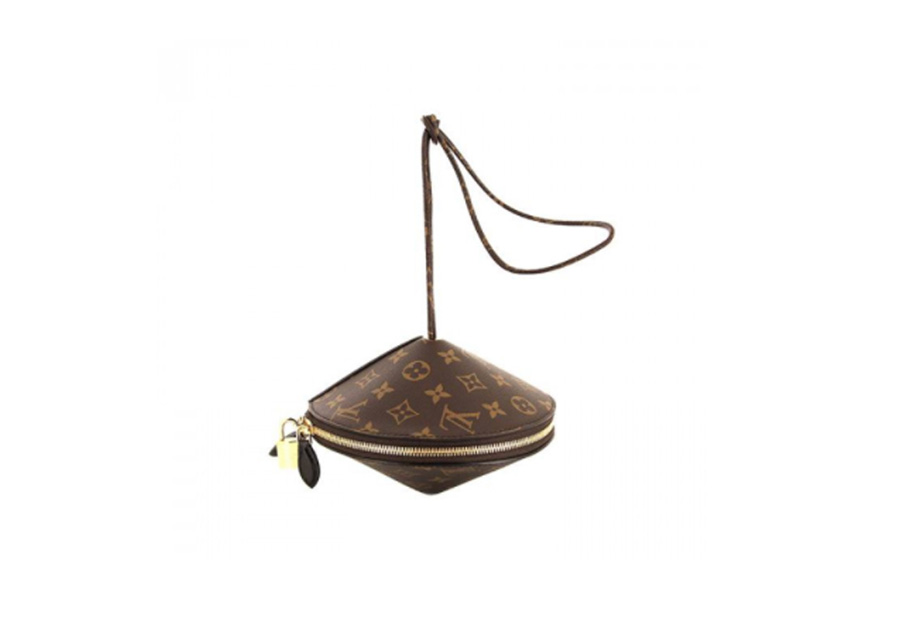 Some will see a spinning-top while others will think it looks like a flying saucer. But one thing is for sure: it is impossible to feel indifferent about the shape of this accessory. Of course, the piece is adorned with the emblematic Monogram flower, which made the luxury brand's reputation. Here, this motif – Louis Vuitton's signature – is made of leather and stunningly matches with the steel structure of the speaker, where the sound comes from.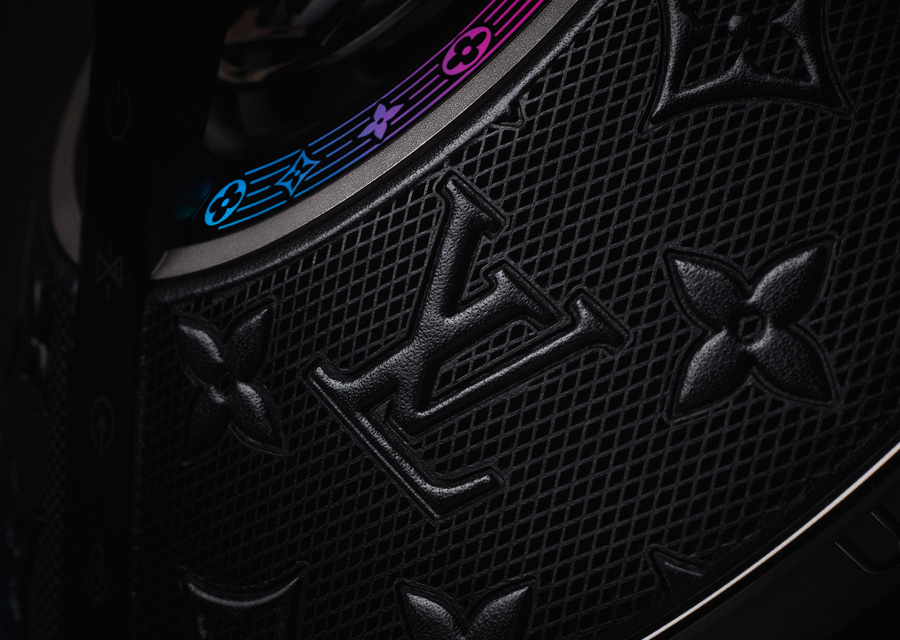 Let there be light… and sound!
The Louis Vuitton Horizon Light Up Speaker illuminates any room from the moment it is turned on. An explosion of lights – synchronized with the music – brings life to a disk equipped with backlight LED backlighting on the top ring of of the device, where the Monogram flower is displayed in a seven-colour gradient including yellow, green or neon pink.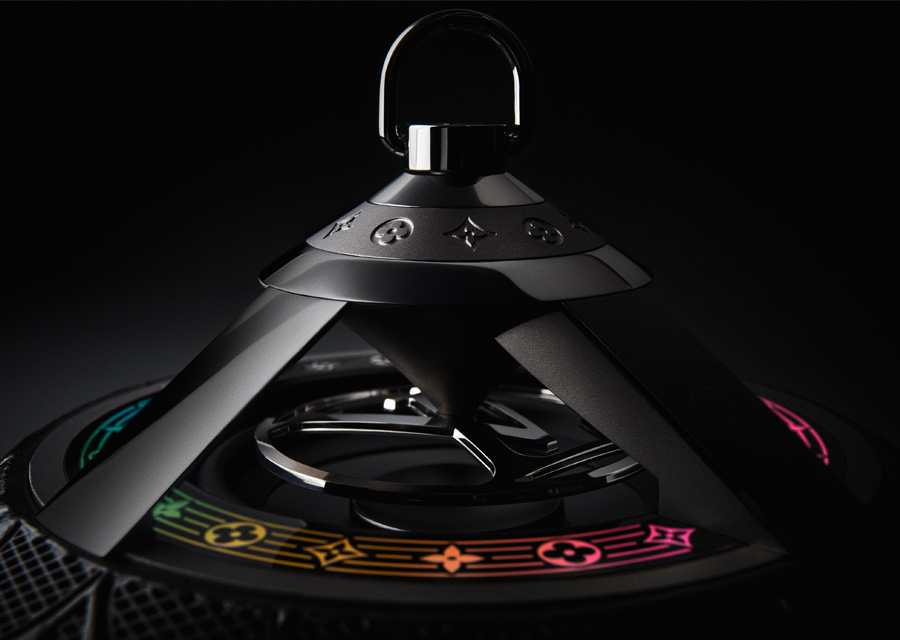 With its unconventional shape, the speaker spreads the sound differently depending on its position. When sitting on its dock, it offers a 360° acoustic. When placed on its side, it sends the music in a specific direction. This model, which is quite light – about 1 kg – is crammed with technology and comes with a 15-hour autonomy. 
As it features a leather strap – reminiscent of Louis Vuitton's leather savoir-faire – and is safely tucked into a dedicated pouch, this beautiful art piece can be taken anywhere.  It is the perfect accessory if you are about to go on holiday!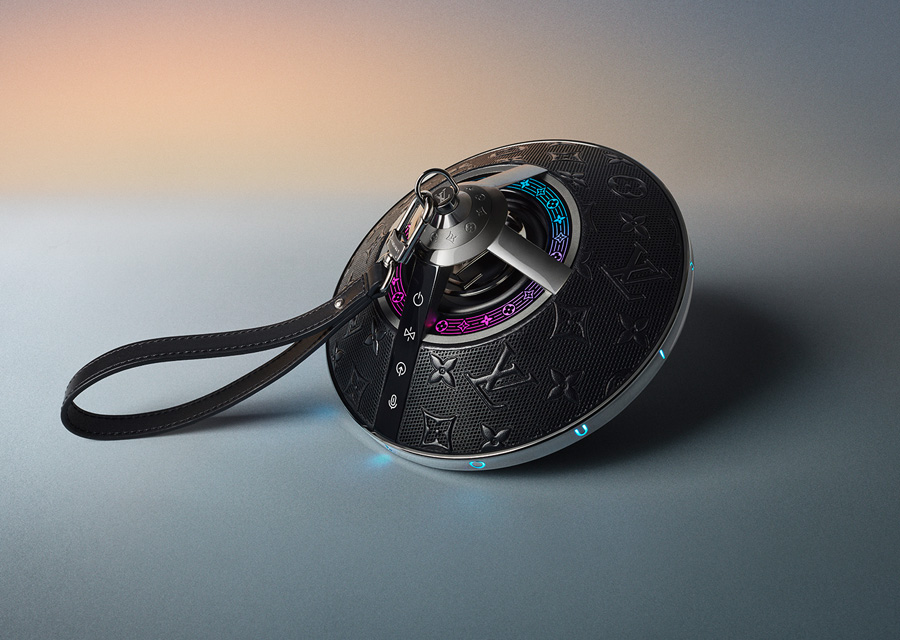 € 2,450 – Available on eu.louisvuitton.com