When an architect revisits an architectural watch
By MyWatch
Bvlgari has teamed up with the famous Japanese architect Tadao Ando to create two Octo Finissimo limited-edition timepieces that are found exclusive to the Japanese market.
Nicolas YVON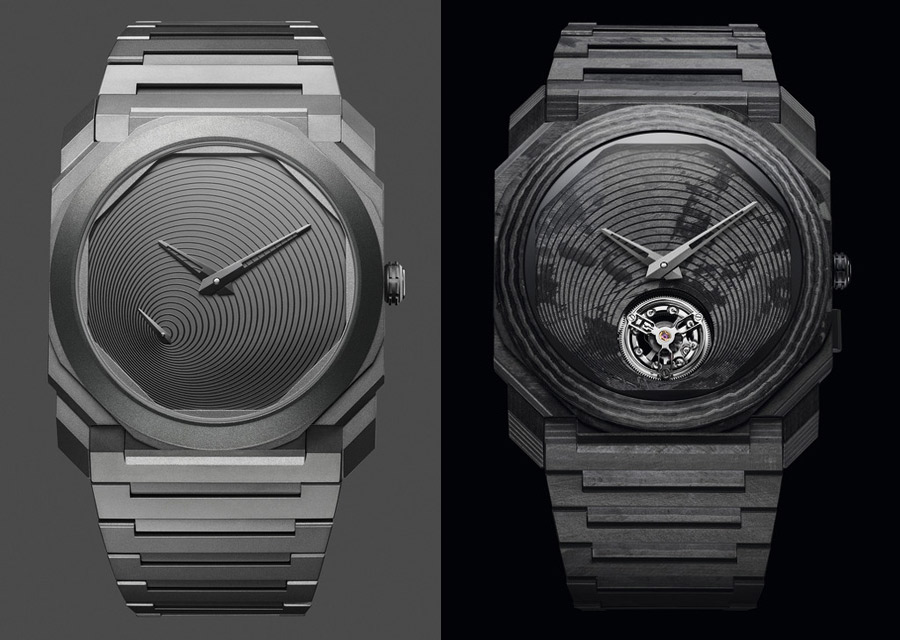 This new year begins with a very nice collaboration. And what better Bvlgari watch than the Octo Finissimo to carry an architect's vision? It has established itself as a watchmaking icon, with its contemporary design combining a multifaceted case middle, a round bezel and an octagonal dial. An architectural success if we ever saw one, to which is added the prowess of record-breaking watchmaking thinness.
Even one who knows Bvlgari's grassroots passion for arts and crafts in general—and for those who have shaped the rich history of its home country in particular—must not ignore that it also maintains privileged links with Japan, through both cultural and artistic fields. Perhaps less well known is the fact that it was through the spirit of 'bello e ben fatto' (beautiful and well made, in English), a principle of utmost excellence, where both the Land of the Rising Sun and the Italian manufacture naturally found common ground. Their encounter has already written some of the most beautiful pages in the history of design and creativity, particularly in the last few years, with limited editions of the Octo Finissimo designed with a Japanese musician and painter.
Today, Bvlgari collaborates with one of the most famous contemporary architects. The company has offered Tadao Ando an opportunity to reinterpret the dials of two Octo Finissimo models, in order to create a limited series exclusively dedicated to the Japanese market. As a master in his art, Tadao Ando has built his reputation and aesthetic signature through his use of both concrete and glass, in association with innovative lighting principles. He has created refined works that are part of our world's contemporary architectural heritage. Among his most emblematic works are the Hill of the Buddha in Sapporo, the Church of Light in Osaka, the Church on the Water in Hokkaido, the Modern Art Museum of Fort Worth, USA, and the 21_21 Design Sight in Tokyo. And let's not forget the Bourse du Commerce, in Paris—which will reopen this spring—or the Shanghai Poly Grand Theater, the Punta della Dogana in Venice, and the Chichū Art Museum, in Naoshima.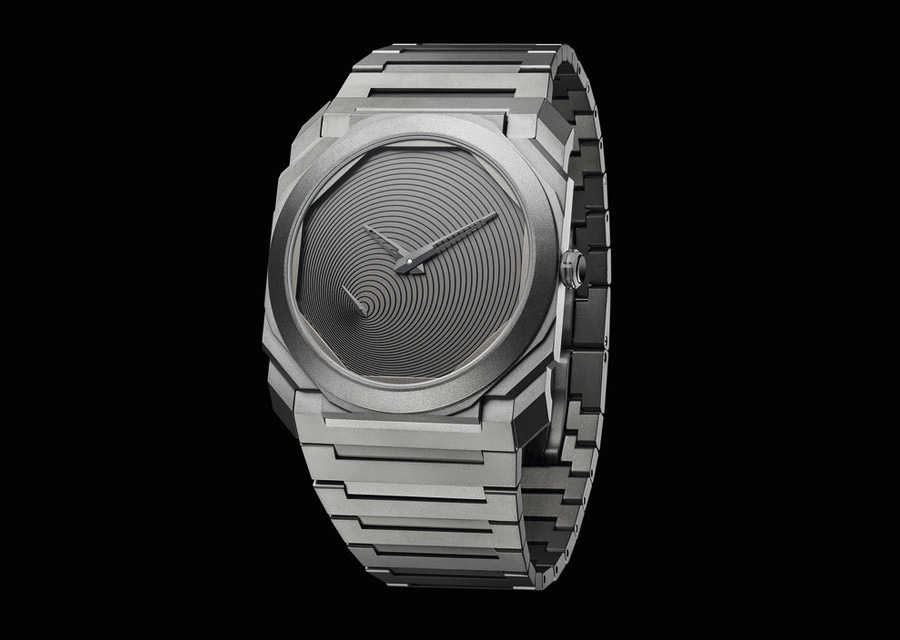 Massive shapes, geometric figures, straight and pure lines—be it straight or curved—sharp edges, spectacular volumes, innovative as well as raw materials, smooth surfaces, aquatic reflections, perspectives of infinity and spatial design all describe the work and vision of this 78-year-old self-taught architect, who was a professional boxer in another life. Asking Tadao Ando to have fun with the design of the Octo Finissimo thus made perfect sense. And as could be expected, this architectural watch was made with contemporary materials such as titanium and carbon. Its graphic, sober and angled lines are born from the same guiding principles that govern the creative approach of its Japanese master.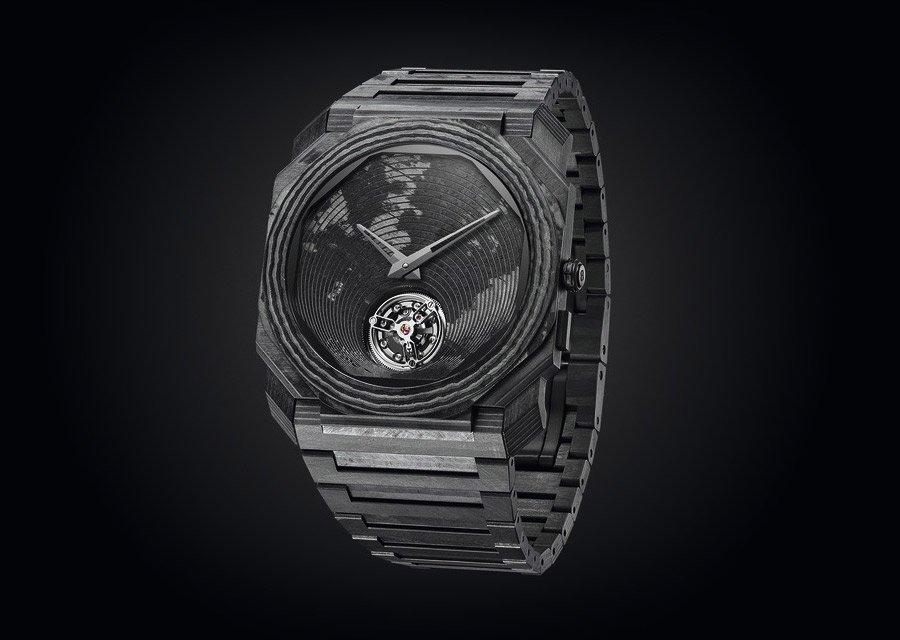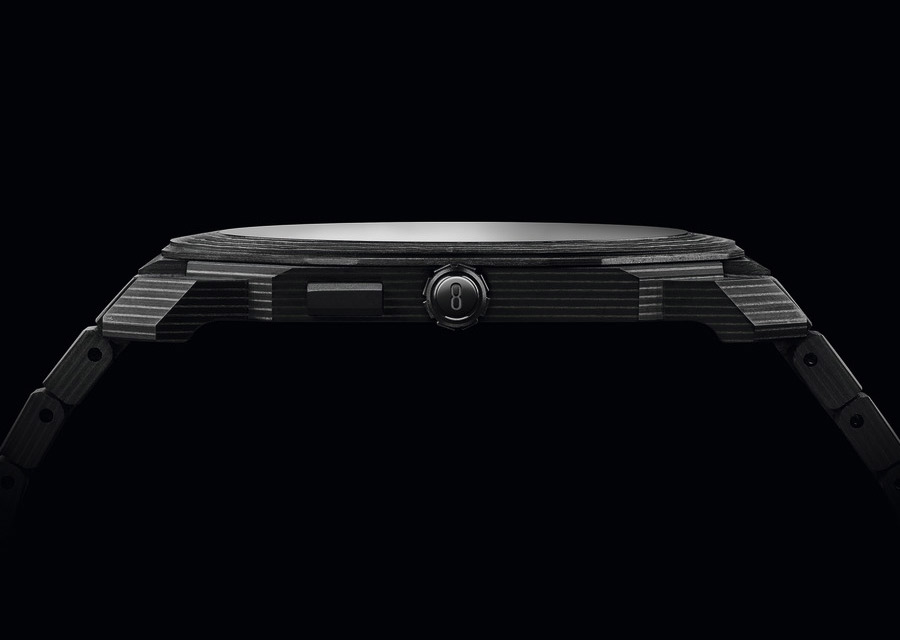 Two limited-edition 'Octo Finissmo Tadao Ando' were born from this association. Each of them illustrates Ando's talent, who put in contrast the sharp cuts of the watch with the multitude of concentric circles that crisscross the flat surface of its dial.
The first one is a titanium Octo Finissimo (limited to 200 copies). Its dial was designed by the architect, and features a spiral figure that originates on the axis of the small-second-hand, and evokes the infinite passage of time. The other model, an Octo Finissimo Tourbillon, is made of carbon, and is available in a limited edition of only 8 pieces. Again, Tadao Ando was inspired by the inescapable spiral of time, and thus decorated the watch with concentric circles, starting from the Tourbillon, and spreading over the dial like a small shockwave on a liquid surface. 'The existence of black holes in deep space materialized in my mind when I began to ponder this,' the architect explains. 'On the face of the watch, an endless spiral unravels from minutes to seconds, until it cannot be seen. It is a ripple on a body of water, spreading through the fourth dimension. From expansion to compression, this design expresses the infinite, the eternal, and the timeless.' When philosophy transcends the architecture of a watch, one knows it is time to contemplate the beauty that lies beyond the ties of space and time…