Star watch
ZENITH Defy Skyline: a lightning small second 
From the beginning, Zenith looked for leaving its mark on watchmaking with robust and unique timepieces, made to go with their owners. The story begun in 1902 with the launch of the original range of pocket watches called "DEFI" remained in 1969 with the launch of the bracelet watches collection called DEFY. Today, the new creations of this range are equal to the previous ones.

By Vincent Daveau
The Zenith Defy Skyline, an assertive design
Combined with a robust construction, the resolutely modern design of the watches, has earned them the nickname "safe". Today, in a world in perpetual motion where each split second can be decisive, the last creation of the DEFY range is elegant and suggestive of the Zenith's rich past at the same time. From the Defy Skyline, we remember the unique alchemy of its stellar blue metallic dial engraved with a suggestive pattern of a night sky.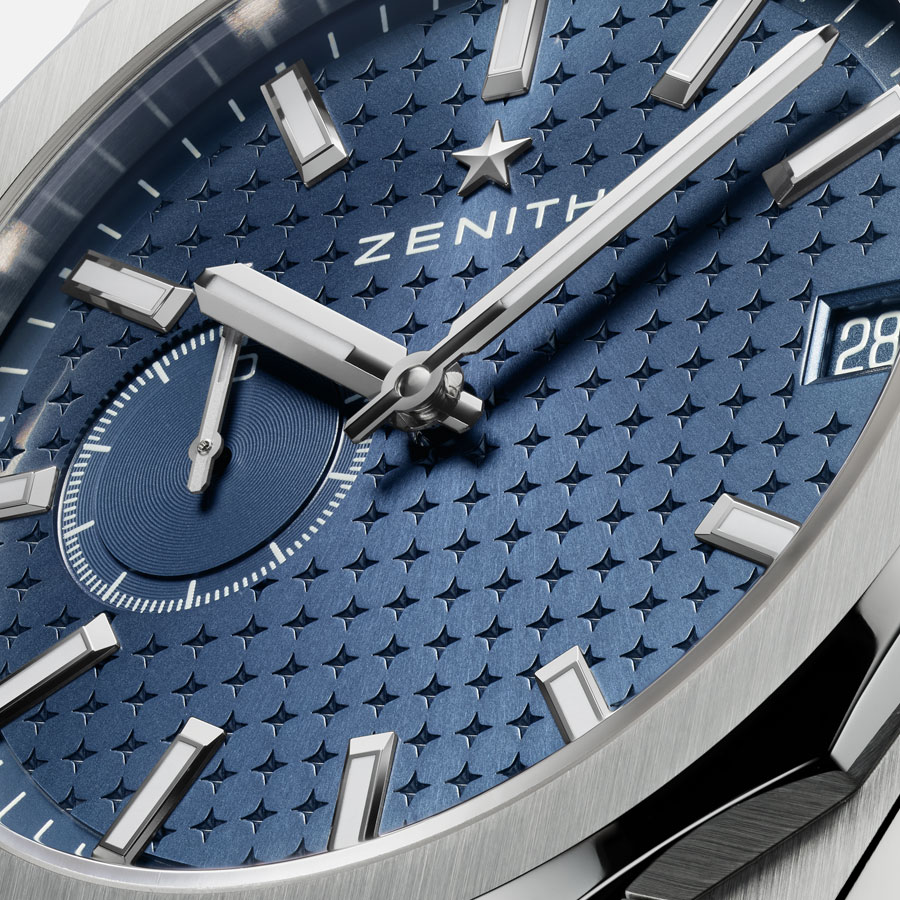 Bold in its shape, yet well-known within the Zenith range, it is inspired by the unique octagonal shapes of the first Defy pieces, including the Defy A3642 recently brought up to date, without however looking for recreating the past. Angular, these 41 mm-diameter satins-polished steel watch with its 12-facet bezel and its water-resistance to 100 m maintains this sensation of robustness and durability.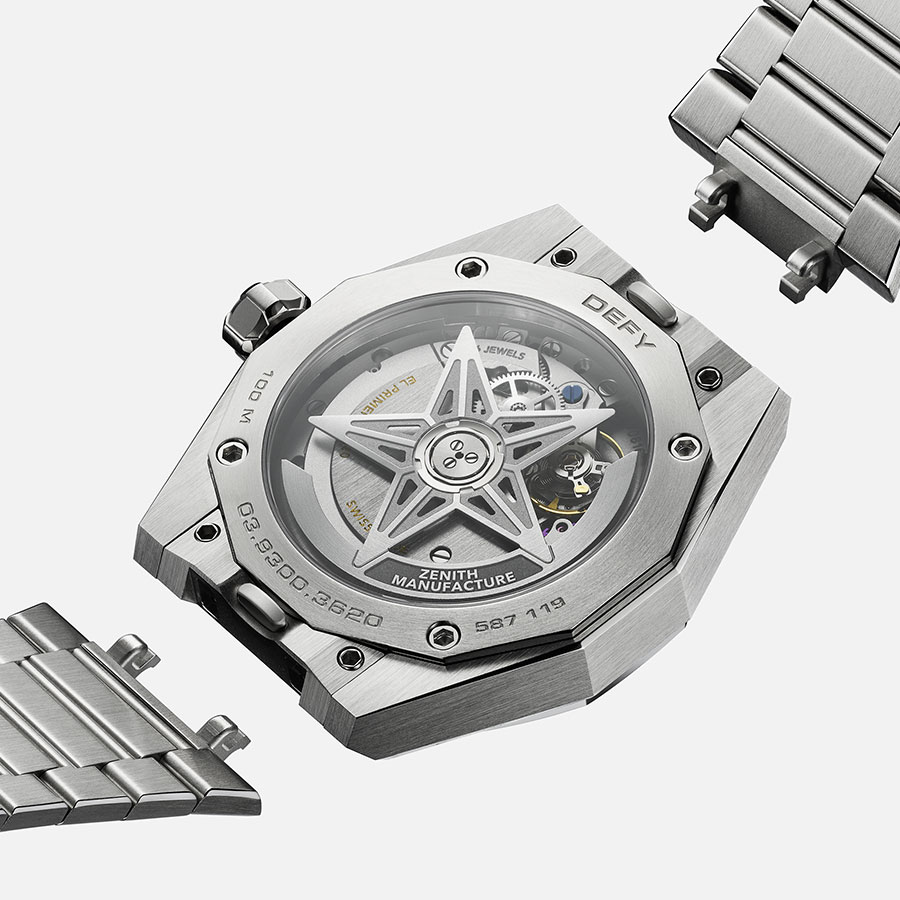 The new calibre of the Zenith Defy Skyline: performance and endurance
It results from the use of the El Primero 3620 new high-performance calibre that is a repetition of the chronograph movement from 1969 (the calibre base without the chronograph components, an idea developed in 1998 by the watchmakers Messrs Pourcelot and Daveau for the independent company). Therefore, its regulating organs vibrate at 5 Hertz (36,000 vph) ensures it precision (1/10th of a second) and an ability to be less sensitive to the sudden movements.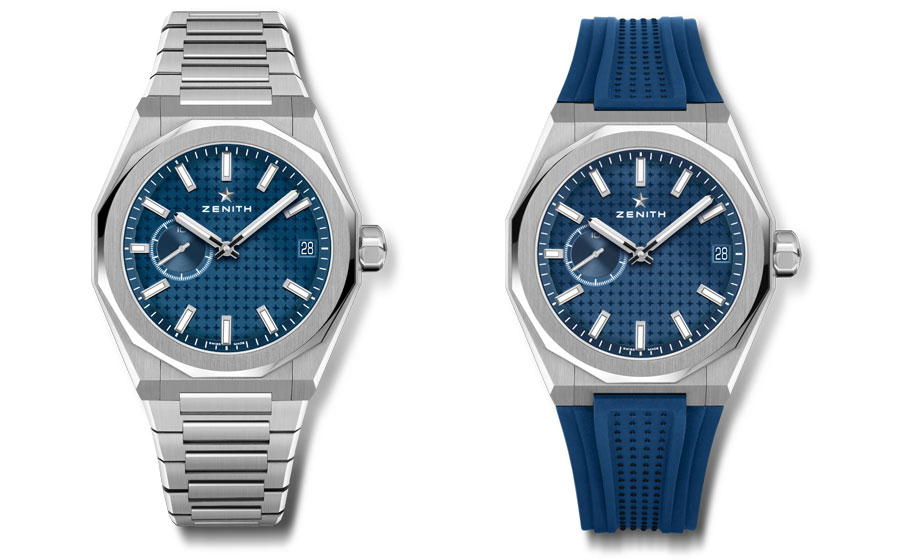 But the force of this edition is also represented in this steel bracelet with a satin surface and with bevelled and polished edges, matching perfectly the contours of the faceted case. A rubber strap with a starred sky pattern as an extension of the dial – made in blue for the blue dial and in green for the silvered dial – is also equipped with a steel folding clasp. It can be easily changed without any tool thanks to the ingenuous and quick strap-change mechanism of the DEFY case, consisting of secure buttons on the back.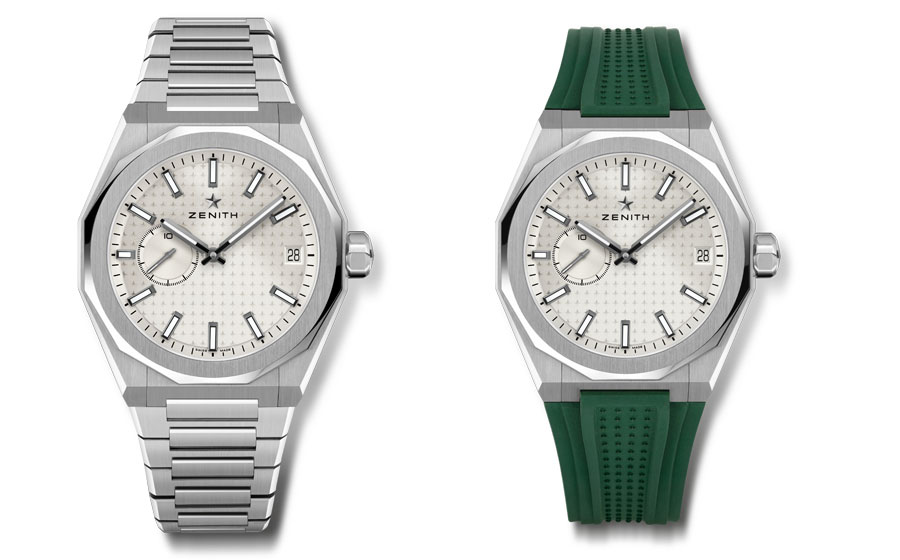 Price: €8,300 – Have a look at the Zenith Defy Skyline's technical specifications sheet.
See also:
Read also: