Hublot x Takashi Murakami
A colourful whirlwind
We had already been seduced by the All Black version, but this transparent and colourful Hublot Classic Fusion Takashi Murakami Sapphire Rainbow put a smile on everyone's face! And it couldn't be any different since it was made by Japanese artist Takashi Murakami, who has managed to express his creative genie.

By Chloé Redler
Art at the heart of Hublot watches
Early December, Hublot has organised a festive event in Miami about art. During Hublot Loves Art, they gathered friends and stars of the Maison, including five artist ambassadors. Like Samuel Ross, Shepard Fairey, Maxime Plescia-Buchi, Marc Ferrero and Richard Orlinski.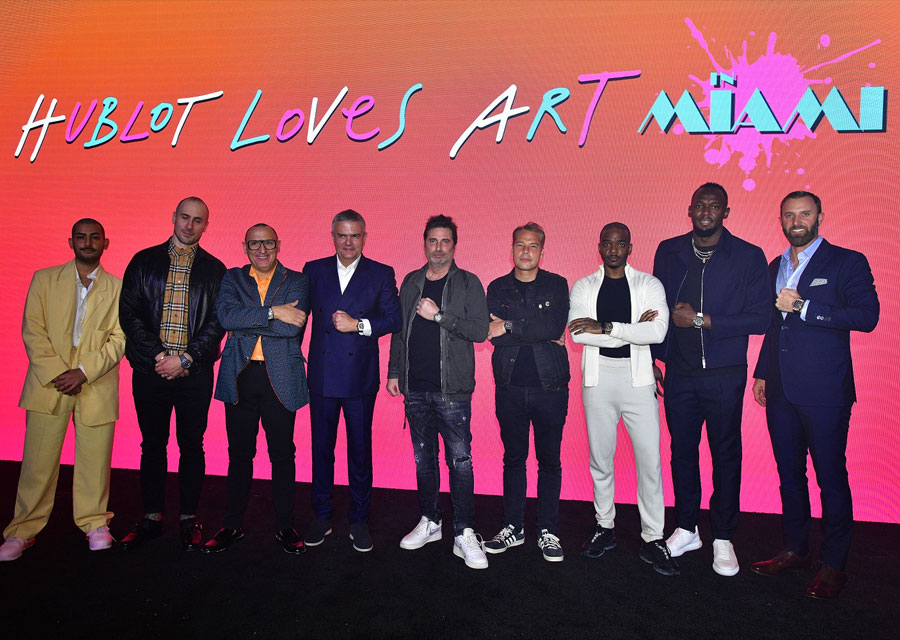 Present during the event, they are the ones who collaborate with the watch brand to create ground-breaking and creative timepieces. Just like Takashi Murakami (who was absent that day) who took part in the exercise for a second time.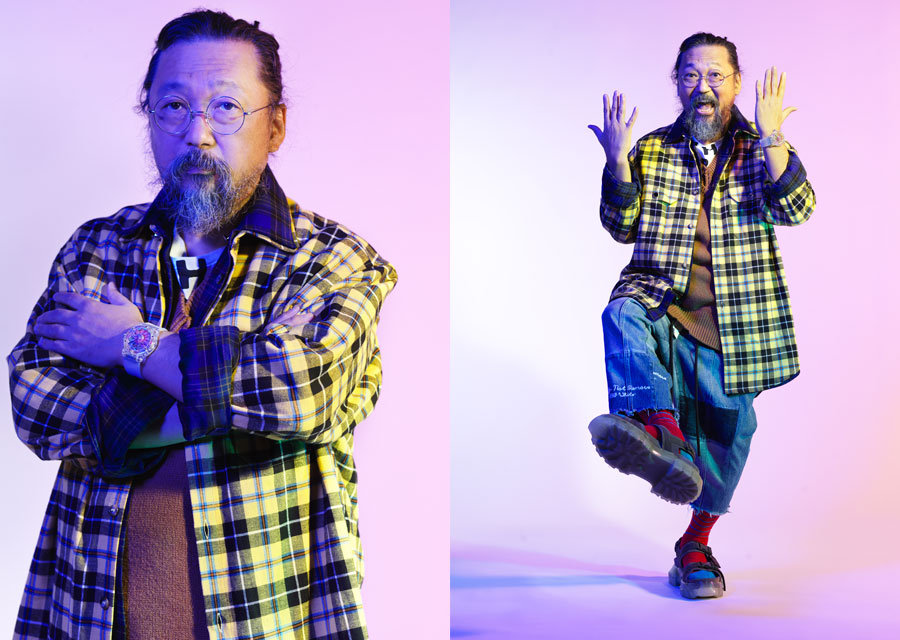 The Japanese artist puts once again his iconic humanized flower at the heart of his creation with the Hublot Classic Fusion Takashi Murakami Sapphire Rainbow. Indeed, the first All Black model was hypnotizing with its total black look sparkling with black diamonds (456 for the twelve petals and 107 for the pistil). This one instead, the "rainbow" version, is completely imbued with the kawaii aesthetics. A universe specific to this key figure of the Japanese art scene: colourful, pop and silly.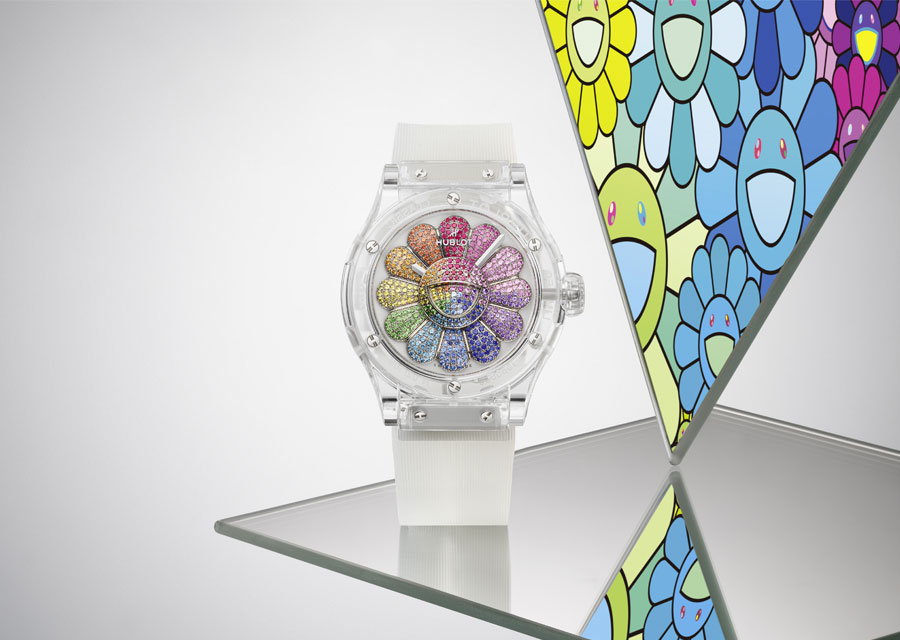 A work-of-art and a colourful whirlwind on your wrist
While delicately nested inside the 45 mm diameter case made of transparent sapphire crystal (a material completely mastered by Hublot) the anthropomorphic flower blooms in the centre of the dial. With a mischievous smile, the dial also displays a three-dimensional face with twelve sparkling petals that turn thanks to an ingenious ball bearing system.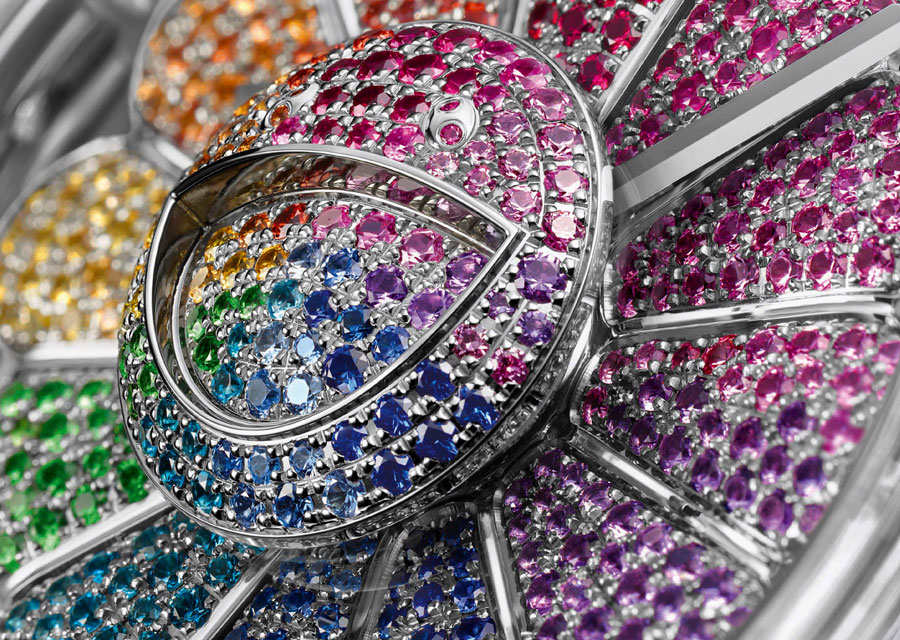 Just like a rainbow, this explosion of colours also offers a perfect polychromy. Indeed, the 487 gemstones reproduce the famous prism. Rubies, pink sapphires, amethysts, blue sapphires, tsavorites, yellow sapphires and orange sapphires blend together to deliver a captivating chromatic show.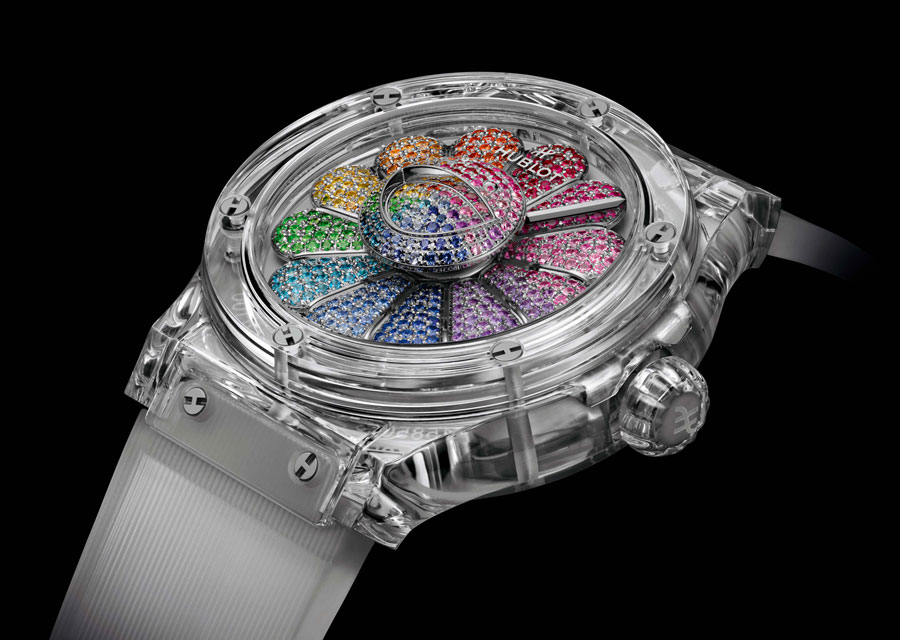 The limited edition of 100 pieces pairs the watch with a rubber transparent strap. While, the Manufacture HUB1214 calibre, commonly known as "Unico", powers the timepiece. And its power reserve also lasts 72 hours.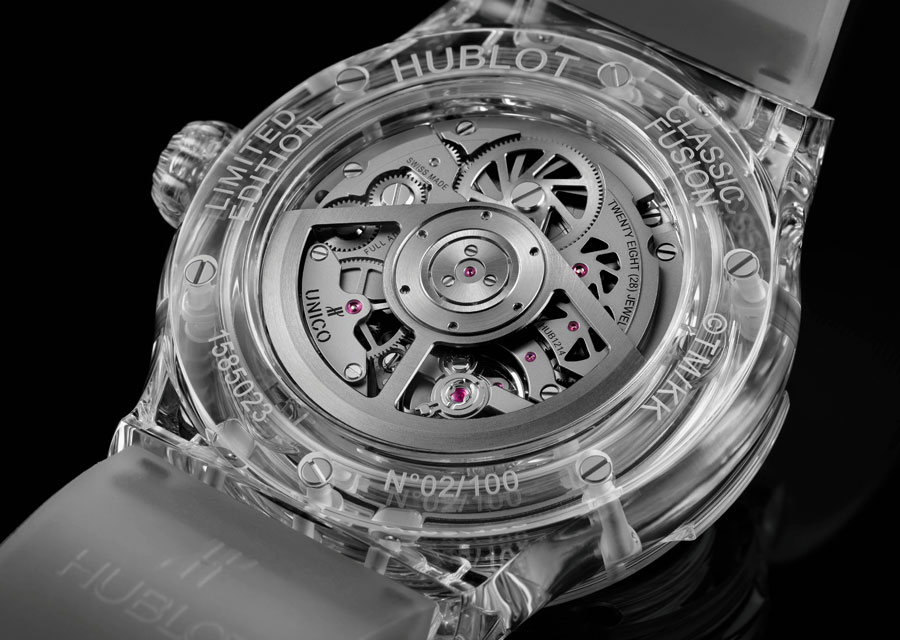 After this love at first sight experience, we are eager to discover the next collaboration between Takashi Murakami and Hublot.
Price: € 104,000
Read our technical data sheet on the Hublot Classic Fusion Takashi Murakami Sapphire Rainbow.
Read also: