SUCCESS STORY
G-Shock celebrates its 40th anniversary!
40 years ago, Casio introduced a completely new model of watch which would forever change the world of watchmaking: the G-Shock. This tough, water-resistant timepiece was designed to resist all sorts of impacts. After four decades of innovation, its incredible success is still as strong. It's time to celebrate the 40th anniversary of G-Shock and for the occasion, the industry giant from Japan introduced a few exclusive pieces. Here they are.

By Théo de lecalibre.com
G-Shock: 40 years of innovation
Although G-Shock is now known as its own brand, it is part of Japanese group Casio, started in 1946 by Tadao Kashio in the Tokyo suburbs. At first, the company produced precise instruments for the industrial sector; it then moved on to the production of calculators and cash registers. Their business blew up: in the 70s-80s, every household owned a Casio calculator.
In 1974, the Japanese group decided to diversify and entered the watch market. With the boom of quartz, Casio launched their first electronic watch, Casiotron. The first chapter of a beautiful story.
The first G-Shock watch came about around 10 years later. Legend says Casio engineer Kikuo Ibe dropped the watch his father had gifted him. The piece broke upon impact, and the loss of an object so dear to him gave Ibe the impetus to try and create an ultra-resistant watch.
After receiving his boss's approval for the new project, Ibe was joined by two other engineers, Yuichi Masuda and Takashi Nikaido. Their goal: to create a watch which could resist a 10-metre fall to the ground, survive 100-m water immersion and have a 10-year power reserve. A real challenge in 1981. However, two years later, Kikuo Ibe introduced the very first G-Shock DW-5000C.
This watch was perfect for manual workers since it could resist their intense workday. However, inconclusive public response led to relatively low first sales. The rectangular, rubber design was not to everyone's taste… It became popular thanks to lovers of extreme sports, especially skaters, who took a liking for this model and put it on the map.
That is how the G-Shock journey started and then never ended. The brand has never stopped innovating, reinventing the shape of their watches and improving the resistance of their models to satisfy divers, adventurers, regular workers and the increasing number of G-Shock enthusiasts.
G-Shock turns 40: anniversary watches
Achieving four decades of innovation and success is something to celebrate! To commemorate this milestone, G-Shock introduced a few watches made with particularly innovative manufacturing techniques.
The Flare Red: MTG-B3000FR and GWG-2040-FR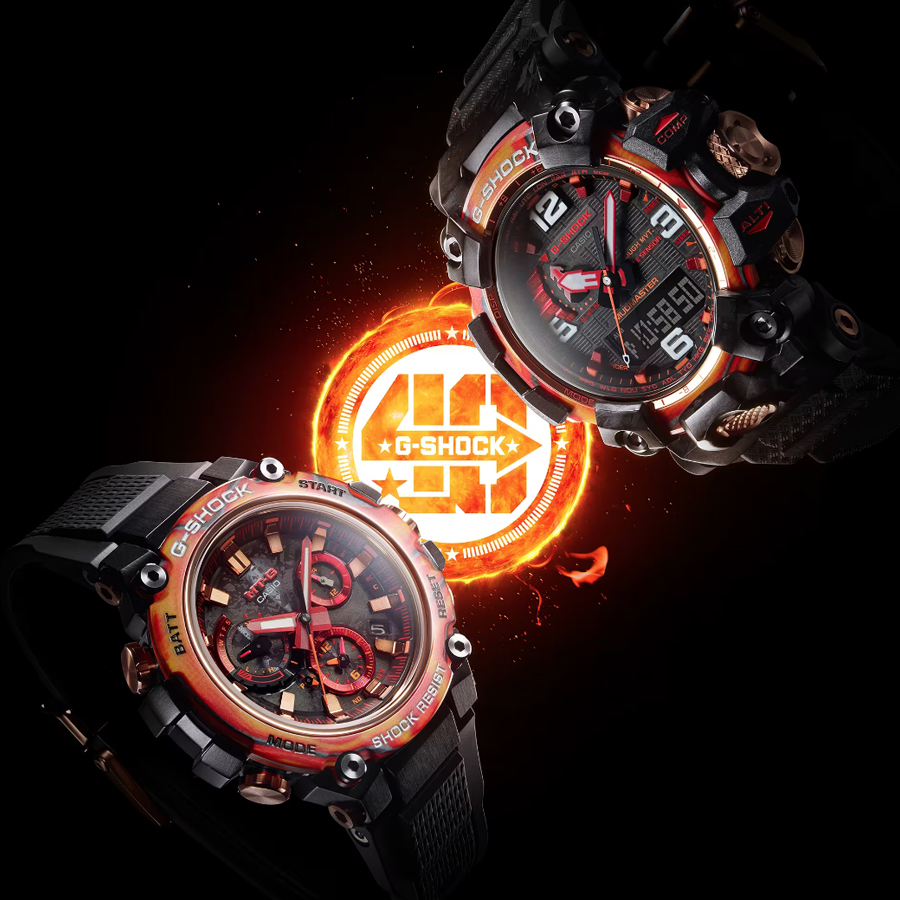 The Flare Red collection was inspired by solar eruptions. The cases of these two watches are made of carbon and stainless steel. The innovative part: their bezels were crafted using a new manufacturing technique based on the use of glass fibres to create random patterns, which differ from watch to watch. No two are alike!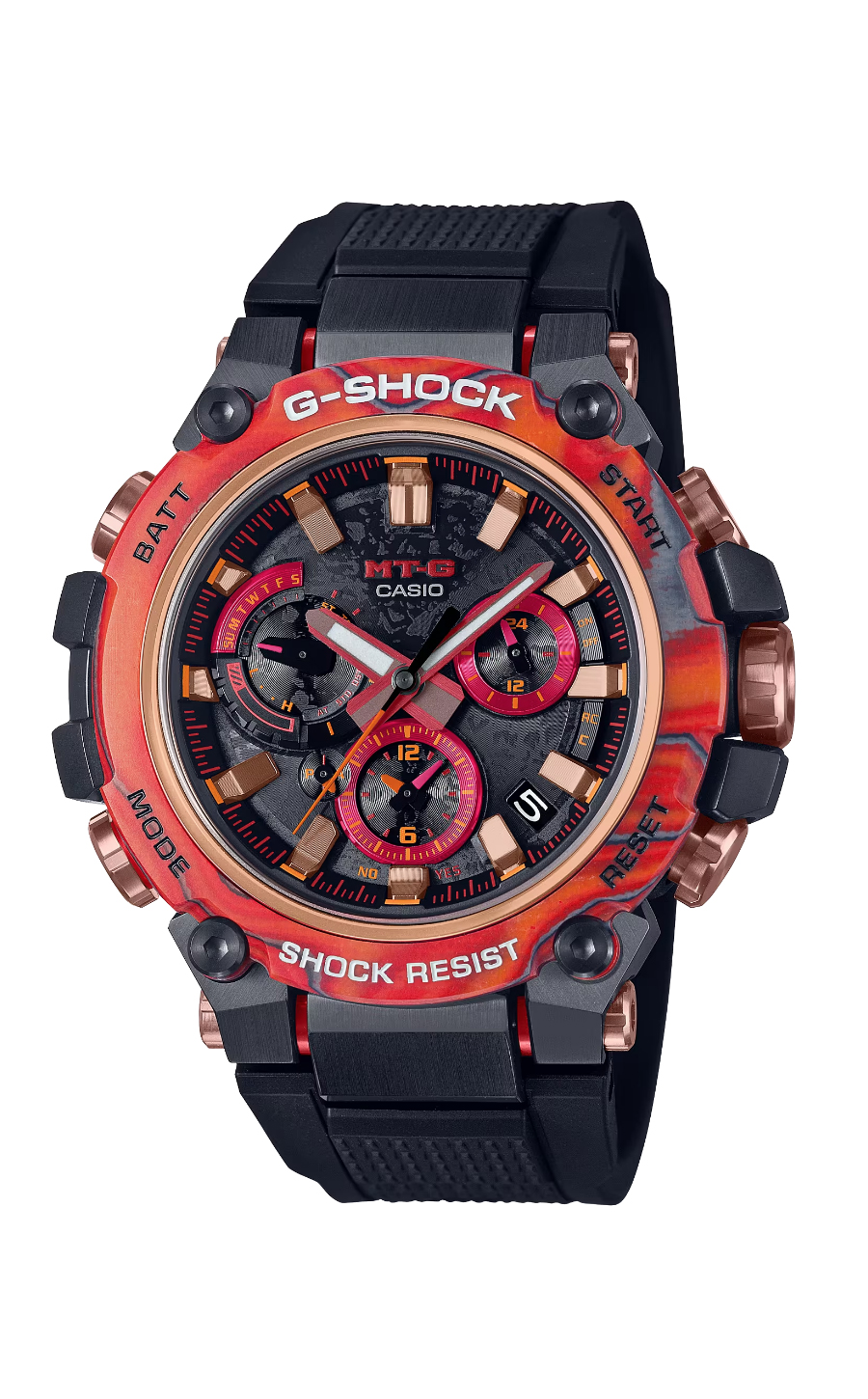 Phosphorescent particles were sprinkled into the glass fibres, which makes some bezel parts glow in the dark. A striking yet one-of-a-kind feat. To commemorate the 40 years, the G-Shock model also features a logo drawn by artist Eric Haze on the caseback, as well as a "Since 1983" engraving and 4 stars on the buckle clasp.
These two watches display a bulky and very masculine design. They keep the characteristic functions of their respective collections including a 200-m water resistance. Both models were produced in limited edition and are available for €1,150 for the Flare Red GWG-2040FR and €1,350 for the MTG-B3000FR.
G-Shock GMW-B5000 Full Metal Eric Haze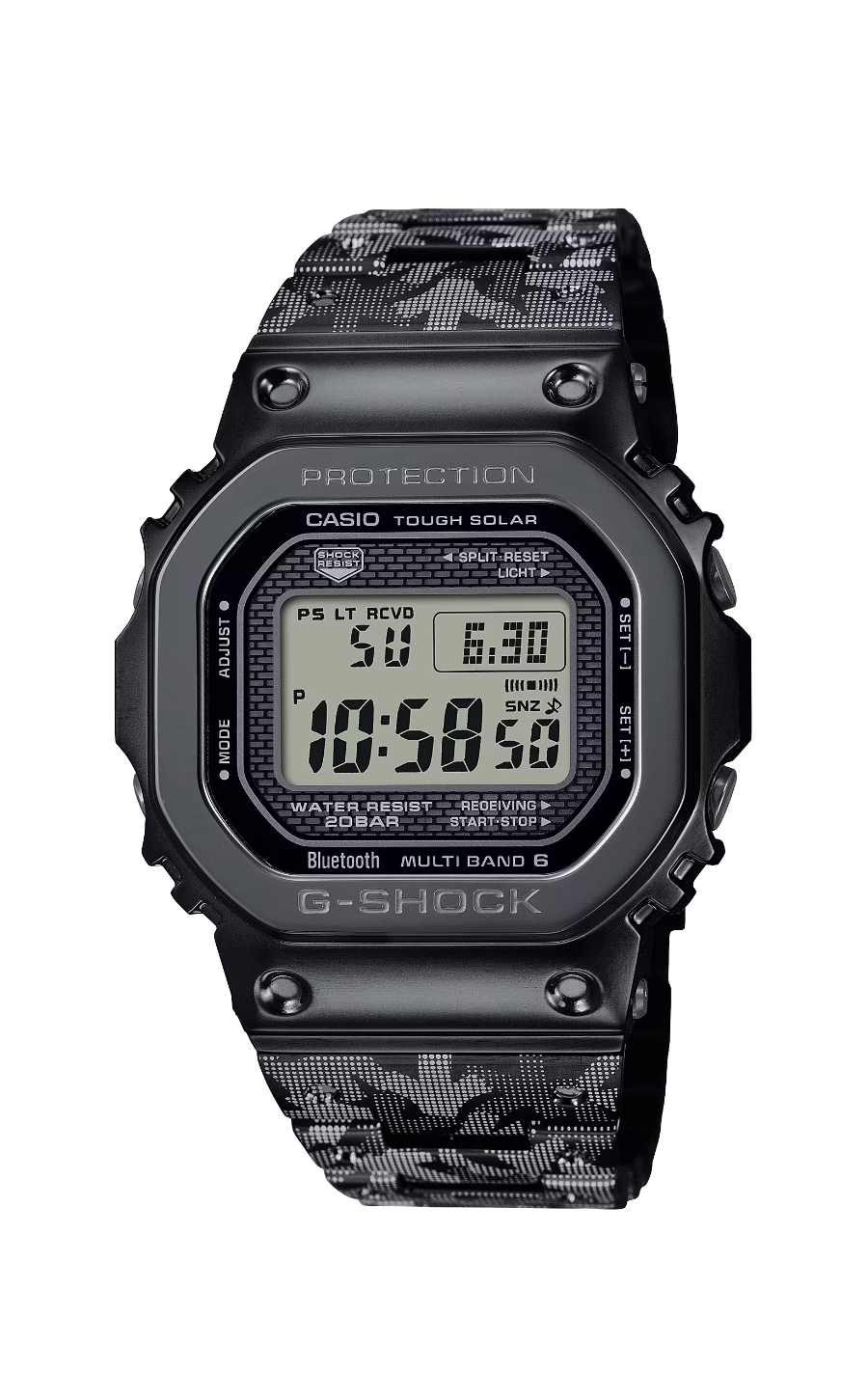 G-Shock has collaborated with Eric Haze since the late 90s. The pop-art artist has also created logos for the 25th, 30th and 35th anniversaries of the Japanese watchmaker. No way he could have missed the 40th! First, the watch is delivered in a beautiful packaging with a pattern design that references one of the artist's pieces.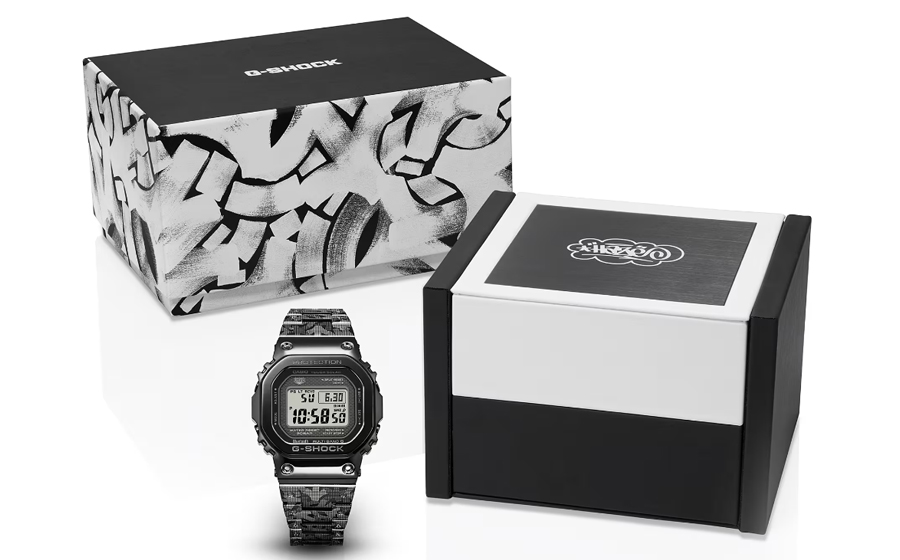 That same pattern is also displayed on the strap in stainless steel with black IP coating. The original graffiti design dots were laser-engraved for quite an original, elegant result. As for the case, it is the same as that of the very first G-Shock (DW-5000) but entirely in stainless steel. The caseback is the only element in diamond-like carbon (DLC), a material as solid as diamond. It was engraved with a "40 th" logo to celebrate the anniversary.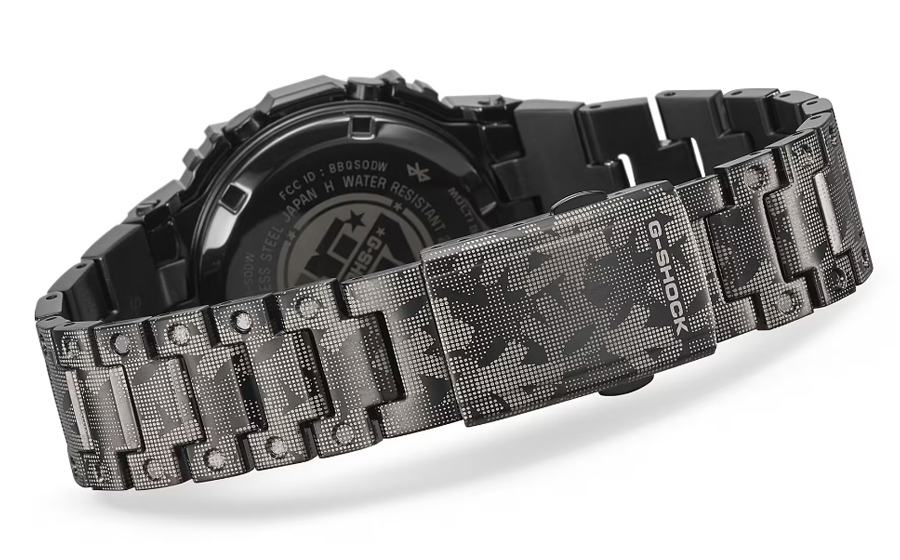 This watch displays beautiful details. The contours of the dial represent a brick wall reminiscent of Eric Haze's "street" aesthetic. The main event is his signature graffiti tag which appears in red backlight when you activate the light of the watch.
The G-Shock GMW-B5000 Full Metal Eric Haze is water resistant up to 200 m, equipped with a Bluetooth function and can be recharged with natural lighting thanks to the TOUGH SOLAR technology. It is available for €750.
G-Shock MRG-B2000GA-1A Sadanobu Gassan
Sadanobu Gassan is one of the leading Japanese swordsmiths. Having inherited centuries of savoir-faire for generations of renowned swordsmith lineage, he has agreed to collaborate with G-Shock to make an exceptional watch, available in a limited edition of only 500 pieces.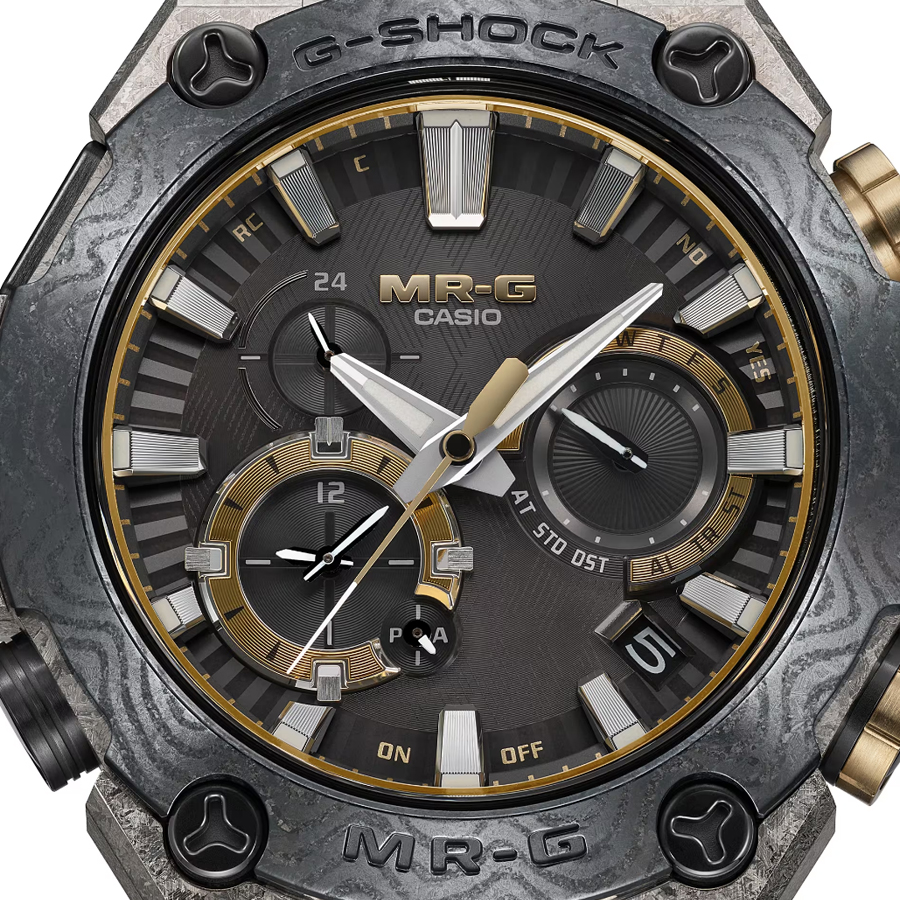 The watch pays tribute to the ancestral techniques of Japanese swordsmithing. The bezel displays a unique ayasugi pattern reproducing the design of high-quality sword blades. It was forged in new hybrid titanium that integrates pure recrystallized titanium and multiple layers of titanium Ti64. To ensure the patterns looked identical to that of quenched blades, the manufacturing process was supervised by Gassan himself.
The case is made of pure titanium finished with deep hardening for increased resistance and a very traditional feel to the design. The result is gorgeous, and topped with a small plaque placed at 10 o'clock on the case and engraved with "40 th" to commemorate the anniversary. The titanium bracelet is just as breathtaking with two hand-engraved inscriptions – 鍛 and 錬 – which symbolise the Gassans' devotion to Japanese swordsmithing.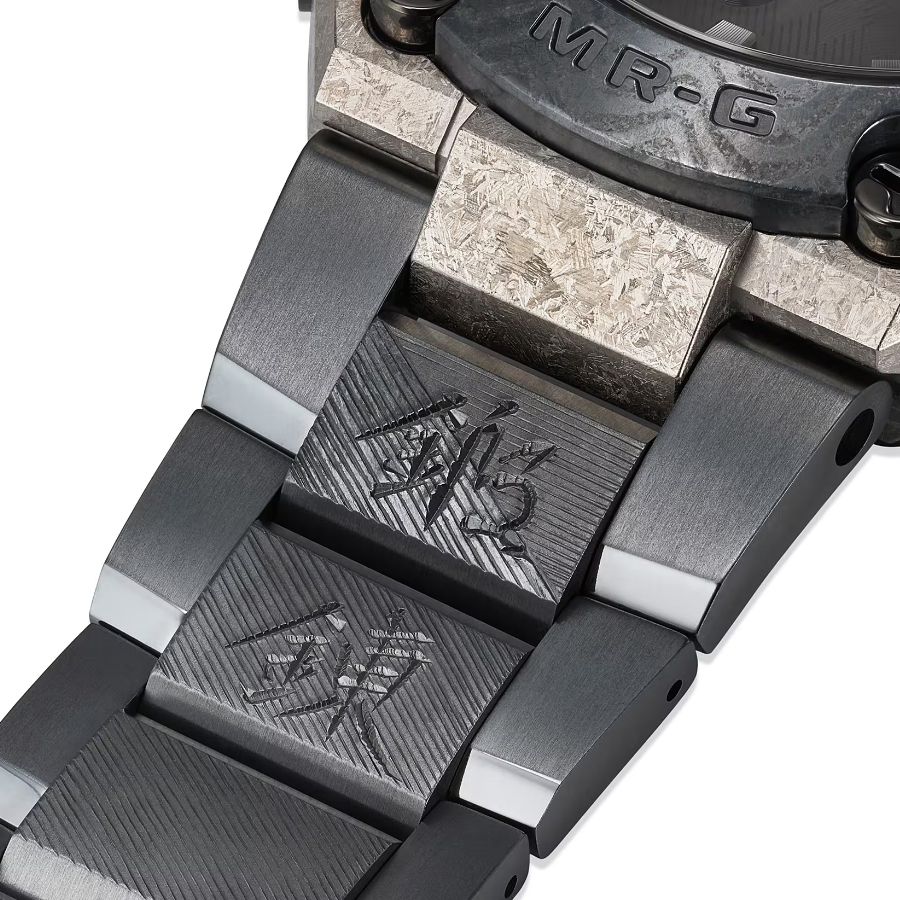 No need to say the watch was manufactured with a 200-m water resistance as well as impact resistance and anti-magnetism. This precious gem also comes with a Bluetooth function and the TOUGH SOLAR technology to recharge the battery with natural lighting. With a natural effect on the price… €7,500. That is how much you will have to spend to own and wear this watch. G-Shock clearly did not hold back for its 40th anniversary commemoration, as for us? We're thrilled!
See Frank Sans C's latest video on blue dials:
See also:
Read also: