Métiers d'excellence
High Jewellery at the top of its art 
Rivers of diamonds, bright and colourful cocktail rings, transformable necklaces, ornaments worthy of the maharajas, the Maisons of High Jewellery have imposed their talent with panache, during the presentations the new collections.

By Nathalie Koelsch
Very inspired, High Jewellery opened 2022 with breathtaking creations whose virtuosity and inventiveness leave one speechless. Drawing on their fabulous pasts, the Maisons revisit their histories with collections rich in meaning and charged with emotion. In a swirl of diamonds and a selection of magnificent emeralds from Colombia and Zambia, the Place Vendôme unveiled lines that were as bold as they were elegant. In pursuit of their legends, they multiply their audacity, continuing the dialogues begun decades ago.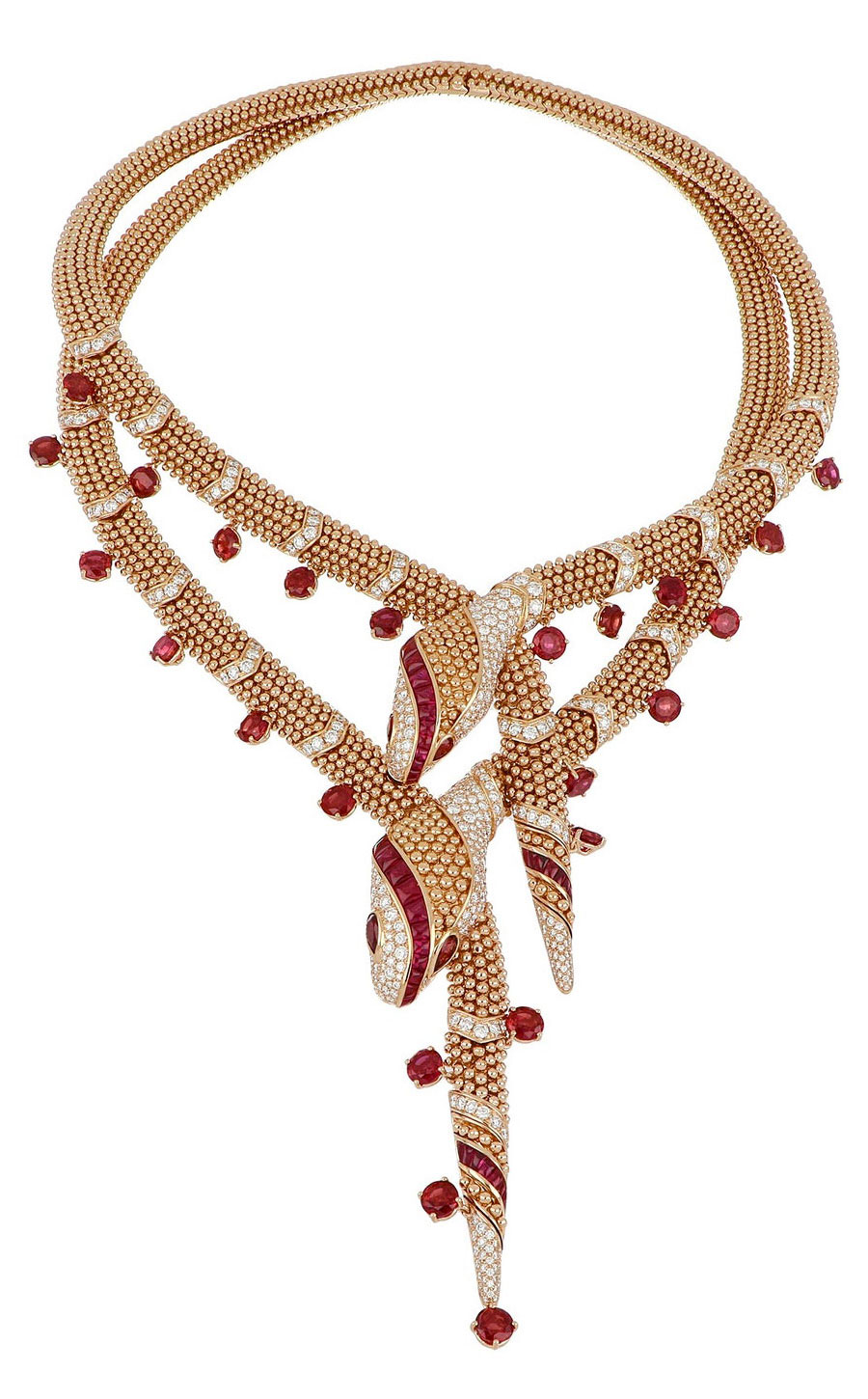 The snake, which has inspired Bvlgari since 1940, has been invited as a duo in a splendid rose gold necklace set with rubies and diamonds. This meticulous work, under the watchful eye of Lucia Silvestri, Bvlgari's artistic director, required more than 800 hours of workshop time.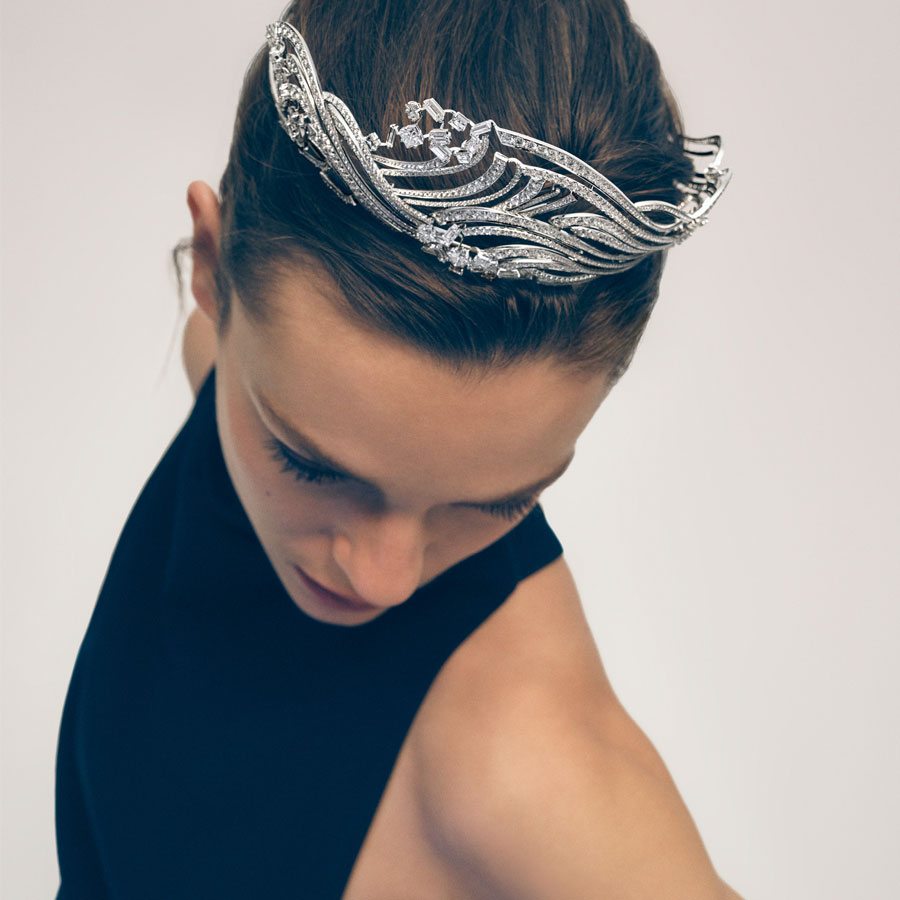 Chaumet, renowned for its expertise in making tiaras, opens a new chapter with Déferlante, a collection that draws its inspiration from the power of a wave ready to sweep everything in its path. The centerpiece of the collection, a tiara with aerial volutes composed of 1,600 gems of different sizes, evokes the fluidity of water and material. A true sculpture shaped in white gold, it captures the energy of the water in a supple movement.
With Sixième Sens, Cartier highlights the emotion of jewelry virtuosity, which is dressed in tassels and precious stones, marrying colors and smoothly following movements. On a sumptuous platinum necklace composed of a 35.47-carat emerald of remarkable clarity, the green of the gems responds to the blue of the turquoise in an inspired graphic ballet, from which emerges the power of Art Deco, the signature of the Cartier spirit.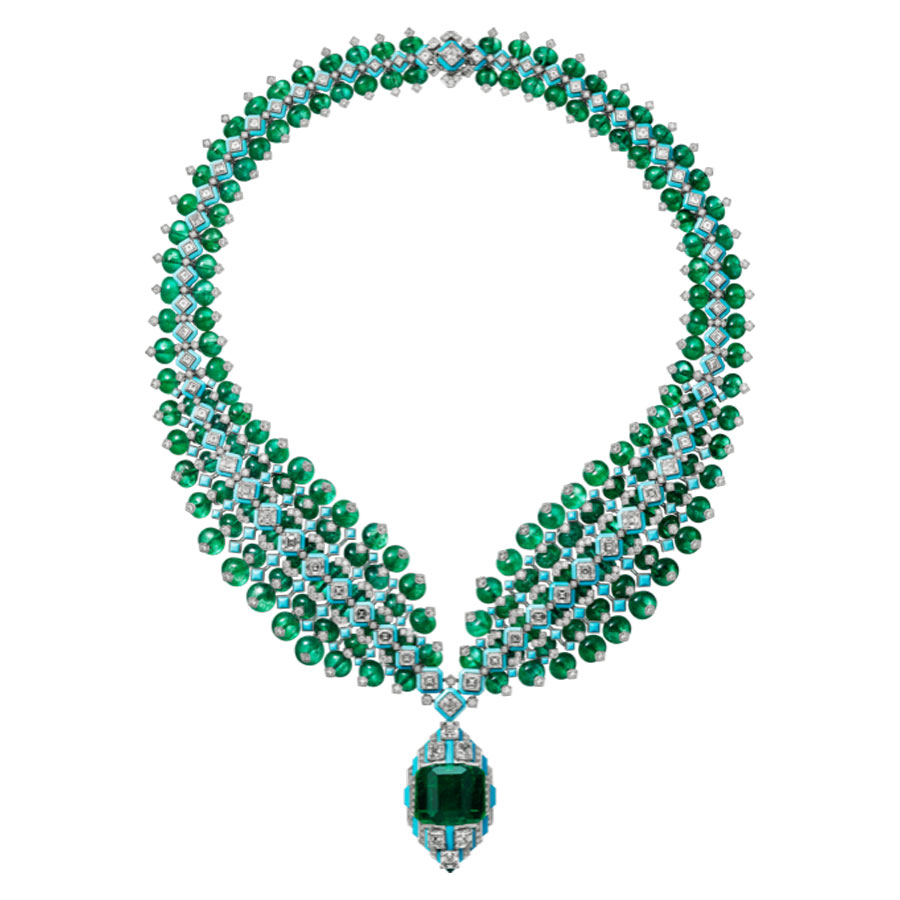 Passionate about color, Chopard exhibits an impressive 6,225-carat raw emerald from Zambia, which will give rise to exceptional jewelry, while a ring set with an intense Fancy rose diamond framed by two heart-cut rubies attracts all eyes.
Boucheron's New Maharajahs collection brings to life the arrival of the wealthy maharajas at Place Vendôme in 1928.
Claire Choisne, creative director, reinvents a collection worthy of Indian princes.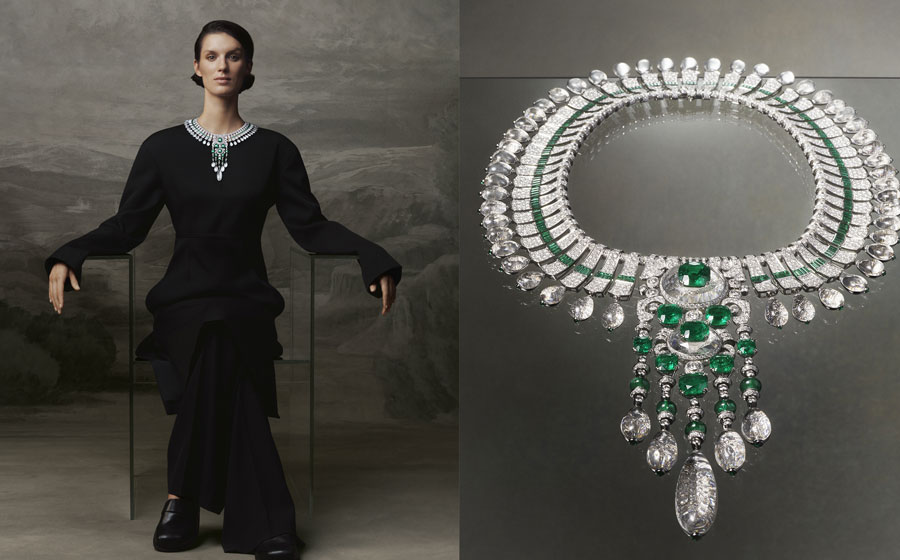 In a profusion of diamonds, pearls and rock crystal, she imagines modular sets dedicated to both women and men, and invites emeralds with fascinating gardens into her immaculate palette.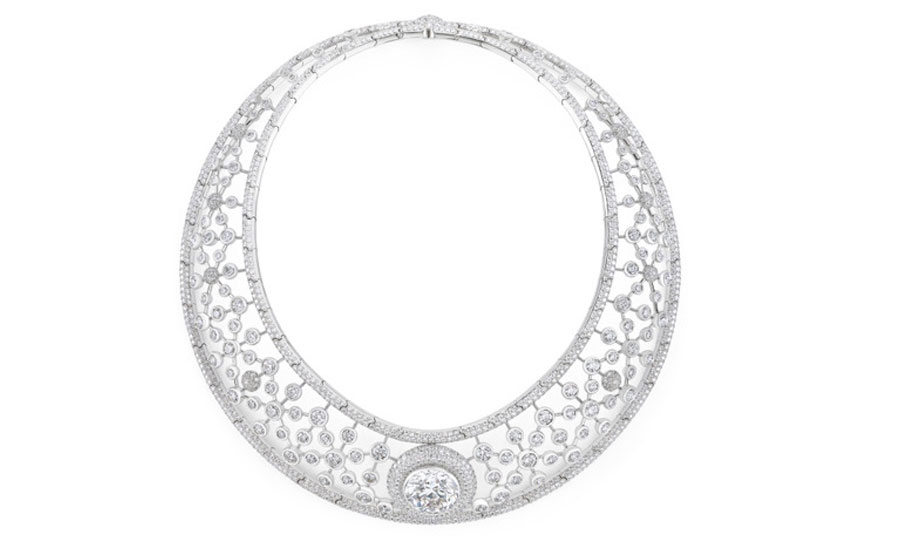 The Alchemist of Light, De Beers' collection originates in rays of light, reproducing their play on a faceplate of 1,907 diamonds.
Continuing the development of the Extraordinary Lights collection, Piaget presents, in an explosion of colors, the characteristics of the 70's, a period dear to the Maison.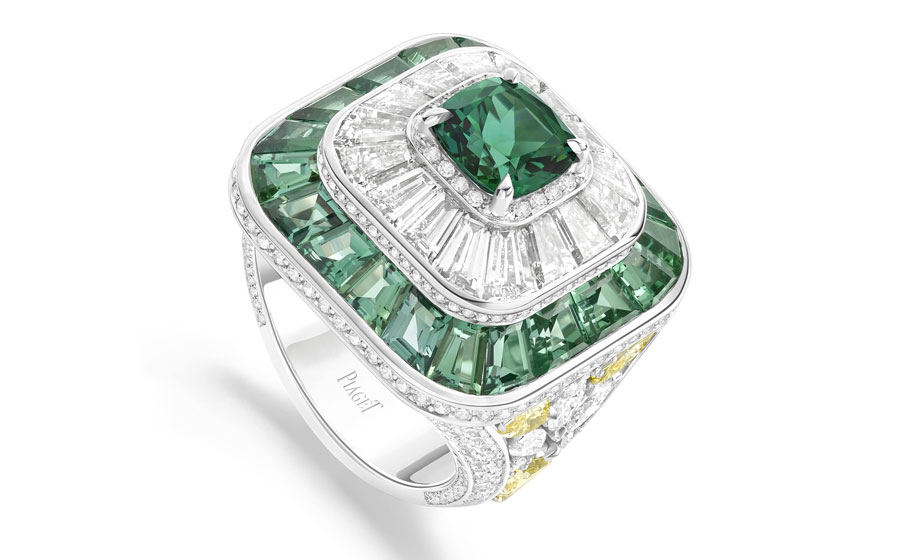 Dior, directed by Victoire de Castellane, celebrates the world of couture and the inventiveness of Christian Dior in a collection dedicated to galons. The sumptuous fabric ornaments with their voluptuous curves are set in gold and diamonds, transposing their refined finishes into airy jewels with a Couture spirit. The ribbons cross, tangle and twirl in dazzling ballets of precious stones.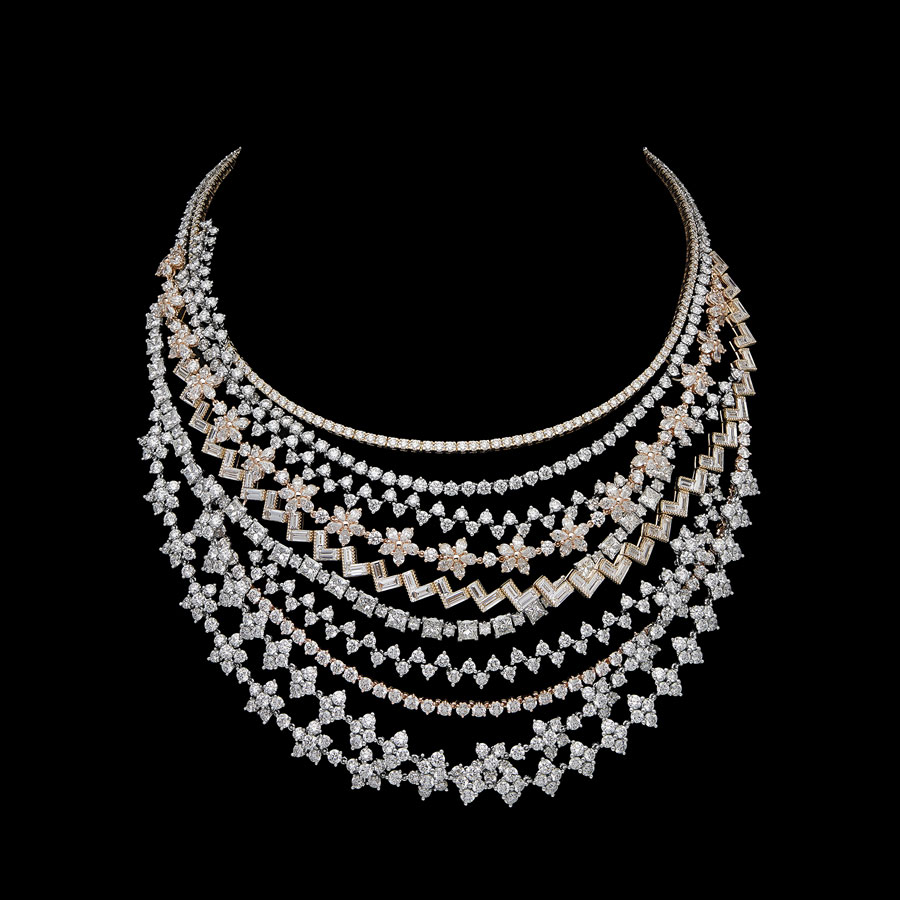 Louis Vuitton pays tribute to its legendary trunk with a shower of colored gems and launches Magnétisme necklace, a hypnotic piece composed of two rows of pink, orange and yellow tourmalines and a removable central sapphire whose setting evokes trunk fittings.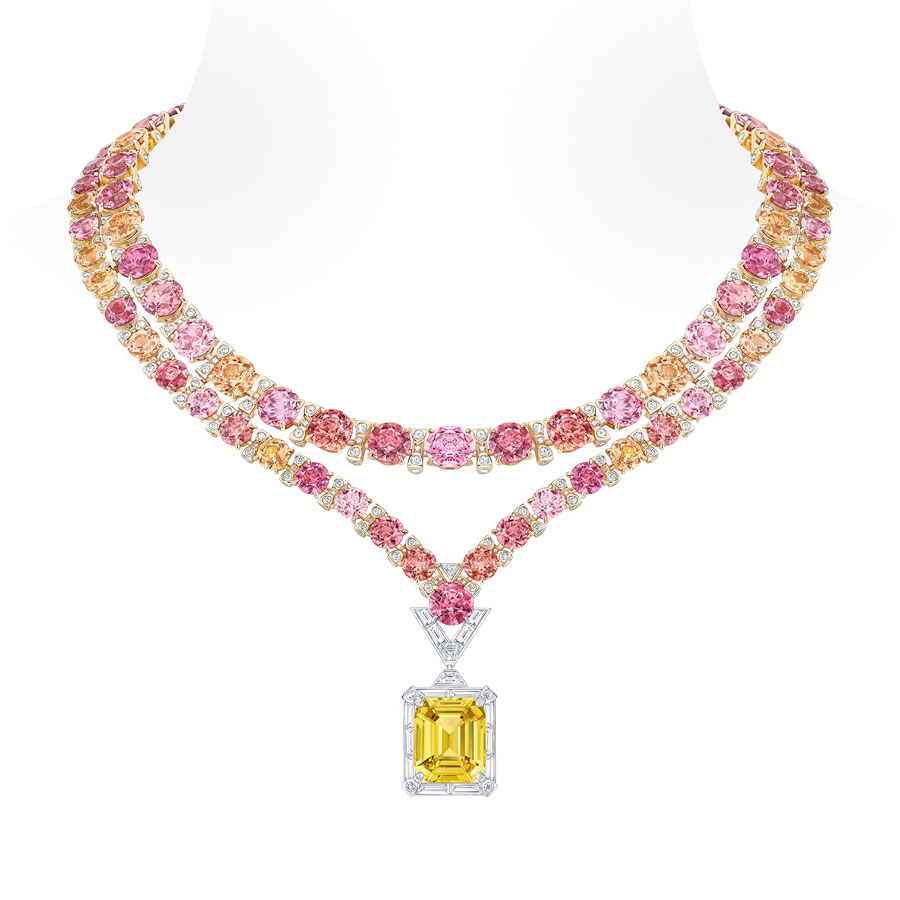 Luminous and inventive, the High Jewellery explores new fields of investigation, unusual and daring color compositions, punctuated by dazzling emeralds that give the full measure of a complex and multifaceted savoir-faire of excellence.
Read also: