High Jewellery
J'adore…Gem Dior!
True to the whimsical imagination of Victoire de Castellane, creative director of Dior Joaillerie, the new Gem Dior collection seduces with its unexpected and atypical design. Abstract and creative, this line of seven watches and eleven pieces of jewellery also surprises with its technical virtuosity.

By Chloé Redler
Game of Gems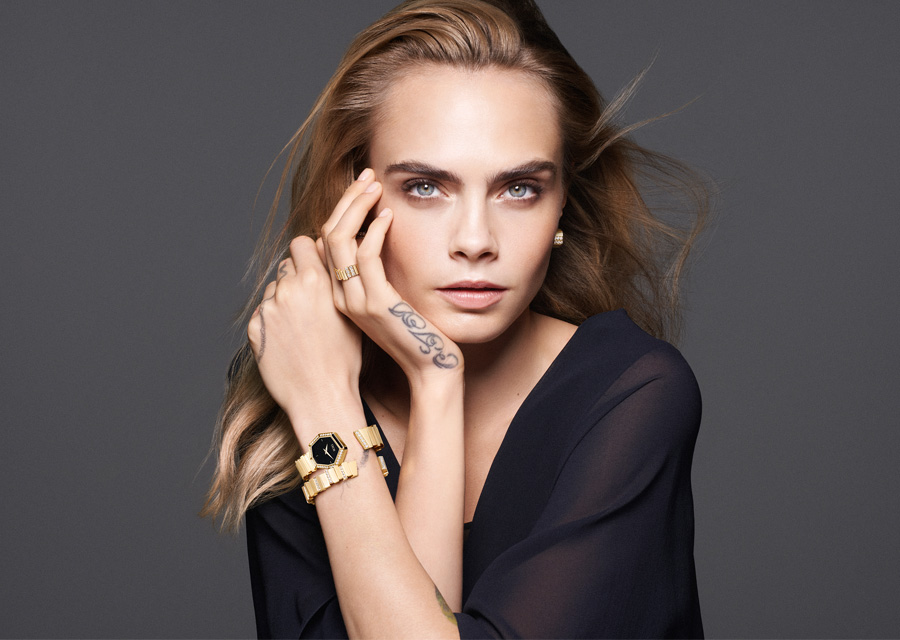 An eclectic line with architectural pieces combining nature and couture, Gem Dior takes its name from the eponymous collection of fine jewellery unveiled two years earlier by the luxury house. Obviously referencing the gems adorning the pieces, the name is also an ingenious phonetic play on J'aime, French for "I love". Today the series comprises seven highly graphic and beautifully unstructured watches, accompanied by eleven pieces of jewellery cut in the same vein.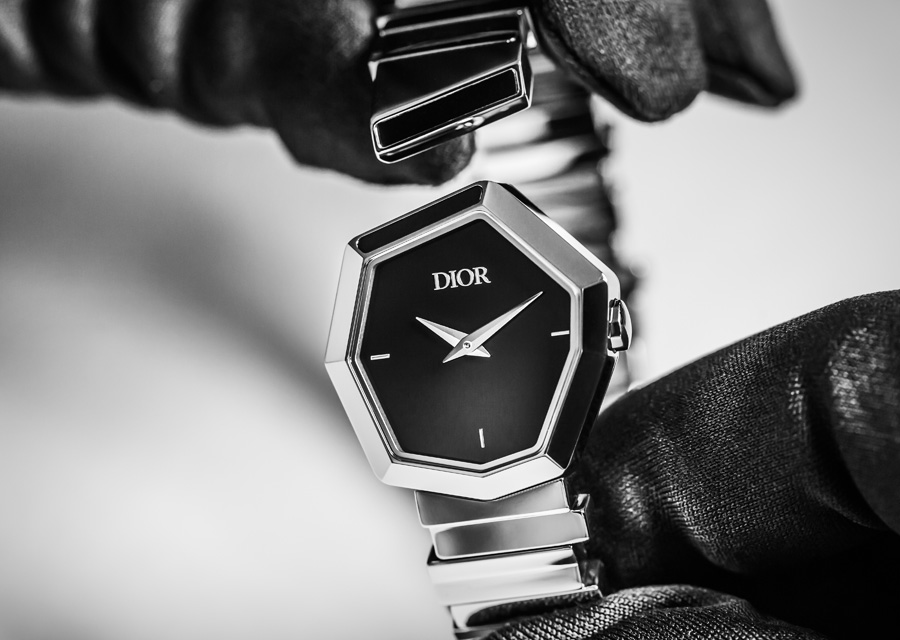 Victoire de Castellane – creative director of Dior Joaillerie since 1998 – stays faithful to her creative mind and more than ever rewrites the codes of traditional fine jewellery, drawing inspiration from the themes dear to Christian Dior.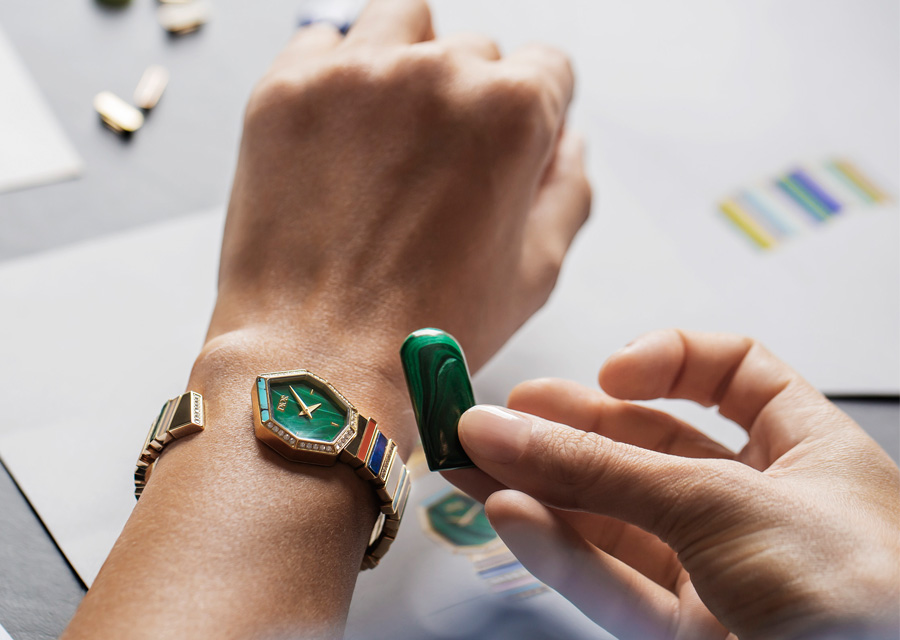 Gem Dior, an unstructured but highly organised architecture
Common thread of the watch collection, the asymmetrical design of the bracelets evokes the fabric samples pinned onto paper sheets by Monsieur Dior for his Haute Couture fashion shows. Indeed, like "fabric swatches" on a "mood board", they are composed of more than forty rectangular-shaped elements of different sizes, materials (yellow, pink or white gold), or gemstones.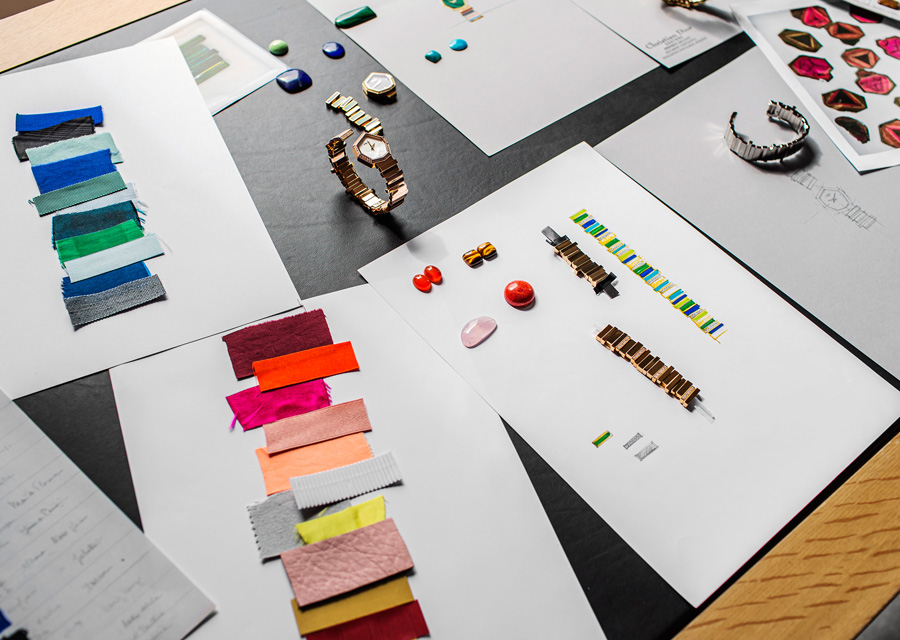 Malachite, lapis lazuli, carnelian, pink opal, tiger eye, turquoise, onyx or aragonite, the ornamental gems form a harmoniously disorganised chromatic ensemble on the collection's centrepiece, a yellow gold model preciously adorned with brilliants.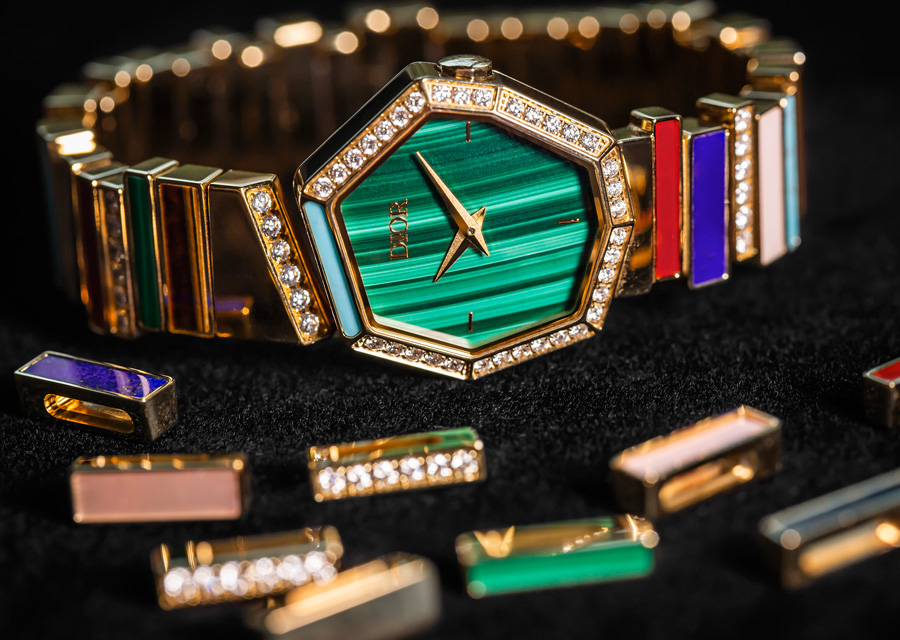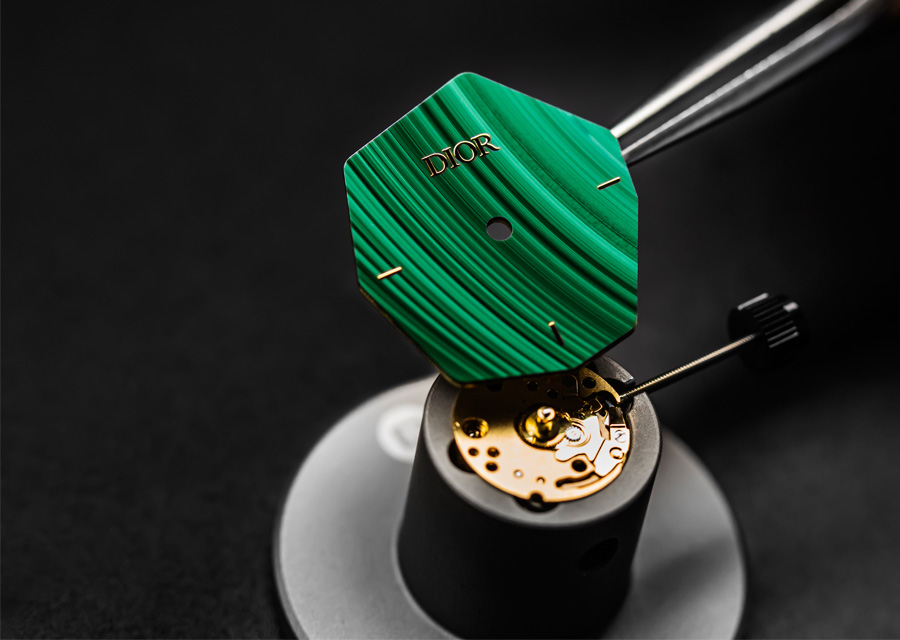 A beautiful "organised disruption" that is also illustrated in the shape of the octagonal with chamfered edges of these models. Described as "a real technical challenge" for the brand's workshops by the designer, they are inspired by the shape of minerals, such as slices of rough tourmaline.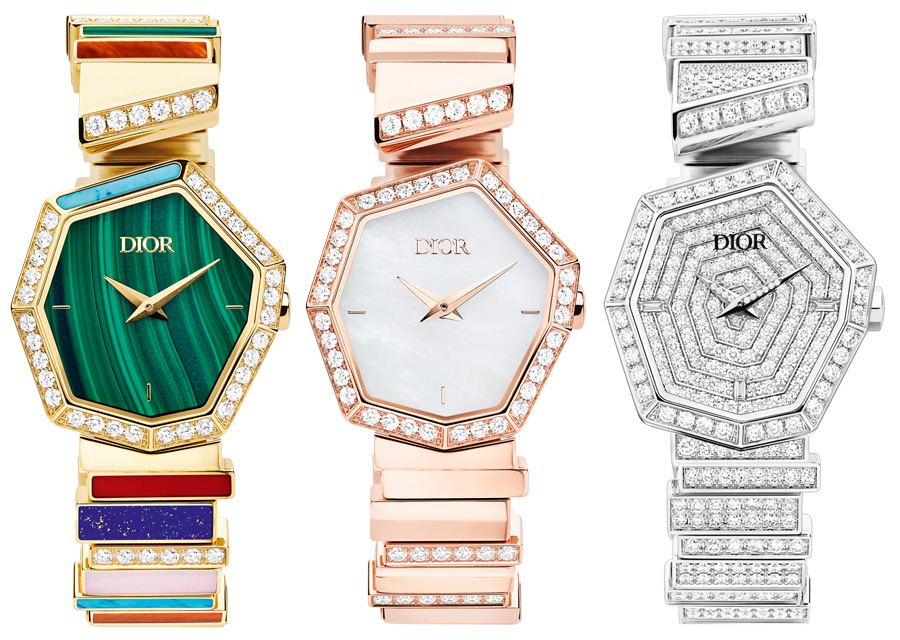 Discover our technical sheets of Gem Dior watches.
Worn like a fully articulated open cuff, this jewellery watch comes in seven remarkable versions (yellow gold, diamonds and onyx – pink gold, diamonds and mother-of-pearl,- white gold and diamonds – steel and black mother-of-pearl – steel, diamonds and white mother-of-pearl – steel, yellow gold, lapis lazuli and diamonds – yellow gold, malachite, diamonds and ornamental stones). Each comes with an interchangeable additional black leather strap. I had the chance to try the yellow gold and onyx dial version, which is very light to wear and perfectly fits the wrist. Combine it with mom jeans, a flowing white shirt and nice sneakers and you will have a chic, casual look.
Not just watches: jewellery
A resolutely balanced, asymmetrical design is the watchword of the Gem Dior jewellery. Carefully chosen, the stones are individually cut to perfectly fit the precise size of the links, each of them unique.
With an intentionally uneven alignment, the links of a yellow gold ring and bracelet are adorned with malachite, chrysoprase and lapis lazuli to create a blue-green colour gradient effect.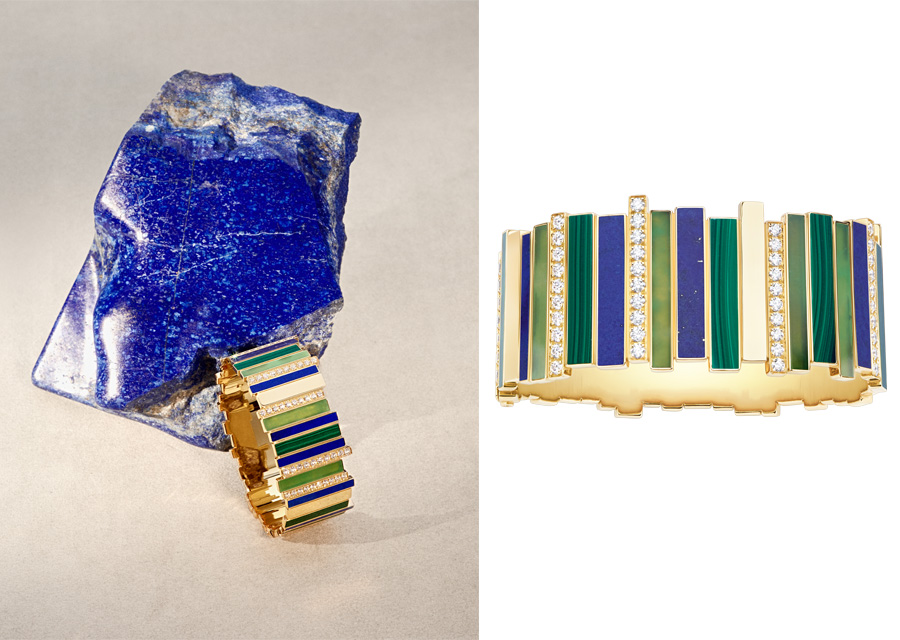 However, the rings, bracelets and earrings in yellow, pink or white gold of the jewellery collection are only set – fully or partially – with diamonds, in order to show off the precious metal in a more monochrome spirit.
A few words on Victoire de Castellane
Victoire de Castellane began her career at Chanel with Karl Lagerfeld before joining Dior Joaillerie in 1998. Having made a name for herself as an atypical and whimsical designer, Bernard Arnault appointed her creative director. The CEO of LVMH then gave her carte blanche. A freedom of expression that she used as an outlet for her creative extravagance, shaking up the established codes while keeping in mind the themes dear to Christian Dior. Flora and fauna merge with pop culture, blurring the boundary between the natural and the marvellous, to draw the map of a universe like no other, where precious and semi-precious stones shine like stars in an infinite space.
Read also :