CULTURE
"Le Grand Numéro", the Chanel exhibition
Ladies and gentlemen, only a few days left to experience "Le Grand Numéro"! Paris wears the perfume of the iconic French maison with this immersive exhibition, rich in exclusive sensory and olfactory displays. The luxury brand takes over the Grand Palais Éphémère and shines a light on its mythical fragrances: Chanel N°5, Bleu de Chanel, Chance, Coco Mademoiselle, and the Exclusifs collection, among others.

By Clarisse Huan
Push open the doors of the great Chanel circus, adorned with the colours of the maison. Let yourself be whisked away by the show, led by dancers and professional magicians. This extraordinary interactive exhibition invites you to embark on a dream-like journey: warm lights, larger-than-life playing cards, feline sculptures… The main room leads to several smaller spaces, an intimate way into the brand's fragrances.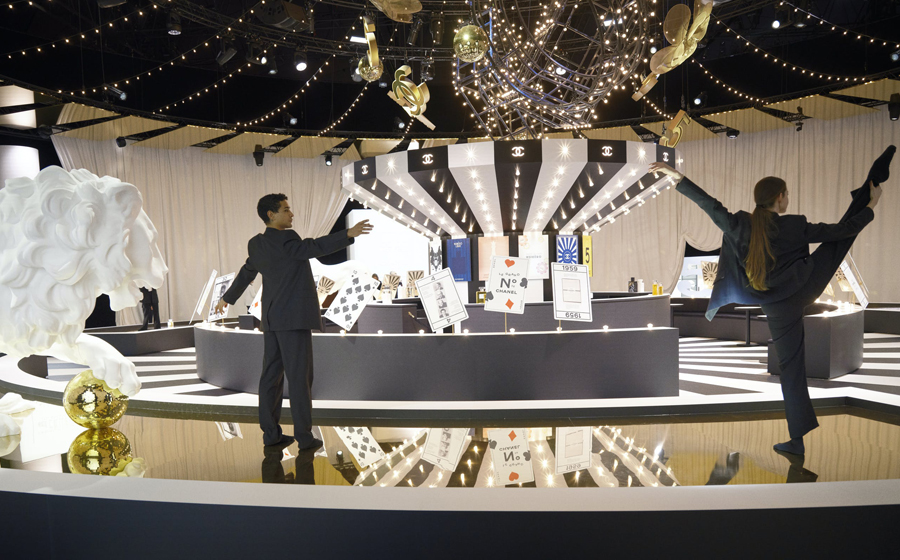 N°5, making history
Leap through time and embody Ernest Beaux, the famous parfumier who created N°5 at the request of Gabrielle Chanel. This part of the exhibition is more than a mere reenactment – it's a VR-augmented unique experience, where museumgoers can step into the life of the famous parfumier, presenting Coco with the samples he created. Obviously, she chose number 5. The iconic scent was born, inspiring since then many celebrities and artists, among which Marylin Monroe, Carole Bouquet, Salvador Dalí and Andy Warhol.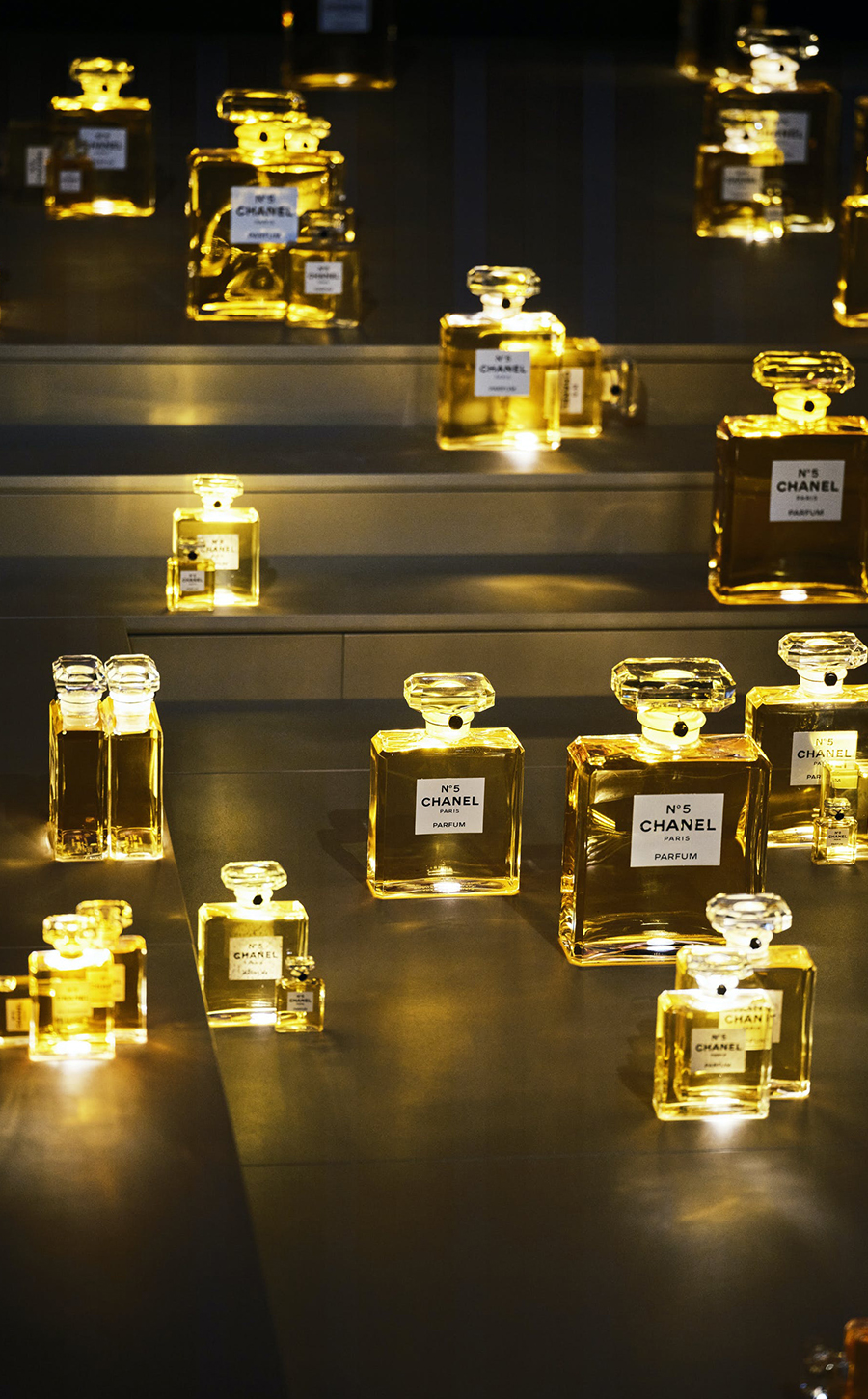 Did somebody say mademoiselle?
At the end of a powder pink hallway, femininity and sensuality take pride of place. The exhibition reveals the world of Coco Mademoiselle, through the wardrobe of the fashion designer. A life-size chess board stands amid gossamer and petticoats, shrouded in an amber-scented mist with delicate notes. Gabrielle Chanel is the queen of the game. But who's the pawn? Find out by interacting with the towering chess pieces, equipped with keyboards. Let the game of seduction begin!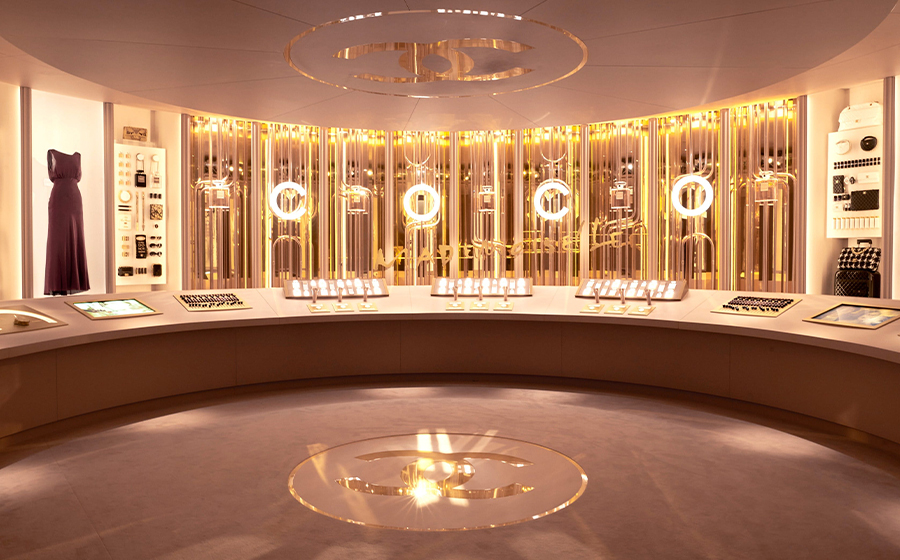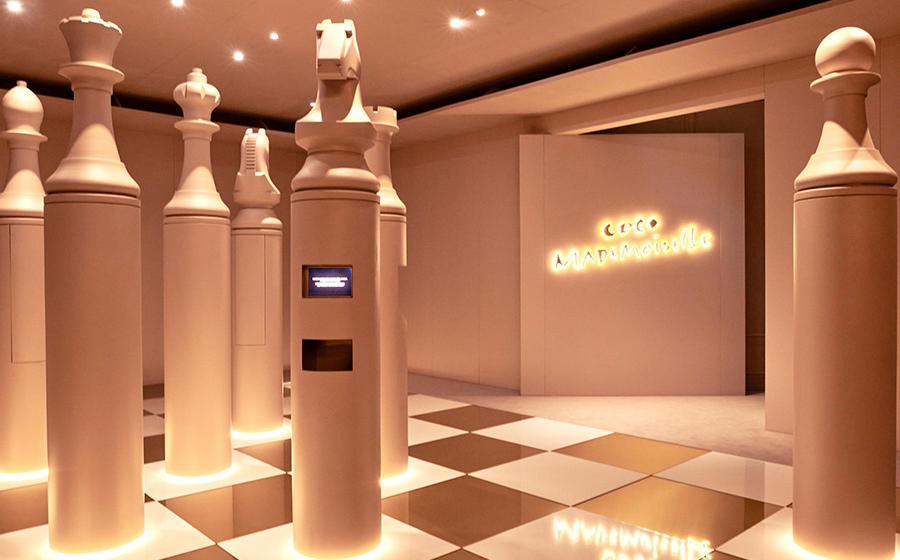 Life through Bleu-coloured glasses
In this space, visitors lose track of time. Skyscrapers surrounded in night-blue darkness, the rays of light from their windows crisscrossing and forming geometric shapes. Visitors are invited on another sensory journey, with notes of citrus and cedarwood.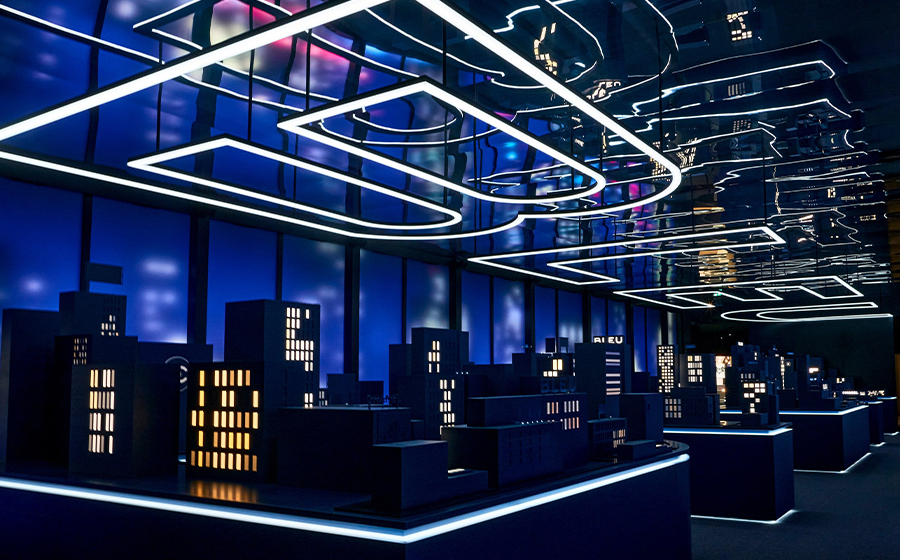 The senses are awakened, navigating through a shadowy, azure atmosphere. Like a game, the exhibition offers several clues, providing a way into a jazzy, opulent speakeasy. Gaze upon the Bleu collection, the maison's masculine line. Eau de toilette or eau de parfum? Pick your poison.
One Chance in a million
Back in 1901, Gabrielle started singing in cabaret bars in her hometown of Moulins and became Coco Chanel. Like her, tread the boards and experience the high-energy backstage atmosphere! A vibrant and eclectic history brought back to life. Makeup artists are available to do your makeup before a photo op.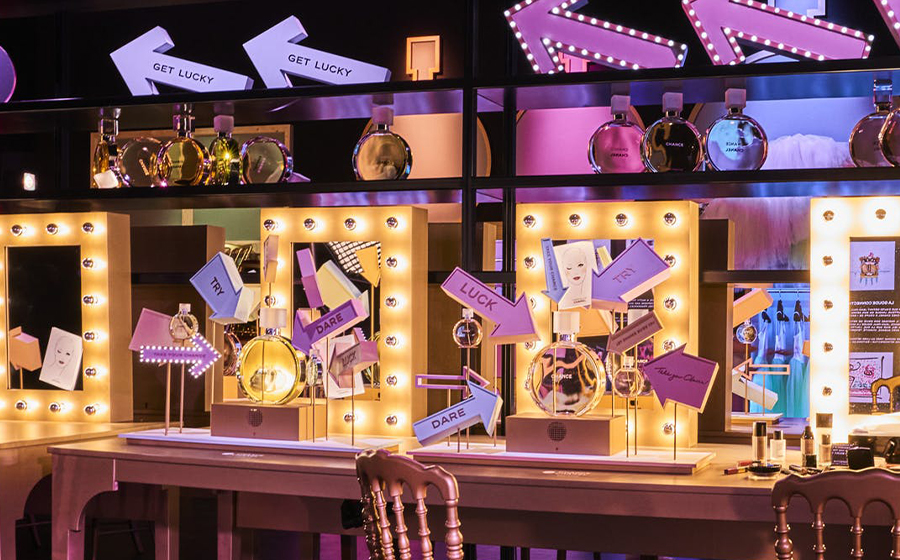 The four new Chance perfumes from the maison are on display, as well as a fun roulette-style game, a nod to the rounded shape of the bottle. Play and earn prizes! Will chance be a lady tonight? Only one way to find out!
The 18 Exclusives
In this last space, an gallery with moving artwork hinges on 18 exclusive scents. Fragrance is much more than just a smell; it is first and foremost a testament to the personality of its wearer. Visitors are invited to sit down on a couch and answer a Rorschach test (questions about personality), in its olfactory version. The test will select the fragrance that suits you best, among the 18 exclusives. Amid hawthorn flowers, tonka bean and white musk, it's time to meet your double.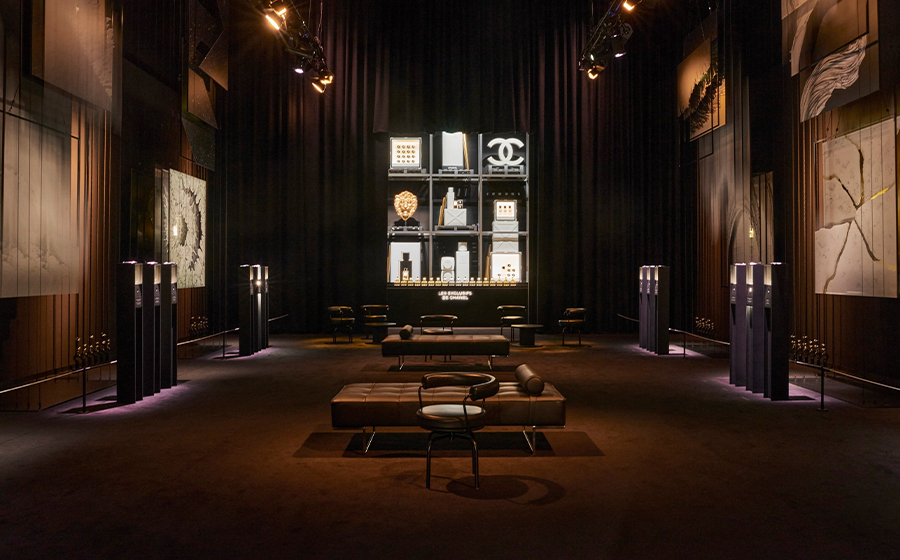 This tour is rich in experiences, and visitors will be able to see objects that belonged to Coco, some of which will be displayed together for the first time. This unique ephemeral exhibition can be booked free of charge on the maison's website.
"Le Grand Numéro" by Chanel – Until 9 January 2023 – Grand Palais
Reservations here.
See also: