FROM SPACE
METEORITE DIALS
One small step for man, one giant leap for tick-tock authentic fanatics! Embark on our show dedicated to watches made of meteorite and take off to another universe with Frank Sans C's selection of seven otherworldly watches, "live" from the Bäumer Vendôme shop of the incredible jeweller and creator Lorenz Bäumer.

By Chloé Redler
After a long journey of leaving an asteroid or a planet that exploded and sent matter to the heart of the universe, a meteorite finally reached our Solar system and entered the Earth's orbit. When it went through the atmosphere, the celestial body went through undercooling, which led to the formation of metallic crystal motifs specific to ferrous meteorites, called Widmanstätten patterns. Determined to challenge the limits of what is and is not possible, some watchmaking Maisons have used this otherworldly, timeless alloy to craft their timepieces. Therefore, these guardians of time have become the guardians of eternity.
BÄUMER VENDÔME, Meteorite Zodiac
You cannot find anyone better qualified than Lorenz Bäumer – famous figure of the place Vendôme who has notably worked for Cartier or Louis Vuitton – to talk about meteorites. This genius jeweller, who is most passionate about his otherworldly stones, has perfectly mastered the art of enhancing this material. All the jewellery boxes of his creations are full of precious stones like the amethyst of his coffee table, placed in the middle of the room where jewels are displayed (containing more than one million carats in total!!!). Naturally, Frank Sans C turned to him for this close encounter of the third kind.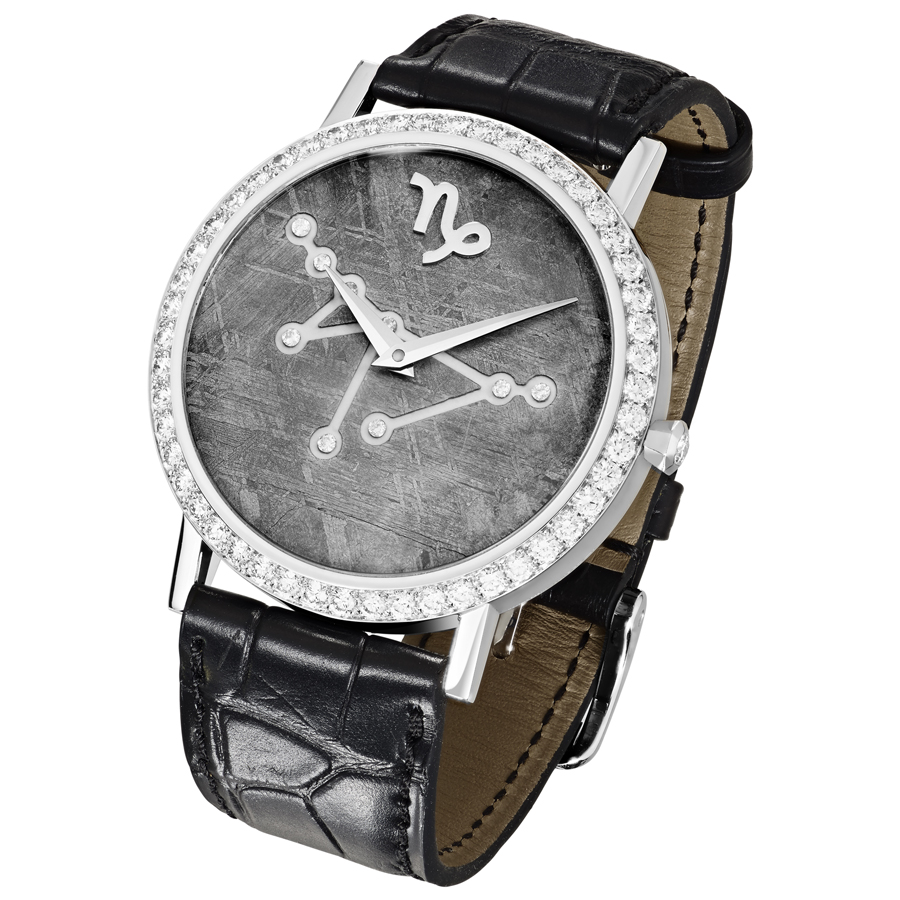 In the spotlight: the Meteorite Zodiac. The 39-mm case in white gold is crafted with a pavé-set diamond bezel. These diamonds shine a light on the meteorite dial, where the Widmanstätten patterns are decorated with the Capricornus constellation. With diamonds for dots and a layer of luminescent coating, the constellation comes to life when it is seen in ultraviolet lighting or in darkness. This edition is customisable and twice as precious as it can display the owner's zodiac sign.
Prix : 39 600 euros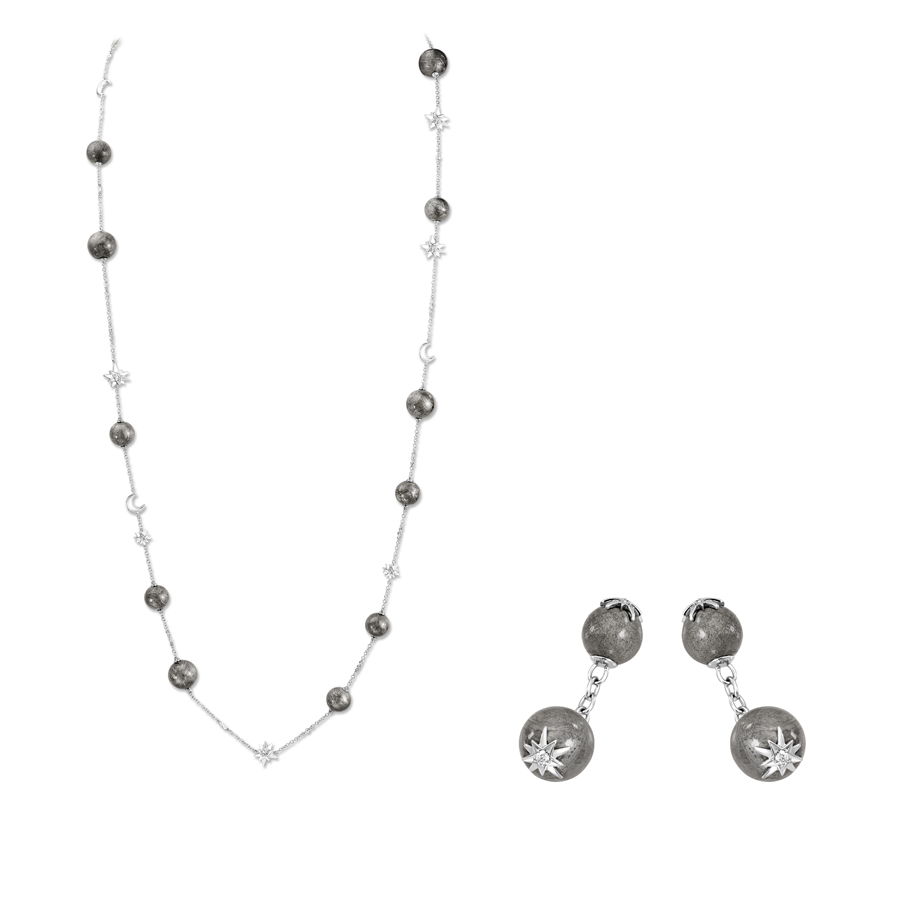 Special mention for this dreamy white gold sautoir necklace where 14 meteorite beads and other elements reminiscent of the Solar system (Moon and stars) are bound together to form a whole constellation. Originality that also shows through the sleeve buttons, which represent eternity in its smallest details. And that's when jewels, from accessory, become necessary…
Bäumer Vendôme Shop – 19, place Vendôme, Paris 1st arrondissement.
AWAKE CONCEPT, Mission To Earth
Chapter III – Time Travellers
It is through watching Awake Concept that the idea of filming a show on meteorite dials came into the mind of our tick-tock authentic fanatic. This young watchmaking Maison has now revealed the third chapter of its "Mission to Earth" by using a piece of the Muonionalusta meteorite to make the dial of a new watch: the Time Travellers.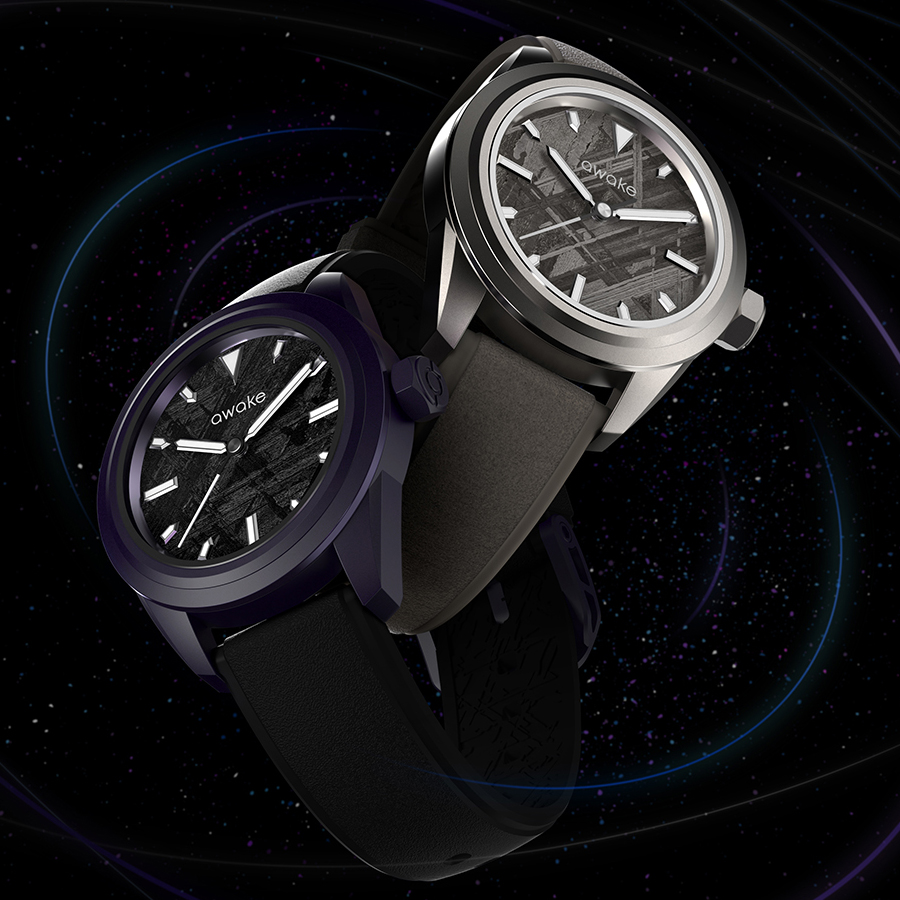 This extraterrestrial material hit the Earth's surface more than a million years ago. It is about 20 million years old and was discovered in Sweden in 1906. To this day, it is the oldest ever discovered meteorite. It is hard for us humans to even fathom the imperceptible notion of time, which is here reduced to a strap around your wrist.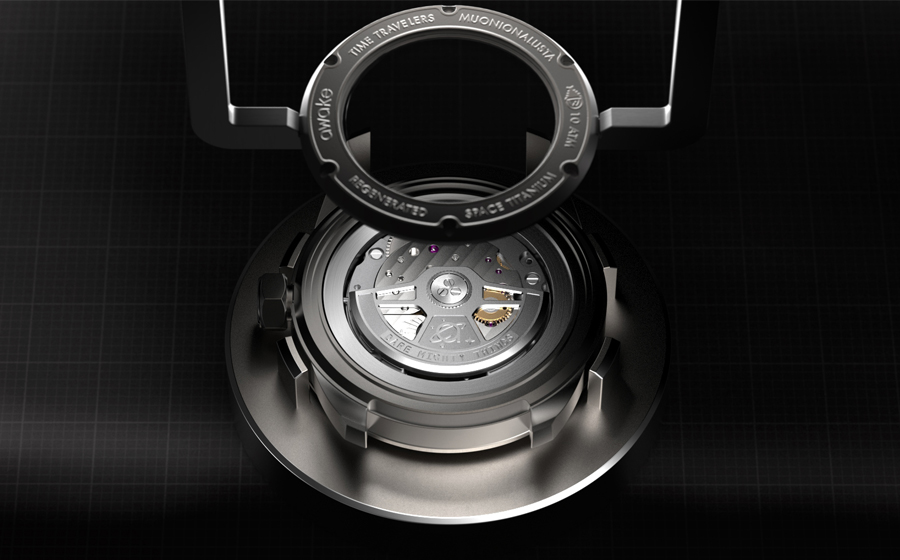 The 40-mm-diameter Time Travellers watch is made of 70% recycled titanium and marries both lightness and sturdiness. It is available with a purple case, a black dial and a black strap, or in all-grey. Both versions are powered by a precise and high-performance Miyota calibre. This calibre, which can be seen through the transparent caseback, offers an almost 42-hour power reserve and is equipped with an oscillating weight meticulously decorated in openwork.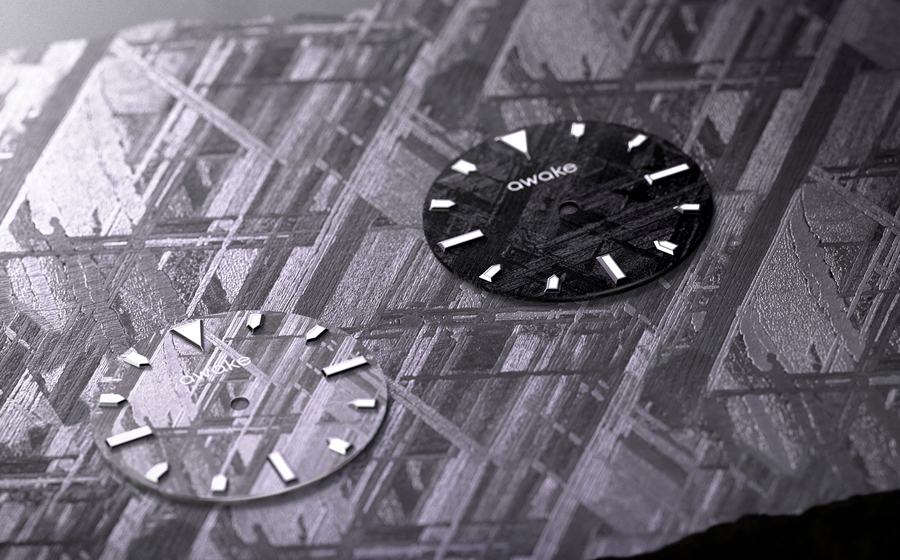 Last, but not least of these impressive details: inside the strap in Biopoly® lays a structured motif which emulates the characteristics of the Widmanstätten.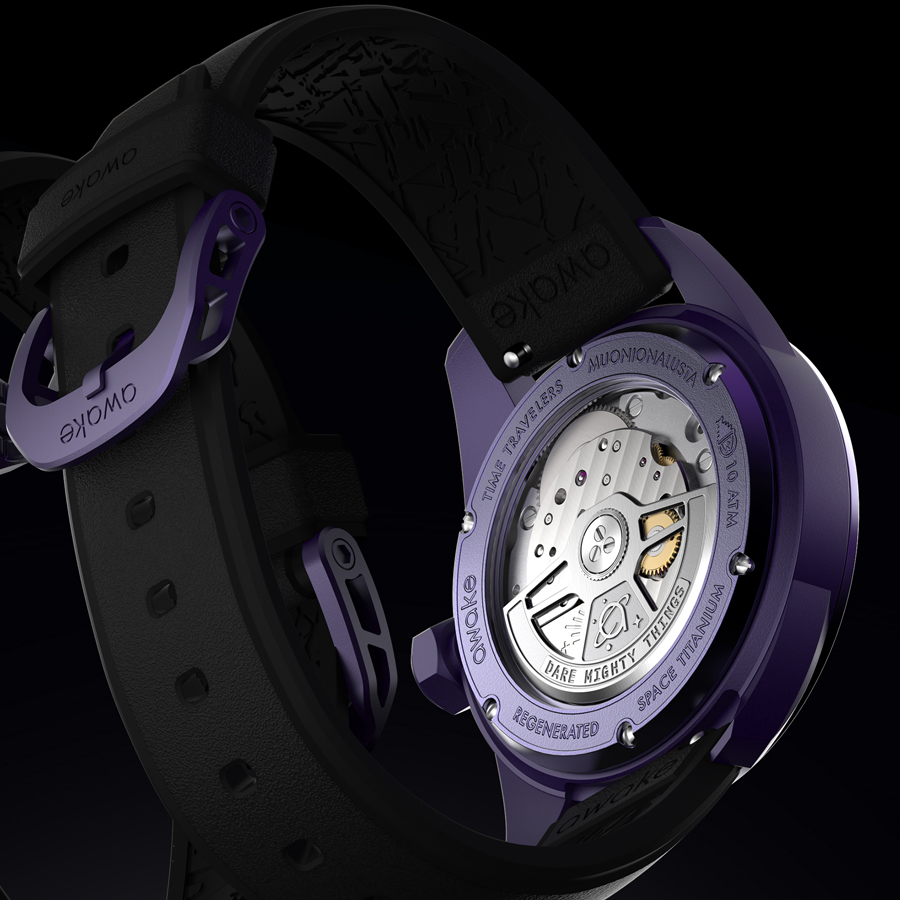 Each model was produced in only 500 individually numbered pieces. Like their older sisters, the watches all have their own unique ID number, engraved in the sapphire crystal. For more information on this fascinating technology, see our previous article "Awake Mission to Earth, sidereal and amazing".
Prix : 1 490 euros
Technical details:
40-mm-diameter case in 70% recycled titanium
Sapphire crystal with NFC ID GLASS technology
Hands and indices covered in SuperLuminova BGW9
Screwed-in crown
Modified MYOTA 9015 automatic calibre
Biopoly® strap
OMEGA, Speedmaster Moonwatch 321
When talking about meteorites, we cannot leave out a watchmaking Maison with a history so closely tied to the conquest of space. Omega is presenting an original version of its Speedmaster Moonwatch, powered by the iconic calibre 321. 3…2…1, a code name which refers to the manual movement that powered the first Speedmaster in 1957. A thrilling story which we talked about in length in our previous article "Three, two, one… Taking off again for the Omega Calibre 321."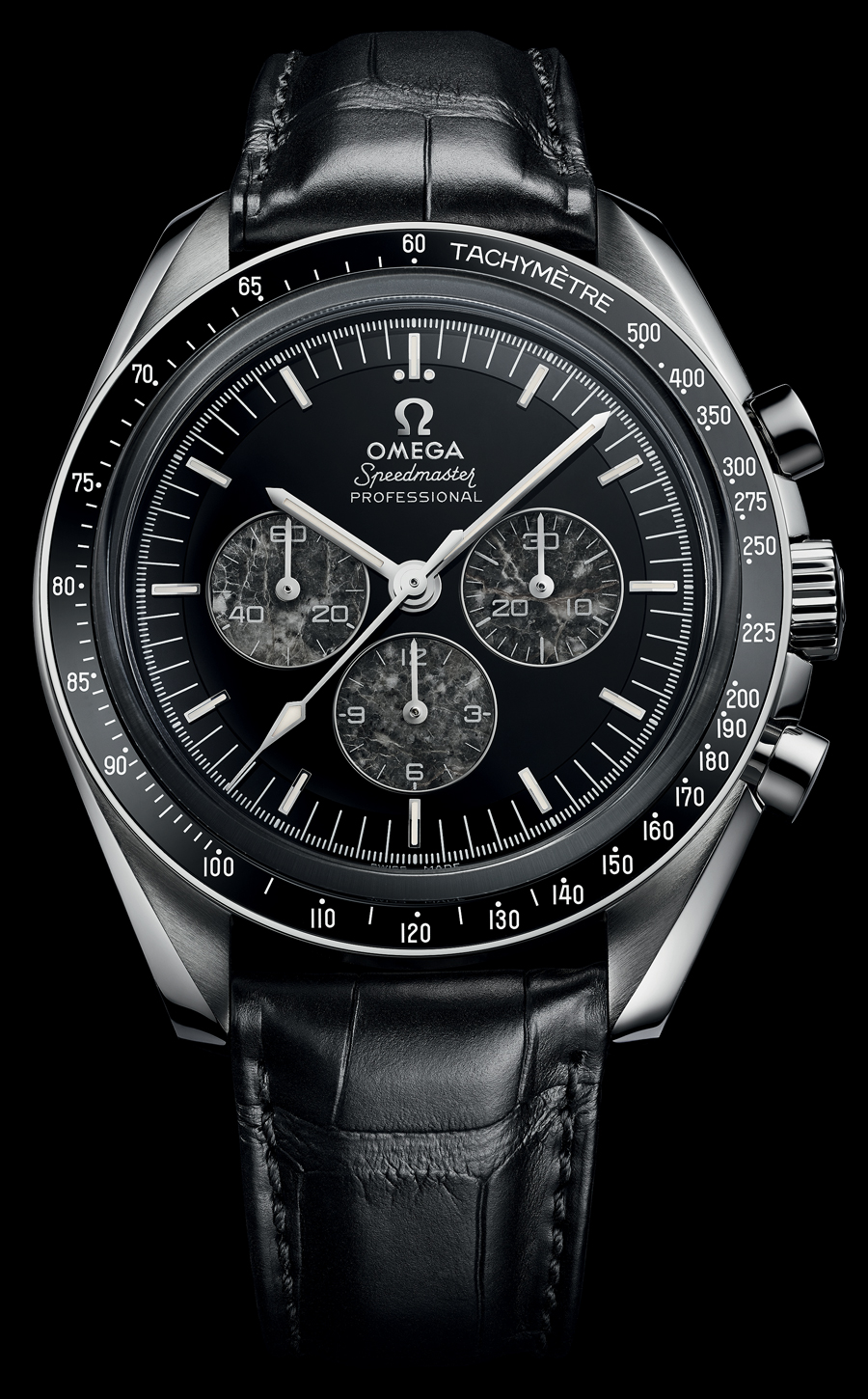 First revealed in celebration of the 50th anniversary of the Apollo 11 mission, this platinum 42-mm edition displays an intense black onyx dial which beautifully contrasts with the three lunar counters in meteorite. This pays tribute to the calibre of the watch, which equipped all the Speedmasters worn on the Moon.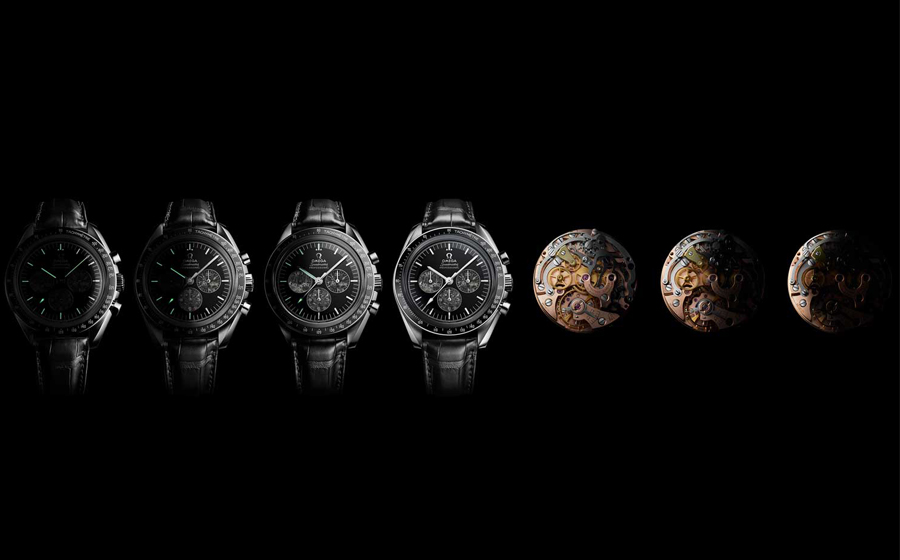 To own this Speedmaster is also to acquire a piece of history, with so many references hidden in the watch. For example, the black ceramic bezel, surrounded by a white enamel tachymetric scale, displays a small dot right above 90. This detail cannot be separated from the old "DON" versions of the bezel (which stands for Dot Over Ninety): the most recent editions, on the contrary, are called "DNN" (Dot Next to Ninety) because the dot is placed right next to 90. A priceless item that collectioners are already fighting over.
Prix : 70 000 euros
Click here to read the Omega Speedmaster Moonwatch 321 watch full technical sheet.
PIAGET, Altiplano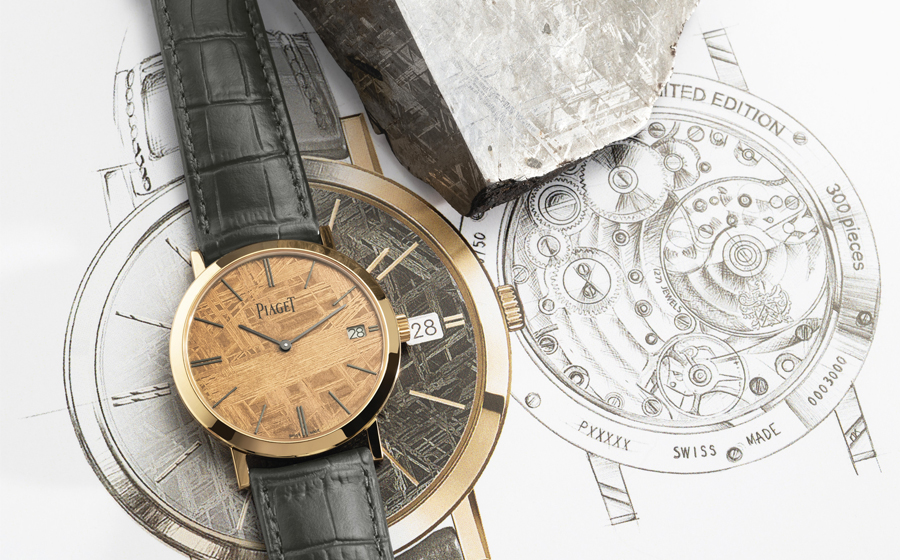 Naturally, the Maison Piaget, which is an expert in watchmaking and jewellery savoir-faire, has made an impact on working with precious stones and decorative stones. The dial of this 40-mm rose gold Altiplano watch is exceptional because of the colour of the meteorite that was used.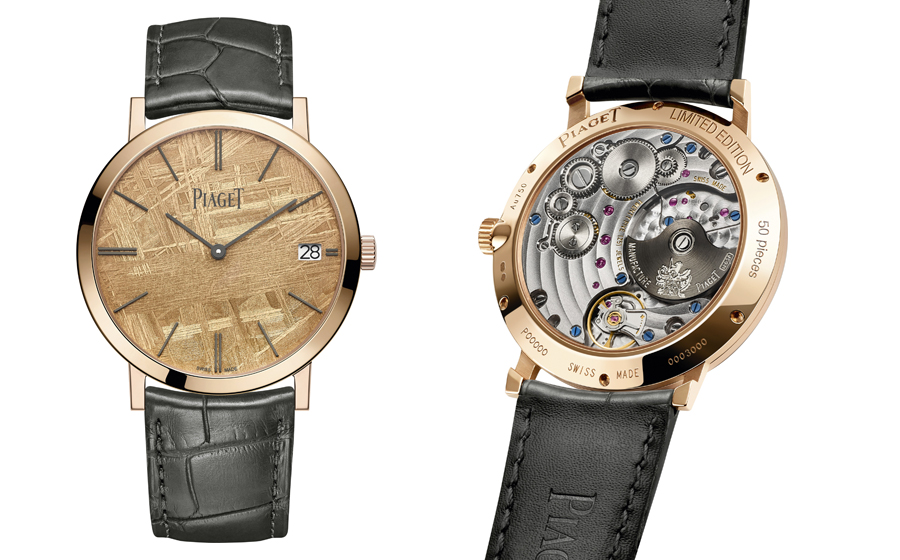 This golden dial perfectly harmonises with the rest of the piece, which comes with a grey alligator-skin leather strap. The watch, which is limited to 50 pieces, is equipped with an extra-flat self-winding calibre of only 3-mm thickness.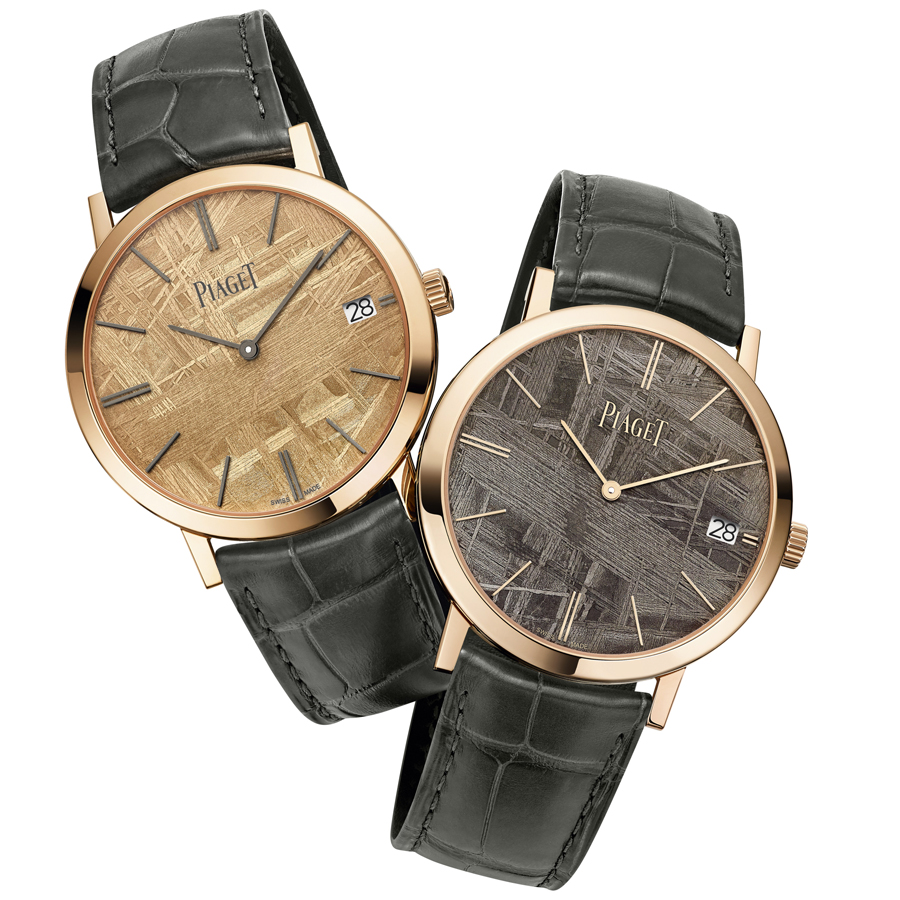 A record in finesse that was broken today by Bvlgari, then by Richard Mille. The movement, visible through a sapphire glass caseback, was meticulously Côtes-de-Genève decorated and equipped with a gold oscillating weight tainted in grey.
Prix : 30 600 euros
Click here to read the Piaget Altiplano Meteorite Dial watch full technical sheet.
ROLEX, Oyster Perpetual GMT-Master II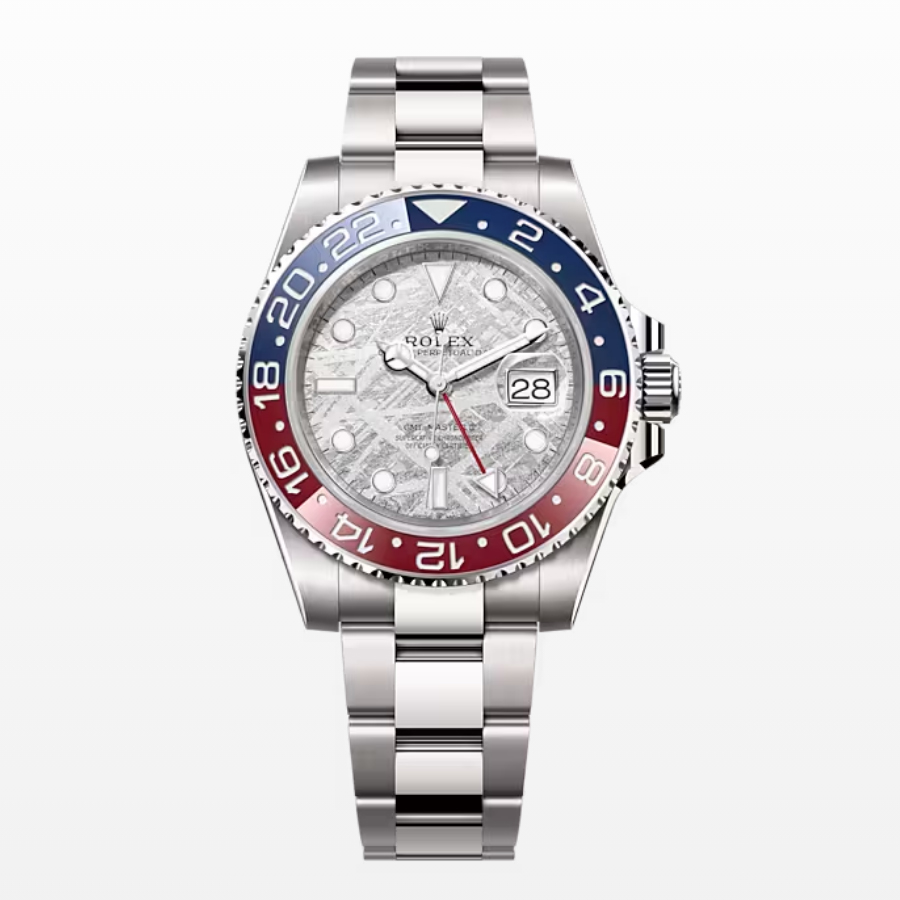 We had to film close to Dubail Paris at the Place Vendôme to find this gem. Just arrived on the morning of filming, this watch also landed on Frank Sans C's set. The Oyster Perpetual GMT-Master II by Rolex is the only variation of the iconic collection by the manufacture to have a meteorite dial, which renders it even more precious and unique.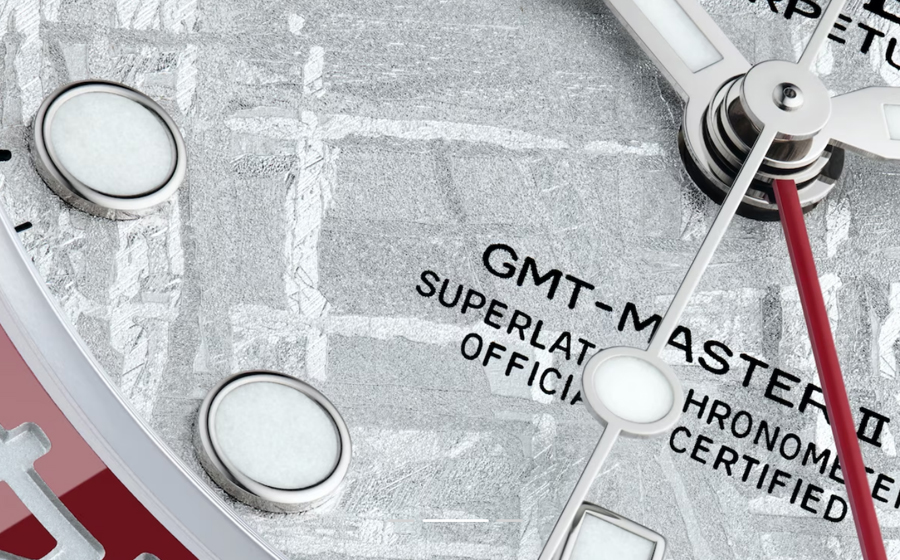 For the technical part, this grey gold edition is equipped with a dual time zone function indicated by the 24-hour hand, in red with a triangle tip coated with luminescent material. It also comes with a bi-directional rotating bezel in Cerachrom that also has graduations for 24 hours – red for the hours of the day and blue for the hours of the night. This complication is powered by a Superlative Chronometer certified manufacture calibre (COSC and Rolex). The calibre, with a power reserve of 70 hours, is also equipped with an anti-magnetic Parachrom balance spring which is resistant to temperature variations. On the meteorite dial is one of the signature elements of Rolex timepieces: the Cyclops magnification which increases the visibility of the date displayed in an aperture at 3 o'clock.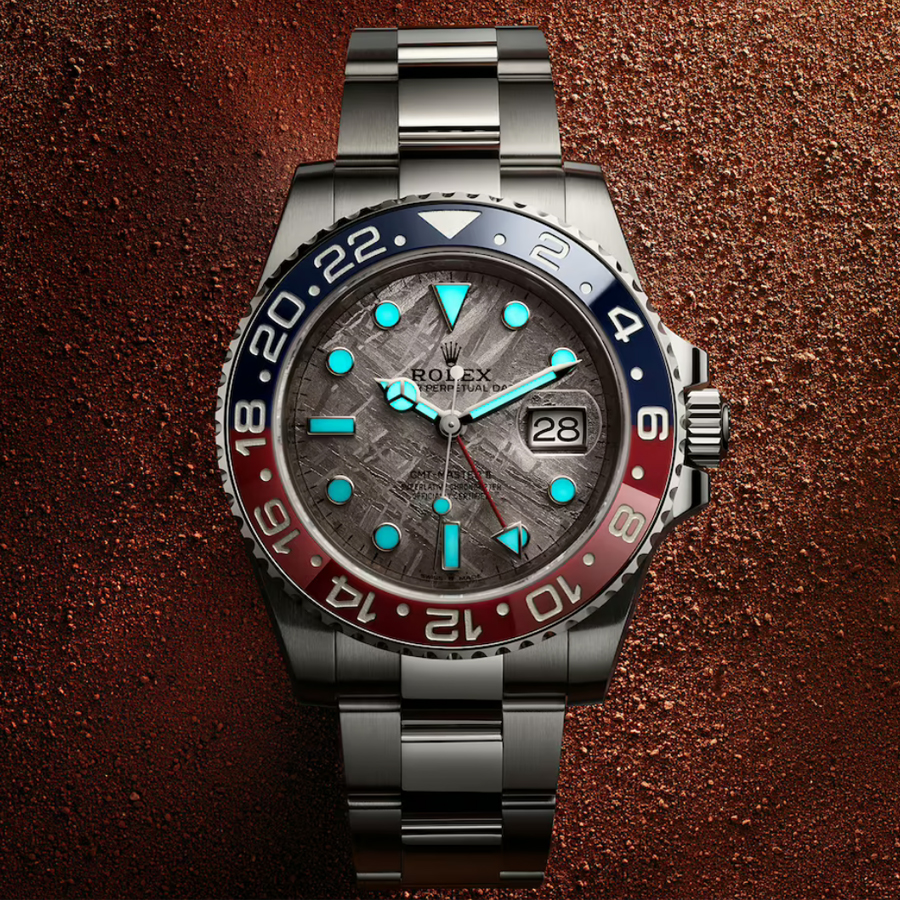 Prix : 42 500 euros
Click here to read the Oyster Perpetual GMT-Master II watch full technical sheet.
THE CHERRY ON SET
LOUIS VUITTON, Tambour Curve GMT Flying Tourbillon
The Tambour Curve GMT Flying Tourbillon, a 46-mm, grade-5-titanium watch imagined in the workshop La Fabrique du Temps of Louis Vuitton, is the futuristic projection of the Tambour watch released in 2002. This piece, which is loyal to the atypical architecture of this collection with the convex shape of the bezel and the crystal, revisits all the pre-established codes of watchmaking.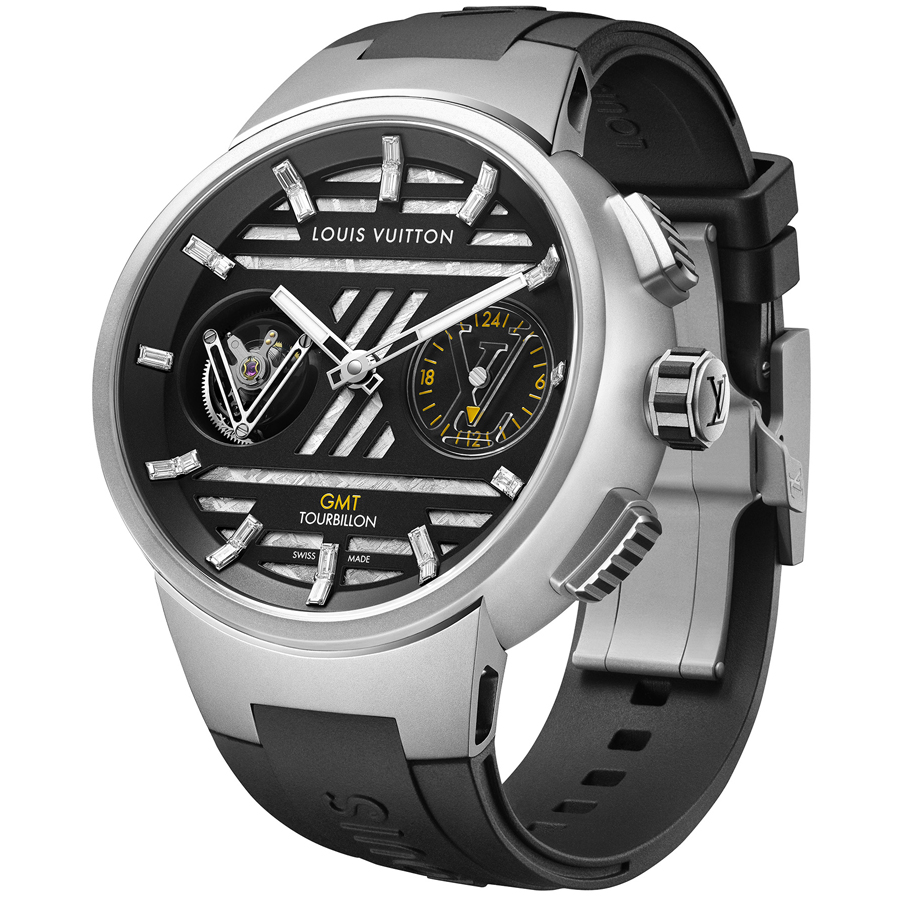 Equipped with the GMT function, this watch displays a time zone inside a 3-hour counter placed on a dial with slight openwork. Thanks to these cut-out shapes, we get a glimpse of the Gibeon meteorite, which fell in Namibia. As precious as it is, it does not take away the spotlight from the tourbillon, placed at 9 o'clock and featuring the iconic "V" of founder Gaston Vuitton. On the contrary, they come together in both coherent and stylish unison. Planning the indices, still precious in their smallest details, was doubtless the most time-consuming part of the creative process. Applied one by one, all by hand, they were designed to follow along the curves of the dial. A big challenge, given that the indices are made of diamonds and must be perfectly aligned according to their placement on the rehaut. Hours and hours of work were spent to achieve this result. Up until this colossal task was done, leaving room only for beauty.
Price: €95,000
Click here to read the Tambour Curve GMT Flying Tourbillon full technical sheet.
See also:
Read also: