FRANK SANS C VIDEO
Telling time in a new voice
Leaning into the poetry of watchmaking. Such is the challenge undertaken by the young female creators of two watchmaking brands: Buci and Maison Alcée. On the set of Frank Sans C, Nousseïma Baraket and Alcée Montfort open up about what makes them tick. A unique perspective from two creative minds who wrote their own success stories.

By Chloé Redler
Some would say – and I'm certainly among them – that women are quite rare in the world of watchmaking. So it was a breath of fresh air to welcome two smart, funny, passionate women, Nousseïma Baraket and Alcée Montfort, to our newsroom. In this show dedicated to their creative visions, they told us all about what time means to them.
Buci, turning time into poetry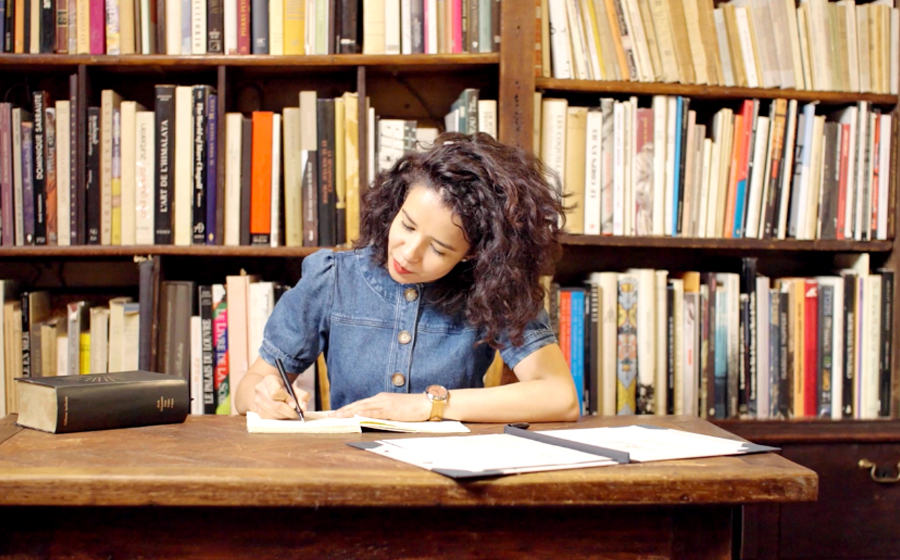 A little while ago, we wrote an article about Buci and its founder Nousseïma Baraket. Her message, her story, inspired us. According to her, watches are not just for telling time – their tale is also one of poetry. This is the core of the brand's creative DNA: the delicate timepieces are carefully designed by their "editor" and contain more than one reference to fine words.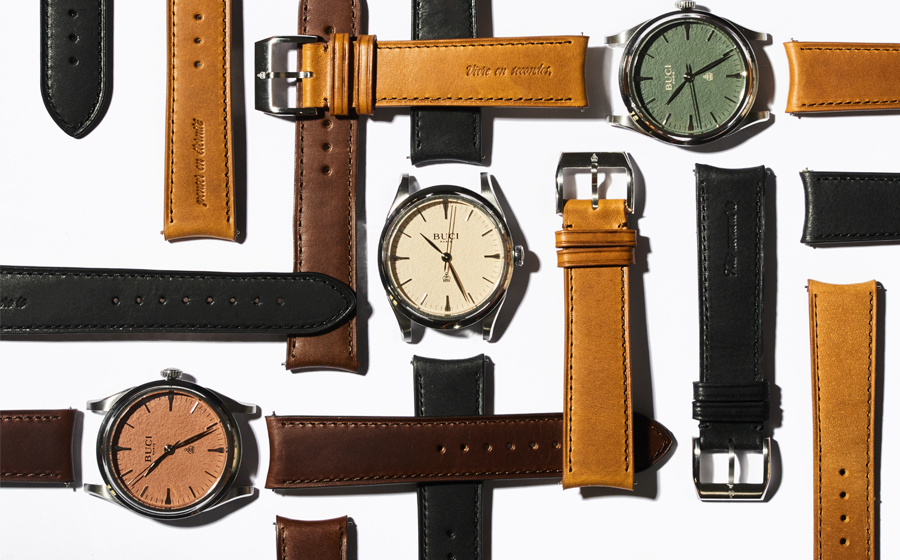 Every bracelet colour features its own poem, embossed on the leather. Right side out, it becomes the wearer's manifesto. Hidden on the inside, it turns into a more private expression of identity. The four variations are an allegory of the passing of time, featuring exquisite textured dials that resemble delicate Japanese writing paper. The design is successful, and there is no lack of technical prowess, either. This quartet of watches is powered by a strong, high-performance automatic Newton movement that offers chronometric precision at 4Hz, or 28,800 vibrations per hour. Chic, subtle, and poetic. "When I do count the clock that tells the time"…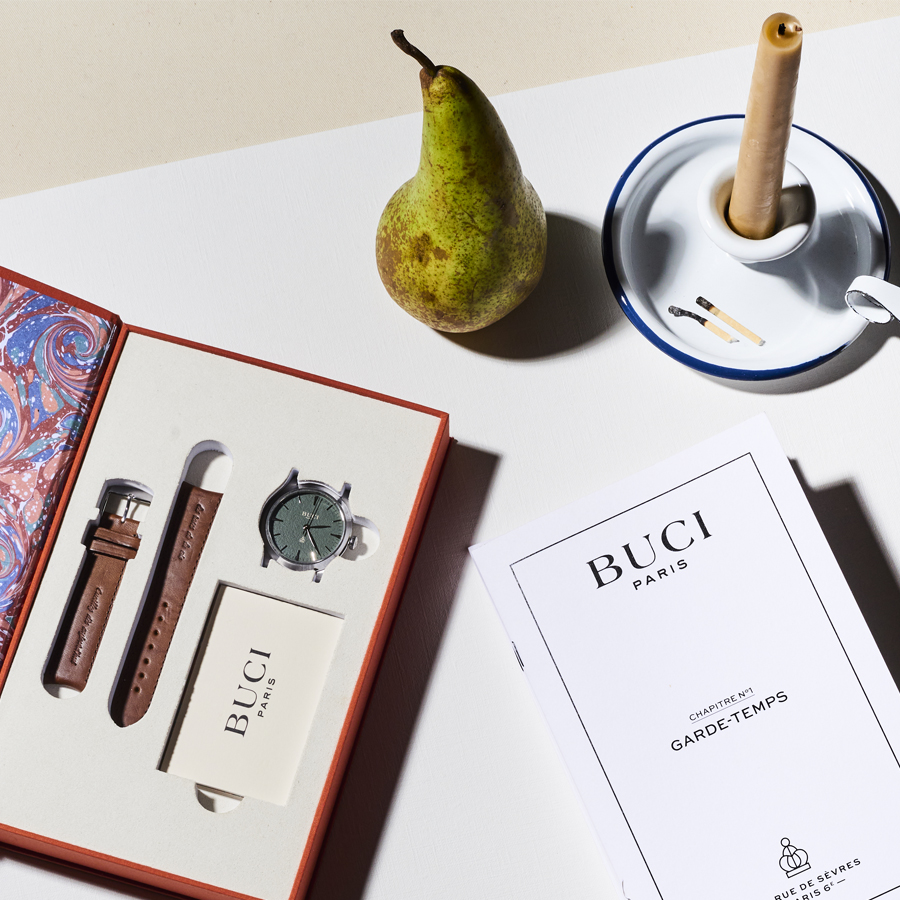 Price: €1,185
See our article on The age of Buci.
The Maison Alcée experience       
Being a watchmaker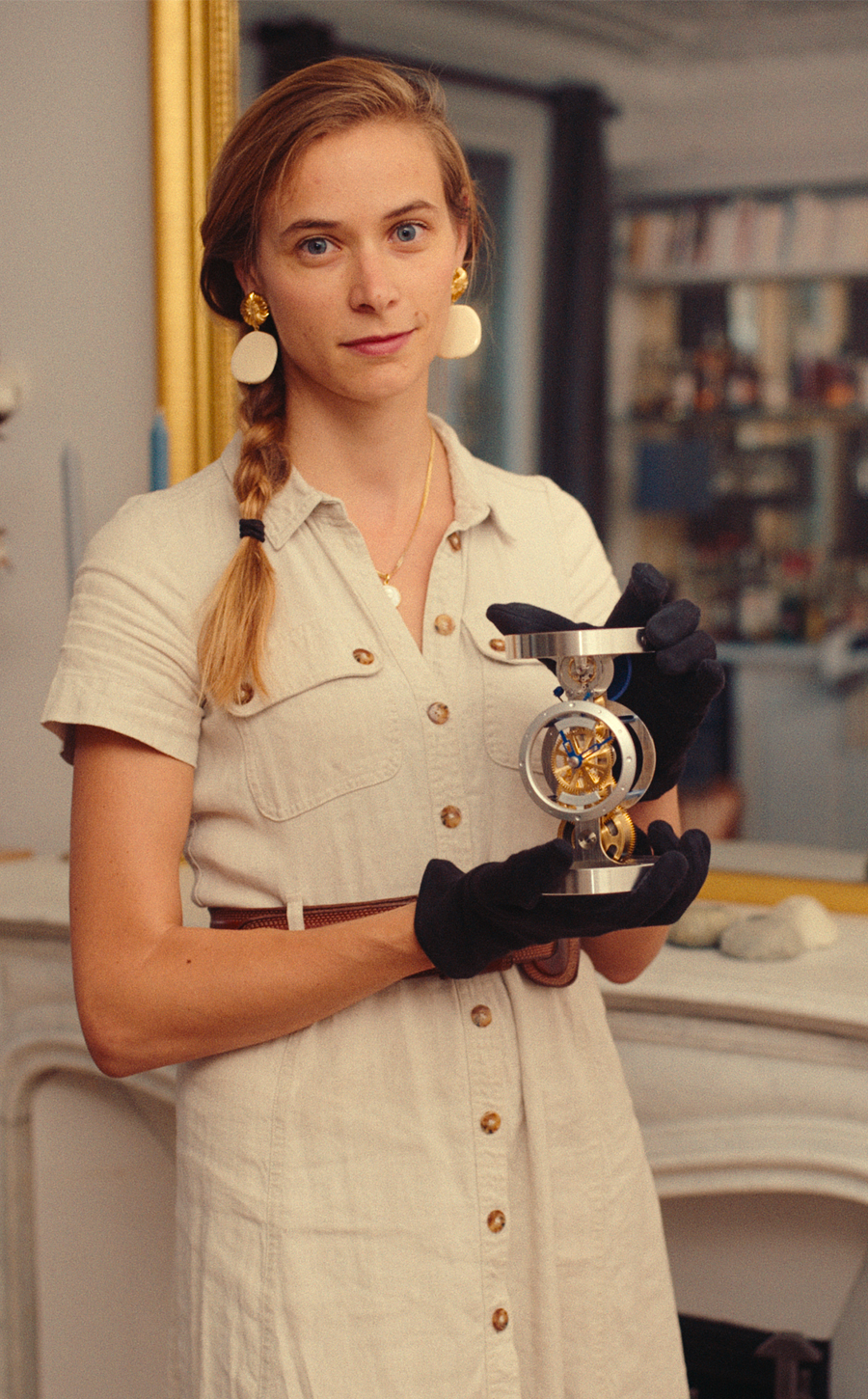 Alcée Montfort has built upon her hands-on experience in the luxury industry and watchmaking, working at great maisons such as Cartier, Hermès, and Tag Heuer. She created her own maison and embarked on a unique adventure: creating an experience. Yes, an experience, and a memorable one at that: feel like a true watchmaking artisan as you build a high-grade clock, named Persée – the French spelling of the Greek hero Perseus. The regulating organ is pre-assembled and safely guarded in its dedicated box.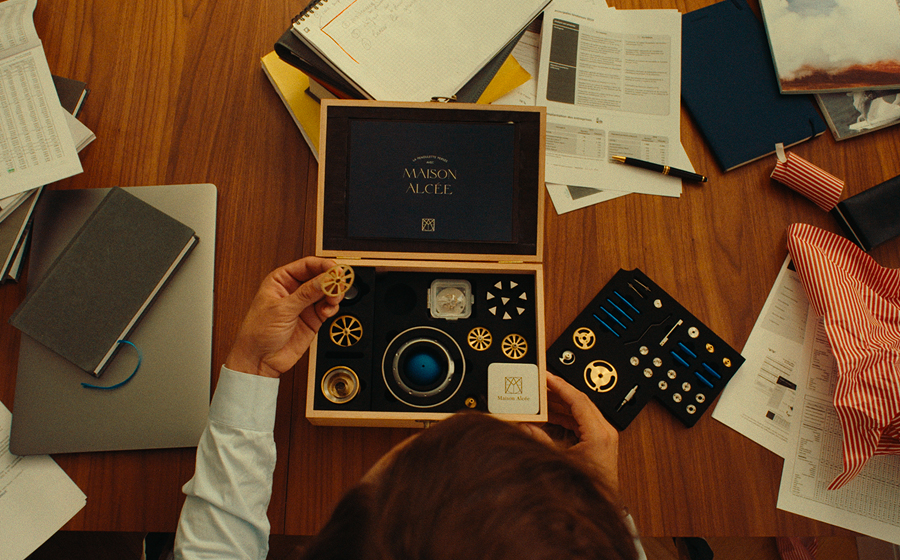 The necessary pieces to the assembly of the time piece, all 169 of them, are nestled in a bespoke wooden box. The whimsical names of the tools and components will tickle the fancy of anyone with a penchant for old French words (pique-huile, chamoisine, brucelles, platines, cloches…)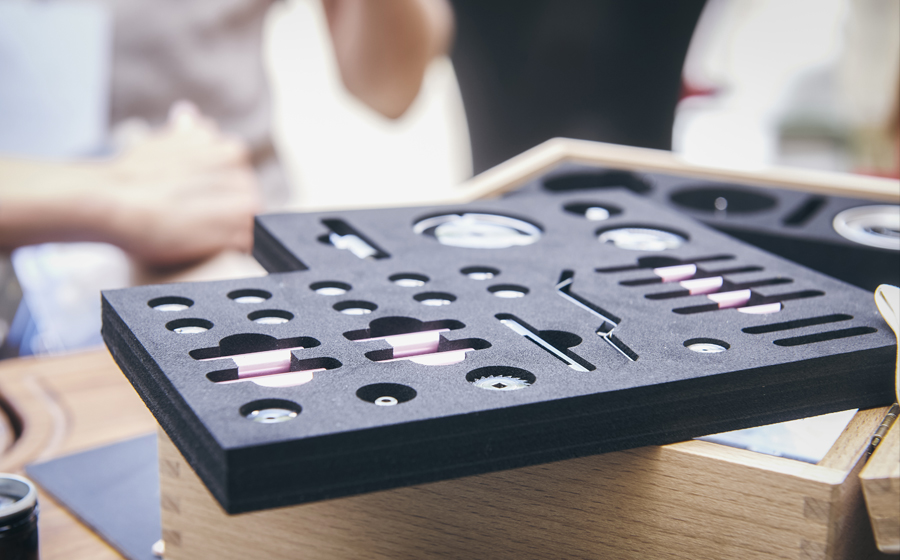 These come with a book containing step-by-step assembly instructions that many will be glad to keep on their bookshelves. Enthusiasts will also take great delight in reading fascinating anecdotes on the history and savoir-faire of watchmaking.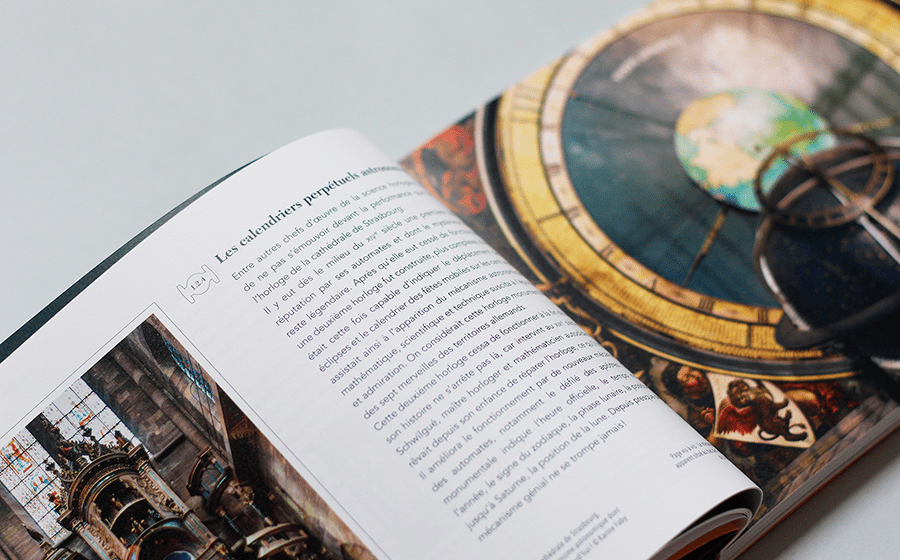 On the technical side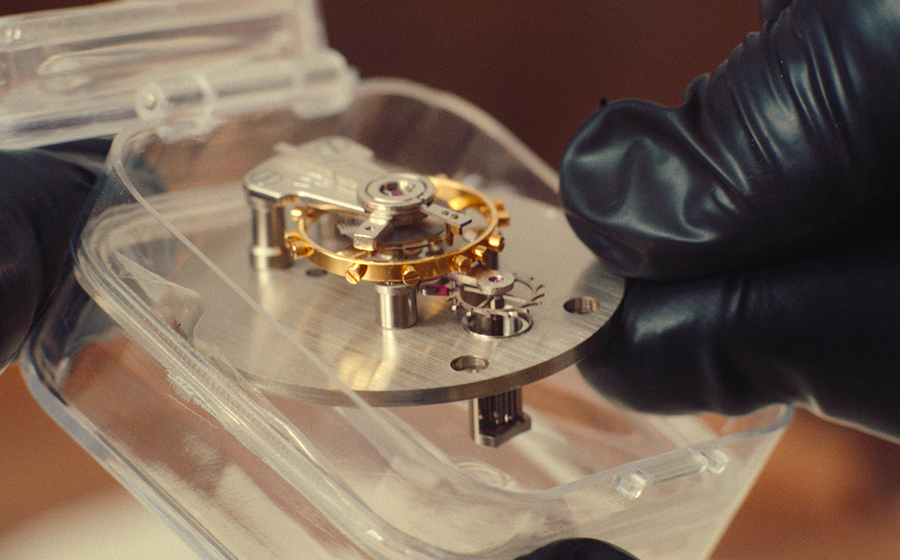 The mechanical movement was created by watchmaker Thierry Ducret, holder of the prestigious "Meilleur Ouvrier de France" certification, and by watchmaking professors at the renowned École de Morteau, in the French part of Jura. Their expertise is an undeniable asset, as they are familiar with the obstacles young watchmakers face. This educational experience also helps boost and sustain French and Swiss savoir-faire, as mostly all pieces are crafted in France and Switzerland.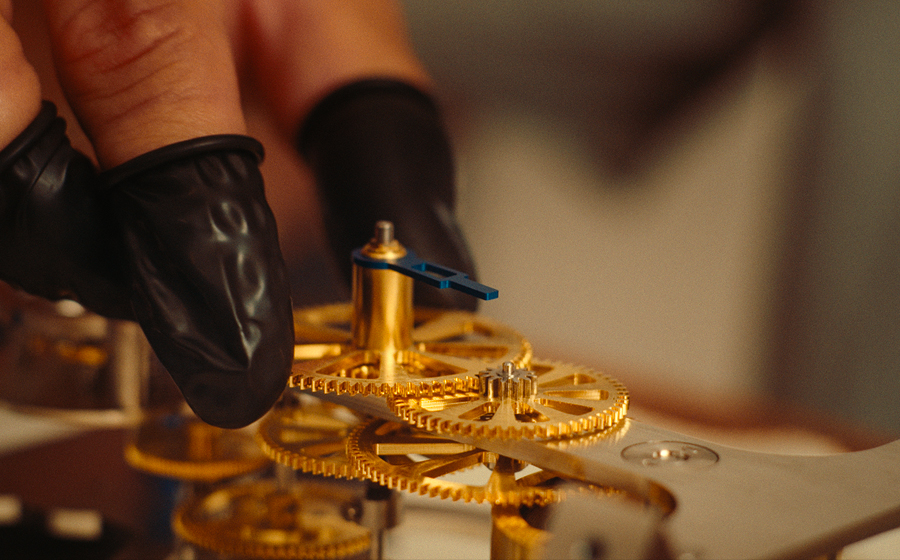 Maison Alcée works closely with its clients and remains available to help them with any questions or issues. Should any problem arise during or after assembly, clients can also get in touch with customer service. Additionally, the clock can be engraved upon request.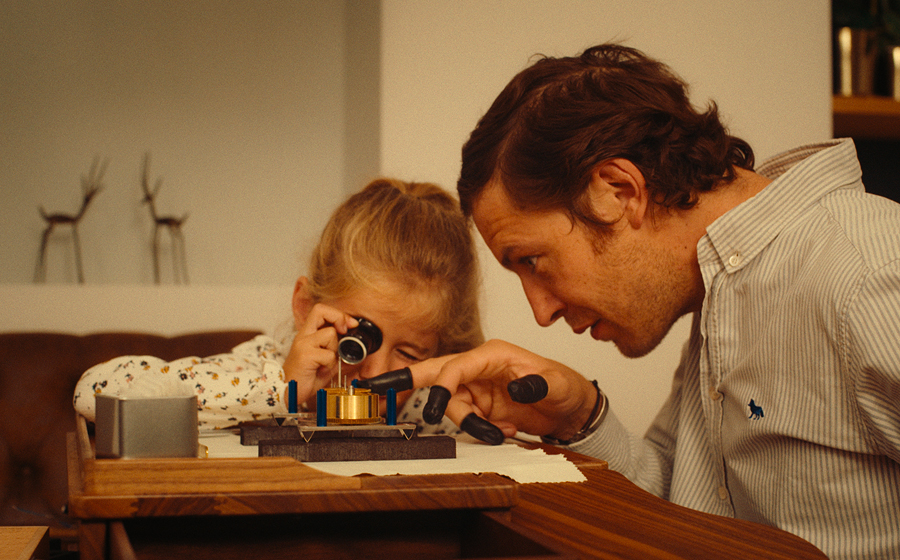 Some will say they have neither time nor patience for such an endeavour. However, once assembly begins, time takes another dimension. The experience requires focus, and promotes relaxation and a sense of achievement. You take the time because you can, alone or together as a family. It takes about ten hours to finish the timepiece, owed a hand-picked spot in the home.
Each clock is limited to 500 pieces
Persée Douce – from €4,600
Persée Azur – limited edition from €4,800
Persée Nuit – from €5,800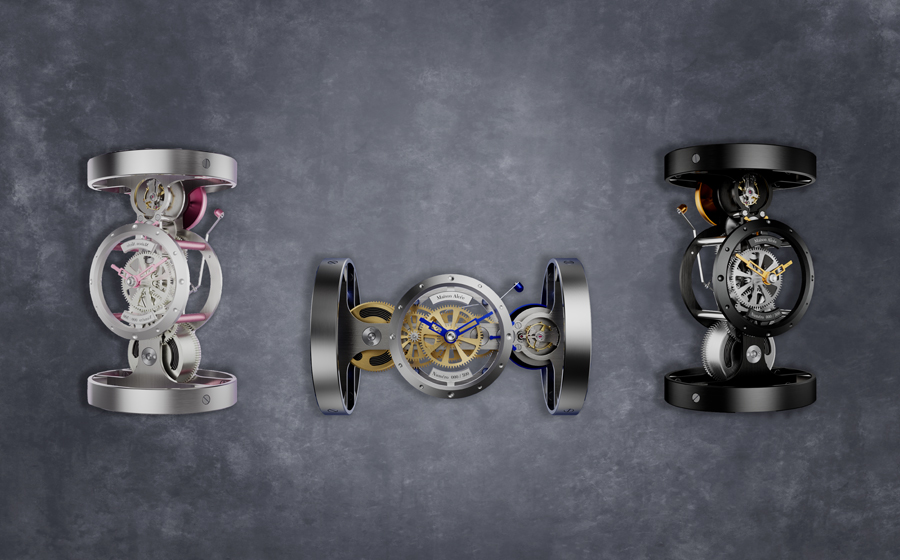 Technical specifications:
Mechanical movement with manual winding
Maison Alcée manufacture calibre
Functions: hours, minutes, and seconds. Bell upon every hour (optional).
Oscillator: balance spring, 18,000 vibrations per hour
Winding: unidirectional winding key
Power reserve: two weeks
Orientation: owner is free to choose a vertical or horizontal position (Maison Alcée exclusive).
Customisation: two small engraved plates are offered, one with the client's initials, the other bearing a unique and strictly personal number, attributed to each assembled clock.
Warranty: 24 months
Maintenance: the Persée can be cleaned and serviced by its owner. It can be taken apart and put back together at will to allow owners to share their passion with others.
See also:
Read also: