2023 High jewellery
The colour of sunshine
Let the sunshine in! This year's collections are illuminated by the bright shine of golden-coloured diamonds. While emeralds have long been esteemed guests in the ranks of high jewellery, bringing out the beauty of spectacular necklaces with their vibrant greens, yellow is making a stunning entrance in the creations introduced at Place Vendôme this January.

By Nathalie Koelsch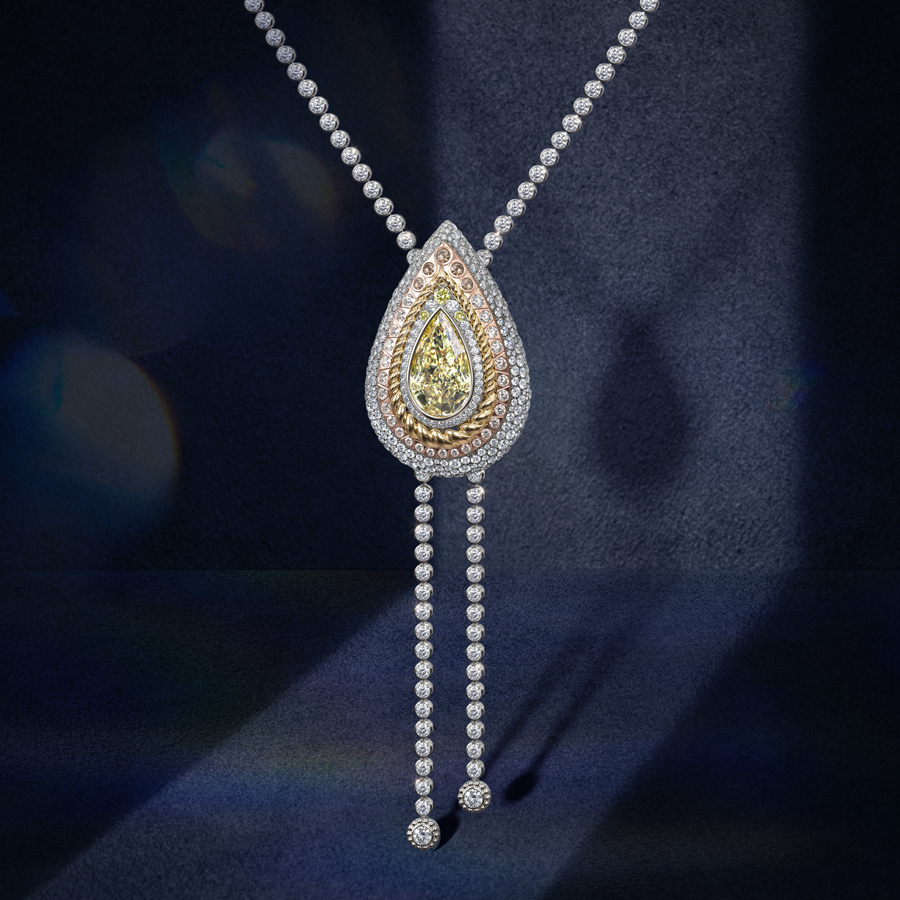 The finest fancy yellow diamonds have flocked to the greatest jewellers, and shine their unique sparkle on masterful pieces. Most have already made their home at the centre of a jewel, while others yet remain to be set. They wait patiently in their showcases to be picked up by the hands of experts who will know how to give them the royal treatment.
Yellow diamonds take centre stage
At Chopard, a breathtaking fancy vivid yellow diamond over 100 carats, like a majestic sun, is given pride of place at the end of this necklace, made up of alternating pear-cut and brilliant-cut white diamonds.
As Caroline Scheufele puts it, "through my family, which has been specialised in jewellery for generations, my life was marked by encounters with the rarest of precious stones. This exceptional diamond, impressive both in size and colour, immediately caught my attention, and Chopard is very proud to present it today." Chopard also crafted a ring displaying another fancy yellow diamond, oval-cut and 30.63 carats, with white diamonds on each side.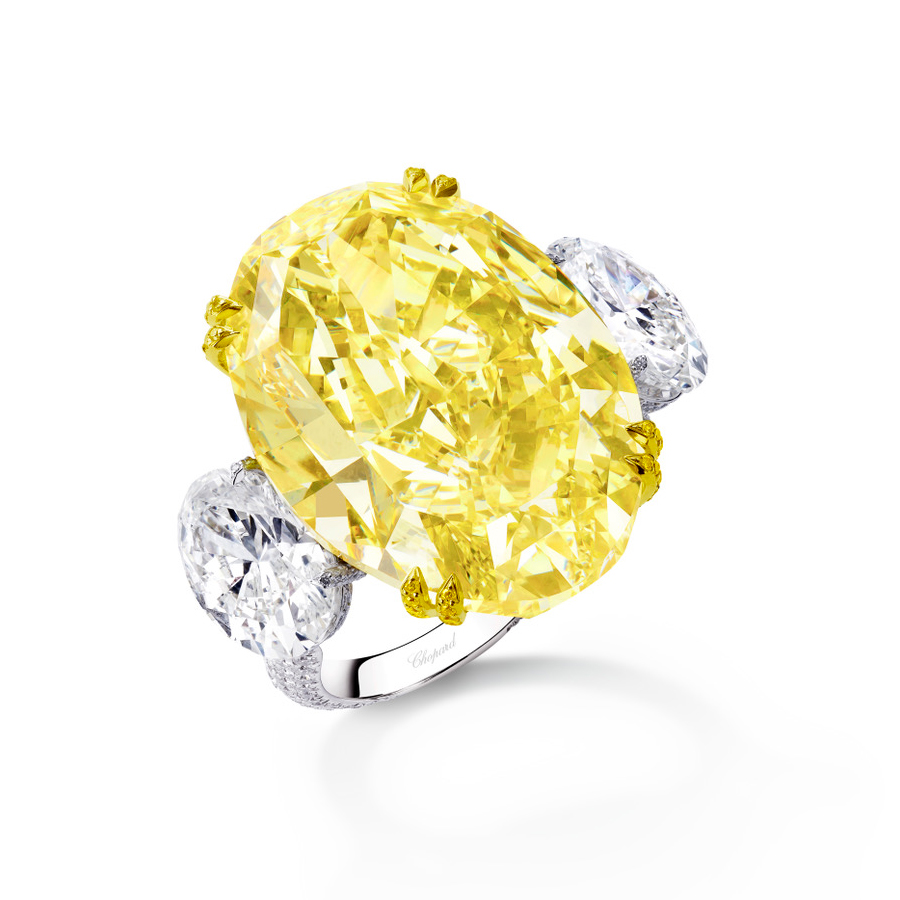 The white diamond is the emperor of stones, reigning supreme in the world of jewels, but coloured diamonds, with their spectacular range of hues, are a welcome sight in the jewellery landscape.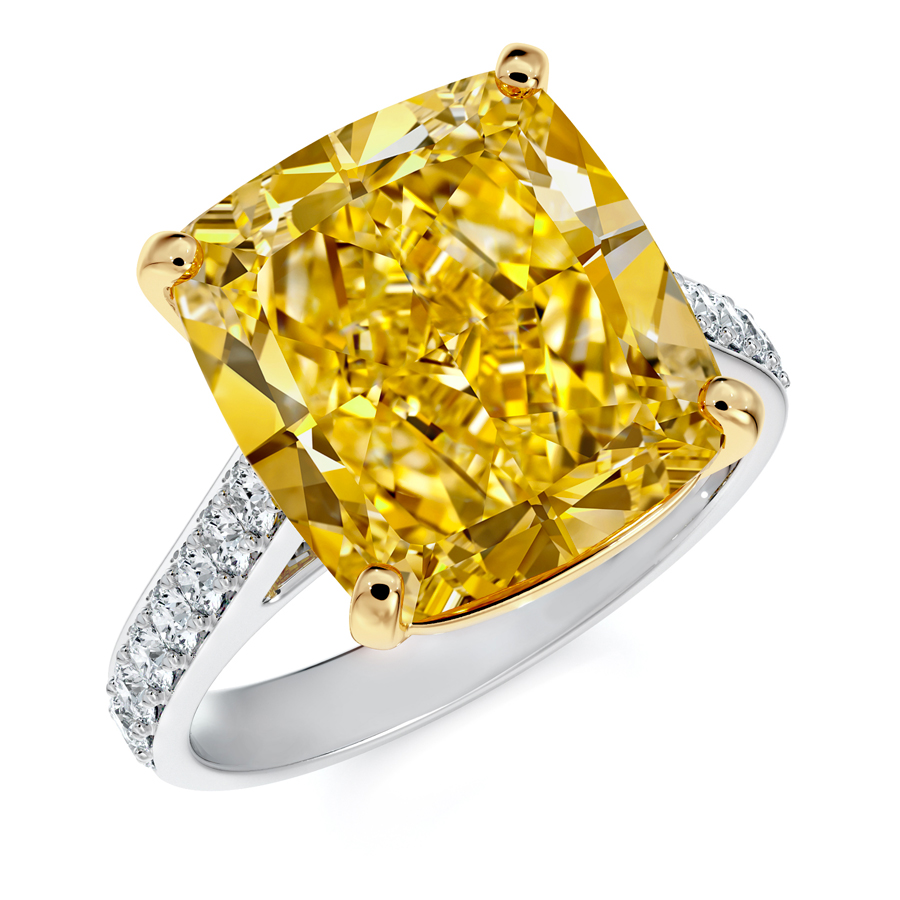 A symphony of diamonds
For its Metamorphosis collection, De Beers explores the cyclical rhythm of seasons through transformable pieces boasting white, brown, and fancy diamonds. The Prélude solitaire ring, in platinum and yellow gold, evokes the brightness and sweltering heat of summer, with a fancy vivid orange-yellow diamond, elegantly cut in a cushion shape, weighing over 10 carats.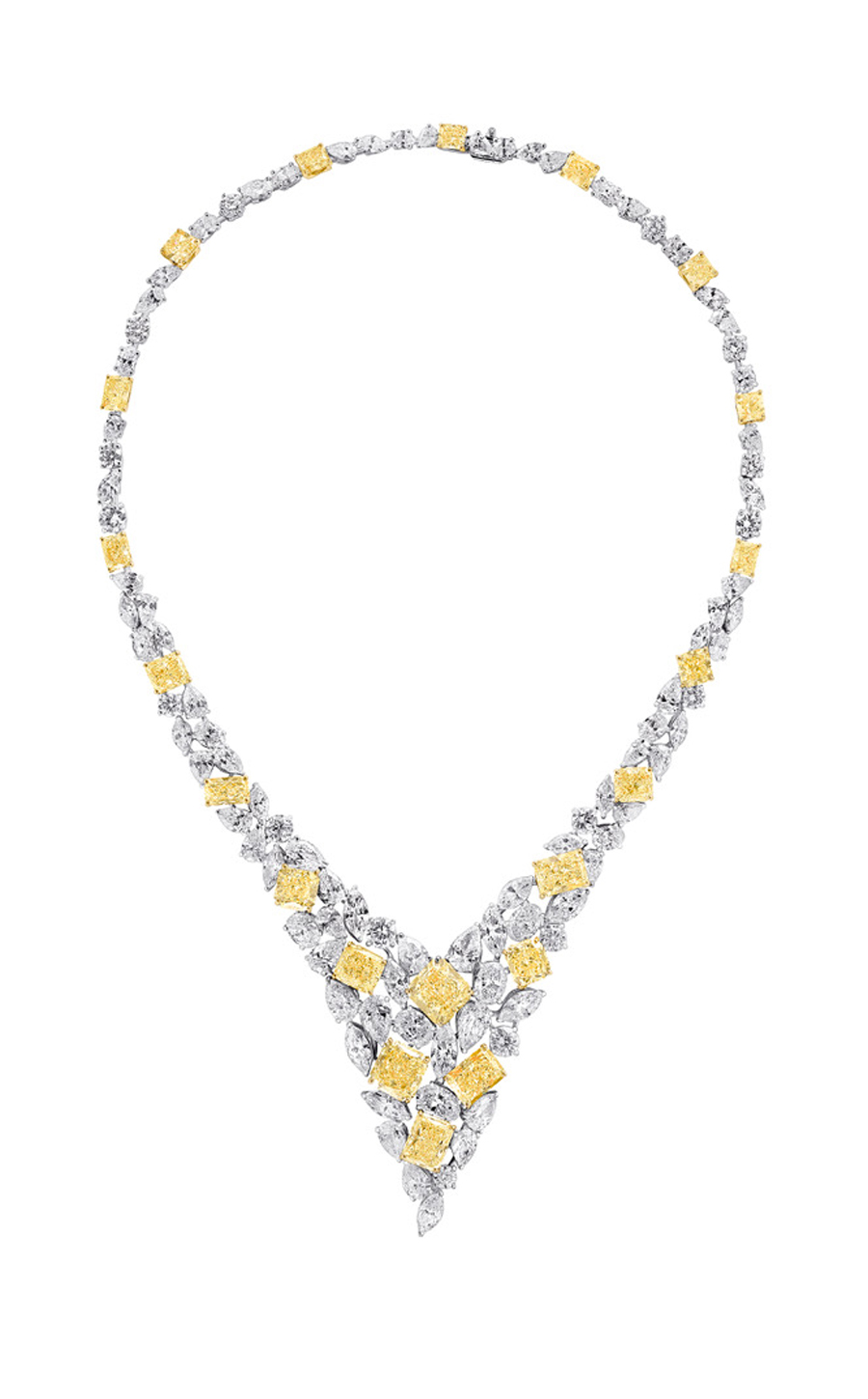 Graff, who built its empire and renown through its passion for coloured diamonds, adorned some high jewellery pieces with exquisite yellow. The oval, pear, and heart cuts of these yellow and white diamonds play off of each other in a beautiful melody.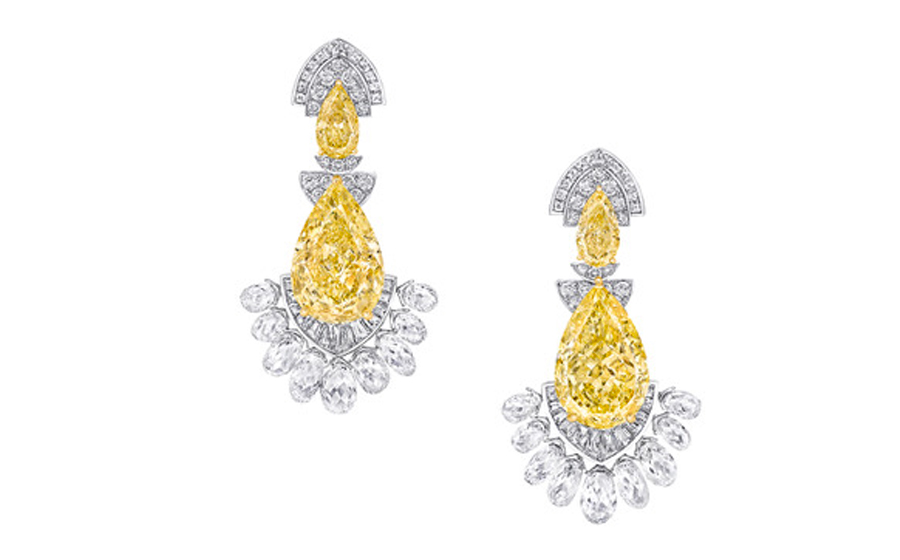 Cindy Chao, known for her virtuoso and avant-garde pieces crafted in lightweight titanium, invited a 90-carat fancy yellow diamond to sit at the centre of a diamond-studded ribbon necklace.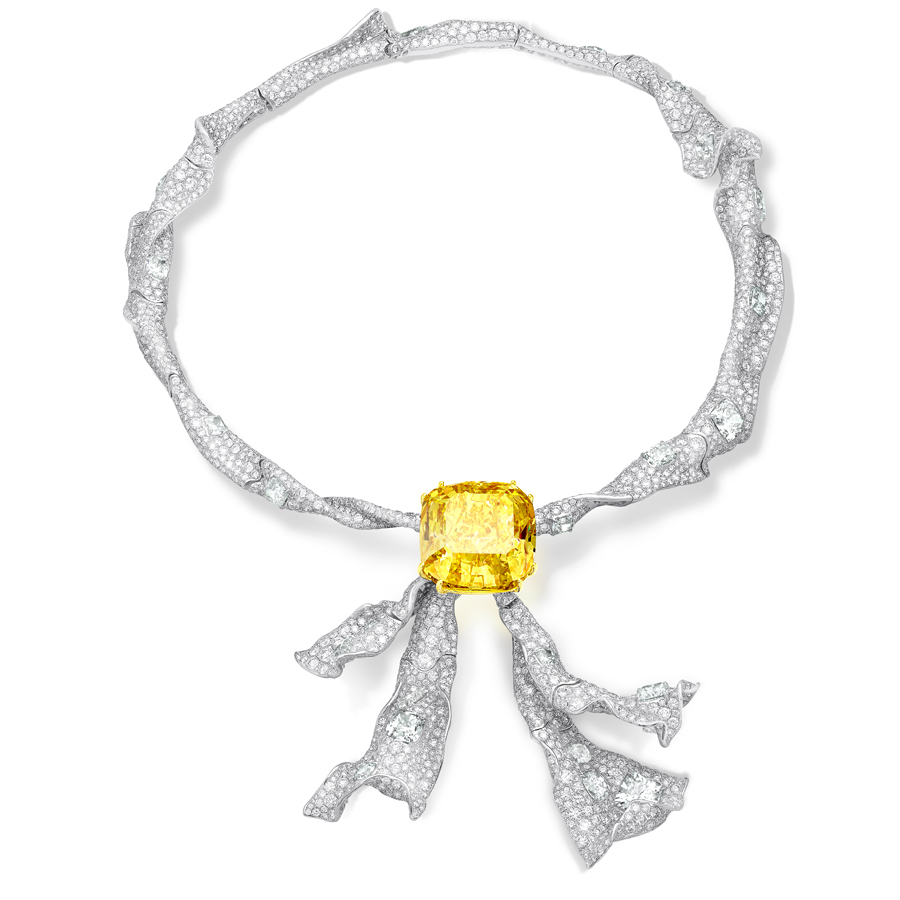 Dior High Jewellery, taking inspiration from the gardens that were so beloved by Christian Dior, created a floral ring, the perfect home for this yellow diamond.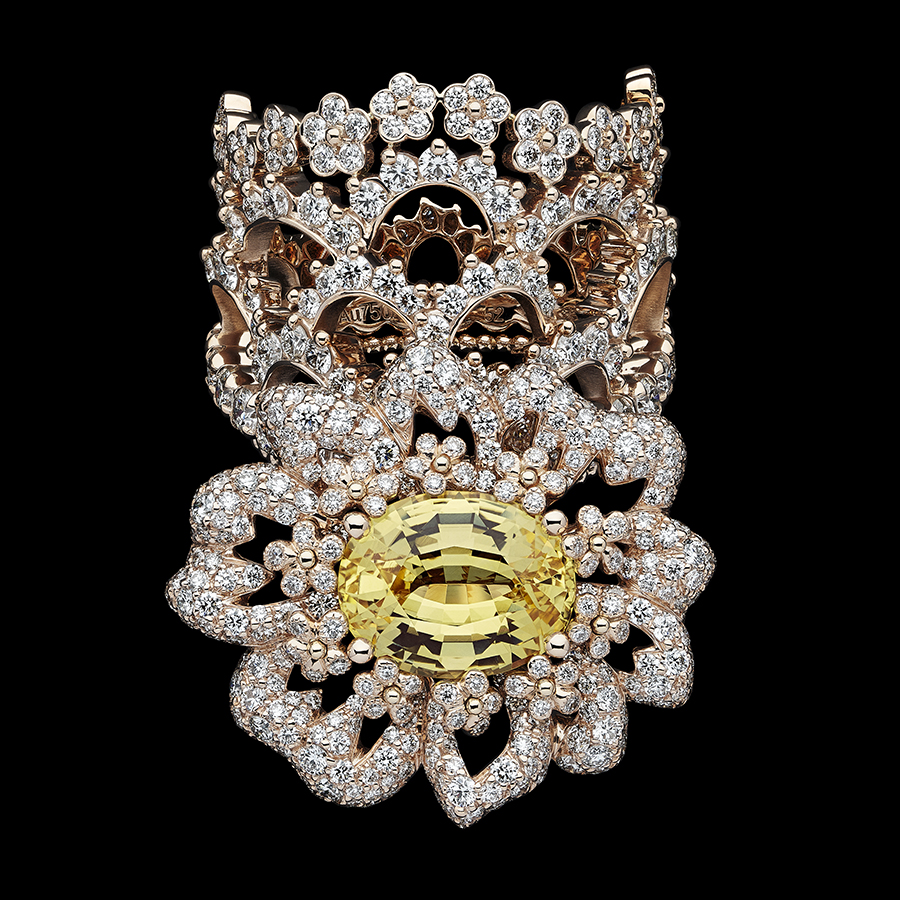 The power of crystals lies in a unique alchemy that verges on magic. Charged with mystery, the multiple hues of fancy yellow diamonds lend their vitality and warmth to 2023 collections. From delicate light yellows to more vibrant canaries and primroses, they are at the centre of attention, bringing a serene effervescence to the beginning of the year.
Read also: