FRANK SANS C VIDEO
Cupid strikes again…
Or should we say Frank Sans C strikes again! For this video, our tick-tock romantic plays Cupid and introduces a panel of Valentine's Day themed watches for every budget. You'll love them, you'll love them not... Just kidding, of course you'll love them.

By Chloé Redler
DIOR – GEM Dior Aragonite
From the creative mind of Dior Joaillerie designer Victoire de Castellane, the GEM Dior collection is a nod to "J'aime" – French for "I love", of course. The bracelet features a deconstructed, asymmetrical profile that evokes the fabric swatches pinned on paper by Monsieur Dior for his haute couture runways. (See our article on Gem Dior for a further look into this watch).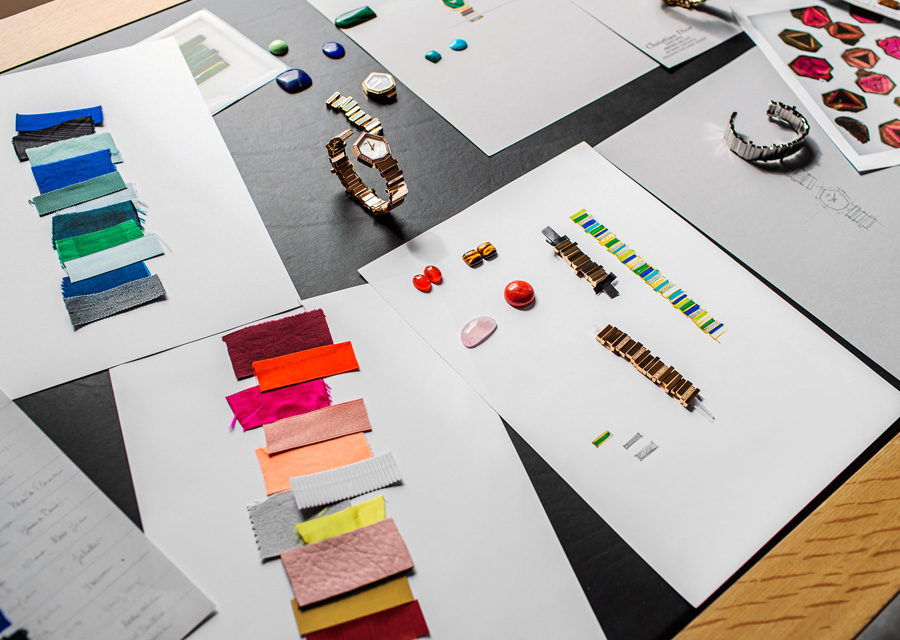 The GEM Dior, redesigned many times over since its creation, showed up on the set of Frank Sans C decked out in pink gold from head to toe. Its remarkable dial was crafted from aragonite, a mineral found in some volcanic rocks. When put under ultraviolet light, it turns candy pink, or even fluorescent pink. Maybe one of the Maison's well-kept secrets… Maybe not. 31 round-cut diamonds are mounted on the bezel of this luminous 27mm piece, also featuring an aragonite insert. For evening wear, the watch also comes with an additional black alligator leather strap and pink gold accents, paved with six diamonds. Simply marvellous.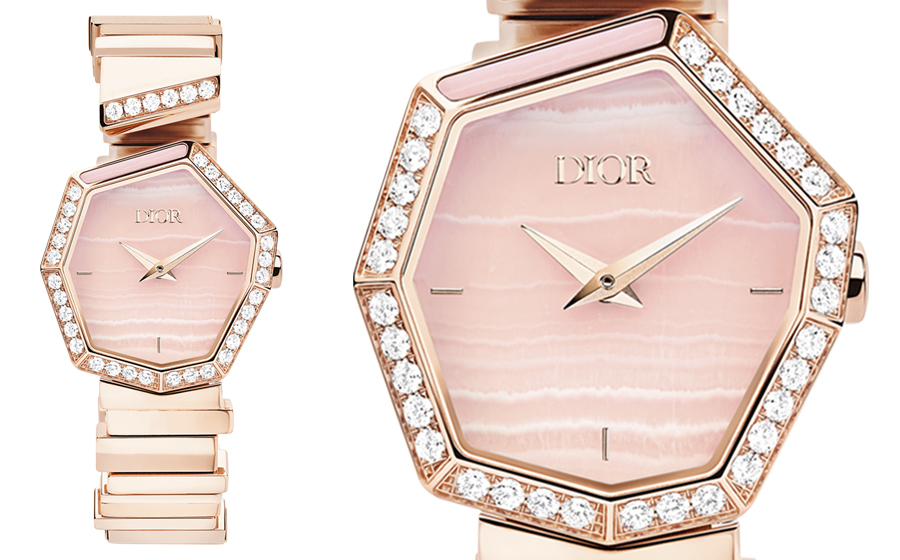 Price: €35,000
Technical specifications:
Case: 27 mm in pink gold
Pink gold bezel set with 31 diamonds (0.56 ct), aragonite insert
Anti-glare sapphire crystal
Pink gold crown
Aragonite dial
Polished pink gold Dauphine hands
Pink gold asymmetric links, end link set with six diamonds (0.15 ct)
Additional interchangeable black alligator leather and pink gold-finish strap set with six diamonds (0.17 ct)
Quartz movement, ETA E01.001 calibre, Swiss Made
Functions: Hours – Minutes
Water resistance: 30 m
VIGILO – La Bella Vita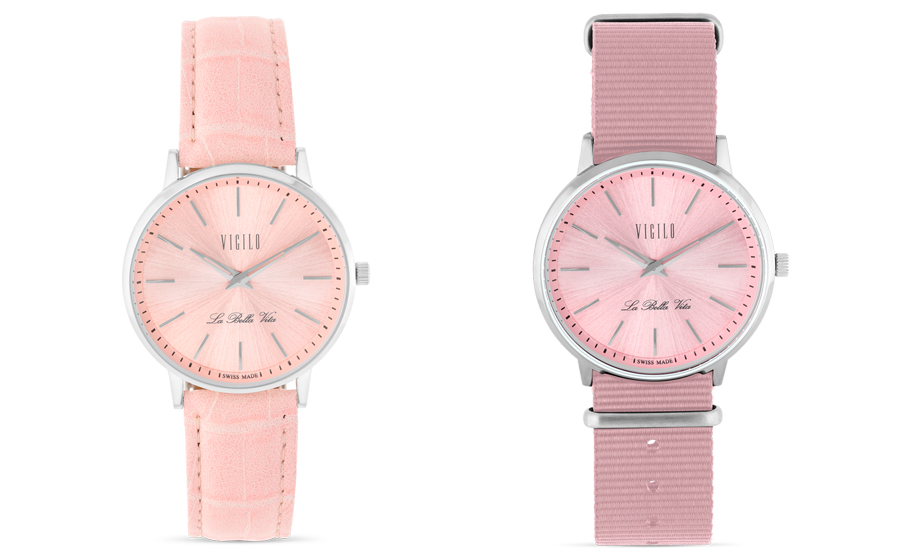 Vigilo's latest collection, an homage to the 60s , introduces the "Bella Vita" watch in a range of five colours, including candy pink. Already glimpsed on Frank Sans C's Christmas list, this elegant, refined model features a system of interchangeable straps (imitation leather or NATO). The 40mm steel piece offers great value for money and can be engraved on the back to make a truly personal gift.
Price: €289
Technical specifications:
Quartz movement, Ronda Swiss made
Case: 40mm in 316L steel
K1 glareproof mineral glass
Interchangeable straps, NATO-style and imitation leather
Water resistance: 30m (rain-proof)
Edition limited to 100 pieces per colour
Unique number engraved on the case back
CHOPARD – Happy Hearts, Valentine's Day edition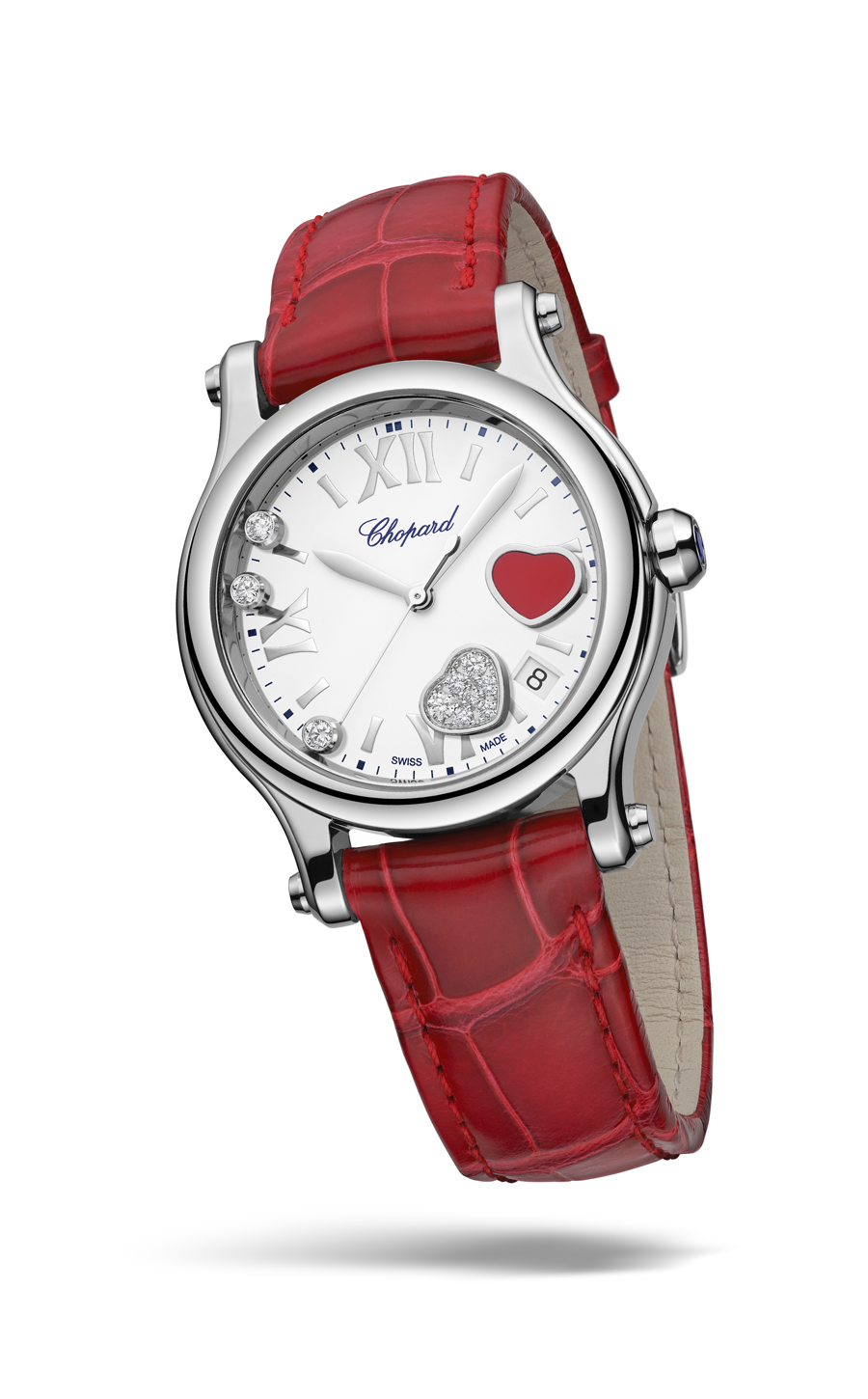 A happy marriage of the Happy Sport and Happy Hearts collections, this 36mm steel Valentine's Day edition is a watch after our own heart . A captivating spectacle plays on its dial: three diamonds, a diamond-set heart and another red heart twirl and swirl around each other in a loving ballet. Time takes a back seat . Chopard is known for its watchmaking expertise, so it's a pity the heartbeat of this watch is not a mechanical calibre. However, this is soon forgotten when looking at its exquisite finishes. To make it absolutely perfect, this alluring, glamorous reference is offered on a red alligator leather strap.
Price: €7,290
Technical specifications:
Case: 36mm in steel
Water resistance: 30m
Polished steel crown, set with a blue sapphire cabochon
Polished steel bezel
Glareproofed scratch-resistant sapphire crystal
Quartz movement
White dial
Hands: conical and rhodium-plated
Rhodium-plated centre second
Functions: hours, minutes and seconds
Date aperture located between 4 and 5 o'clock
Red alligator leather strap
Standard pin buckle for swapping straps easily
BREGUET – Classique Phase de Lune 9085 – Valentine's Day edition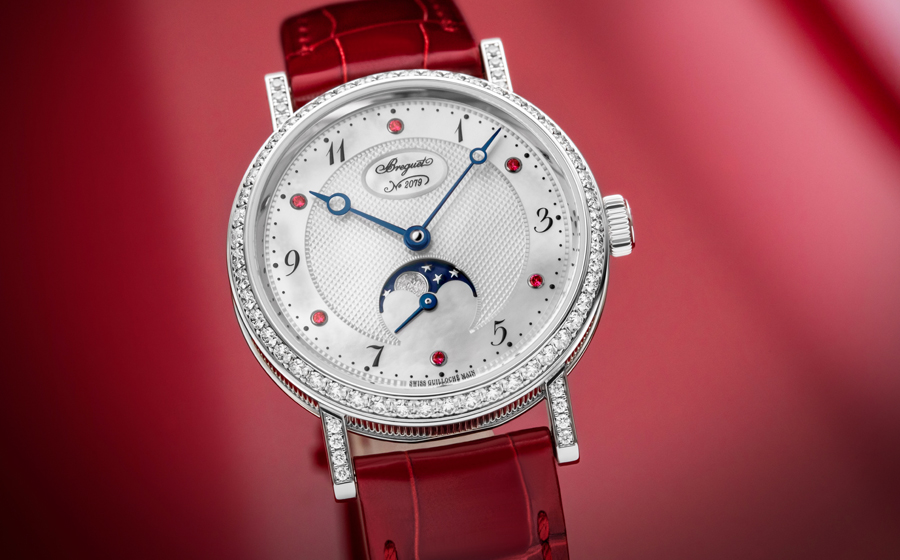 It's not quite the cherry on top, but it deserves its place under the spotlight. The Classique Phase de Lune 9085 by Breguet, specially offered for Valentine's Day, boasts a 30mm white gold case, with a bezel and lugs set with 66 diamonds. All eyes are on the dial, a perfect testament to the expertise of the manufacture's guilloché work artisans. A moon phase, placed at 6 o'clock, stands out against a white mother-of-pearl backdrop. Meticulously hammered by hand, surrounded by a lacquered midnight blue sky, studded with tiny gold stars.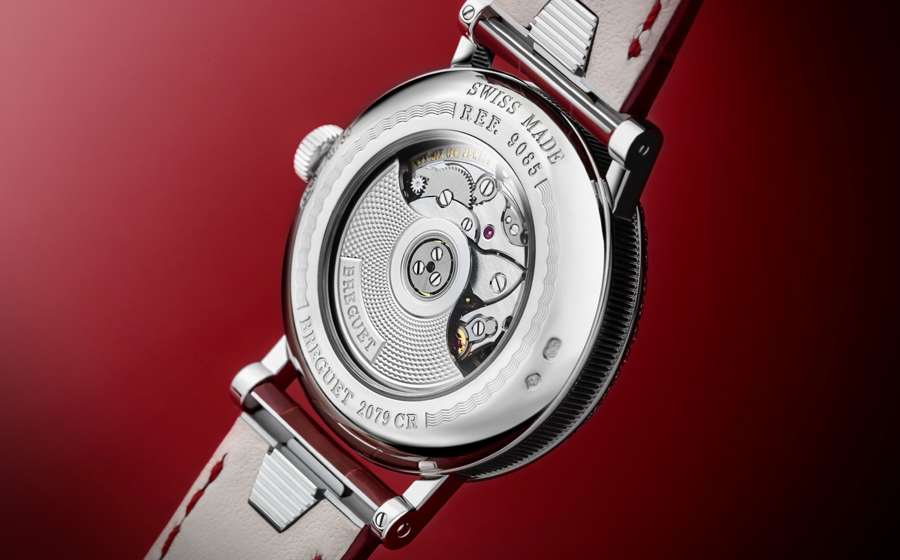 Beauty is not just skin deep – the inside of the watch is just as fascinating, with a manufacture self-winding calibre, which boasts a 45-hour power reserve. Adorned with Côtes-de-Genève, it contains a gold oscillating weight, with hand guilloché work in a "grain d'orge" pattern, as well as an anti-magnetic silicone balance spring. A small masterpiece of a watch, limited to only 28 pieces, the perfect gift for an unforgettable Valentine's Day.
Price: €36,900
Technical specifications:
Case: 30mm in 18-carat white gold
Sapphire case back
Bezel and lugs set with 66 diamonds
Dial: white mother-of-pearl, guilloché-worked by hand
Functions: hours, minutes, small seconds, moon phase
Self-winding movement, gold oscillating weight
Inline Swiss Made anchor escapement, escape wheel and silicum flat spiral
Water resistance: 30m
537L calibre
Frequency: 3.5 Hz
45-hour power reserve
Red alligator leather strap, plus a pearly white alligator leather strap, both with pin buckles, included in the Valentine's Day box.
CIVO, Valentine's or nurse's watch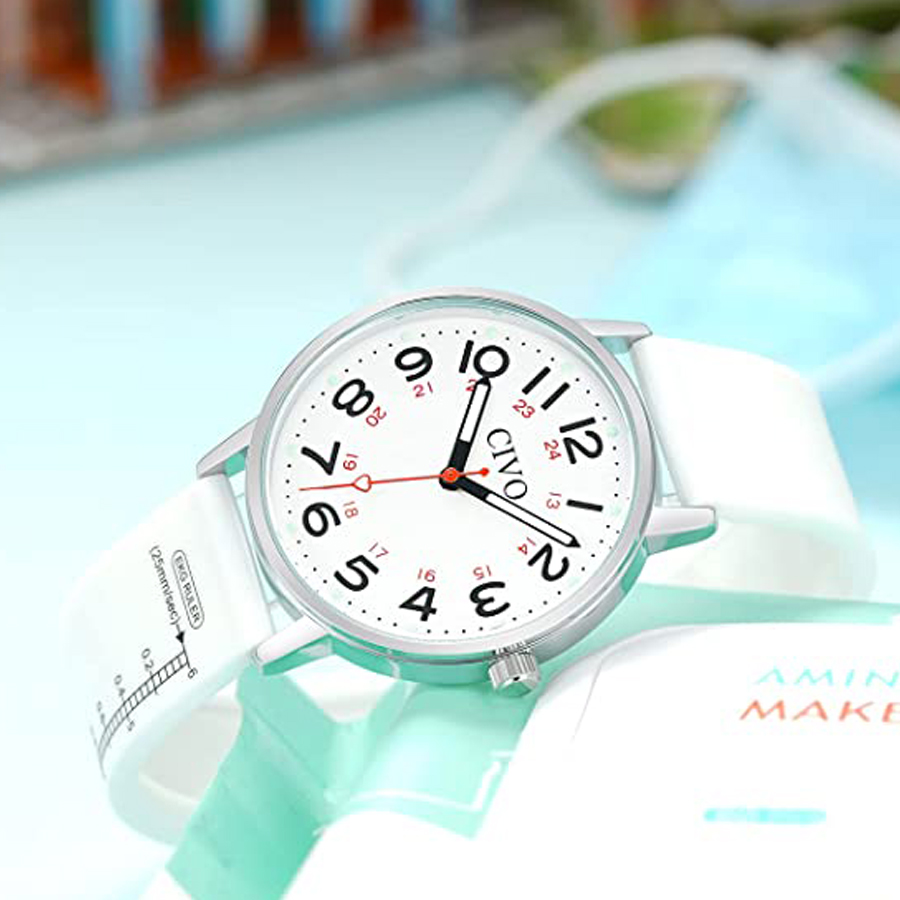 The Civo watch, found on Amazon, comes with its little story. Frank Sans C thought it was just an affordable little watch launched for Valentine's Day, and picked it for the video. But as he was preparing for the show, he soon realised that the little heart on the seconds hand was not a symbol of love, but rather a nod to the medical community. This "nurse's watch" displays an ECG (electrocardiogram) on its silicone strap, used to count heartbeats. In any case, it'll make a perfect gift if your loved one happens to be a nurse.
Price: €22.99
Technical specifications:
Quartz movement
38mm steel case
White dial
Hands and hour markers coated in luminescent material
Water resistant to 30 meters
Silicone strap with ECG function
FOSSIL – a ring watch or a watch ring?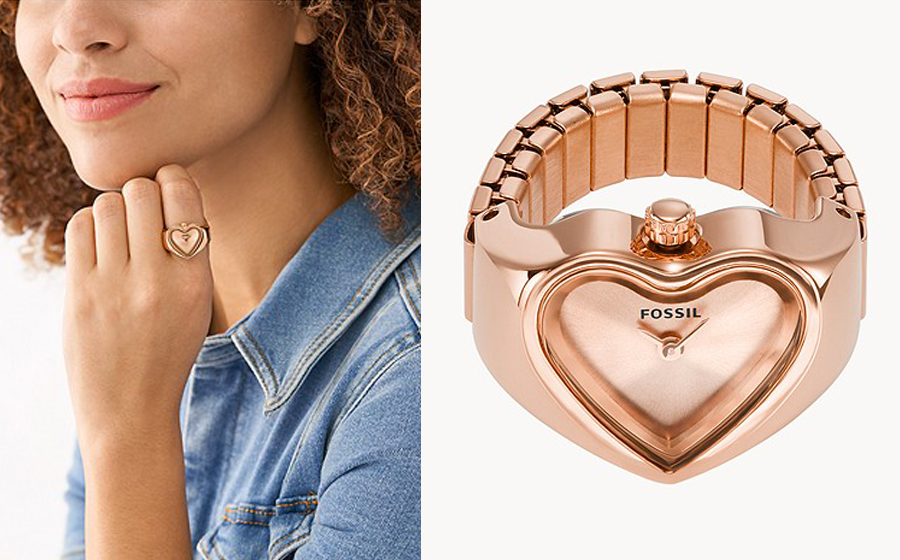 Good question, although we'll let you think about it in your own time. The heart-shaped case says it all. In rose gold-plated steel, it houses a dial displaying the time with small, delicate hands. Minimalist, yes, but still easily visible. This adorable accessory boasts an expendable mini bracelet, able to hug every finger. You've got time… wrapped around your little finger.
Price: €109
Technical specifications:
Quartz movement
15mm steel case
Water resistance: 50 meters
Bracelet width: 6mm
Expandable bracelet
SWATCH – Recipe For Love, Valentine's Day edition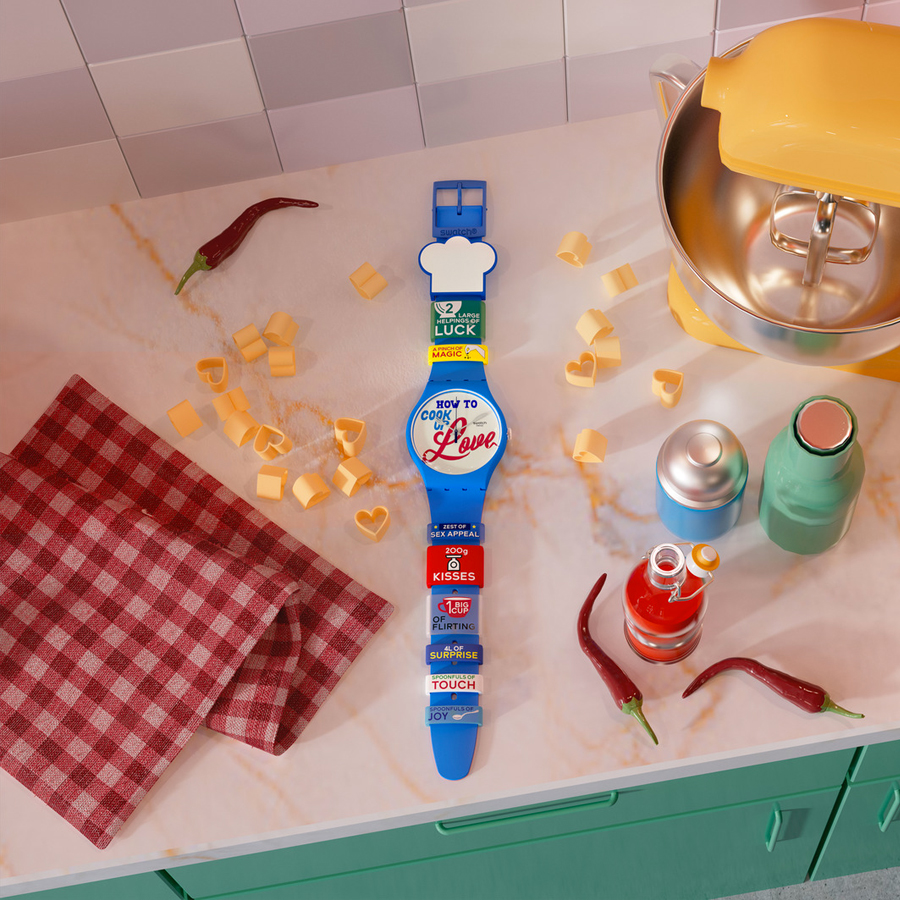 One quartz movement. One silicone strap. Biscuit box wrapping pattern on the inside of the strap. Knife and fork-shaped hands. One case and clasp, plastic. One pin buckle. Recipe-themed packaging. Water resistant to 30m. Here are the ingredients of the new Swatch: Recipe For Love. Cooked up especially for Valentine's Day, this watch will win your heart in the best way: through your stomach. It can be customised according to your mood with several loops, each with a cute message on it: "200g kisses", "1 big cup of flirting", "2 large helpings of luck", etc. Who's hungry?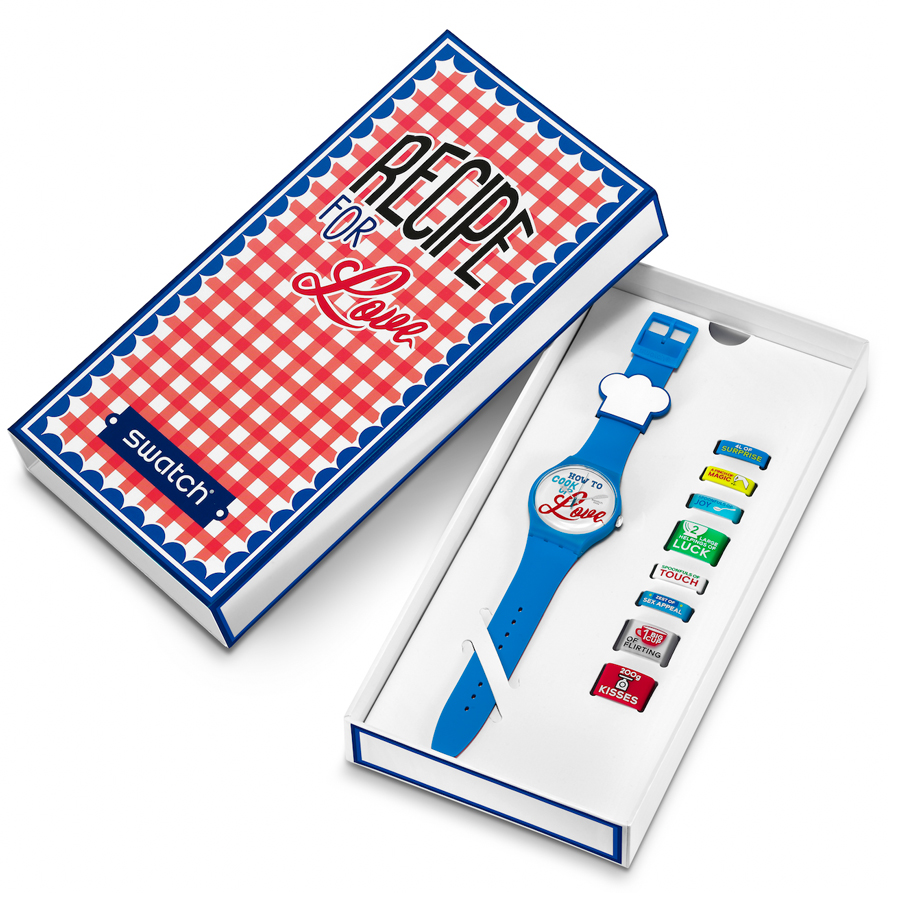 Price: €110
To close this selection of very feminine pieces, here's something for the gents. If you're at a loss to figure out what to give the watch collector in your life, look no further than the watch rolls from Avel & Men, founded by brother and sister Xavier and Agnès Broise. Named "Ploumanac'h" (three watches) and "Cannes" (six watches), this fine accessory is crafted from high-quality, full-grain Italian leather. They come in several colours: red, black, orange, blue, chocolate.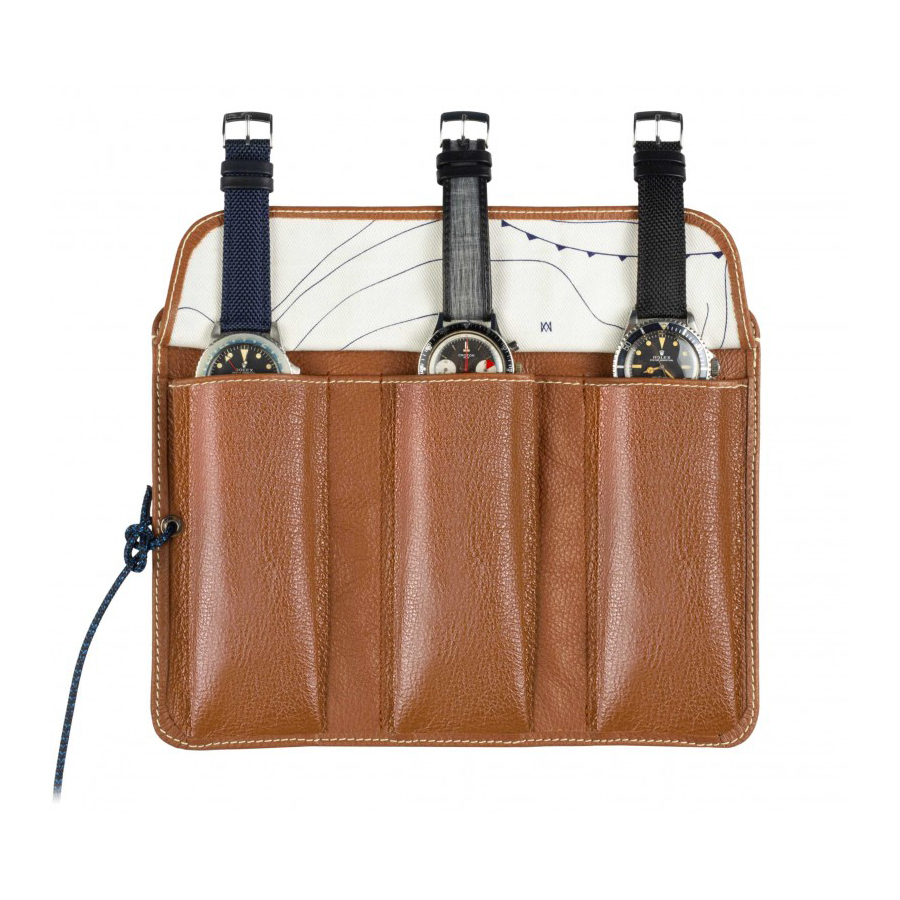 Ploumanac'h watch roll – €149
Cannes watch roll – €199
Watch collector's essential – Valentine's Day gift idea
As Frank is fond of saying in his videos, a watch winder is a watch collector's best friend. Especially if your automatic timepieces have a QP (Quantième Perpétuel) complication. Today's selection does not feature such a model, but it's always a great idea for a Valentine's Day gift. This one passes with flying colours: all colours and all prices can be found at the boutique of friend of the show Jean Lassaussois, rue de Rennes, Paris!
THE LASSAUSSOIS WEBSITE: LES MONTRES – LES BIJOUX
See also:
Read also: