A SENSE OF CANNAGE
D My Dior… J'adore!
The new La D My Dior collection perfectly translates Victoire de Castellane's enchanting and overflowing imagination with its striking Cannage motif. This design styled by Dior's jewellery and watchmaking Artistic Director shows up on five creative, glamourous variations.

By Chloé Redler
La D My Dior, full Cannage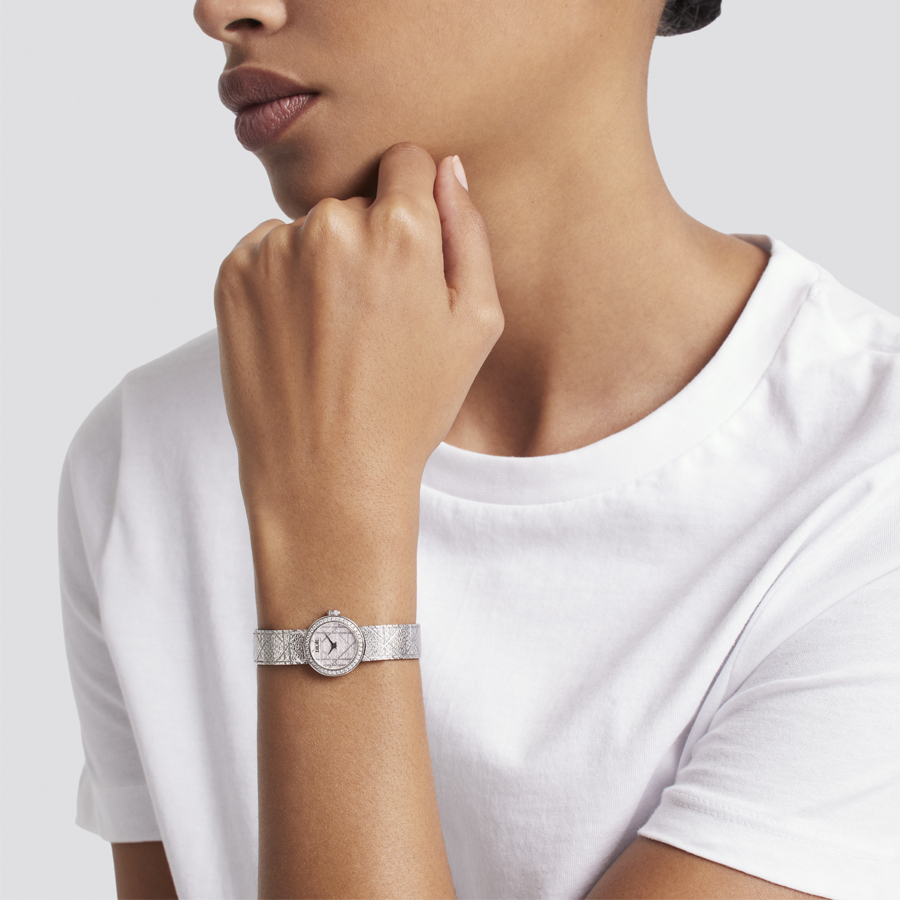 The La D My Dior collection, which is the perfect symbiosis between the iconic La D de Dior collection and Dior's emblematic Cannage motif, was inspired by Christian Dior's favourite decorative chairs. After these were used at his first 1947 fashion show, their motif stayed in his mind, as he appreciated the simplicity and elegance of the lines. It also left an impression on young Victoire de Castellane, who remembers visiting the iconic Avenue Montaigne boutique with her mother as a child and admiring the Napoleon III chairs with seats in Cannage.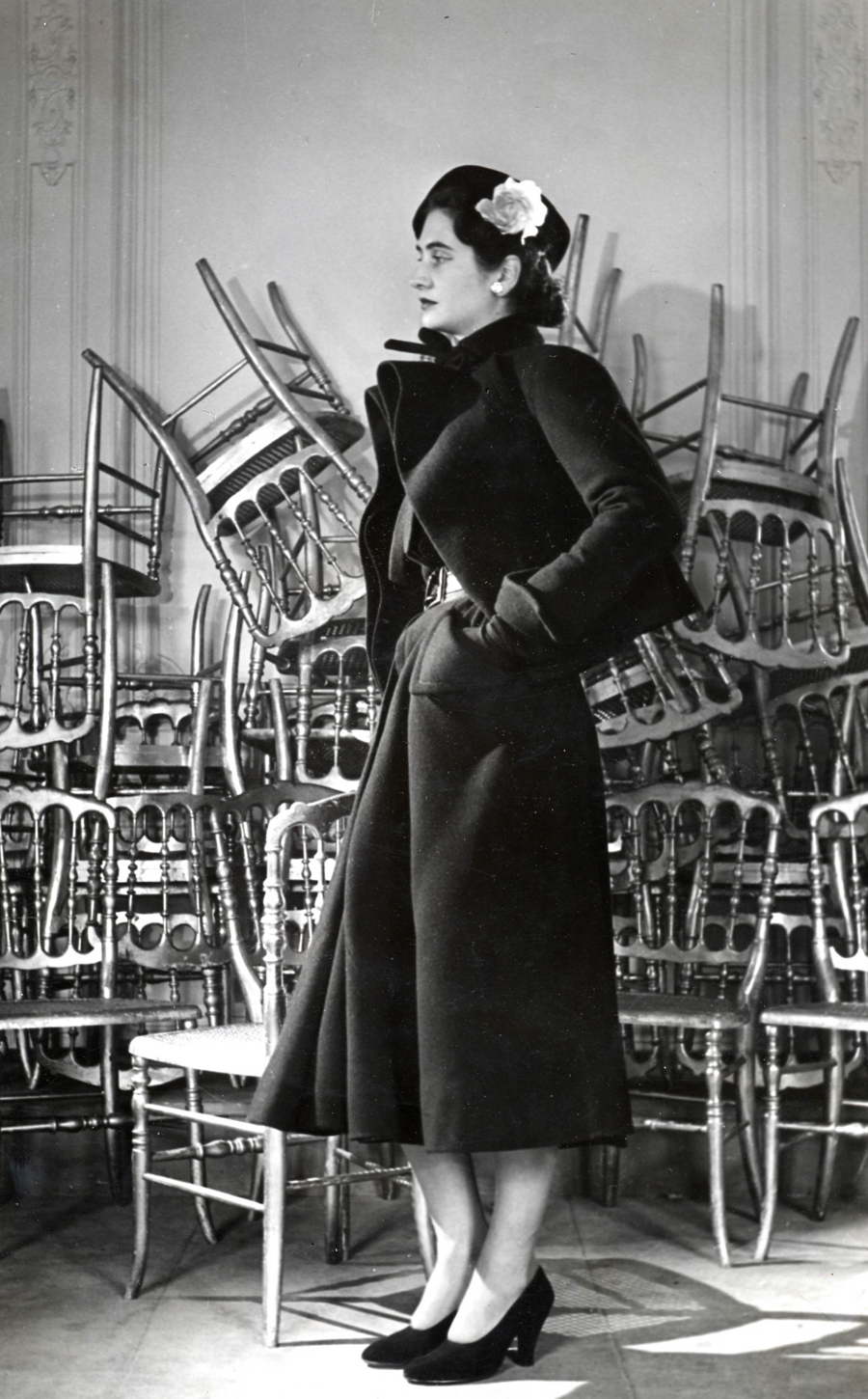 Revisiting the icon
Twenty years after the La D de Dior, the stylist reinterpreted her creation by adding the distinctive geometric lines of the Cannage motif. The absence of lugs, which makes for a way purer and more flexible design around the wrist, keeps the spirit of the original collection while the La D My Dior watches display the iconic motif on the bracelet and all the way through the dial. This creates a striking visual effect as the metal strap seems to be going through the case. This feat was achieved meticulously, given that the yellow gold Cannage was entirely hand-engraved as per the tradition of Haute Couture Maison.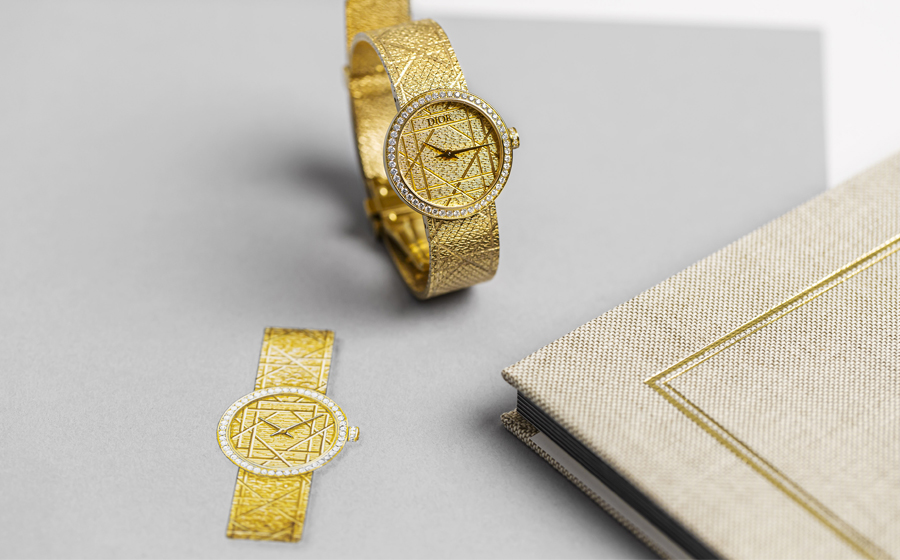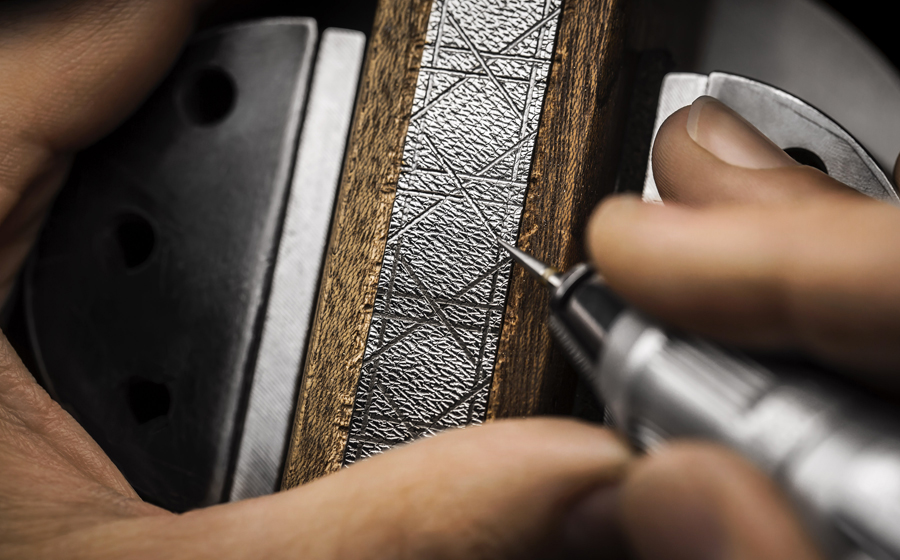 The La D My Dior comes in two variations – 19-mm and 25-mm – in yellow gold (two versions with a set bezel) or in steel (two set-bezel versions and one non-set-bezel version).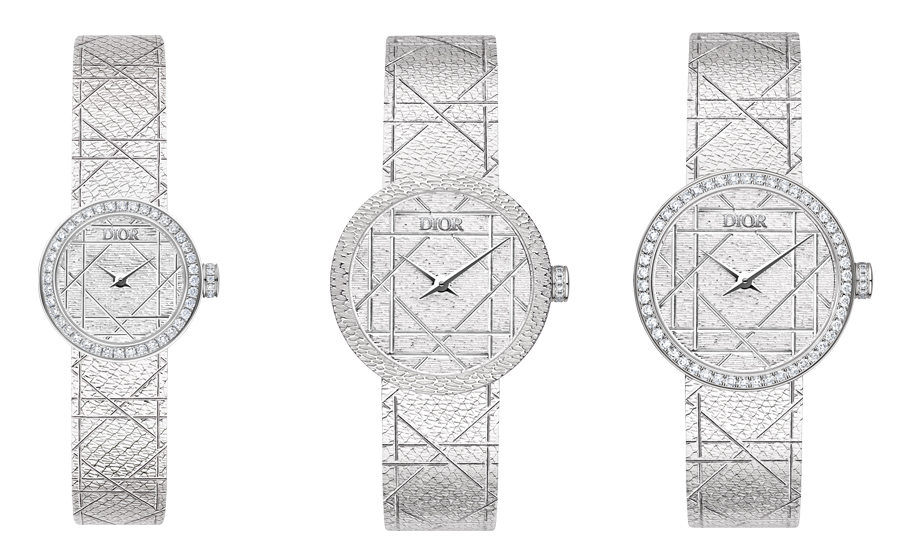 We have not yet seen the last of this precious quintet, powered by a finely crafted Swiss-made quartz movement.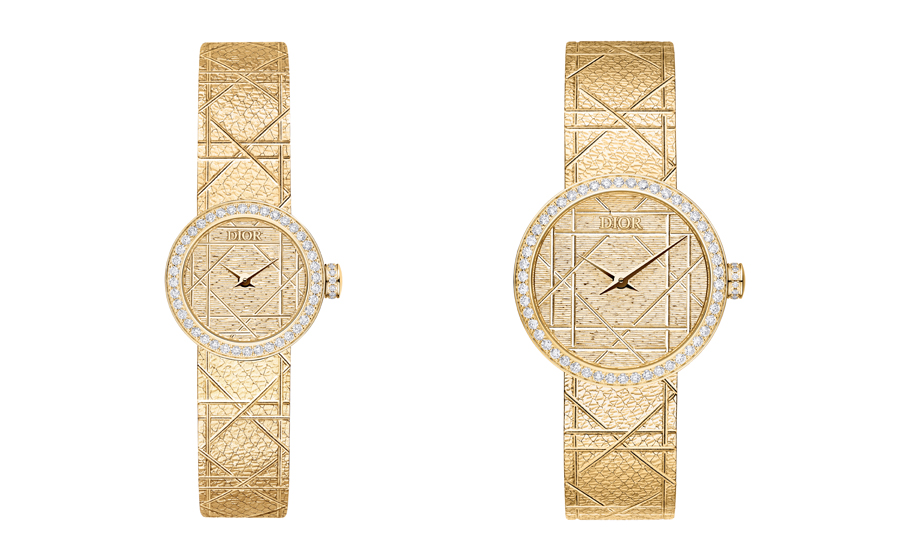 In steel – set bezel – 19 mm – €5,000; in steel – set bezel – 25 mm – €7,200; in steel – non-set bezel – 25 mm – €4,200.
In gold – set bezel – 19 mm and 25 mm – price on request.
Click here to read the La D My Dior full technical sheets.
Showstoppers
La D My Dior is a perfect opportunity for Frank Sans C to reveal two exceptional pieces from the La D de Dior collection. Today, we have not one but two showstoppers on set, with the La D de Dior Rose Céleste and the La D de Dior Rose Couture:
D de Dior Rose Céleste
When Dior makes Sun and Moon collide, we get the La D de Dior Rose Céleste.
As a tribute to Monsieur Dior's passion for divination and astrology, the 25-mm piece displays a mother-of pearl dial under the warming light of a Sun in embossed, gilded and meticulously chiselled metal. The nine dazzling sunrays of different sizes stretch out and peak at the rehaut, which gives off the illusion that they are going to shine beyond the case.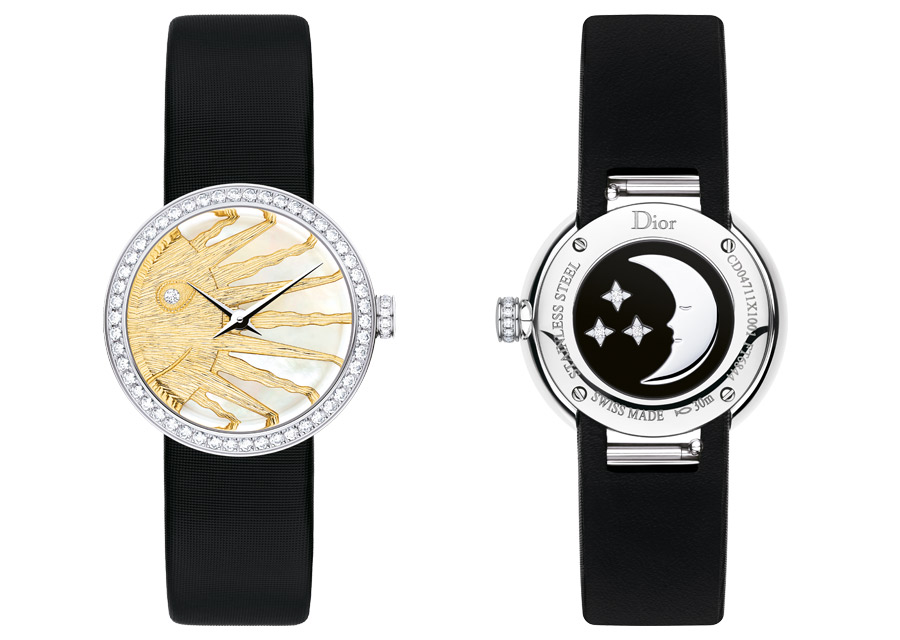 The day Sun, beautiful and dazzling, displays a diamond-set eye calmly watching over the owner of the watch. It is however outshined by a night Moon, which mirrors it on the other side. This polished Moon, with three side diamond-set stars, settles on a black steel caseback. Day and night, this poetic edition is worn on a black satin strap, full glam.
€5,600
Technical details:
Steel case, 25 mm
Steel, diamond-set bezel and crown
Black steel caseback decorated with a Moon and set with three diamonds
Interchangeable strap system
Mother-of-pearl dial with a Sun in embossed, chiselled metal
Diamond-set eye
Polished Dauphine hands
Black satin strap / Steel pin buckle
Swiss Made quartz movement
Functions: hours and minutes
D de Dior Rose Couture
With the La D de Dior Rose Couture, the luxury household managed to transpose the world of Dior Haute Couture onto a single, intense, black, onyx dial where three roses in rose gold and diamond bloom and thrive.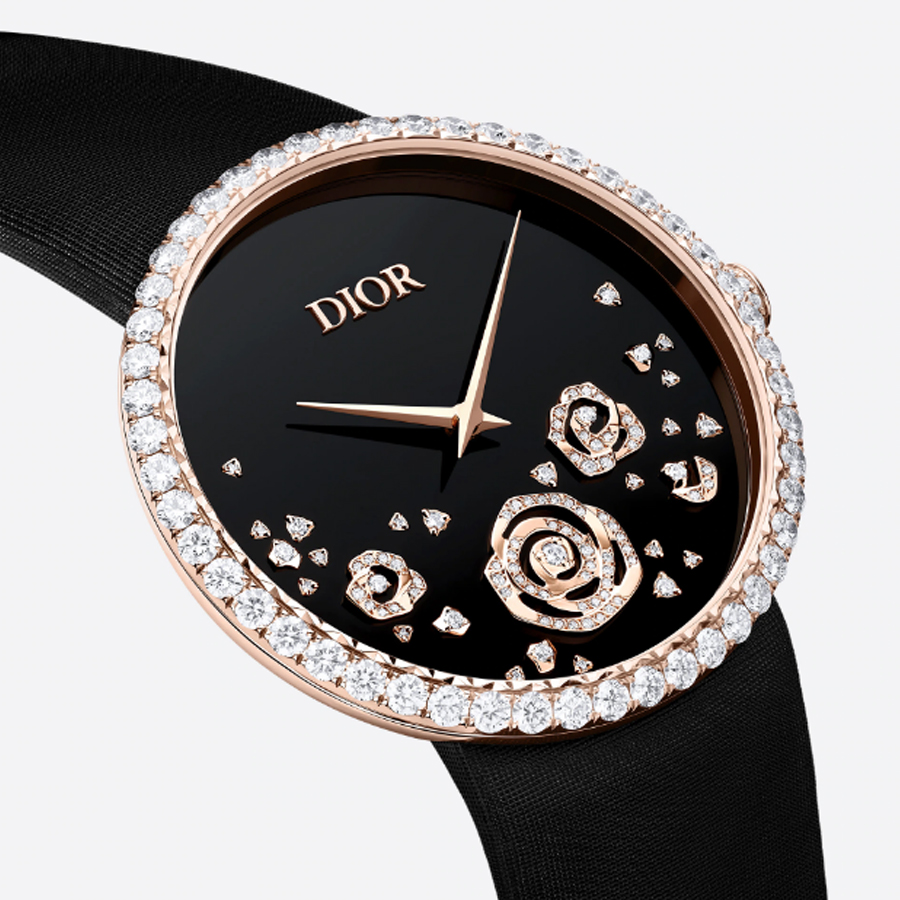 Styled and enhanced through Victoire de Castellane's vision, the delicate rose petals seem to have been scattered by the wind. The piece, which was inspired by Christian Dior's rose designs, is a perfect example of a dress watch. Even more so with its black satin strap equipped with a rose gold pin buckle set with 26 diamonds. It is perfectly in sync with the rose gold bezel set with 50 brilliant-cut diamonds and the Dauphine hands crafted in the same precious stone. Haute Couture all around your wrist…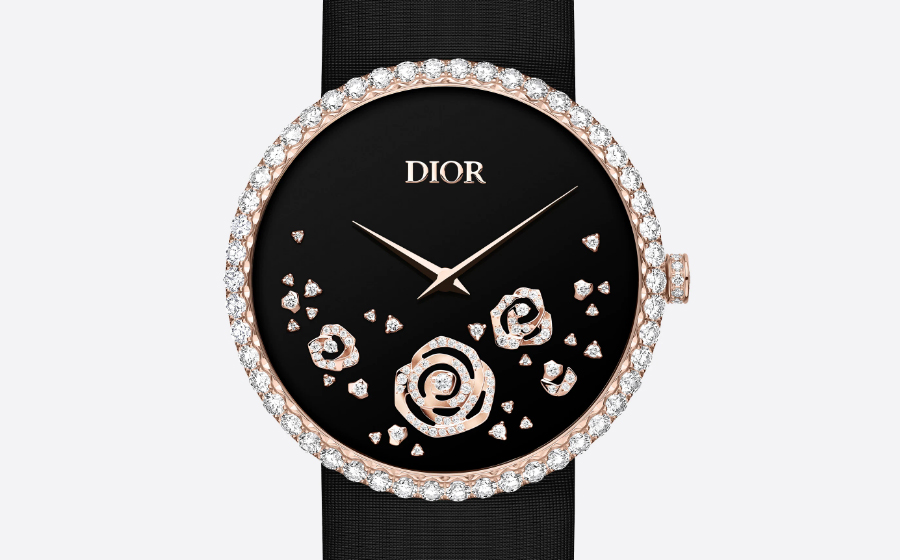 €55,000
Technical details:
Rose gold case, 38 mm
Crown set with 18 brilliant-cut diamonds
Rose gold bezel set with 50 brilliant-cut diamonds
30-m water resistance
Onyx dial decorated with roses in rose gold set with 96 brilliant-cut diamonds
Rose gold, polished Dauphine hands
Sapphire crystal with anti-reflective treatment
Black satin strap / Rose gold pin buckle set with 26 brilliant-cut diamonds
Quartz movement
Functions: hours and minutes
See also:
Read also: