EPISODE #2
G-Shock 40th anniversary
G-Shock is back in this second, long-awaited show. On today's schedule, plenty of new arrivals, exclusive collaborations and most importantly, exceptional pieces specially made for the 40th anniversary of this legendary watch. In charge: a "fanatic" Frank Sans C, a "passionate" Xavier de la Croix and our "G-Man", Guillaume Jeanne.

By Chloé Redler
The new collections
GM-B2100D-1A, full metal
Teased by our tick-tock fanatic during last week's show with the iconic model by Casio, the GM-B2100D-1A analogue watch comes back in multiple high-quality, metallic, ion-plated variations: gold, rose gold, black and gleaming silver. This piece displays an elegant and streamlined design and an octogonal case. It is thinner than other G-Shocks (49.8 x 44.4 x 12.8 mm) but is not any less resistant.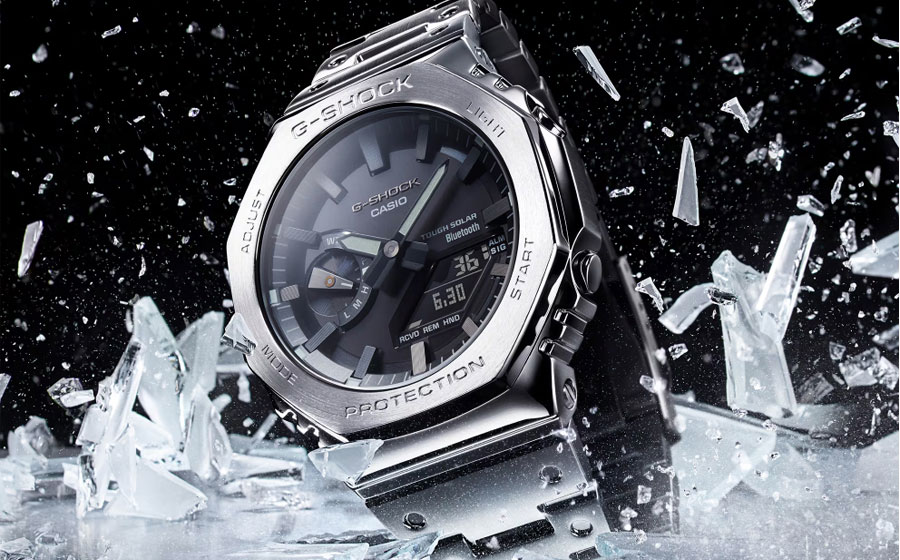 The shock-resistant structure of the watch increases its toughness. It includes buffering components in fine resin installed between the bezel and the case to protect the module. Far from just having multiple coloured versions, these models also display multiple functions powered by a solar movement: 38 time zones, a countdown, double lighting and an LED backlight, a complete calendar, a 1/100 second chronometer and so on. Like all other G-Shock models, this screwed-in caseback version also comes with a 200-m water resistance. The wearer is free to practise extreme water sports like kiting, surfing, jet-skiing or diving.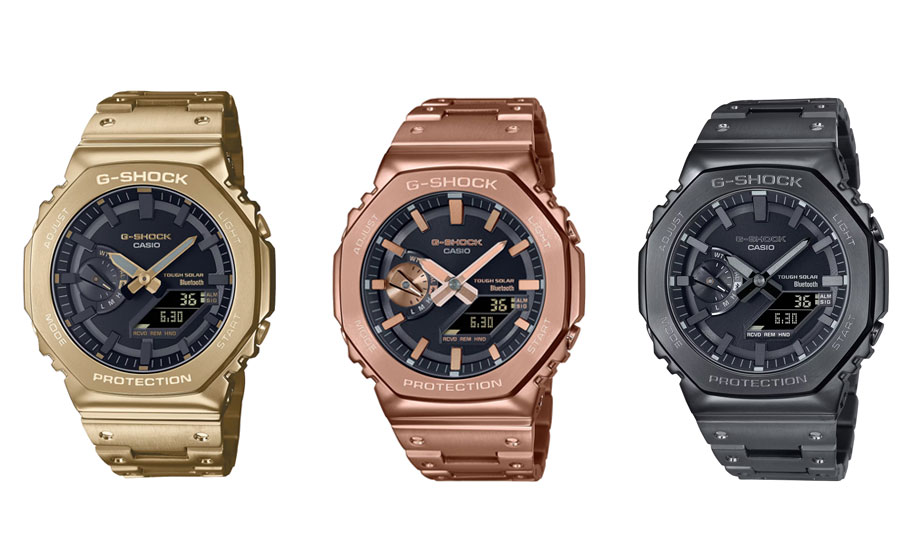 Starting from €549
Click here to read the GM-B2100D-1A full technical sheet.
GW-M5610-1: reinterpreting the first G-Shock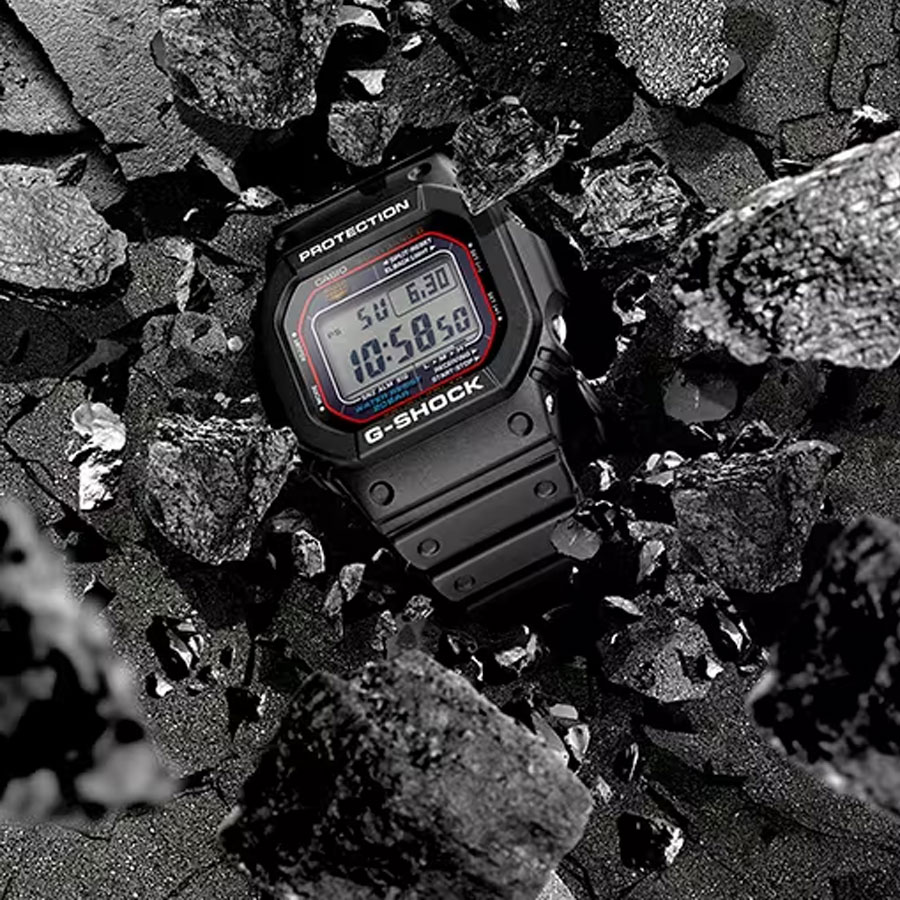 The ever-trendy GW-M5610-1 is the reinterpretation of the first G-Shock, introduced in the 1980s. Although the watch had a disappointing start, the tables turned and in a few decades, it became one of Casio's iconic models. Now, the collection welcomes many new coloured variations. These go from flashy nuances to bright colours and more conventional shades like black, khaki, grey or white – most often decorated with gold or silver. This radio-controlled model can be set on a smartphone through Bluetooth pairing.
Starting from €99.90
Click here to read the GW-M5610-1 full technical sheet.
MTG-B3000CX-9A, Lunar New Year special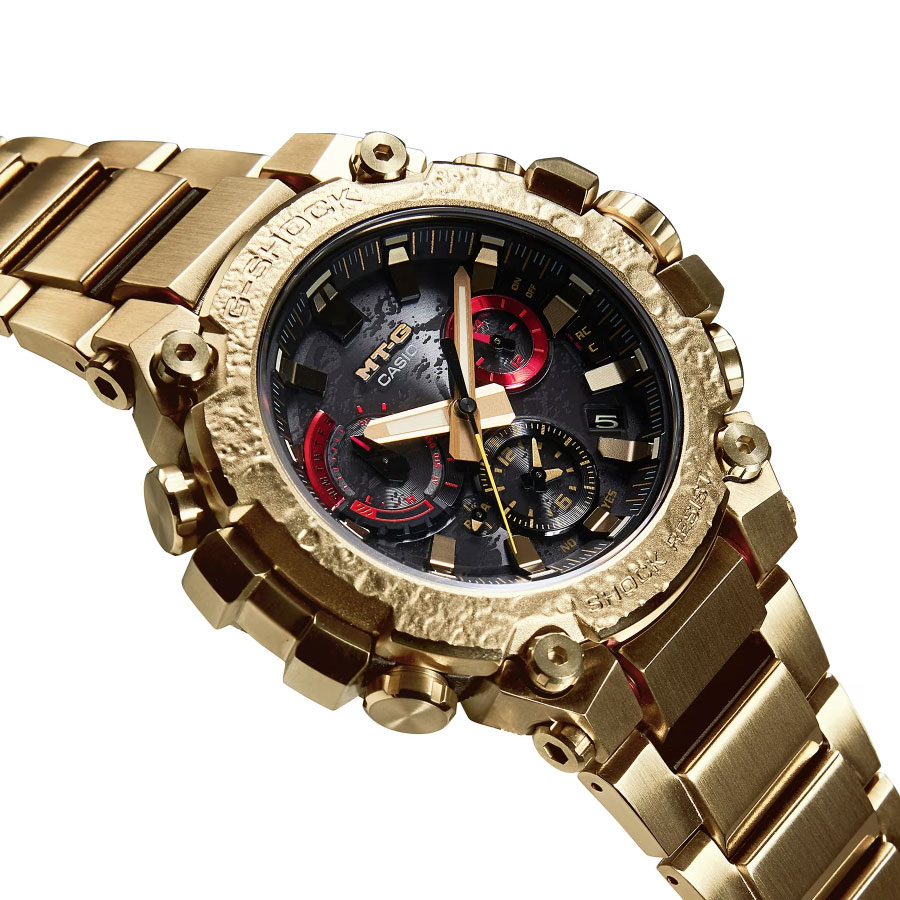 2023 is the year of the rabbit. Like its fellow watchmaking Maisons which introduced their Lunar New Year special edition, Casio launches the MTG-B3000CX-9A G-Shock. Its impressive 51.9-mm case was crafted in resin and reinforced with carbon fibres. As for the steel bezel, it displays a distinctive texture which emulates the surface of the Moon. This light instrument (148g) was coated with gold (Ion Plating Gold) through an ion plating process. It answers all the "Triple G Resist" specifications with its resistance to shocks, centrifugal forces and vibrations. This piece with an atypical design was also prepared to extreme conditions for it is equipped with the Bluetooth radio-control system and can be charged with solar or artificial light.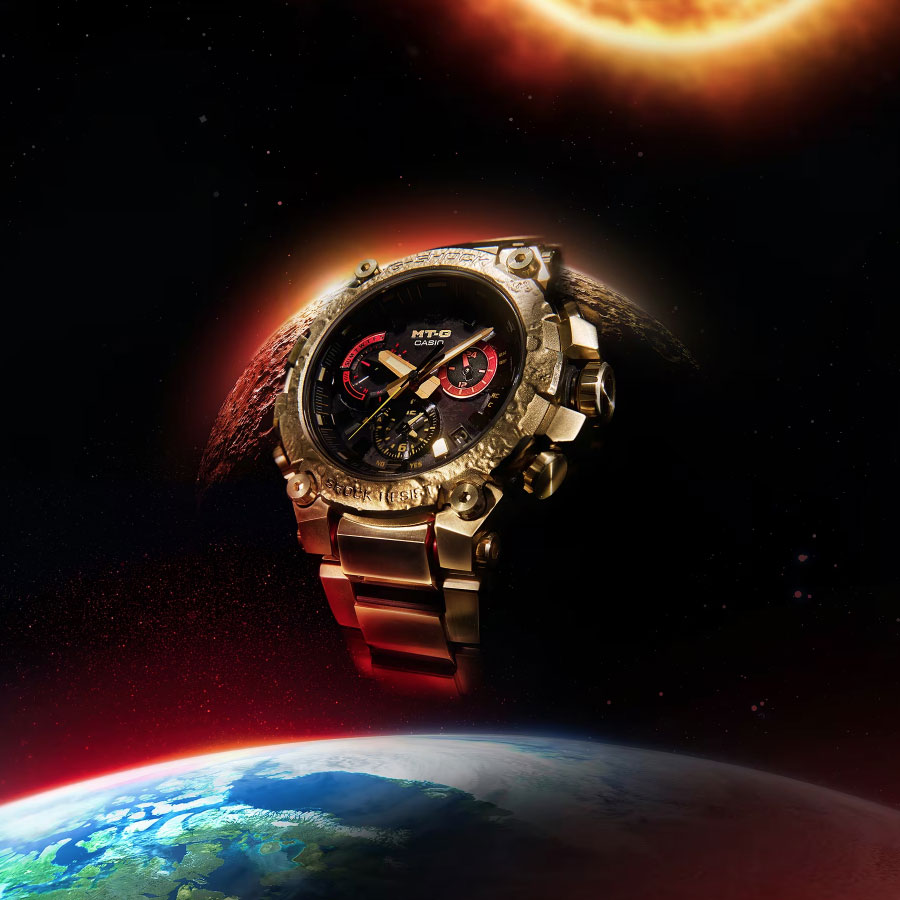 €1,250
Click here to read the MTG-B3000CX-9A full technical sheet.
Collaborations on a plate
G-Shock for special forces
G-Shock has committed to a partnership with the Paris Fire Brigade in the hope of sharing values with these soldiers of the fire. Who have one motto: "to save, or to perish". The GW-9400BSPP-1ER was equipped with our heroes' must-have tools: a thermometer, a barometer, an altimeter (10,000 metres), a compass, solar power, world time and radio-control system.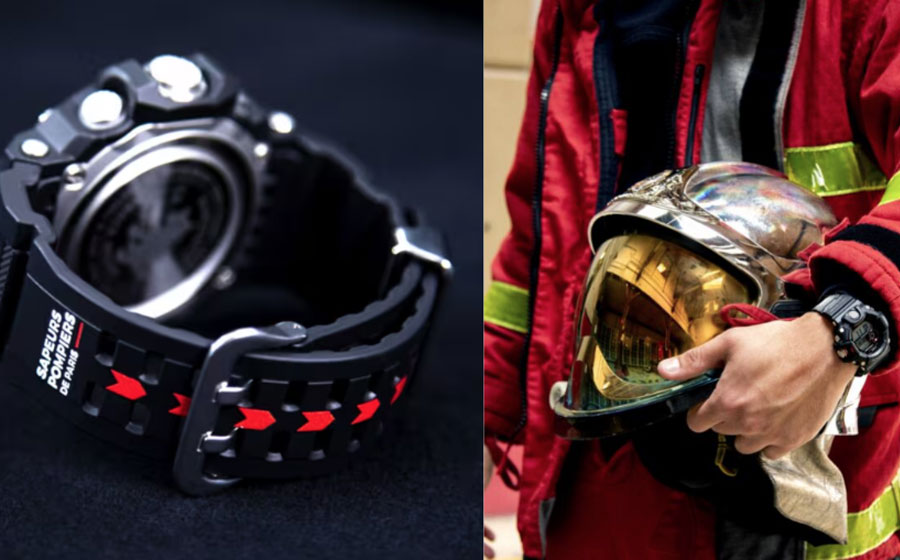 This instrument and loyal companion during training and interventions boasts an ultra-resistant case and a dial protected by mineral glass. As for the bracelet, it displays the colours of the Paris Fire Brigade (BSPP).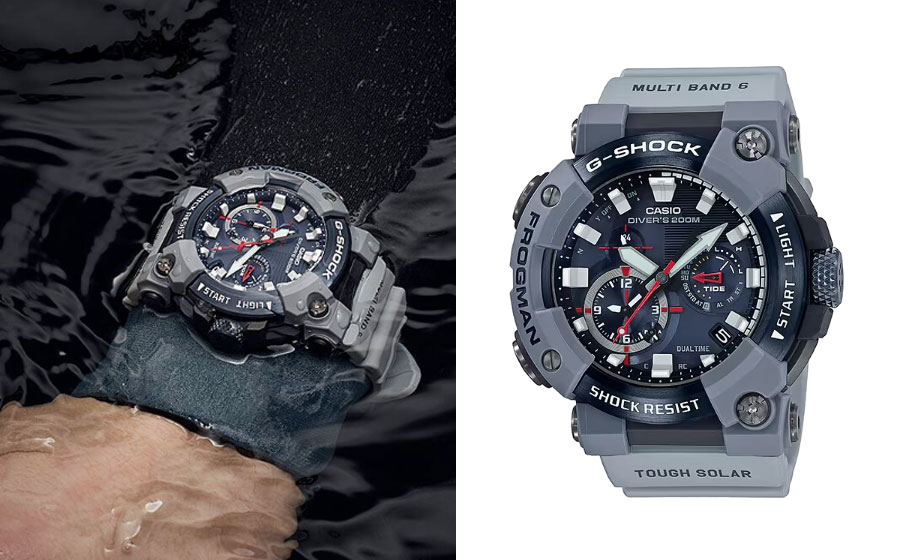 Another, just as important collaboration was launched as a limited edition of the Frogman, with the English Royal Navy. It displays a distinctive resin dial reinforced with carbon fibres. The screwed-in crown and caseback, luminescent hands and indices for optimum visibility even in deep waters and the 200-m water resistance make the GWF-A1000RN a true diving watch. Besides all its functions, this streamlined piece was also inspired by the design and colours of the HMS Queen Elizabeth aircraft carrier.
The G-Shock, fashion accessory
The G-Shock by Casio, which has been a tool watch ever since its creation, has also become a must-have fashion accessory throughout the years and is now a global phenomenon with multiple collaboration variations.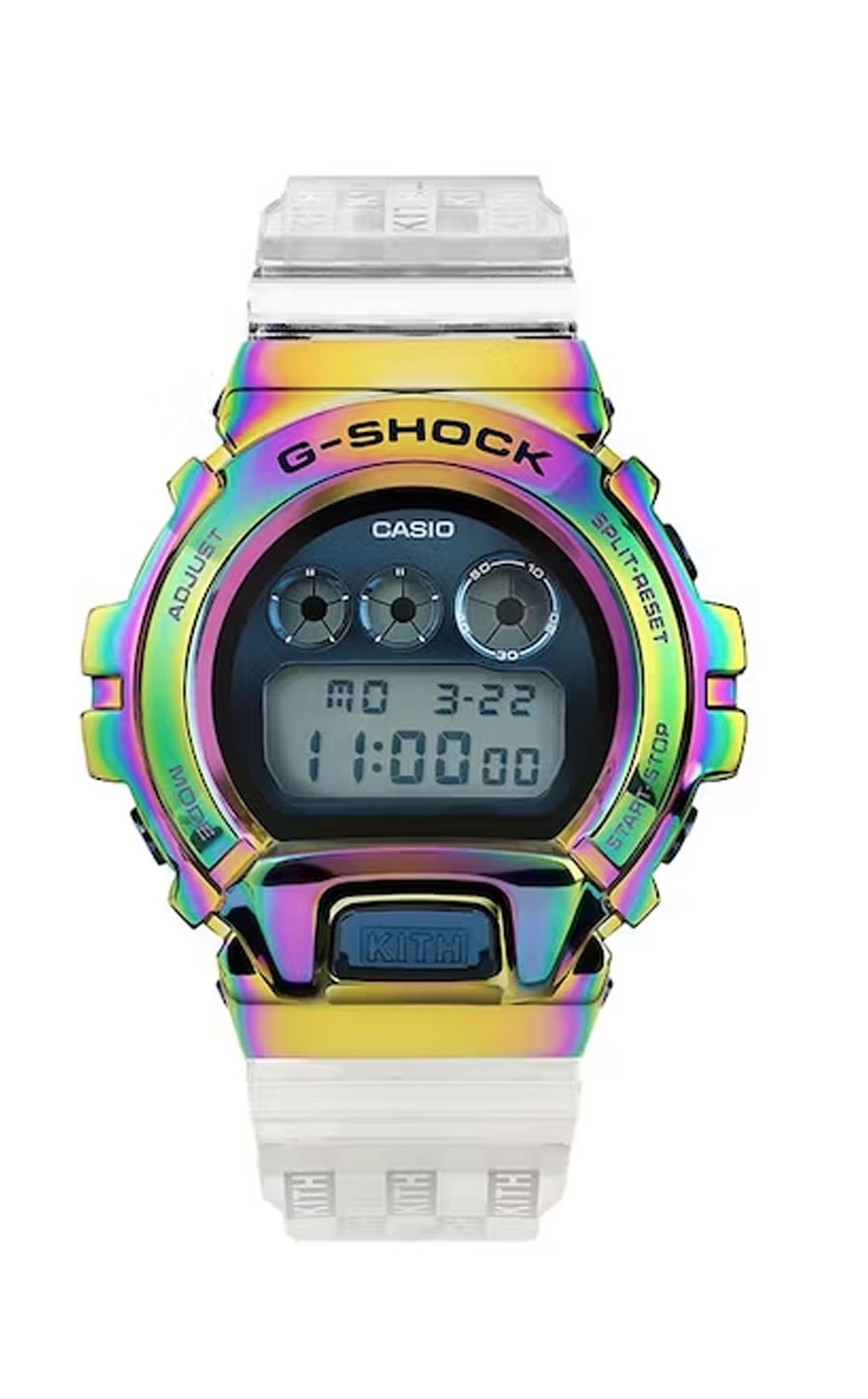 All these partnerships are extremely unique and even surprising with their distinctive, limited, exclusive editions, all coveted by the fashion industry. Here are some of its most awaited collabs with KITH or Bamford watch. The watch also took daring steps on the runway around the wrists of models from the biggest names in couture, like Margiela or Yohji Yamamoto to name but a few.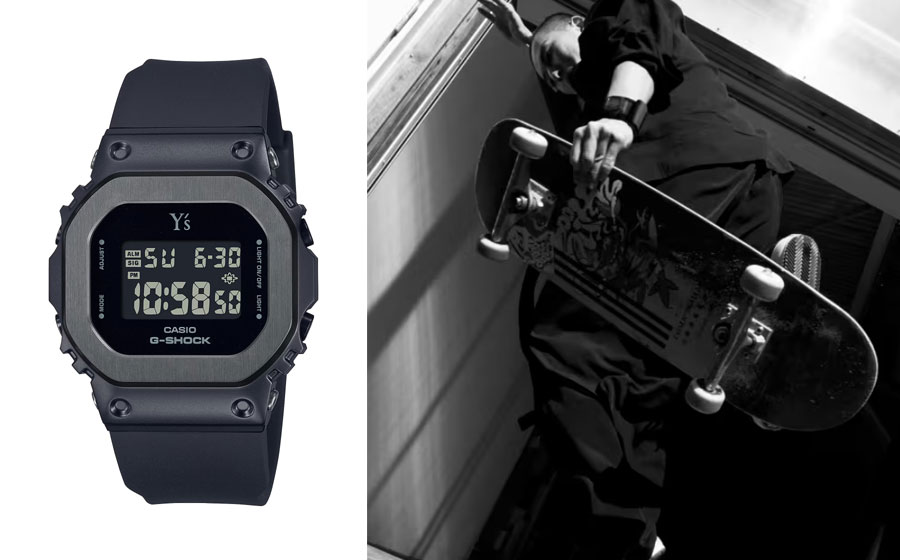 G-Shock for gamers
The G-Shock has a definite advantage: it can be designed unlimitedly according to the current trend. After extreme sports, rap and hip-hop, then high fashion, it's time for gamers to get this watch with infinite possibilities.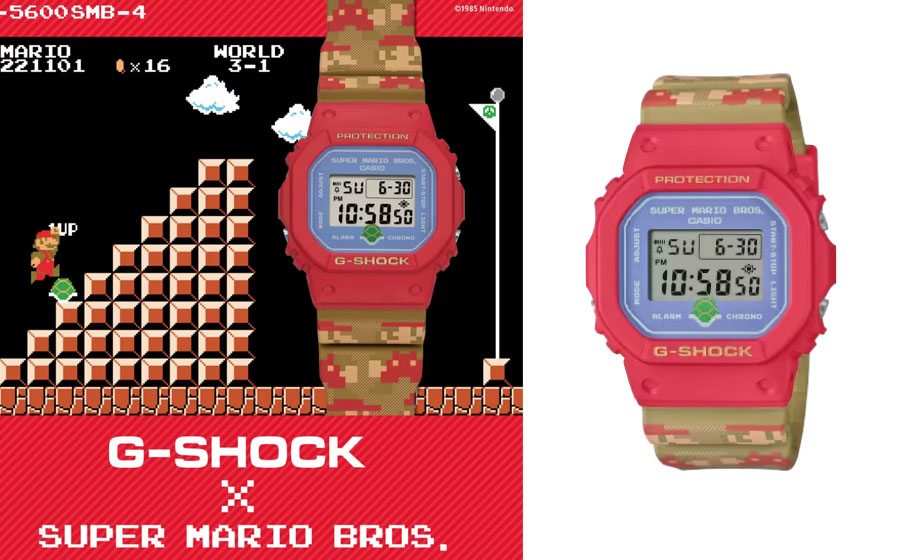 G-Shock x Super Mario Bros is one of the Maison's latest collaborations. The entire universe of this legendary game lives within the red case of this model. The eye is particularly caught by the beige coloured bracelet printed with many of the Super Mario silhouettes. This very retro piece perfectly suits the taste of early collectors of this iconic video game.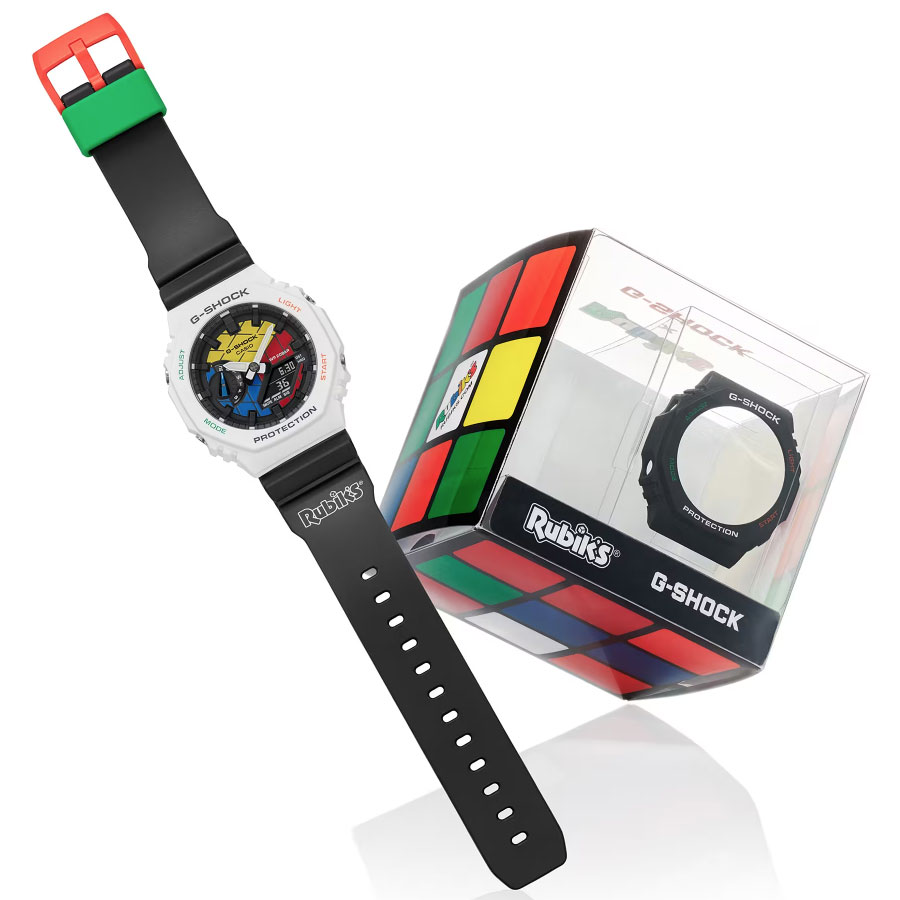 The G-Shock x Rubik's collab is currently available in store. Its very original, colourful packaging also includes an interchangeable bezel to add a second case design combination. This collection takes control of the colours of the virtual world, and gives the spotlight to gamers.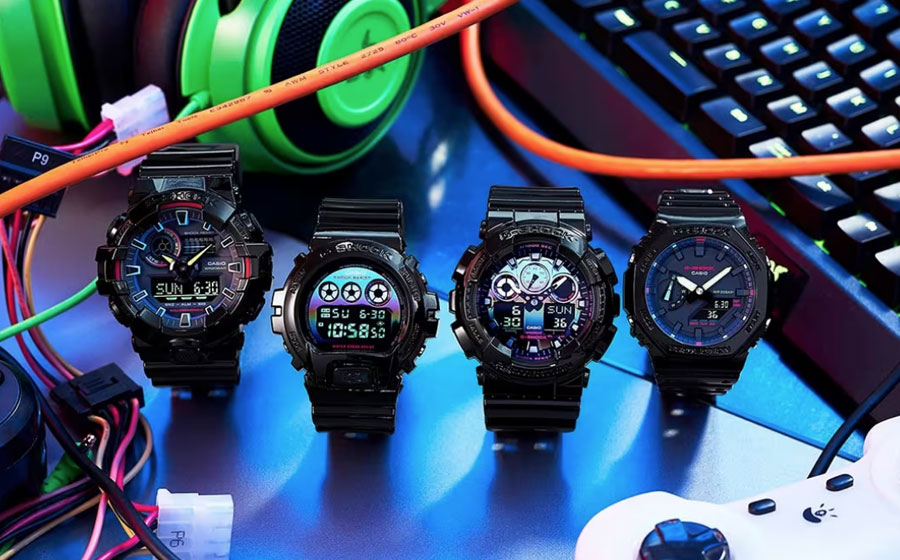 The anniversary models
Quick, read the article by Théo from lecalibre.com! Our fellow journalist unveiled the many new G-Shock models launched in celebration of the 40th anniversary of this iconic watch.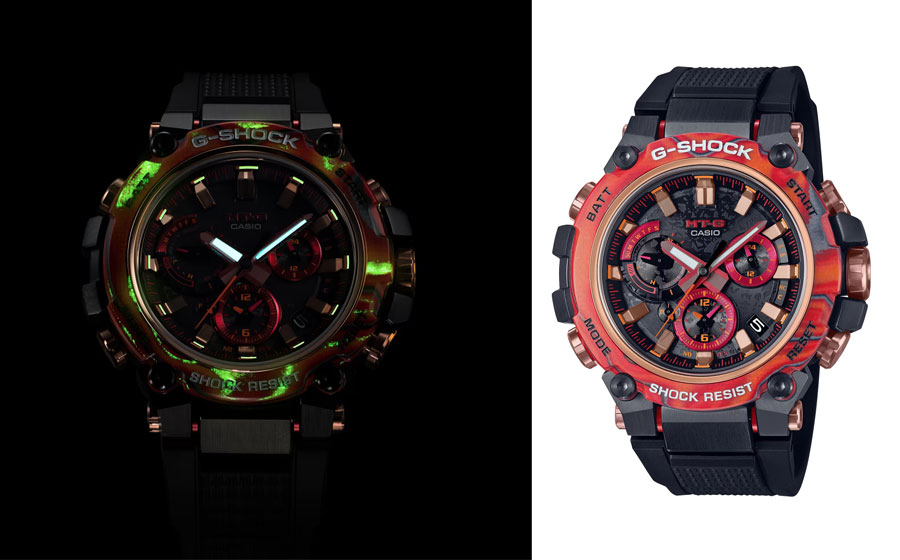 See also:
Read also: