FRANK SANS C VIDEO
Valentine's Day: express your love with a watch!
Valentine's Day is just a week away! February 14 is the day when people in love express their romantic feelings or strengthen their passion. Besides roses and jewels, watches are a great gift idea to mark the occasion! Here is a selection by Frank Sans C. As he says: "when it comes to love, money doesn't matter" …

By Nicolas Yvon
SWATCH, Valentine's Day special collection 2022: love, humour, and nothing else
For Swatch, Valentine's Day is a golden opportunity to create special models. As well as injecting a healthy dose of humour on their watches. Indeed, they have revealed three watches with a quartz movement to celebrate the day of love.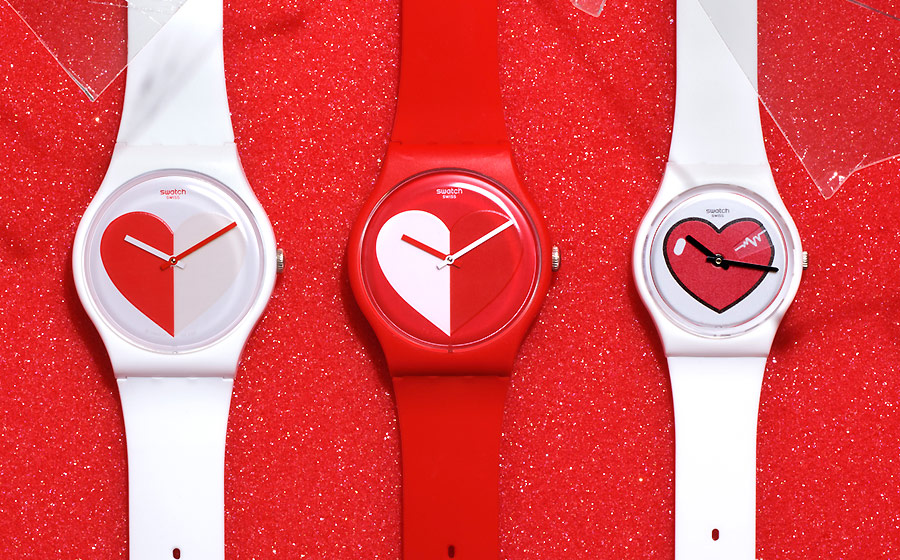 You can buy them separate. However, if you buy both watches, Swatch will deliver them in a special box, with a transparent glass on which you can read "In case of love, break glass".
The new Half <3 White, and its soulmate Half <3 Red (€ 80 for one), display a duotone of red and white, like yin and yang. They also feature a big heart on their 41mm case. The symbol lights up at night, since it's covered in luminescent matter. These models are also eco-responsible, like other watches from the brand. They integrate bio-sourced components (case, glass, buckle) made of castor oil.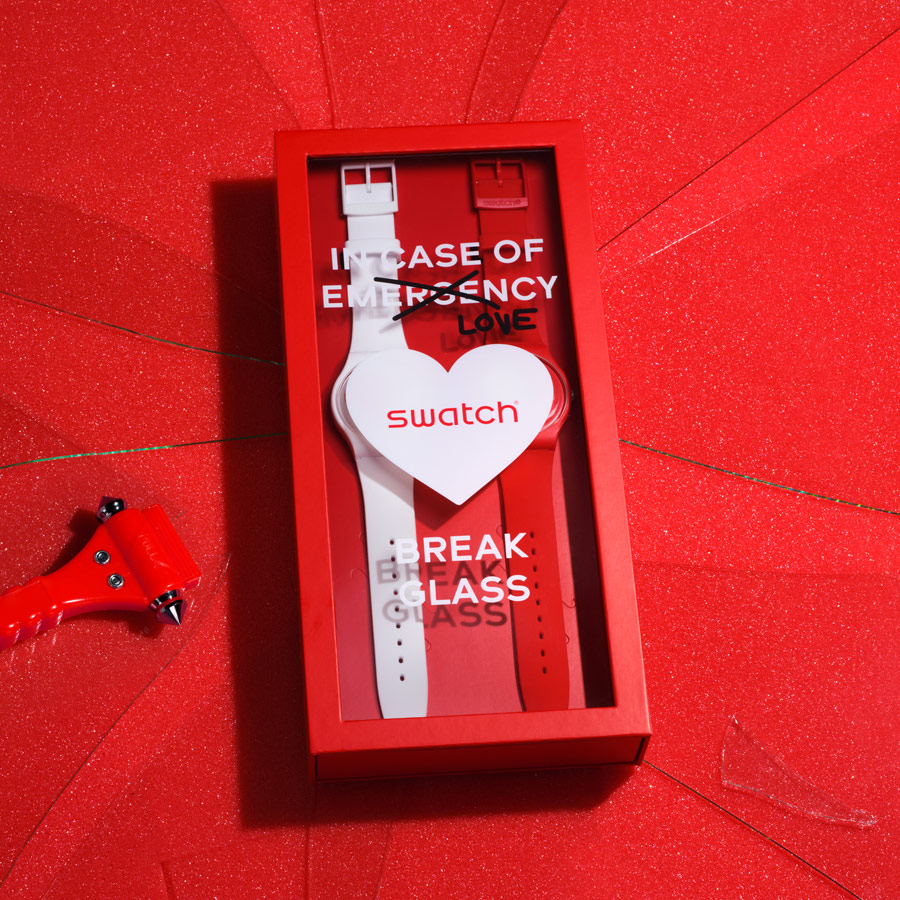 The third "heart" watch is a Gent Love o'clock (€ 70). This plastic 34mm piece doesn't lack of humour! Indeed, it features a special rotating disc decorated with 12 emoticons. They depict the theme of love by describing a mood: fire, lightening, rainbow, danger, lock, zipper, recycling… These symbols alternate every day, in an aperture at 2 o'clock.
MICHEL HERBELIN, Newport Slim watches, the perfect pair for Valentine's Day
The Maison Michel Herbelin often displays some good ideas of duo men/women for Christmas or Valentine's Day. This time, Frank Sans C created his own duo: blue steel Newport Slim watches.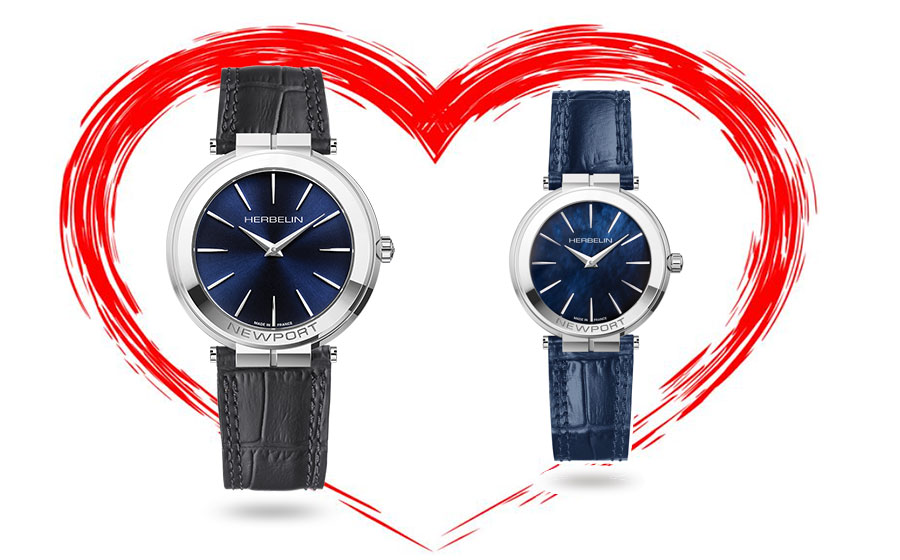 Each of the watches display the signature features of the collection. Indeed, a round case inspired by the shape of aircraft windows, central lugs, a crown engraved with a marine wheel, and markers like boat hulls. But the French watchmaker designers have totally metamorphosed this heritage. Indeed, they have chosen finesse as their theme. And it's a true aesthetic feat. The masculine model (€ 450) displays a 40mm diameter and only 5.80mm of thickness. Powered by a quartz movement, its navy-blue dial sun satin-finished plays with light with every movement of the wrist. And the timepiece features a crocodile-printed leather strap.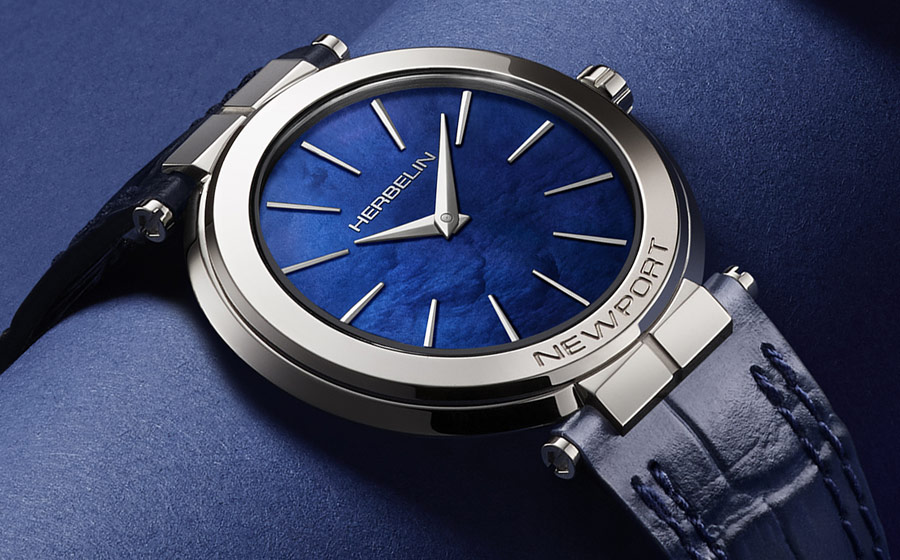 The feminine version (€ 490), powered by a quartz movement, is as thin as the one for men. But its diameter only measures 32mm. The other difference appears on the dial: blue mother-of-pearl with captivating iridescent shimmering. These perfectly complementary watches have each a solid back engraved with a rudder wheel. Which is Newport's collection signature.
DIOR, Gem Dior: gem, gemme, j'aime

The Gem Dior collection is perfect to express your feelings on Valentine's Day. Victoire de Castellane has imagined a whole set of original and graphic watches and jewels. The artistic director of Dior's fine jewellery division got her inspiration from the mineral universe to draw these creations. The watches case takes up the octagonal irregular shape of a slice of tourmaline. And the bracelet mixes asymmetrical and angular sections, arranged like mineral strata. This structure is also present on the rings and earrings.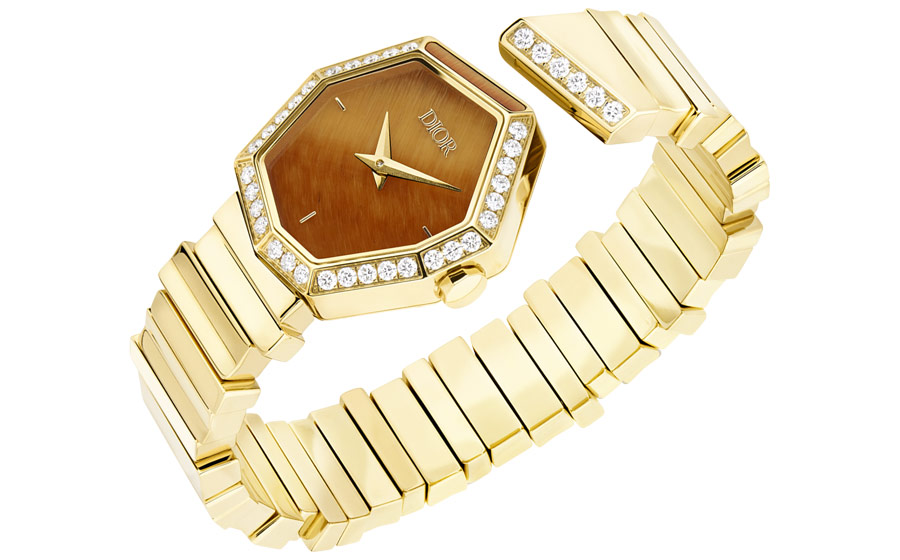 The complete set with yellow gold and diamonds (watch: € 32,500, ring: € 8,000 and earring: € 7,500) captures light from the spotlights on the video's set. The watch, with a quartz movement, is a new variation. And engages in the mineral spirit of the Gem Dior collection. Indeed, its 27 mm x 25 mm case features a fascinating tiger's eye dial. The brown stone displays shimmering reflections and acts like a protection shield against negative energy. The Gem Dior watches bracelet is also worth of attention since it has no clasp and is interchangeable. The case integrates an intuitive device, secured on the back. It can be easily removed and replaced by the second bracelet in black leather that comes with the watch.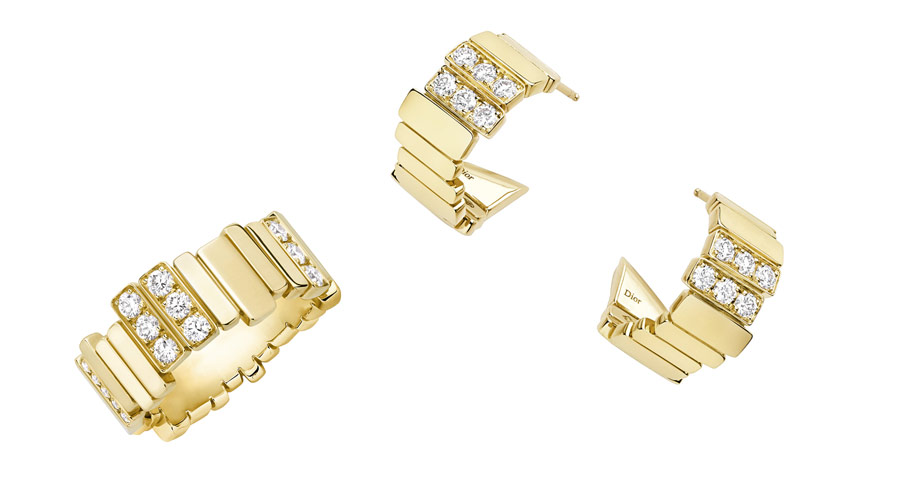 BLANCPAIN, Ladybird: a Valentine's Day watch that aims to win
It has become a real tradition for Blancpain. Indeed, for more than twenty years, the brand has been celebrating lovers' day with the creation of special editions. 2022 is no exception to the rule, as the watchmakers and master craftsmen have created this Ladybird in a limited series of 99 pieces (€ 26,950).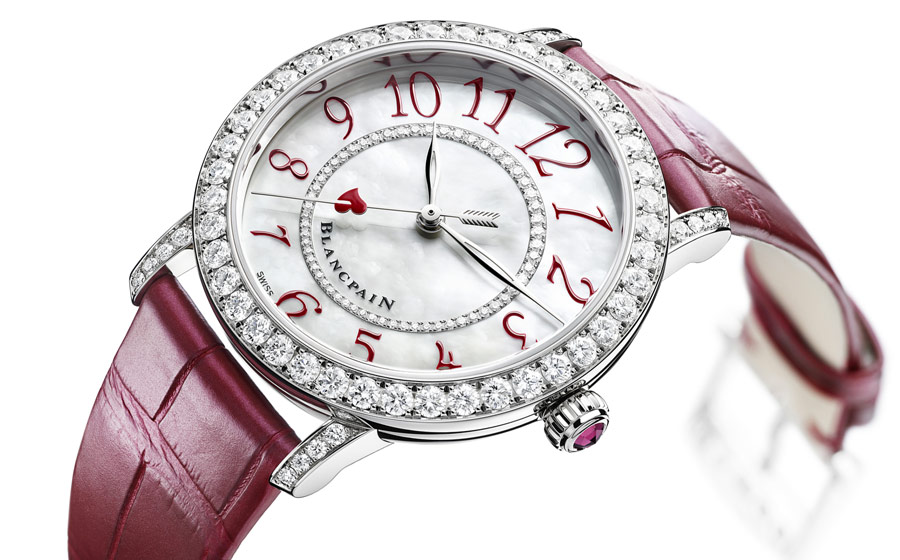 This 34.90 mm white gold watch is set with 58 diamonds. As well as a rose cut ruby that adorns the crown. The case also displays a magnificent white mother-of-pearl dial with red embossed varnished numerals. They surround a circle of diamonds where an arrow-shaped seconds hand pierces a small heart. While delicately evoking Cupid, the watch is powered by a beautifully crafted calibre. This automatic movement decorated with Geneva stripes is visible on the back. Blancpain's watchmakers have equipped it with a 4-day power reserve and a silicon balance spring that is resistant to magnetic fields. An alligator strap is also available with the set. Which is perfectly coordinated with the theme of love. Also, small diamonds adorn the buckle.
BREGUET, Reine de Naples 8905: A Valentine's Day watch for a queen of hearts
The Reine de Naples and its oval case draws its inspiration from the first wristwatch developed in 1812 by Abraham-Louis Breguet. The watchmaker delivered this creation to Napoléon's sister, Caroline Murat, Queen of Naples. As an iconic women's watch from the manufacture, this watch is the ideal model for a special edition of Valentine's Day. The edition is also limited to 28 pieces.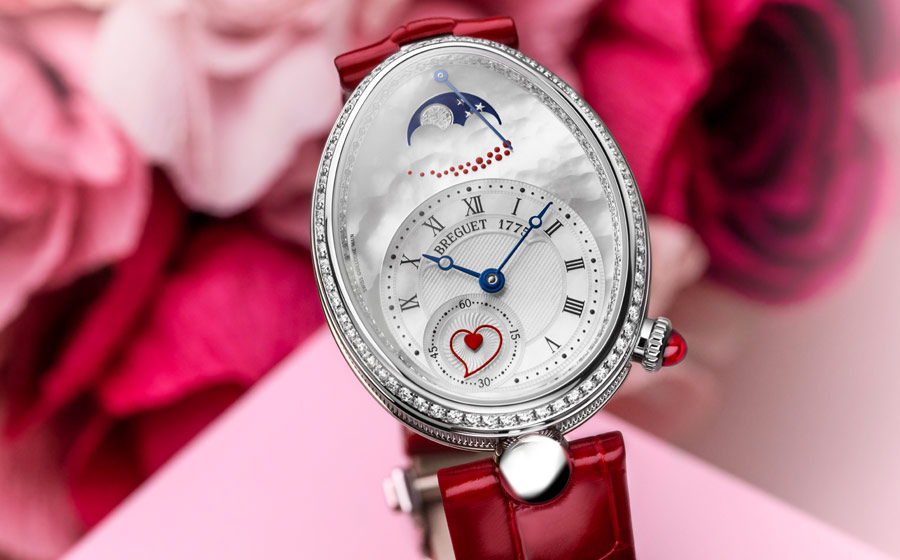 This white gold timekeeper illustrates the talent of the master gem setters. Indeed, they have encrusted 128 diamonds on the bezel and on the case flange of the watch. Brilliants also adorn the white gold buckle. While the "red passion" alligator bracelet perfectly matches the ruby on the crown at 4 o'clock.
Besides, you have to look as closely as possible to appreciate the extreme meticulousness of the work done by the guilloche artists on the dial. They have succeeded in carving patterns in the white mother-of-pearl to decorate the hour and minute dial. As well as the heart-shaped red small seconds counter.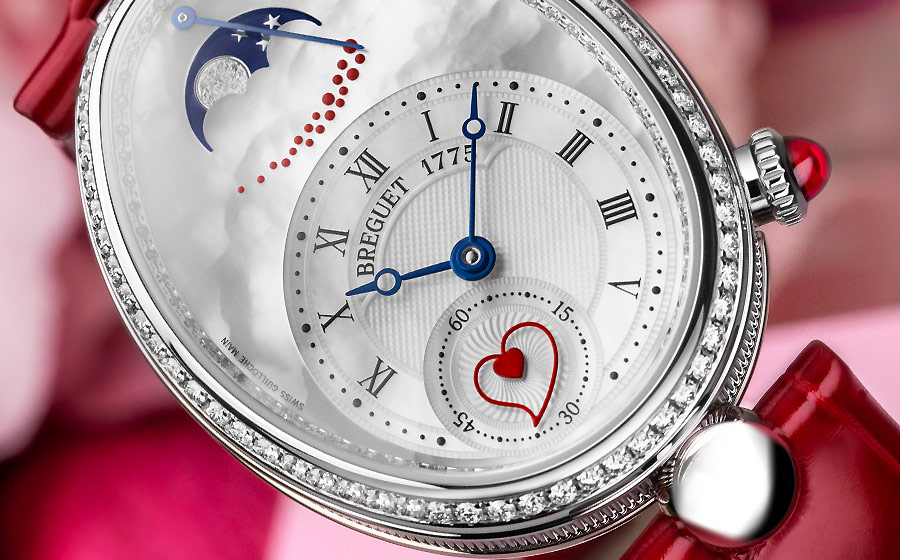 Very jewel-like and elegant, the Valentine's Day Reine de Naples 8905 (€ 38,500) also reflects the savoir-faire of the watchmakers. Indeed, other mechanical subtleties adorn the dial. The watch indicates the power reserve (45 hours) of its automatic calibre, with open-tipped blued steel hands. Also, a rotating disc displays a finely hammered moonphase. On which, the little star of the night, absolute symbol of romantism, appears in white gold. Lastly, the presence of a sapphire back allows to see the movement. Which is equipped with non-magnetic silicon balance spring and a hand-engraved platinum oscillating weight.
Read also: